Panasonic DMP-BD80 Blu-ray Disc Player Review
By Chris Boylan
Blu Skies Ahead
Panasonic has been the driving force behind a number of advancements in the standalone Blu-ray Disc player market: the first Blu-ray player to support BonusView (the DMP-BD30), the first to support BD-Live (the DMP-BD50) and the first to do all this and crack the $300 barrier (the DMP-BD35). Panasonic was also the first to market with a standalone player that decoded all flavors of next generation Dolby and DTS surround formats via on-board 7.1-channel analog outputs (the DMP-BD55). And now they've taken that successful player design and added the ability to view content directly from the internet in the new DMP-BD80 Blu-ray Disc player (also known as the DMP-BD80K or the "BD80" for short).
Its predecessor the BD55 was uniformly acclaimed for its audio and video performance - it offered excellent DVD upconversion as well as top-notch performance on high definition Blu-ray Discs. It also proved to be a reliable performer over its short production lifecycle (less than six months) with few of the disc playback compatibility problems that have plagued some players by Samsung and LG. When there was a problem with playback of some of the bonus features on The Dark Knight (one of the top selling Blu-ray titles to date), Panasonic provided a firmware fix within days of its street date. But with BD player makers such as Samsung and LG releasing players with compelling features last year (specifically online media streaming), Panasonic felt obligated to play a quick game of catch up, offering similar features.  The DMP-BD80 is the first to include this online content streaming capability in the VIERA Cast feature.

Although you could think of it as a "BD55 with YouTube" (and you wouldn't be far off), Panasonic's VIERA Cast, a standard feature on all of the new 2009 Panasonic Blu-ray Players and Blu-ray HTiBs, is more than just YouTube. It also features access to Picasa online photo sharing, Bloomberg stocks, The Weather Channel and soon, Amazon Videos on Demand. But before we get to that, let's walk you through the set-up.
The Set-Up
For initial testing, I plugged in the power cord, network cable for internet access (connected through a switch to my router) and an HDMI cable for audio and video.  The first time I powered up the unit, I was taken to a set-up wizard Panasonic calls "easy setting," which walked me through the basics such as on-screen menu language, TV aspect ratio, analog output setting and the option to enable "Quick Start."  The Quick Start feature slightly increases power usage in standby mode, but speeds up initial boot-up times. Other than the basics, the only additional setting I needed to make was in the Network set-up section, where I set "DNS Auto Configuration (DHCP)" to "On." This allows the machine to find a Domain Name Server at your local ISP (Internet Service Provider) - something that is necessary if you want to access Web-based content.  I also enabled 24p mode in the "HDMI Connection" menu to pass native 24p content to our display.
---
ADVANCED TIP! Add WiFi connectivity to your BD80 with a wireless gaming adapter or wireless bridge such as one of these:
---
With "Automatic Update Check" set to "On" in the Firmware Update menu, I was notified during the tail end of my review period of the availability of the 1.5 firmware release (the unit shipped with version 1.1).  I performed this update and it went smoothly and fairly quickly.  I didn't notice any specific performance difference between the firmware releases.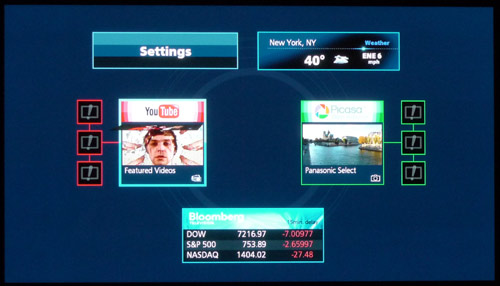 After making these initial adjustments, I hit the new VIERA Cast button on the remote and it loaded up YouTube, Picasa, and the other Web "widgets" without any problems. Playback quality on YouTube varies significantly, as one would expect with user-generated content. And the new High Definition YouTube content does not appear to playback in high definition on the BD80. It looks better than most other YouTube content, but it does not compare favorably to other streamed HD content such as Netflix online streaming on the LG and Samsung players. Accessing YouTube videos from the couch using a standard remote control and a fairly intuitive user interface is decidedly cool though, and something that is sure to sap away hours of your evenings and weekends without you even noticing.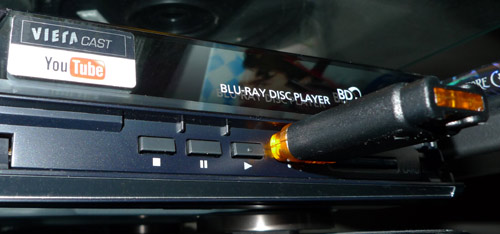 A Modern Multi-Media Marvel
The other cool new addition on the BD80 is a USB jack right on the front panel, behind a drop-down door (next to the SD card slot). This allows you to plug in a USB flash drive for playback of videos, photos and MP3 music files. For video playback from USB drives, the unit supports the DivX codec (and its variant "Xvid"). Some AVI files I tested could not be fully zoomed to fill the screen, but they were, at least, presented in their correct aspect ratios, which is more than I could say for the BD55. Many of the AVI files I tested could be zoomed to fill the screen without any geometric distortion.
In terms of which Divx releases are supported, the manual says codecs of DIV3, DIV4, DIVX, DV50 and DIV6 are supported at up to 30 FPS and at resolutions of up to 720x576 pixels. Subtitle text files for Divx content are also supported. One particular XviD-encoded AVI file I played back would automatically go back to the beginning if I tried to fast forward it any faster than the very lowest fast forward speed but most AVI files did not exhibit this problem. Overall, from my experience, the Divx file playback was pretty robust and definitely nice to have for those who download or generate their own Divx-encoded videos.
Per the manual, the player supports display or playback of DivX files on CD, DVD and USB device, JPEG image files from SD card, USB, CD and DVD, MP3 music files from USB, CD and DVD, AVCHD files from DVD and SD card and MPEG2 videos from the SD card only.  Of these, the only format I did not test was MPEG2 and AVCHD as I had no content for those.  MP3 files sounded good and ID3 tags are supported so you can see what songs are playing, by which artist.  JPEG photos stored on an SDHC memory card loaded remarkably fast, certainly faster then they did on earlier players or on early Panasonic plasmas with SD card slots.  Music playback to accompany a photo slideshow is optional.  I wouldn't say the BD80 is a completely comprehensive media player (it would need to support other media formats such as wma, mkv, mov, m4p, etc.), but it does cover the essentials and should satisfy most people's casual interest in multi-media content.
The Three Most Important Things: Performance, Performance, Performance
Just as location is important in real estate, the most important thing to many prospective Blu-ray player buyers is performance: both on the audio and video side. And in these areas, the BD80 does not disappoint. Whether viewing test patterns on the Silicon Optix HQV DVD or Blu-ray Disc or watching actual movies on DVD or Blu-ray, the BD80 carries on the excellent playback performance of its predecessor, the BD55.

Specifically, on the standard definition HQV DVD, the BD80 passes the "jaggies" tests with flying colors, showing that the player has excellent diagonal filter performance. Only in the test with three rotating diagonal line segments do we see any visible stair-stepping and even then it's only slight. On the "Super Speedway" test, the player locks to the inherent 3:2 film cadence in about a half second with a slight hiccup, after which the stadium in the background is rock slid and free from moiré.  On the mixed content test that has video titles overlaid on a film-based background image, the player exhibits slight combing artifacts as the video title is first introduced but it quickly locks to the signal and cleans up the text.
The player doesn't do much in the way of noise reduction on noisy MPEG2 signals, but this should be less important on DVDs and Blu-ray Discs than it would be if the player also had an on-board TV tuner. The BD80 and BD60 do offer a new "3D NR" (3D Noise Reduction) feature in the "Display... Video" menu which is designed to clean up noisy images but it is not turned on by default and I did not experiment with this.
On the Blu-ray HQV test, the noise test is a bit better, with strong clear lines on the front of a moving sailboat. Also on Blu-ray the player passes the video resolution and film resolution loss tests with flying colors, with just a hint of a shimmer on the film resolution loss test, but this is most likely an artifact of our current display, and not the player itself as the same behavior was evident in Samsung's BD-P2500 Blu-ray player which includes the HQV processor.
Moving on to real content, the player's diagonal filtering, de-interlacing and upconversion proved themselves on standard def DVDs such as the Gladiator flyover sequence (chapter 12), where the roofs of Rome's ancient buildings were presented with clear diagonal lines and no evidence of stair-stepping. At times, while watching well-mastered DVDs such as Star Wars Episode III: Revenge of the Sith I almost forgot that I was watching standard definition content, the upconversion was that good. I did not, however, forget that I was watching a bad movie. No upconversion in the world can help with that.
As with the DMP-BD35 and DMP-BD55 before it, and unlike most other Blu-ray players, the BD80 supports 24FPS (frames per second) playback mode for standard DVDs.  The benefit is more natural, more "film-like" motion on movies, assuming your display device has a native 24p mode.  To enable this, you need to get into the "Display" menu while the DVD is playing and turn on 24p (in "Video" settings).  Unlike with Blu-ray playback, where the 24p setting in the main Video set-up menu is respected for all Blu-ray Discs (and is automatically disabled for non-24p content), it is not possible to set the player to default to 24 fps mode for all DVDs.  The player has no way of telling that a DVD was natively shot in 24FPS vs. some other frame rate.  If you set the BD80 to 24FPS mode on material that was not natively shot or mastered at 24 frames per second, then the picture may be distorted with unnatural looking motion.  If you notice this, you can simply turn 24p mode back off and get back to enjoying the DVD.
Moving on to Blu-ray Discs, the BD80 played back everything I threw at it without complaints. I tested the player with Bolt (which originally caused some playback problems in the BD55, though that turned out to be a Disney issue) and I tested it with For Your Eyes Only (which had caused problems on some Samsung and LG players) and it breezed right through them with excellent color saturation and contrast and without any playback problems.  The only Blu-ray Disc that presented any challenge for the player was Starship Troopers, which fails to play unless you have an SD card inserted in the slot.  This behavior goes back to Panasonic's very first BD-Live players, the DMP-BD50, BD35 and BD55, but it appears to be an authoring problem with the disc itself as the same failure occurs on Sony's own BDP-S350.  So we can't expect Panasonic to "fix" something that's broken in the disc software itself.
On reference titles like Iron Man, I again noticed the supreme pixel-perfect color detail that was visible on the BD55 in the scene where the suit is given its first flight test. As Iron Man flies above the Earth, tiny pinpricks of colored light stand apart from the inky dark background with not a smidgen of bleed on the edges. This is courtesy of the player's 4:4:4 color processing in the PHL Reference Chroma Processor Plus (a part of Panasonic's proprietary UniPhier processor).  Details like this don't become obvious until you get into larger screens (large flat panels and front projection screens), but it's nice to see the small details hold up even when blown up to enormous size.
Techie Update (added April 10, 2009): For video aficionados who are looking for a "Source Direct" feature, to pass Blu-ray Discs and DVDs at their native resolution to an outboard video processor, this feature is not available on the BD80, but there is something close.  If you set the BD80's HDMI output resolution to 1080i, and you enable 24p (24 frames/second output), both in the "TV/Device Connection" set-up menu, then the player will pass native 1080i/60 Blu-ray Discs at 1080i/60 but it will also pass 1080p/24 Blu-ray Discs at their native 1080p/24 output. Unfortunately there is no way to send DVD signals out over HDMI at their native 480i resolution, but you can always use the component video outputs for that if you wish.
Listen Up!
The BD80, like the BD55 before it, features on-board decoding of all surround sound codecs including DTS-HD Master Audio and Dolby TrueHD. As with the BD55, the DTS-HD implementation in the BD80 is "DTS-HD Master Audio Essential" which means it does not support some of the legacy DTS codecs (DTS 96/24 and DTS-ES) via its on-board decoder. For material like this, the player defaults to decoding the DTS "core" soundtrack. But if your receiver or preamp/processor supports DTS decoding then you can pass the sound through as bitstream over HDMI and these extensions will be decoded properly.

As with the BD55, the BD80 includes a multi-channel analog output (in addition to digital output over HDMI, fiberoptic and coax S/PDIF). This analog output is provided for compatibility with older receivers that do not include HDMI audio support. You can select either a 7.1-channel analog output or a "2+5.1" channel output, depending on your specific system configuration. The 2+5.1 option allows you to send analog surround sound to one device (like a receiver) and a mixed down 2-channel output to another device (perhaps a TV). The set-up options for analog surround are identical to those in the BD55 so read our review of the BD55 for more detail. Basically, you can select speaker size (large/small), levels and delay times, but the crossover is fixed at 100 Hz to the subwoofer channel (for speaker channels selected as "small").
Setting up a system to work with multi-channel analog outputs can be a little tricky due to limited control over bass management.  But if you are otherwise happy with your current receiver and it lacks HDMI audio processing, then it may be worth the effort.  Without HDMI audio support, multi-channel analog connections are the only way to fully support the enhanced sound quality available in multi-channel PCM, Dolby TrueHD and DTS-HD soundtracks. Using the fiberoptic or coax digital output will degrade lossless DTS-HD MA and Dolby TrueHD soundtracks to their lossy counterparts and will only send out two channels from a multi-channel PCM soundtrack.  See our tutorial on how to hook up multi-channel analog outputs for some guidance if you need it.
Those who do own a receiver or preamp-processor with HDMI audio support should connect the HDMI cable directly between player and receiver and select either "PCM" (for HDMI 1.1 and 1.2 receivers) or "bitstream" mode (HDMI 1.3 and above).  This setting in the digital audio setup menu determines whether you want the player or your receiver to decode Dolby and DTS soundtracks to PCM (and subsequently to analog sound to be sent to your speakers). To make sure you're getting the full quality lossless surround sound formats, you should set BD Secondary Audio to "OFF" (also in the digital audio setup menu). As with the BD55, the BD80 will revert to a lossy soundtrack if it encounters secondary audio or menu clicking sound effects in the audio stream (if you have Secondary Audio set to ON). So, to be safe, set Secondary Audio OFF for most viewing and turn it back on when you want to listen to commentary on a PiP BonusView commentary track.
If you are using HDMI for your video connection, then you can also take advantage of a brand new feature on the BD80 called "High Clarity Audio." Enabling this feature shuts down the player's analog video circuitry, which Panasonic says can enhance the audio quality over the multi-channel analog outputs, and even over the digital audio outputs.  Frankly, I have my doubts that the digital outputs will be affected, but it certainly could make subtle improvements in the analog audio.
Good Things Come to Those Who Wait
As with every player that comes through the BPBS labs, we measured the time it takes to perform common tasks: initial boot-up and playback of DVDs and Blu-rays. Not much has changed between the BD55 and BD80. In fact, load times were nearly identical. With the player already on, a standard DVD (Gladiator) displays its first screen in about 21 seconds, a non-BD-Java disc (Hitch) gets to its first on-disc screen in about 41 seconds, and a BD-Java title (Pirates of the Caribbean 1) loads its first on-disc screen in 52 seconds. The new "Quick Start" feature does shave off some boot-up time, however. Starting with the player off only added 1 to 4 seconds to the above times: the DVD loads in 22 seconds, standard Blu-ray in 45 seconds and BD-Java Blu-ray in 53 seconds. If you're not too concerned by a few extra watts of power usage, then keep the player in Quick Start mode for the nimblest start-up times.
Note (added September, 2009): with the 2.0 firmware update, Panasonic has improved disc loading times on the BD60, BD80 and BD70V over 20% - this brings the player very close in its loading times to current generation players from LG and Samsung, and much faster than the Pioneer BDP-320.
The player does eject discs a bit quicker than its predecessor, and once a BD-Java title is loaded the interaction with the BD-Java menu does seem to be slightly perkier than it was on the BD55. Also, BD-Live interaction and loading seems improved over previous players.  By the way, BD-Live still requires that you insert an SD or SDHC card in the SD slot, and Panasonic still does not include a card in the box (nor an HDMI cable).
Ergonomically challenged
While the set-up menu itself is fairly intuitive, and the remote is laid out logically and comfortably (except for quirks like no "subtitle" button on the remote), the actual integration of the new VIERA Cast feature seems a little bit tacked on.  Also, switching from video playback into setup mode can be painful. If you're viewing YouTube or other VIERA Cast content, hitting the "Setup" button on the remote does nothing. You have to stop playback and hit the "Drive Select" button to be taken out of the VIERA Cast environment and back to the Panasonic Blu-ray Player splash screen.  From there you can access the setup menu. Similarly, when watching content on the USB drive or Blu-ray, the VIERA Cast button does nothing. You might expect it to shift over to the VIERA Cast home screen when the button is pressed but it does not. Again, exit out of playback, return to the Blu-ray splash screen and then the VIERA Cast button works. It makes the feature seem a little less integrated than the online content streaming features on the Samsung and LG players which are accessible from those players' main menus.
The other ergonomic annoyance on the BD80 is one that is endemic to all Blu-ray players - no "resume" function.  If you're used to DVDs where you can power off the player and then it will remember where you were in the movie next time you turn the player on, you will be disappointed by Blu-ray.  Blu-ray titles with BD-Java features do not support a "resume play" function.  Non BD-Java titles will resume properly, but these are getting to be the minority these days.  The mysterious green colored button on Blu-ray remotes (labeled "G" on the Panasonic remote) is supposed to activate a "marker" feature to store a playback point but this feature has to be enabled on the Blu-ray title itself and I couldn't find any title that supported it. [editor's note: "The Tale of Desperaux" on Blu-ray Disc does have the marker feature enabled, so hitting the green button during playback does store a bookmark to which you can later return.]
This lack of auto-resume feature is particularly annoying when you need to get out of a movie to adjust something in the set-up menu then you have to skip through all the trailers all over again ir order to get back where you were.  But there you go - Welcome to Blu-ray!  For standard DVD titles (and non BD-Java Blu-ray titles), the resume play function works as expected.  I tested Star Wars: Ep. 3 -- a DVD that has been reported to cause "resume" problems on earlier Panasonic Blu-ray players, and it resumed playback properly on the BD80 after being powered off.
Turn Ons
Excellent audio and video performance for DVD and BD playback
Flexible media playback options: CD, DVD, Blu-ray, SD card and USB port
VIERA Cast shows promise (YouTube is a good start)
Turn Offs
No on-demand movie streaming as of yet (Amazon coming soon)
VIERA Cast not fully integrated in its operation and currently limited in content choices
Operation times are just average and not improved over prior generation players
Final Thoughts
Panasonic has been blazing a trail in standalone Blu-ray players for the last couple of years but they were a bit late to the game for online content access. So far, the actual content available in VIERA Cast is fairly limited (YouTube and Picasa, with Amazon on-demand content coming soon). Fortunately this is an extensible platform and more content partners can be brought on without any need for a hardware upgrade.  So an investment in this player will pay returns for the forseeable future as the online content choices continue to improve.
If you don't need the 7.1-channel analog output or DivX playback, then you should also consider the DMP-BD60, which lists for $100 less than the BD80.  The BD60 should offer comparable video performance, ergonomics and features as it uses the same underlying chip sets as the BD80.  But for those who want the highest performance, analog audio support and the richest feature set, the BD80 is the better choice.
Combining the excellent video and audio performance of its predecessor, the DMP-BD55, with the convenience of online content access and a USB port, the DMP-BD80 is sure to be another hot seller for Panasonic.
Where to Buy:
DMP-BD80K Key Features:
BD-Live: enjoy additional content via Internet (requires optional SD card)
PHL Reference Chroma Processor Plus
High Precision 4:4:4 color processing
P4HD: Advanced Picture Processing for 1080p (including 1080p/24 output for Blu-ray and standard DVD)
3D NR noise reduction
7.1-channel Lossless Decode & 7.1-channel HDMI/Analog Output
On-board decoding or bitstreaming of Dolby Digital, Dolby Digital Plus, Dolby TrueHD, DTS, DTS-HD High Resolution Audio and DTS-HD Master Audio
High Clarity Audio feature disables analog video processing for improved sound
96KHz Surround Re-Master
VIERA Cast™: instant access to online content such as YouTube, Picasa, Weather Channel and Bloomberg Stock quotes
DivX and Xvid playback via CD, DVD and USB port
AVCHD Video playback via DVD and SD card
MPEG2 playback via SD card
MP3 music playback (USB, CD, DVD)
JPEG photo display (SD card, USB, CD, DVD and BD-RE)
VIERA Link™: control all of your HDMI-connected AV devices with one remote
MSRP: $399.95
Availability: April, 2009
Manufacturer's Contact Information:
Panasonic Corporation of North America
One Panasonic Way
Secaucus, NJ 07094
Web Site: http://www.panasonic.com/
Questions or comments on this review?  Post them on our forum: