Pioneer BDP-320 Blu-ray Disc Player Review
By Chris Boylan
Pioneer BDP-320 Review
Good Things Come to Those Who Wait (and Wait...)
There are two camps among Blu-ray disc player makers: one group thinks all you need is the highest possible quality audio and video, the other believes that offering value-added features such as internet audio and video streaming is something that will help consumers to adopt yet another new format.  Pioneer currently falls squarely into the first camp, and their BDP-320 Blu-ray Disc Player is their latest assault on state of the art picture and sound.
The Set-Up
Initial set-up was simple enough with nicely elegant fonts and graphics in the menus and some straightforward questions about how I was connecting the unit to my system (HDMI vs. component video, digital vs. analog audio, etc.), but some of the menu choices were a little strange.  In the digital audio outputs, Dolby Digital had settings for Dolby Digital 1, Dolby Digital 2 or PCM, Likewise DTS had settings for DTS 1, DTS 2 or PCM.  Good luck making sense of these without a trip to the manual.
---
***Deal Alert: Pioneer BDP-320 $179.00 Shipped (2/9 only)***
---

Apparently to get the full quality Dolby TrueHD or DTS-HD Master Audio lossless bitstream to your compatible receiver or preamp/processor select "Dolby Digital 2" and "DTS 2," otherwise the player will mix in BD Secondary Audio and may output the lossy core track (DTS) and companion track (Dolby Digital) instead of the lossless track, even over the HDMI outputs. Setting the output to PCM will also carry over lossless surround (decoded by the player to PCM), but you will not be able to tell as it won't light up your DTS-HD or Dolby TrueHD lights on your receiver.
Also, once you select HDMI audio in the initial set-up wizard, the fiberoptic output will only get 2-channel output.  This is only important if you intend to use HDMI audio to your TV but also want to hook up fiberoptic to an older (non-HDMI) receiver. The reverse is also true. Selecting "digital output" as primary, you will only get 2-channel PCM out of the HDMI output, but surround sound out of the fiberoptic or coax outputs. And nothing you do in the individual set-up options of the menu will change this.  You have to re-run the setup wizard ("Setup Navigator"), in order to change which output gets surround sound.  This is more confusing than we're used to on the Panasonic, Samsung, Oppo and Samsung players which do support concurrent multi-channel outputs via S/PDIF and HDMI connections.

Overall, I found the set-up menus confusing.  I'm used to having the ability to change from bitstream out to PCM out or to enable or disable Secondary Audio output in the menus.  On the Pioneer many of the audio options are grayed out, depending on how you're connecting and how the player has decided to set your optimal settings.  But one thing I did like is that the player allows you to dynamically change video output resolution (auto, 480i, 480p, 720p, 1080i, 1080p, source direct) from a button on the remote - you don't even have to stop disc playback or get into the set-up menu to do this, and this is helpful when doing video tests and comparisons.
The Waiting is the Hardest Part
Early adopters of Blu-ray got used to the sluggish playback performance of first and second generations Blu-ray players.  We figured that beautiful 1080p picture and pristine lossless surround sound were worth waiting for.  But the current generation players from Samsung, Panasonic, LG and Oppo have spoiled us with drastically enhanced load and boot-up times.  In many cases, standalone players are now as fast or faster to load discs than the mighty PS3 (Sony PlayStation 3) which was previously the quickest player to load.  Well if you buy the Pioneer BDP-320 then get ready to take a step back in time, because the boot-up and loading speeds are more akin to first and second generation players than they are to current models from the competition.
Initial boot-up isn't too bad - with the disc tray empty, and the unit off, the power up sequence takes about 20 seconds.  But when it comes time to actually read and start playing a disc, this is where the waiting starts.  Using our standard trio of discs (Gladiator for standard DVD, Hitch for a non BD-Java Blu-ray Discs and Pirates of the Caribbean: Curse of the Black Pearl for a BD-Java title), we measured disc loading times that harkened back to the early days of Blu-ray when there were actually two high def disc formats vying for supremacy.  Starting with the disc tray open, and the machine powered up, we hit "Play" with one of the above titles in the tray and stopped the timer when the first screen (usually a studio logo) appeared on screen.
For standard DVD, the studio logo appeared on-screen at about 34 seconds, basic Blu-ray loaded up in about 42 seconds (to the menu) and the BD-Java Blu-ray title loaded up the Disney logo in one minute, six seconds.  I had hoped that this might be improved via a firmware upgrade.  Panasonic recently delivered a firmware upgrade for their current players which improved disc loading speeds by over 20%.  However, upgrading to the 3.34a firmware on the BDP-320 (from the earlier 3.25 version) provided little or no improvement (a second or two either way).  Compare this to the OPPO BDP-83 which loads DVDs in 11 seconds (55% faster), Blu-rays in 19 seconds (68% faster) and BD-Java Blu-rays in 35 seconds (47% faster) and you can see that there is much room for improvement in the Pioneer player's loading times.

Seeing is Believing
When the BDP-320 finally does get fired up, you're in for a visual treat.  The BDP-320 made short work of most of the upconversion tests on the Silicon Optix HQV Benchmark DVD.  DVD Detail was very good, and the jaggies tests (two patterns and a waving flag) showed nary a sign of stair-stepping.  This means the BDP-320 has an excellent diagonal filter.  Mixed cadence tests (video titles on a film background) and noise reduction tests also proved little challenge for the player.  The player did produce some jaggies on some of the odd cadence sequence tests on the HQV disc, but these are less common on actual program material (unless you're a fan of anime or computer animation titles).
About the only place where the BDP-320 stuttered on common material was on the 3:2 detection test ("Super Speedway" extract).  In this test a good upconverting processor will lock immediately to the underlying 3:2 cadence in the underlying 24 frame per second source, producing crystal clear detail in the background stadium.  A poor performer will not detect the 3:2 cadence at all, leaving the stadium full of ugly moiré distortion.  The BDP-320 did pick up on the 3:2 cadence but it took a little over a second to do so which means it is a little slower than it could be and this could result in some moiré and other distortion when upconverting standard definition DVDs to high definition resolutions.
Moving onto the high definition Blu-ray version of the HQV benchmark, the player showed that it is quite capable of de-interlacing 1080i content to 1080p, passing the video and film resolution tests with ease as well as the high def jaggies test.  I also gave the Spears and Munsil HD Benchmark Blu-ray Disc a spin and verified that the player was clean (no overscan, excellent chroma upsampling and no clipping of blacks or whites.  Again, as with the standard def testing, the player did not properly detect and correct for odd cadences, like 5:5 and 3:2:3:2, producing some jaggies and moiré but these are not as common as the standard 2:2 can 3:2 cadences you find on most film and video-based DVDs and Blu-ray Discs.
On actual Blu-ray Discs and DVDs, there is little to fault in the Pioneer player.  High quality DVDs such as Star Wars: Episode 3 (audio and video quality, that is, not movie quality - ugh) exhibit crisp detail even in the murkiest shadows.  Color reproduction is true if a bit under-saturated compared to Blu-ray Disc, but this is to be expected.  No, this player won't make your DVDs look as good as Blu-ray Discs, but it does as good a job or better at upconverting standard def material to 1080p output as any player in its price class.  In many cases, I found the upconversion built into the player a bit better than our current reference display, the Panasonic TC-P50V10 plasma HDTV (also an excellent performer).
Confirming the player's performance on test patterns, the BDP-320 does a great job reproducing difficult diagonal lines in real world material such as the roofing titles in the Rome flyover sequence in the Gladiator DVD.  I also watched Lord of the Rings: Fellowship of the Ring on DVD, and found the detail to be exceptionally good though colors were a bit muted, compared to Blu-ray (as is to be expected).  The Pioneer player will breathe new life into your DVD collection.
But just wait until you put on a Blu-ray.  The BDP-320 offers breathtaking detail and color rendition, as we've come to expect from top-notch Blu-ray players.  Drumline on Blu-ray exhibited all the flash and color and audio excitement during the battles of the marching bands (no really, it's more exciting than you might think).  Legends of Jazz - a 1080i/60 Blu-ray Disc, was properly upconverted to 1080p/60 by the player (when set to 1080p output) and rightly switched to native 1080i/60 output when I switched the player to Source Direct mode.  In either case, the details on instruments, pores on the performers' skin and the sweat on their brows came through in nice detail.
Speaking of "Source Direct," this handy little feature will be useful to you if you are using the player in a high-end home theater installation, complete with advanced outboard video processor.  "Source Direct" mode will let you output 1080i Blu-ray Discs at 1080i/60, 1080p discs at 1080p/24 and DVDs at 480i, letting your fancy video processor or advanced display provide translation to the native resolution of your display device.  You can activate this feature in the set-up menu and also via a dedicated "Output Resolution" button on the remote
That remote is a fairly standard affair.  A thin black wand which lacks backlighting and features many similarly sized small square and rectangular buttons.  It's not all that easy to find your way around the remote in the dark but it does offer a dedicated subtitle button, direct access to video settings and other nice touches that will appeal to hobbyists and videophiles.  The 4-way menu and transport buttons were well placed for comfortable one-hand control.
Bring on the Big Sound
In addition to carrying sound digitally via HDMI, fiberoptic or coax connections, the BDP-320 offers multi-channel analog outputs for use with older home theater receivers and preamp/processors that do not offer HDMI audio capabilities.  If you have one of these receivers, you can use the fiberoptic or coax (S/PDIF) outputs from the player, but then you won't get the full quality of the new lossless surround formats on Blu-ray Disc.  DTS-HD tracks will be sent to your receiver as regular lossy DTS (usually at 1504 KBPS) and Dolby TrueHD and Dolby Digital Plus will be sent over as regular lossy Dolby Digital (usually at 640 KBPS).  These can produce good sound, but it's not the true lossless quality available on Blu-ray.  Also, multi-channel PCM tracks on Blu-ray will be sent over coax or fiberoptic connections as 2-channel PCM, so there goes your discrete surround sound.
Using the BDP-320's analog output instead, you can have the player do the decoding of Dolby TrueHD, DTS-HD and multi-channel PCM to multi-channel analog outputs, and then all your receiver needs to do is amplify this signal and send it to your speakers.  Getting analog settings just right can be a little trickier than digital, mostly because multi-channel analog connections generally bypass a receiver's onboard bass management and calibration software.  If you're going to set things up this way, I'd suggest reading our tutorial which describes how to set up multi-channel analog outputs.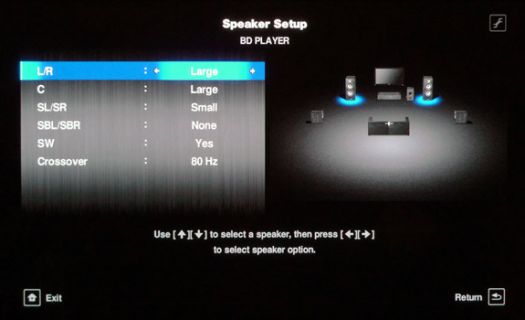 The multi-channel analog setup screens and options on the BDP-320 are slightly above average.  You can select which speakers you have visually (e.g., 5.1 or 7.1) and whether they're small or large which determines whether they get full range signals (large) or just the high frequencies (small).  Level settings are available for all channels including test tones for all channels if you go into "manual" mode. The player also allows you to set distances for all speakers which assures that all sounds are delivered to the correct channel at the correct times.
Unlike most of the other players we've tested (including the Panasonic DMP-BD80 and Samsung BD-P2500 and BD-P3600), the Pioneer BDP-320 allows you to adjust the subwoofer crossover frequency to best match your main speakers (50/80/100/150 Hz) and also to not just decrease the subwoofer level but increase the level as well up to a maximum of +6 dB.  Even so, I found I had to crank it to +6 and adjust the subwoofer channel's input sensitivity of my preamp to the max (+15) in order to get good bass out of the BDP-320's analog outputs.  Important tip: Make sure you hit "Enter" and not "Return" after you've adjusted your settings, otherwise changes will be lost.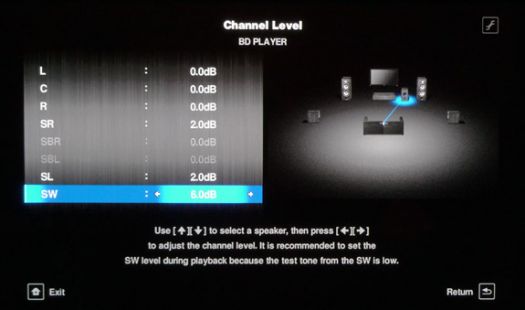 I tested the analog audio outputs using a number of different music-oriented Blu-ray discs and bombastic action flicks, including Legends of Jazz, Drumline, The Fifth Element and Iron Man. In all cases, the player produced a smooth balanced and extremely dynamic multi-channel sound with crystal clarity and excellent soundstaging.  The levels were a bit lower than the digital sources in my system (which means owners will have to crank the volume control a bit to compensate), but this is not unlike other Blu-ray players with analog outputs that we have tested.  Also, I did notice some variations in bass levels comparing multiple discs, but these could most likely be improved via some careful dialing in and adjustment.
Ideally, you should use HDMI for both the audio and video, plugging the unit into an HDMI-audio equipped receiver.  This way you can bitstream the output for decoding on the receiver, and benefit from your receiver's or preamp/processor's calibration and bass management software.  We tested the unit this way as well and found that it passed the bitstreams properly for excellent sound.  But if you've good a high quality receiver that lacks HDMI audio support, and an upgrade is not in the cards, the analog outputs of the BDP-320 will allow you to enjoy the full quality of Blu-ray on your current system.  Of course, this assumes that your system does have multi-channel analog inputs, which most moderate to high-end receivers do, but many entry-level models do not.
"Quirky But Not Jerky"
The above quote came from a Family Feud casting agent who was describing (several years ago) what they look for in a family for the show (we didn't make the cut - I guess we were a little too "jerky").  In the course of testing the player, I did notice a few quirks in the Pioneer player.  Specifically the video output would sometimes go blank when I was switching back and forth between various Blu-ray Discs and DVDs, requiring a reboot to restore the video and audio output.  I decided to simplify the testing, connecting the player directly to the TV via HDMI (rather than through our Integra preamp/processor), but this did not eliminate the issues.
The Gladiator DVD failed to produce a picture a couple of times when I was testing loading times.  Also, the Hitch Blu-ray Disc completely failed to load three times out of the 10 or 12 times I timed its start-up. Again, these little glitches remind me of first and second generation Blu-ray and HD DVD players and I was a bit surprised to find them on a high-end current generation player.
Also, updating firmware produced a bit of a surprise, with the player telling me the firmware upgrade from version 3.25 to 3.34a would take 86 minutes (!).  In actuality it took only about 10 minutes to download, unpack and successfully install the firmware update on the player and I did not notice any negative effects of this upgrade.
Turn Ons
Outstanding Blu-ray image quality and excellent DVD upconversion
Excellent sound quality over analog outputs with flexible configuration and bass management
Source Direct mode allows pure pass through to display or outboard processor
Turn Offs
Slower to load than the line at the DMV
No IPTV or internet streaming features
Some non-intuitive set-up options
A little finicky on disc playback
Final Thoughts
The Pioneer BDP-320 is not for everyone.  Its outstanding video performance, Source Direct feature and flexible audio outputs make it a good fit for an audiophile or video aficionado who wants the player to fit in with an older (non-HDMI) high end receiver or preamp/processor.  But its slow loading times and lack of internet streaming features may rule it out for the average Blu-ray player buyer.  If audio and video performance is all that matters to you -- and you're prepared to wait -- then the BDP-320 is definitely worth a look, and a listen.
BDP-320 Features and specifications:
Video Output: up to 1920x1080 (1080p), 1080p/60 for DVDs, 1080p/60 or 1080p/24 for Blu-ray
Deep Color Support: Up to 48-bit.
x.v.Color Support
HDMI Precision Quartz Lock System (PQLS) - Jitterless Transmission (2-ch) when connected to compatible Pioneer receiver.
KURO LINK (compatible with HDMI-CEC) - control multiple components via one remote over HDMI. When used with compatible Pioneer KURO display, video settings will be optimized automatically.
Picture Control Suite - advanced picture controls including gamma, chroma, hue, noise reduction, black level and more.
Triple High-Definition Noise Reduction
BD-Live Compliant (Profile 2.0): includes 1 GB on-board memory, expandable via USB
Internal Audio Decoders: internal decoding of Dolby Digital Plus, Dolby TrueHD, DTS-HD High Resolution, and DTS-HD Master Audio to PCM or analog output
7.1 Channel Analog Audio Outputs
Latest Generation PureCinema Progressive Scan
Video outputs: HDMI, component, composite
Audio outputs: HDMI, optical (S/PDIF), analog (2-ch, 5.1-ch, 7.1-ch compatible)
Other terminals: SR port (Pioneer system remote protocol), Ethernet (RF-45), USB
Power Requirements: 120 V, 60 Hz
Weight: 7 lbs. 11 oz. (3.5 kg)
Dimensions: W x H x D: 16-9/16 x 2-15/16 x 11 inches (420 x 83 x 287 mm)
MSRP: $399
Manufacturer's Contact Information:

Pioneer Electronics
2265 E. 220th Street
Long Beach, CA 90810
Phone: (800) 421-1404

Web: www.PioneerElectronics.com