Samsung BD-P2500 Blu-ray Disc Player with Netflix Review
By Chris Boylan
Samsung BD-P2500 Review
R U Blu?
Editor's note: Review and scores have been upgraded with delivery of 1/6/09 firmware update which delivered on-board DTS-HD Master Audio decoding.
It's amazing what a difference a year makes. A year ago, there were few Blu-ray Disc players to be found which supported the BD-ROM 2.0 specs (a.k.a. "BD-Live") and what few players did include this feature were priced in the $600 and up range. Now even the entry level players support BD-Live and a couple of players even support advanced networking features such as Netflix movies on demand, with street prices well under $400. The Samsung BD-P2500 is just such a player, and its support for Netflix online streaming is just one of a robust set of features, the likes of which you will find in no other player.
A Match Made in Heaven?
While including online audio/video streaming support in a component that is intended to play back movies in physical media (DVD and Blu-ray Discs) may seem strange to some, it actually makes a great deal of sense.  A Blu-ray player already has the internal video and audio circuitry for playback of content in standard and high definition resolutions and (perhaps more importantly), the player is going to be installed directly into the living room, media room or home theater, which is more than can be said for most personal computers.  For those who want to watch movies and listen to music on physical media, the BD-P2500 has got you covered, but if you want to potentially discover new content without visiting your local video store or waiting for discs to arrive in the mail, Netflix online streaming may be just the ticket.  And this is not all the BD-P2500 has to offer.

The BD-P2500's feature set includes on-board video processing courtesy of the Reon HQV processor from Silicon Optix. This is one of the industry's finest video processors for upconverting standard definition DVDs to high definition resolutions (720p, 1080i and 1080p). Also, rare in a Blu-ray disc player, but present on the BD-P2500 is a multi-channel analog output with support for 5.1 or 7.1 channels. While this is not required for modern receivers and preamp/processors with on-board HDMI audio support, it is a very useful feature for those with older receivers or pre/pros which lack HDMI audio support but do include a multi-channel analog audio input. This allows you to take advantage of Blu-ray's high quality 7.1-channel sound without the need for a receiver upgrade.
The only really significant feature lacking from the BD-P2500 is on-board decoding for DTS-HD High Resolution Audio and DTS-HD Master Audio. Again, if you have a recent receiver which includes HDMI audio support including its own DTS-HD and Dolby TrueHD decoders, then this is not a show-stopper for you as you can bitstream the high bit rate surround sound codecs to your receiver for processing. However, if your receiver lacks HDMI support, or it includes only HDMI 1.2 support (with PCM decoding to analog, but not decoding of DTS-HD and Dolby TrueHD), then DTS-HD decoding in the player is something you want so that you can take advantage of the full sound quality available in the new lossless surround sound codecs.
Samsung has gone back and forth as to when (or even if) the BD-P2500 will support on-board decoding of DTS-HD. In October, they told us it was not going to happen, but in November, they pledged on-board decoding for DTS-HD by the end of 2008. It it's now early 2009 and the latest firmware upgrade still does not address this limitation. We shall see what 2009 brings.  But there's much more to talk about here.
Update: 1/13/09: Although it was a few days late, Samsung did deliver a firmware upgrade to the player on January 6th which enabled on-board DTS-HD decoding.  We tested a number of DTS-HD Master Audio tracks and discs, including 5.0, 5.1, 6.1 and 7.1 soundtracks, with sampling rates of 48KHz and 96KHz and found that the BD-P2500 was successfully able to decode these tracks to multi-channel PCM with all channels (and the full 96KHz sampling rate) intact in the multi-channel PCM stream. A DTS-HD Master Audio 6.1 track was converted to 7.1-channel PCM but this is not surprising.  Unlike the Panasonic DMP-BD55, DTS-HD Master Audio 5.1 tracks were kept as 5.1-channel PCM, not "amplified" to PCM 7.1.  With this promise now kept, there is no reason not to give the player 4 stars for performance and for overall score so we are upping the scores accordingly.
We have noticed one glitch in the player after the upgrade.  On Forbidden Kingdom - a DTS-HD Master Audio 7.1 disc with the BonusView feature, if you enable the BonusView content and have the player set to PCM mode, the player drops down to 5.1-ch PCM output (instead of 7.1) which suggests that the player may be reverting to the core DTS track in order to mix in the BD Secondary Audio content.  Also, the commentary audio itself appears as pulsing white noise instead of the spoken audio it should be.  Switching over to "bitstream (re-encode)" mode, the commentary track is silent, so there is efectively no work-around.  Considering how few DTS-HD MA 7.1 discs include BonusView content, this is a relatively low priority flaw, but it is something that Samsung needs to address (hopefully in a firmware upgrade).
All in the Family
It's important to point out that the BD-P2500 does have a virtually identical twin: the BD-P2550 features identical cosmetics, ergonomics and performance as the BD-P2500, however it also adds one feature that is not available on the BD-P2500 - music streaming via Pandora. With Pandora, the BD-P2550 allows you to set up your own virtual internet radio stations (assuming you connect your player to the internet, of course).
With Pandora, you pick a band or artist that you like, and Pandora begins playing songs by that band and similar bands. You vote "thumbs up" or "thumbs down" to each song and the Pandora service will get smarter about your musical tastes, tweaking the station to deliver not just your favorite artists but new ones you may not have heard of which are similar to your favorite artists. It is a cool feature if you want to experiment with music streaming. There is currently no charge for the Pandora service. The BD-P2550 is currently available exclusively at Best Buy stores and at BestBuy.com.  The BD-P2500 is much more widely available.
The Set-Up
Because the Netflix online streaming feature was delivered a couple of months after the Samsung player was first released, this means the player does not come pre-loaded with the Netflix software. Our unit came with an upgrade CD in the box and instructions to load this CD before doing anything else. This installs the software and firmware updates necessary to activate the Netflix online streaming feature. After performing this update, then plugging the player into my home network (and, by extension, the internet) via an Ethernet cable, I was notified about another firmware upgrade available - this one to support HD (high definition) movies on demand, also via Netflix.
Over the course of the review, yet another firmware upgrade became available, most likely for some obscure disc playability issues as I could not detect any changes in video performance after the latest upgrade. For the curious, the firmware upgrade we finished up this review with was "081230.01_091108B1_1254.08XAA" - now there's a mouthful, eh?
Once all these firmware upgrades were out of the way, I did some basic configuration, selecting 1080p output for video (HDMI) output. I ran into a slight snag when I tried to enable 24 FPS output (24 frames/second) in order to test this with the Pioneer PDP-5020FD with its 72 Hz native film mode. When connecting the BD-P2500 up through our Integra DTC-9.8 preamp/processor, I could not enable 24 FPS mode on the Samsung. The confirmation screen that was supposed to come up to confirm my choice never appeared, giving me a "no input signal" message on my preamp/processor instead.
Doing some research on the vast interwebs, I found out the same thing happens on other Onkyo and Integra receivers and preamp/processors, specifically models from 2007 (Onkyo TX-SR875, Integra DTR-8.8, etc). But I found a simple workaround - if I turned off the OSD (On Screen Display) in the Integra pre/pro's set-up menu, it had no problem with the Samsung's 1080p/24 stream and happily passed it to the display so I could see (and confirm) the confirmation screen and enjoy that 1080p/24 output.
On the audio side, the selections are fairly simple - I chose "bitstream (audiophile)" so that all soundtracks, including DTS-HD, Dolby TrueHD and Multi-channel PCM would be passed along to my preamp/processor for decoding. I actually like the simplicity of the choices here a bit better than the confusing audio menus on the Panasonic DMP-BD55 (an otherwise excellent player). In "bitstream (audiophile)" mode, you will not hear menu sound effects nor PiP Secondary Audio (aka, "BonusView" commentary). To hear those, you'll need to switch over to PCM output mode or "bitstream (re-encode)."

If your receiver has HDMI audio support, but no built-in DTS-HD or Dolby TrueHD decoders, then select "PCM" output. And if you're connecting this player to an older non-HDMI receiver via the fiber-optic digital output then choose "bitstream (re-encode)" which will re-encode soundtracks as standard DTS output. This is handy particularly for multi-channel PCM output which would otherwise be output as 2-channel PCM over the optical output.
A Player of Multiple Talents (and Channels)
If you want to take advantage of the superior audio available on Blu-ray including multi-channel PCM, Dolby Digital Plus and Dolby TrueHD soundtracks but your receiver lacks HDMI audio support, then you can use the multi-channel analog outputs. Depending on how many channels you need, you can selectively turn on or off pairs of channels, the subwoofer or the center speaker in the Set-Up menu for a 2.0, 2.1, 3.0, 3.1, 4.0, 4.1, 5.0, 5.1, 7.0 or 7.1 channel configuration. You can also set speakers to large or small, which will determine whether the speaker channels get a full range signal or only get frequencies above 100 Hz (the bass from speakers set to "small" will be sent to the subwoofer channel). Hopefully with a future firmware upgrade, DTS-HD soundtracks may be output as multi-channel analog as well, but for now, these soundtracks are decoded using only the lossy "core" component of the DTS track.
Netflix Online Streaming - When Immediate Gratification Takes Too Long
If you're a Netflix customer, or sign up with a new "unlimited" Netflix account (starting at $8.99/month) and wish to take advantage of the Netflix online streaming feature, then there are a few additional steps involved in set-up. Basically, you'll need to identify your player to your Netflix account, and go into Netflix to add movies to your new "instant queue." Once they're in your instant queue you'll be able to find them in the Netflix menu of your Blu-ray player.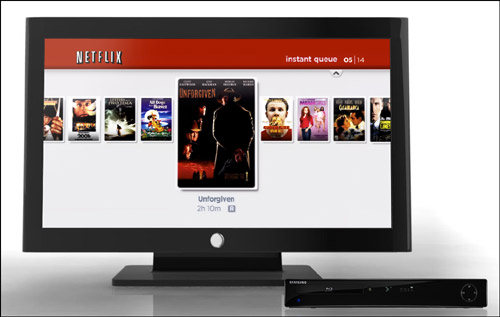 Setting up my own free Netflix trial account, I was able to begin watching streaming movies within a few minutes of set-up, including several HD titles. Quality varied a bit from title to title (and based on my available network connection speed) but overall, it was solid and relatively glitch-free on the dozen or so titles I tried. This is a very addictive feature as it allows you to choose from a fairly large selection of films and TV shows and watch these immediately without running to the video store or waiting for your Netflix disc envelope to come in the mail. The fact that there is no additional fee for Netflix customers to take advantage of this feature is perhaps the most impressive thing about it. For more details on Netflix online streaming on the BD-P2500, please read our complete Netflix online streaming review.
The Big Picture
Whether you're intrigued by the audio and video streaming features or not, you probably are interested in knowing how the player performs at its primary task: displaying Blu-ray Discs and standard definition DVDs on an HDTV and home theater system. And in this capacity, the player performs very well. Unlike its little brother, the BD-P1500, the BD-P2500 sails past each of the daunting tasks involved in upconverting a standard definition DVD to 1080p resolution. This can be attributed directly to the inclusion of the excellent Reon HQV (Hollywood Quality Video) video processor in the player.
Hitting the player with the battery of test patterns on the HQV test DVD itself, the player passed every test with flying colors. From the basic color bar and detail pattern, through the "jaggies" tests which identify the quality of a player's diagonal filter, and on into the various cadence tests, the player did not get tripped up by anything we threw at it. On the "Film Detail test" (an excerpt from "Super Speedway") the player detected and corrected for the inherent 3:2 film cadence in the material so quickly that in most cases, you couldn't even see it happen. This prevented the tell-tale moiré pattern in the grandstands that can occur with lesser video processors. This is the best performance I've seen yet from any Blu-ray player on these test sequences.
And the performance carried over to real-world content such as the coliseum flyover sequence in Gladiator, where the roofs of buildings were reproduced flawlessly with no stair-stepping distortion in the diagonal lines. Also, on the Fifth Element DVD, the archaeologist's scraggly beard in the opening sequence is presented with excellent detail. This is not true high definition but it's not far off, and certainly superior to the DVD upconversion in many other players, even some more expensive players.
Moving onto Blu-ray material, the picture quality was equally impressive. In Iron Man on Blu-ray, when the lead character does his first test flight in his fancy suit, the individual pin-points of light in the city below stand clearly apart from the dark background with no smearing or blurring of the edges. On The Dark Knight, in the opening prologue (filmed in IMAX), the masks of the characters are suitably garish in their stark primary colors and detail is exquisite. And, unlike with some earlier players from Samsung, I noticed no specific compatibility problems with the couple of dozen discs I tried on it during our review period. It was even able to play back the newly remastered Bond movies on Blu-ray (including Dr. No, Thunderball and For Your Eyes Only), which have caused playback problems on some other players, including some earlier Samsung players.
The only thing that surprised me was the performance of the BD-P2500 with the high definition Silicon Optix HQV test suite on Blu-ray. While the player breezed through the video detail test pattern (de-interlacing a video-sourced 1080i test pattern to 1080p like nobody's business), the Film Detail test produced some flicker in the single pixel high boxes in all four corners of the test pattern.  This could indicate an issue de-interlacing film-sourced (3:2 aspect ratio) 1080i content to 1080p. The player aced every other test on the disc, including the diagonal filter tests, but this odd anomaly on 1080i film-sourced material was a little unexpected given the player's video pedigree.
Fortunately, though it is quite common on broadcast HDTV programs, film-sourced 3:2 cadence 1080i content is not all that common on Blu-ray Disc so this is not something likely to come up much in real-world Blu-ray viewing. Even the Film Detail live footage test on the HQV disc itself (a slow pan across the seats on a football stadium), showed only minimal signs of moiré so this is probably not anything to be unduly concerned about.  Also, with only one full 1080p display currently in our test labs, I wouldn't want to extrapolate this performance to other displays.  When we get the next 1080p display in for review, we'll confirm these results and will post an update.
Ergonomically Speaking

In terms of ease of use, the player and its remote were pretty easy to operate. I question the placement of the TV controls (volume, channel up/down, etc.) near the sweet spot, in the center of the remote, but I expect Samsung placed these here expecting that many of their customers will use the remote to control both devices, rather than opting for an aftermarket universal remote or (perish at the thought) actually using two remotes. With the player's "AnyNet+" support (Samsung's extensions on the HDMI-CEC control protocols), you really can operate both the Samsung player and a compatible Samsung TV with a single remote without feeling much of a need to reach for the second device's remote.
Otherwise the remote is pretty well laid out with all the essential buttons, including a handy subtitle button and a "marker" button to mark a favorite point on a disc, each of which is missing from the Panasonic BD55's remote. It does lack backlighting but it includes Braille markings on the Power and TV control buttons which must be helpful for the sight-challenged, who enjoy watching (or at least listening to) Television. For the rest of us, these markings provide helpful tactile cues for button placement on the remote when using it in the dark.
When you're testing components, or even just experimenting with different audio and video settings as a consumer trying to explore the features of the Blu-ray format, you have to get into and out of the various set-up menus pretty often. One of the little ergonomic shortcomings of the Panasonic BD55 player is how long it takes to navigate out of your movie, into the set-up menu, make some changes and get back to the business of watching the movie. On the BD-P2500, this feels a bit quicker, remembering your place on the Blu-ray Disc (but not a BD-Java Blu-ray Disc, of course), when you resume playback.
Although the remote and player were not perky enough to effectively play the "Gort the robot shoots the bad earth people" game on the The Day the Earth Stood Still" Blu-ray disc, nor were BD-Java and BD-Live interactivity as quick and responsive as on a PS3, I would say that the level of responsiveness, and the various load times were acceptable for most people's purposes. And speaking of BD-Live, the player is BD-Live enabled right out of the box, with the required 1GB of internal storage. The player also includes a USB port (in the back) to connect external flash memory drives in case you need additional storage space.
Play Time
In terms of boot-up and disc loading times, we timed a few common tasks on the BD-P2500 and compared these to the 4th generation Panasonic player (DMP-BD55) and the Sony PS3. The initial boot-up time of the BD-P2500 is about 29 seconds measured from powered off, starting the timer when hitting the Power button then stopping it when the final "Samsung/Netflix" splash screen appears, accompanied by the dulcet Samsung start-up tone. This is where the player is ready to load a disc. This is about 5 seconds slower than the latest Panasonic players and about 20 seconds slower than the PS3.
If there is a disc previously inserted in the player (basic, non-Java disc - we used Hitch) when the player is powered up then, from fully off to the disc menu loaded takes about 60 seconds. This is considerably slower than the BD55 which executed the same process in about 33 seconds. Apparently the player was a bit quicker to boot up and load discs before the Netflix upgrade so loading the software required for this functionality does come at a cost, in terms of start-up times.  At least there is a "quick start" function  on the player.  If the player is off, and you hit the "eject" button (instead of "power"), the tray opens in just 6 seconds, so you can begin loading the disc while the player goes about it's boot-up process in the background.
When the player is already powered on, things go a bit more quickly. Hitch (Blu-ray) loads in about 41 seconds (as opposed to 20 seconds on the BD55 and 29 on the PS3), while a standard DVD (Gladiator) loads up in just 19 seconds to the Dreamworks logo (5 seconds faster than the PS3, in this particular case and about on par with the BD55).
When you add in a BD-Java menu to a Blu-ray Disc, things slow down a bit. Pirates of the Caribbean: The Curse of the Black Pearl -- a notoriously slow-loading disc -- loads in about 57 seconds, versus the BD55 at 45 seconds, and the PS3 at 40 seconds. We measured this by inserting the disc into the tray, pressing play and starting the clock. When the Walt Disney logo from the POTC Blu-ray Disc itself appeared on the screen (after the spinning coin), we stopped the clock. So, overall, the BD-P2500 isn't the quickest player to load, but it's much better than first and second generation players, and is fairly responsive, even on BD-Java discs, once the disc is loaded.
Turn-Ons
Excellent DVD upconversion
Netflix online streaming works, and (for the most part) works well
Multi-channel analog output for compatibility with older home theater gear
Supports BonusView, BD-Live right out of the box
Supports next generation surround codecs in both PCM and bitstream modes.
Affordable
Turn-Offs
Fairly slow loading times
Final Thoughts
If you're looking for a Blu-ray Disc player and your only concern is Blu-ray Disc picture and sound quality, then you have a number of options that will satisfy. But if high-quality DVD upconversion is important to you, and you think there may be something to this online movie streaming thing, then the BD-P2500 offers a feature set and performance that's hard to match, particularly under $400. For both the die-hard audio/videophile and the value-oriented Blu-ray shopper looking for something more, the BD-P2500 and its clone the BD-P2550 are highly recommended.
Where to Buy:
Sign Up for a Free Netflix Trial:
BD-P2500 Manufacturer's Specifications:
Playback Compatibility

Playback Media

BD-ROM / BD-RE / DVD-ROM / DVD-R / DVD-RW / AVCHD / Audio CD

Playback Formats

VC-1 / MPEG2 / H.264

Stream Video From Netflix

Yes (requires Netflix subscription)

Video

DVD Upconversion

Yes (720p, 1080i, 1080p)

Audio

Dolby Digital Plus Decoder

Yes

DTS HD Decoder

No

Dolby TrueHD Decoder

Yes

Functional Features:

BD Profile

profile 2.0

Secondary audio support

Yes

Connectivity:

USB 2.0

Yes

HDMI CEC

Yes

Composite Video Outputs

Yes

Component Video Outputs

Yes

S-Video Outputs

No

HDMI Outputs(Version)

Yes (1.3)

Optical Digital Audio Outputs

Yes

Coaxial Digital Audio Outputs

No

Analog Audio Outputs

7.1-channel

Network

Yes

Local Storage

Yes

PiP

Yes

Product Weights & Dimensions:

Dimension

16.9" x 2.3" x 10.6"

Weight

6.8 lbs.

Shipment Weights & Dimensions:

Dimension

20.9" x 5.8" x 13.8"

Weight

10.7 lbs.
Company Information:

Samsung America, Inc.
105 Challenger Road
Ridgefield park, NJ 07660

Tel: (201) 229-5000
Fax: (201) 229-5080

On the web: www.samsungusa.com