Pioneer KURO PDP-5020FD 50-inch 1080p Plasma HDTV Review
By Chris Boylan
Pioneer KURO PDP-5020 Review
The Last of Its Kind?
When Pioneer announced last year that they would be exiting from the plasma manufacturing business, many videophiles gnashed their teeth in despair. How could they take our KURO away? Yes, Pioneer vowed to continue the KURO line of plasmas, buying their glass from Panasonic and even expanding into a KURO LCD line in cooperation with Sharp, using their own proprietary processing techniques to tweak these components to the max. But there would be only one generation left of "home-built" Pioneer KURO plasma panels, and this is it.
And so the PDP-5020FD, under review here, is the last 50-inch model to be manufactured on Pioneer's plasma assembly line. And does it stand as a testament to those panels that have come before it? Read on to find out.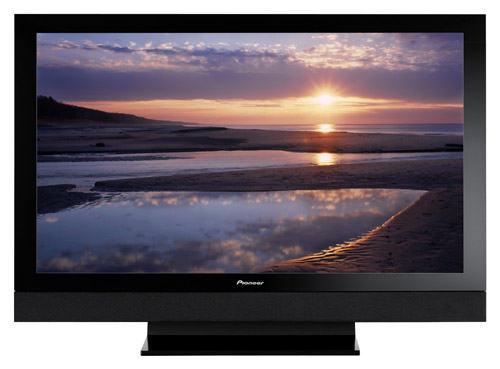 But first… some background
Project KURO, once a top secret internal code name for a truly revolutionary plasma panel design, was unveiled to the oohs and aahs of the public at CEATEC Expo in Japan, in 2006. Our friend Geoffrey Morrison broke the news of the new model to the Western World in his blog on Home Theater Mag's web site. It didn't take long to make its way into its first North American product, the 50-inch Pioneer Elite model PROFHD1 - a $10,000 statement piece that didn't even include a built-in tuner. The set was universally acclaimed by reviewers as a new reference in contrast (black level). And that, after all, was the point - "KURO" is Japanese for deep, dark, BLACK.
Pioneer has managed to enhance the KURO set's operation over time, reaching even greater contrast levels, and enhancing color accuracy, while simultaneously gaining power efficiency and (of course) lowering the price. The PDP-5020FD is the product of these improvements, and it shows.
The Set-Up
First things first. I had to plug the set in and set it up to receive local TV channels via my OTA (Over The Air) roof antenna. And I admit this part made me a bit nervous. The previous generation PDP-5010 Pioneer sent us to review earlier this year barely made it past this set-up stage when its power supply failed (approximately 10 minutes into its operation, it powered off and would not come back on). And the outer box on the new PDP-5020 looked like it had been through the ringer. In fact, my wife and BPBS office manager, Cristina, spotted the delivery people rolling the TV end over end, to get it to our door when they most likely thought no one was looking. Happily, despite their worst efforts, the HDTV inside was intact, both cosmetically and mechanically, and the set provided trouble-free operation during its time here.
Adding the local TV channels was a simple affair, and it easily tuned in all 25+ digital channels and sub-channels which are being broadcast from towers atop the Empire State Building, about 2 miles away. I noticed no break-up or pixilation of the image on the HD channels, and the low bandwidth digital sub-channels looked no worse than usual. The rest of the set-up was simply plugging in an HDMI cable for 1080i and 1080p sources, a component video cable, to test upconversion of 480i sources and an S-video cable with left/right analog to see how VHS tapes looked (better than one might expect, actually).

One thing that struck me early on is the elegance of the menus. They're not fancy. They're just "classy" with a nice subtle font and smooth transitions between menus as well as fairly intuitive navigation. Rather than intruding on the picture with these menus, the picture becomes a smaller inset PiP style window. If is there an exact opposite of the vile GUI system of the Syntax/Olevia LCD TVs, this may be it. There are, of course, picture tweaking and calibration controls available, but actually there are fewer of these than we saw (albeit briefly) in last year's 5010 model. If you do choose to tweak the picture, the menu will show you a unique "before and after" screen layout so you can see the results of your changes.
Fortunately the set's "Movie" mode is fairly accurate (with excellent contrast) and its "Optimum" mode does a pretty nice job adjusting the picture for good overall results in a number of different lighting conditions and with a variety of different kinds of content. The set's ambient light sensor adjusts the brightness, color and contrast for the current room lighting. You could consider Optimum mode Pioneer's solution for those who want to "set it and forget it." Instead of switching between different modes for day and nighttime watching, keep it in "Optimum" mode and you'll get generally good overall results. Of course, die-hard videophiles will want to tweak the setting themselves to the extent they can, or hire an ISF specialist to do it for them. And those looking for color temperature controls or advanced tweaks will want to spring for the Elite (Pro) models which include much more extensive calibration controls.

Once I made some minor adjustments inspired by the AVIA Guide to Home Theater DVD, plus some measurements with a SpyderTV Pro 2007 colorimeter, I performed a few of the standard battery of tests before settling in for some hard-core movie watching (not watching hard-core movies, which would be completely inappropriate to
mention
in a polite review). But seriously, how about those skin tones? (a little pink, but we'll get to that).
Upping the Ante
On the HQV standard definition DVD, connected to the set at 480i, we tested the set's ability to upconvert and de-interlace standard definition content to 1080p. This is important not only for DVDs, but for standard definition TV broadcasts as well. The set performed well on the jaggies tests (rotating white diagonal lines on a black background) with near perfection. In the Super Speedway segment ("Film Detail Test") where a car races around a track, the Pioneer set took longer to lock to the 3:2 cadence than did some of our reference video processors like the Integra DTR-9.8 preamp/processor with its built-in Silicon Optix HQV processor, but the Pioneer set did get it right eventually, removing the tell-tale moiré pattern from the stands.
On the 1080i test, with the HDTV set to its "Dot By Dot" mode, the set showed that it can effectively de-interlace both film-sourced and video-sourced 1080i material to 1080p detecting an inherent 3:2 cadence in the film material and reconstructing single-pixel high rows of a moving test patterns without excessive stuttering. To pass the "Film" test, however, I did have to disable the TV's "Text Optimization" feature (under "PureCinema"), otherwise the low boxes of the 1080i/p test pattern strobed. On the HD jaggies test, the set availed itself equally well, showing that the set's diagonal processor is top notch.
Moving on to real world moving images, in the area of contrast, the newest member of the KURO family did not disappoint - difficult movies on Blu-ray Disc such as The Dark Knight, and Blade Runner: The Final Cut produced near three dimensional images, where bright objects (or text, as in the opening scroll of "Blade Runner") seemed almost to float in space. Could it be better than watching the film in a theater? Yes, in fact it could, and, in the case of Blade Runner, it was. Reds, on the other hand were just slightly too vivid. They were certainly pleasing to the eye, but they ran a shade toward pink. It wasn't something that bothered me on most material. In fact, looking at other sets after the Pioneer the other reds seemed to pale slightly by comparison. But as pleasing and saturated as it looked, it wasn't 100% accurate.
This slight exaggeration of red tended to give skin tones a very slightly ruddy cast, not so bad as to make people look sunburnt or as if they were suffering from Rosacea, but skin was just a hair pinker than it should have been and reds in an actor's or newscaster's make-up looked a little too vivid. For example, when one of the contestants in the past season of "Survivor" actually put on lipstick toward the end of the season, it made her pale white face look almost clown-like and garish (of course, it's possible it just wasn't her shade). It's not something I expect would bother most viewers but we do have to identify both the strengths and weaknesses here, people so it's worth mentioning.
For movies, I found the set's 72 Hz native mode (enabled by setting "PureCinema" to "Advance" in the Picture set-up menu), to give film-based material a cinematic feel, with smooth film-like motion and a complete lack of judder. But really, I kept coming back to the blacks -- that deep inky background upon which the moving tapestry of colorful images was created. The Panasonic PZ800 we reviewed last month was very good at black level reproduction, but I have to say the Pioneer did have a slight edge. KURO plasma is still the undisputed contrast king.
A Few Words About The Sound
Normally in this price range, one would expect that owners of this set would also invest in a surround sound system to go with it. But the sad truth is many HDTV owners still rely on the speakers built into their televisions, for at least some of their TV watching. The PDP-5020FD comes with a separate detachable speaker bar to handle the audio, and it actually isn't bad as far is sound is concerned. Clear dialog and punchy dynamic sound from music and effects will definitely get you by in a pinch. The set's left/right speakers outputs can even be hooked up directly to a pair of external speakers, but for best results, we still recommend a home theater receiver and multiple speakers.
Turn-Ons:
Deep velvety blacks give images a near three-dimensional quality
Excellent detail with no digital haze or artifacts on 1080p sources
72 Hz mode gives 24 FPS film sources a more natural film-like look without imparting an overly smooth video-like quality to moving images
"Optimum" mode will do a passable job in a variety of different lighting conditions (with some crushing of white and black detail)
"Movie" mode nearly accurate right out of the box.
Turn-Offs:
Pricy
Reds slightly inaccurate
Limited picture adjustments (and no color temperature adjustment)
Remote control not easy to operate without looking at it
Final Thoughts
Plasma technology continues to edge out LCD in the area of black level reproduction, and the Pioneer KURO continues to do blacks better than even the best competitive plasmas. Let's hope Pioneer continues to attain - or even to surpass - these levels of performance in the coming years, when they start using Panasonic panels. The slight primary color inaccuracies of the PDP-5020FD are easy to gloss over when you experience the deep inky black levels of the KURO and the near three-dimensional quality it imparts images. But this picture perfection comes at a fairly steep price. As is often true in life, you get what you pay for.
Where to Buy:
Manufacturer's Specifications (PDP-5020FD):
Plasma Technology

High-Definition Resolution
1920 x 1080p
50" Class (49.85" Diagonal)
16:9 Aspect Ratio
Deep Encased Cell Structure/Crystal Emissive Layer
Improved Color Filter For Enhanced Contrast
Improved ASIC Video Processing and Scaling
Detachable Bottom Speaker

Plasma Features

New & Improved Optimum Video Mode
Smooth Film Mode
4 Independent HDMI® 1.3 Inputs
Room Light Sensor for Automatic Picture Adjustment
HD Wide Mode
Mode 1 / Mode 2
Standard 3:2 (60Hz) Pulldown
Advanced PureCinema with 3:3 (72Hz) Pulldown
Fully Integrated ATSC & NTSC Tuner with Clear QAM
Home Media Gallery
Sound Control (Synchronized Sound)
Off/On
V-Chip Parental Control
Remote Control
New Design - Glow in the Dark/Preset
On-Screen Display
Eng / Fre / Spa
New & Improved Graphical User Interface (GUI)
New Energy Save Mode
Standard / Save 1 / Save 2 / Picture Off
Energy Star Compliant

Picture Settings

A/V Selection Memory
Optimum / Dynamic / Performance / Movie / Sports / Game / Standard (PC Input: only Standard & User)
Aspect Ratio Control
9 Positions: Auto* / Full / Dot by Dot / Zoom* / Cinema* / 4:3 / Wide* (Only for SD) Wide 1* (Only for HD) Wide 2* (Only for HD) *Except PC Signal
Advanced Picture-In-Picture
4 Positions
Picture-Side-Picture
3 Positions
Still Picture Capability
Seamless Orbiter
Off / Mode 1 / Mode 2
Auto Size
Off / Natural / Wide-Zoom
Side Mask Detection
2 Modes (Black / Black and Illustrated)
Side Mask Brightness
Fixed / Auto
Video Pattern
White Bar
Game Control Preference
(AV Selection: only Game) Off / On
Room Light Sensor
(Off / Mode 1 / Mode 2)

Home Media Gallery

IP Network Compatibility Designed to DLNA™ Guidelines
DLNA Version 1.5
Microsoft PlaysForSure® Protected Content
Version 2.20
Supported Video Formats
WMV9, MPEG1, MPEG2-PS, MPEG2-TS, MPEG4 (SP/ASP), MPEG4 (H.264/AVC)
Supported Audio Formats
WMA9, MP3, Linear PCM (WAV), HE-AAC, MPEG-4 AAC
Supported Photo Formats
JPG, PNG, GIF, TIFF, BMP
Zoom
Slide Show Effect
3 Patterns

Video Processing Technology

DRE Picture
Yes
Black Level
Yes
ACL
Yes
Enhance Mode
Yes
Gamma
Yes
CTI - Color Transient Improver
Yes
3D Digital Noise Reduction
Yes
Field Noise Reduction
Yes
Block Noise Reduction
Yes
Mosquito Noise Reduction
Yes
Tuner Noise Reduction
Off / On (for each channel)
Manual Video Adjustment (Before & After Comparison)

Video & Audio Inputs

Independent HDMI 1.3
4 (with Deep Color Support)
HDMI Inputs - Ability To Accept 480i / 480p / 720p / 1080i / 1080p (24/60 Hz) Signals
Component
1
Composite
3
S-Video
1
USB (Mass Storage Class)
PC
LAN (10/100 Base-T Ethernet)

Video & Audio Outputs

Optical Digital Audio (Dolby® Digital/PCM)
Audio LR
Subwoofer
SR
Headphone
Speaker Out

Audio Technology

New 18-Watt Stereo Digital Amplifier w/TruBass 2-Way Stereo Speakers
Sound Effect
SRS
Off / Low / Mid / High
SRS Focus
Off / Low / Mid / High
SRS TruBass
Off / Low / Mid / High
SRS Definition
Off / Low / Mid / High
Auto Volume Control
Off / On
Synchronized with Optimum Mode
Surround Effect with Headphone Out
Sound Setting Memory (Per A/V Mode, Per Input)
New Audio LSI
Audio Output
18W+18W

Dimensions and General Specs

Carton Dimensions
52-7/8" x 20" x 38-3/8" (W x H xD)
Carton Weight
114 lbs.
Panel without Speaker
48-17/32" x 28-15/32" x 3-21/32" (W x H x D)
Panel (w/detachable bottom speaker)
48-17/32" x 31-5/8" x 3-21/32" (W x H x D)
Panel Weight
74 lbs. 1 oz.
Panel Weight (w/detachable bottom speaker & stand)
86 lbs.
List Price
$3500
Manufacturer's Contact Information:

Pioneer Electronics
1925 E. Dominguez St.
Long Beach, CA 90810
Phone: (800) 421-1404

Web: www.PioneerElectronics.com