Blade Runner: The Final Cut (Complete Collector's Edition) on Blu-ray Disc Review
By Chris Boylan
The Film
In the Science Fiction genre, few films have had the impact of Ridley Scott's "Blade Runner." With outstanding (perhaps best in career) performances by Harrison Ford, Sean Young and Rutger Hauer, "Blade Runner" stands out as a visual and lyrical gem in a sea of forgettable films.
"Blade Runner" tells the tale of a gruff cop, Rick Deckard (Ford) given the unenviable job of seeking out and terminating illegal "replicants" - human-looking artificial creations genetically designed to be "more human than human." And in telling this story, the film calls into question what it means to be human - manufactured or otherwise.
The film, based on a novel by Philip K. Dick, invented the "SciFi Noir" (or "neo noir") genre and has been imitated, or paid homage to, many times since its release in 1982, but never matched. Its dark, gritty depiction of a near future (2019) Los Angeles merges familiar and unfamiliar elements, advanced technology and quiet desperation into a cohesive whole that feels all too real.
Over time, the film has seen several releases, the "theatrical cut" with initial voice-over by Harrison Ford to explain (some would say "spoon feed") the back-story to the audience, a so-called "director's cut" which omitted that voice-over and added one intriguing hint as to Detective Deckard's own lineage, and a rough "workprint" which circulated through some local art-house cinemas back in the early 1990s. For years, rumors have persisted about work on a truly director-approved version of the film that would one day see the light of day. And that day has arrived.
After a limited theatrical run across the country, "Blade Runner: The Final Cut" is now available in a "Collector's Edition" set on DVD, HD-DVD and Blu-ray Disc. In terms of comparisons to earlier versions, "The Final Cut" is more of a refinement than a total re-do, but it feels like a more complete and satisfying work than any of the prior versions. For the Final Cut, Ridley went back to the original master film elements and cleaned up many of the street scenes and exterior shots, giving the city-scapes a more palpable, three-dimensional feel. Minor bits of dialog are restored, and annoying little inconsistencies are corrected.
In the original release, Joanna Cassidy's stunt double's face was clearly visible in her "retirement" scene. So Ridley actually re-shot the scene against a green screen with Joanna and digitally super-imposed her face over the stunt double for the final cut. Similarly, in the animal bazaar, Harrison Ford's lips never quite matched up to his dialog with the snake merchant. So Ben Ford (Harrison Ford's son) lip-synched the correct dialog and his lips were used in the final cut of the film for the close-up. This gives you an idea of the amount of detail and attention that went into the film, and it shows.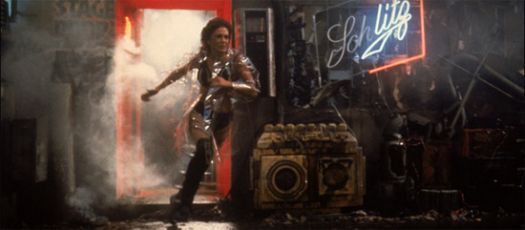 Like the director's cut before it, the voice-over narration is gone as is the final happy ending with Deckard and Rachel escaping to the mountains. It's now up to the audience to piece together what they need to know and interpret events as they unfold: past, present and future. At first, when I saw the director's cut in theaters, I missed the voice-over, probably because I had watched the film over a dozen times in its theatrical cut. But over time, I've come to agree that it's a better film without it.
Also, as with the director's cut, the "unicorn dream sequence" is included, though it's a cleaned up version of the sequence. Combine this with the unicorn origami from fellow cop Gaff (Edward James Olmos) and the implication is that Deckard's dreams and memories are known to him. Is Deckard a replicant as well? That, as with many elements of the film, is entirely up to the audience to decide.
The Extras
If you're going to ask people to fork over more money for a film they may already own, you better make it worthwhile. And the folks at Warner have outdone themselves here. In addition to over 90 minutes of deleted scenes, the centerpiece of the extras would have to be the three-and-a-half hour documentary on the making of "Blade Runner," "Dangerous Days: Making Blade Runner." Actually the working title of the film itself in its early days, "Dangerous Days" reunites all of the surviving cast members (except William Sanderson), the director, producers, writers and key crew members to give their takes on the various elements of the film, from the casting, to set design to political battles to production challenges.
This documentary covers all the bases and tells a comprehensive tale of what it took to make the film - it's sure to satisfy even the raving "Blade Runner" fan. Dustin Hoffman as Rick Deckard? Or Robert Mitchum? Both were strong contenders before the film-makers decided on Harrison Ford. And why did director Ridley Scott choose to abandon "Dune" in favor of this smaller budget, lesser known title? This and many other questions are answered in "Dangerous Days."
And that's not the end of it. There are other extras on the 5-disc set: even more specialized and detailed featurettes, four other complete versions of the film (workprint, director's cut, international and domestic theatrical cuts), audio interviews with Philip K. Dick, trailers and so much more. A complete disc listing is included below. All in all, this set comprises an extremely comprehensive and satisfying package for the fan of Blade Runner in particular or film-making in general.
For the die-hard "Blade Runner" fan, the set is also available in an "Ultimate Collections Edition."  This includes the same five discs of the "Complete" edition, housed in a collectible metal briefcase styled after Deckard's own briefcase in the film.  Inside the case you'll find an original unicorn origami figure, a model Spinner car, a lenticular motion film clip from the original feature, collector's photographs as well as a signed personal letter from Sir Ridley Scott.  Content-wise, the "Ultimate Collector's Edition" is identical to the "Complete Collector's Edition, " but if you're into Blade Runner "stuff" then there's some cool stuff to be had in the metal case.
The Picture
All the extras in the world mean nothing if the quality of the video transfer is anything less than top-notch and here, the Blu-ray Disc version of the film doesn't disappoint. I recently saw the Final Cut in a theater in New York and watching it on Blu-ray Disc at home on a 92-inch projection screen brought back that same overwhelming cinematic experience. The enhancements Mr. Scott and crew have made for this 25th anniversary cut show through in this pristine 1080p transfer made from a newly restored digital master. The best previous transfer that I had seen was Criterion Collection's laserdisc of the theatrical cut (from 1989), but this new Blu-ray Disc version puts that to shame. As screens get larger, the quality of film transfers becomes more important and "Blade Runner: The Final Cut" on Blu-ray Disc is a reference quality title.
The Sound
In the past, we've had to be content with a Dolby Surround-encoded 2-channel audio track. On DVD, that was compressed Dolby Digital 2.0 sound. On laserdisc it was uncompressed 2-channel PCM. On VHS, it was first linear stereo, then "HiFi" sound. Even still, the soundtrack, featuring music by Vangelis, was part of what made the film so enjoyable. But the sound quality of previous video releases was limited by what the film-makers originally created, and by the technology of the various media.
Now, finally, the film-makers have re-mixed the film to include a discrete 5.1-channel soundtrack and have presented this on Blu-ray Disc in lossless Dolby TrueHD so it's a bit-perfect copy of the studio recording. No more hissy noise floor or pumping or "breathing" artifacts in the sound, no more brittle highs or limited dynamics. No more vaguely defined surround sound field or inarticulate dialog. Just pure discrete multi-channel sonic goodness - a perfect match for the 1080p video transfer.
Final Thoughts
In case it's not immediately obvious, "Blade Runner" is one of my favorite films, and to see it given this rich and detailed treatment warms my heart. The film is edited now into the most coherent whole - the director's ultimate vision, had cost, resources and creative control been less restrictive. The video and audio quality are top-notch. And the extras make me even more appreciative of the efforts that went into making and releasing the film. "Blade Runner: The Final Cut" is my current "top pick" on Blu-ray Disc or HD-DVD.
"Blade Runner: The Final Cut" - High Definition Versions Available
Blu-ray Disc:
HD-DVD:
Special Note from Warner:
NOTE:  A small number of Blade Runner 5-Disc Ultimate Collector's Edition briefcase gift sets and Blade Runner 5-Disc Complete Collector's Editions in the Blu-ray format may contain an incorrect disc #5 labeled The Work Print. In some cases disc #5 does not have the work print content but rather the content of Blade Runner: The Final Cut, which is already included in the collector's set as disc #1. The only way to recognize the error is to play disc #5 and go to the Special Features page. If you see one commentary track by Paul M. Sammon, the disc is correct. If you see three commentary tracks, then they have an incorrect disc. To receive a correct replacement Blu-ray disc #5, please call Warner Home Video at 1-800-553-6937.
What's Included in the Complete Collector's Edition 5-Disc Set:
Disc One
RIDLEY SCOTT'S ALL-NEW "FINAL CUT" VERSION OF THE FILMRestored and remastered with added & extended scenes, added lines, new and cleaner special effects and all new 5.1 Dolby TrueHD Audio.
Also includes these commentary tracks:
Commentary by Director Ridley Scott
Commentary by Executive Producer/ Co-Screenwriter Hampton Fancher and Co-Screenwriter David Peoples; Producer Michael Deely and production executive Katherine Haber
Commentaries by visual futurist Syd Mead; production designer Lawrence G. Paull, art director David L. Snyder and special photographic effects supervisors Douglas Trumbull, Richard Yuricich and David Dryer
Disc Two
DOCUMENTARY: DANGEROUS DAYS: MAKING BLADE RUNNER: A feature-length authoritative documentary revealing all the elements that shaped this hugely influential cinema landmark. Cast, crew, critics and colleagues give a behind-the-scenes, in-depth look at the film -- from its literary roots and inception through casting, production, visuals and special effects to its controversial legacy and place in Hollywood history.
DVD trailers:
"I am Legend"
"Invasion"
"Fracture"
"Superman Doomsday"
Disc Three
1982 THEATRICAL VERSION
This is the version that introduced U.S. movie-going audiences to a revolutionary film with a new and excitingly provocative vision of the near-future. It contains Deckard/Harrison Ford's character narration and has Deckard and Rachel's (Sean Young) "happy ending" escape scene.

1982 INTERNATIONAL VERSION
Also used on U.S. home video, laserdisc and cable releases up to 1992. This version is not rated, and contains some extended action scenes in contrast to the Theatrical Version.

1992 DIRECTOR'S CUT
The Director's Cut omits Deckard's voiceover narration and removes the "happy ending" finale. It adds the famously-controversial "unicorn" sequence, a vision that Deckard has which suggests that he, too, may be a replicant.

Disc Four
BONUS DISC - "Enhancement Archive"
Featurette The Electric Dreamer: Author Philip K. Dick
Featurette Sacrificial Sheep: The Novel vs. The Film
Philip K. Dick: The Blade Runner Interviews (Audio)
Featurette Signs of the Times: Graphic Design
Featurette Fashion Forward: Wardrobe and Styling
Screen Tests: Rachel and Pris
Featurette The Light That Burns: Remembering Jordan Cronenweth
Deleted and Alternate Scenes
1982 Promotional Featurettes
Trailers and TV Spot
Featurette Promoting Dystopia: Rendering the Poster Art
Featurette Deck-A-Rep: The True Nature of Rick Deckard
Featurette Nexus Generation: Fans & Filmmakers
Disc Five
WORKPRINT VERSION
This rare version of the film is considered by some to be the most radically different of all the Blade Runner cuts. It includes an altered opening scene, no Deckard narration until the final scenes, no "unicorn" sequence, no Deckard/Rachel "happy ending," altered lines between Batty (Rutger Hauer) and his creator Tyrell (Joe Turkell), alternate music and much more.
Also includes:

Introduction by Ridley Scott
Commentary by Paul M. Sammon, author of "Future Noir: The Making of Blade Runner"
Featurette All Our Variant Futures: From Workprint to Final Cut