Does Pioneer's Exit from Plasma Manufacturing Mean Death for Kuro HDTV?
By Chris Boylan
In a recent letter to share-holders and press release, Pioneer announced their impending exit from the plasma panel manufacturing business. New Pioneer plasma HDTV models to be announced in May, and sold through the remainder of 2008 and 2009 will be the last to be manufactured and assembled at Pioneer's own PDP plant. In the announcement, Pioneer also revealed plans to begin selling Pioneer-branded LCD televisions with panels provided by Sharp, perhaps as early as this fall.
But this does not mean that the exceptionally high quality Pioneer and Pioneer Elite plasma flat panels will cease to exist. Moving forward, Pioneer intends to purchase its plasma panels from other manufacturers, most likely Panasonic parent company Matsushita. Concurrent with their exit announcement, Pioneer made it clear they were entering talks with Matsushita to buy panels from their former rival.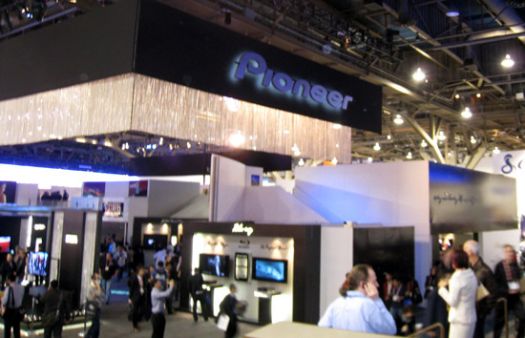 Pioneer's booth at CES was abuzz with journalists, analysts and
attendees gushing effusively about the Kuro concept plasma TVs.
Panasonic has made significant strides in their own Viera plasma flat panel line this year, with noticeably improved contrast ratios, native 24 Hz frame rate support for more film-like reproduction of movies, enhanced energy efficiency and an improved anti-reflective screen to minimize glare from the screen. But Pioneer's CES demo of an extreme contrast Kuro plasma concept HDTV was simply the most impressive TV picture I've ever seen. "Kuro" means "deep black" in Japanese and it is in the area of black level reproduction (aka "contrast") where Pioneer's latest production plasma panels, and state-of-the-art concept pieces like the one shown at CES, really stand out from the competition.
Some of the magic of the Kuro picture is in its deep-encased cell structure - part of the physical panel design itself. But part of it is handled by the electronics as well. And there has been some semi-substantiated speculation that some of Pioneer's plasma engineers may be moving to Matsushita as well, perhaps bringing with them the deep dark secrets of Pioneer's deep dark black levels? So will the combination of an improved Matsushita panel and Pioneer electronics be sufficient to carry on the Kuro concept and brand? This remains to be seen. But we'll we watching and hoping for the best in 2009.