Netflix Instant Streaming in HD Review
By Chris Boylan
Nothing But Net
At CEDIA Expo this past fall, LG was prancing like a proud peacock as the first Blu-ray player manufacturer to announce support for the new Netflix on-demand instant streaming service. In addition to playing back standard DVDs and Blu-ray Disc movies in High Def resolution, LG's BD300 Blu-ray Player would be the first to support Netflix for instant viewing access to a selection of movies and TV shows.
But Samsung wasn't far behind with their announcement at the end of October that their BD-P2500 and BD-P2550 Blu-ray Players would also support Netflix instant streaming via a firmware upgrade. This month, the news got even better as both LG and Samsung offered additional updates to their players to support high definition content on Netflix. These players join the PC, Xbox 360, Roku standalone Netflix box and certain Tivo DVRs as client devices that can play back Netflix movies (and TV shows) on demand to Netflix customers.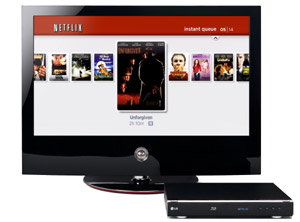 As we recently received the LG and Samsung Blu-ray players for review, we thought it would be a good opportunity to check out the Netflix service. As high-end audio/video devices (with the requisite high quality audio and video circuitry, HDMI and component video outputs), Blu-ray players make an excellent hosting platform for the Netflix service. But can streaming media bust out of its low quality YouTube-like reputation and provide high quality content that blows up well in today's large screen home theater environments? Actually it turns out that it can, but the service is not without a few caveats.
The Set-Up
When you bring home one of these new players, chances are you will need to upgrade the software and/or firmware on your player in order to enable the Netflix service or enhance it for HD viewing. With the Samsung player, I received an upgrade CD in the box with instructions to run this upgrade first, before doing anything else on the box. Then, after performing this upgrade and setting up the player for network access (hard-wired, of course, as there is no wireless capability in either player), I was notified of another firmware upgrade that would be required (this was to enable the high definition playback feature for Netflix). This process was automatic and only took a few minutes. The LG player came pre-installed with the Netflix software but also required the online firmware upgrade to support HD.
When you first attempt to connect to Netflix from either player, it will generate a unique code that will identify your box to the Netflix servers. You then need to copy this code into your Netflix account online (via a Web-connected PC or Mac) in order to activate the device for on-demand use. If you don't yet have a Netflix account you can sign up for a free 2-week Netflix trial
and begin your online viewing nearly immediately. If you sign up for any package above and including the $8.99/month unlimited option, which entitles you to rent one movie at a time by mail on physical media (on DVD or, for an additional $1/month, on Blu-ray Disc), then you'll also qualify for unlimited online viewing.
Queue it Up
Once you have at least one device activated in your account, you can begin adding films to your "instant queue" for viewing on the device. Presently movies can only be added to the instant queue from a Web browser (PC, Mac, iPhone, etc.) due to limitations in the Web browsing capabilities in the playback devices, but this may change at some point in the future.  As Netflix describes it, the web browser is for "search and selection" while the playback device is for "display and play."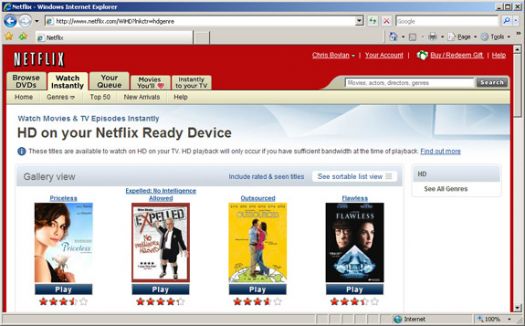 Films and TV shows can be selected by category (genre), by most popular (top 50) or by most recently added. You can also view just the HD titles by looking in the "genre" drop-down list and selecting "HD." From what I could see, there is currently no indication of aspect ratio (e.g., 4:3 vs. 16:9) in the movie listings - some of the SD content is 4:3, some is 16:9. All of the HD titles I viewed were presented in a widescreen 16:9 aspect ratio.
The instant queue concept is similar to your usual Netflix queue for DVDs or Blu-ray Discs, but instead of having to wait to get a new title by mail, your instant queue is available immediately, is effectively unlimited and you can jump back and forth between any titles in your online queue for playback. When I signed up for my free trial, I had movies in my online queue and ready to watch in a matter of minutes, and the first physical disc I rented (the indie film "Once"), showed up in the mail two days after I signed up.
The library of available on-demand titles is currently much smaller than the catalog of DVDs and Blu-rays you can rent from Netflix by mail (currently around 12,000 titles available online vs. over 100,000 available by mail), but there is no limit to the number of movies you can watch in a day or a month (again, as long as you sign up for one of the "unlimited" rental plans for $9.99/month and up). I was able to find a few independent films that I had wanted to check out, as well as some fairly recent mainstream films, and very recent TV programs such as the current season of "Heroes," which was available in high definition.
Update: Netflix has begun offering a streaming-only plan for customers who have no need for disc rentals.  This is currently $7.99 a month and you can sign up for a free trial here:
Bring Your Theater Home
After adding a few movies and TV shows to my instant queue, I walked from my home office over to my living room to find that the tagged programs and films were already available on my device. That simply and quickly, I had full-length movies and TV shows available for my viewing pleasure, some even in High Def. Cool!
On the LG and Samsung players, the interface to the Netflix system was virtually identical. The films in my instant queue were presented as thumbnail graphics (DVD Box Art) that enlarge as you select them. Clicking on a DVD box for a particular title then brings up a short synopsis, with actor listings and such as well as running time and a star rating as scored by the Netflix viewing audience. From this screen you can select start, or resume - the Netflix software remembers where you left off in a film which is more than can be said for a BD-Java Blu-ray Disc, so that's a nice touch. You can also remove a title from your instant queue from here or from your PC or Mac.
Online Streaming - the Next Generation
If you're expecting Netflix online streaming to look like your typical YouTube video, you're in for a pleasant surprise. Quality of playback depends on your available internet speed and a good fast network connection can get you entirely acceptable picture performance. When you select a film for playback, you'll get a screen showing "quality" level (which is based on your current download speed from your provider). Then you get a status bar as the first part of the film is buffered for playback. This process should complete in under a minute and then playback will begin. With my roughly 5 MBPS download speed on basic Time Warner Cable, split among a few different computers and CE devices, I was generally getting about 11 bars out of 13 for quality, and this presented a stable viewable moving picture with some visible compression artifacts, but few major glitches.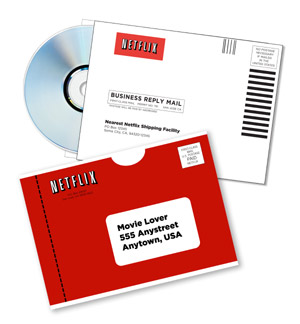 On standard definition titles, colors were a bit muted compared to DVD and aliasing artifacts were visible around edges and in static backgrounds, but overall the quality was pretty good. For HD films, the quality bar was usually full with the letters "HD" at the end showing that I was indeed getting the high definition versions of the films or TV shows. Video quality on these was noticeably better than standard def titles, with fewer artifacts, richer more saturated colors and improved detail. Panning shots and fast moving images did exhibit some motion smearing, but nothing too drastic.  This is not Blu-ray quality, but if you want that, then simply add the Blu-ray Disc for any film in your regular Netflix queue and you'll have it in a day or two.
Sound quality of on-demand titles was regular old stereo (in some cases, surround-encoded). It was listenable, with clear dialog and decent representation of music and effects but it was no comparison to the discrete multi-channel sound available on DVD and a far cry from the advanced lossless surround sound available on Blu-ray Disc.  Netflix reps tell us discrete surround sound is something they're planning to add to instant streaming titles in the future.
I Like to Watch
I sampled or watched a variety of films and TV shows via Netflix instant streaming including Young Frankenstein, Heroes Season 3 (HD), Before the Devil Knows You're Dead (HD), Superman: Doomsday, Apocalypto, Enchanted and more. Roughly 50% of the films I watched via Netflix on Demand were widescreen (16:9) and about half of those were available in High Def. High Def of course has higher bandwidth requirements for glitch-free playback, but the nice thing is that Netflix will optimize the quality for your particular bandwidth. In other words, if you only have a 2 MBPS connection to the internet, you'll get a stable image, but it will have more artifacts and slightly less robust audio than if you had a faster connection.
Although you are streaming the movies in near real-time (nothing permanently stored on your device), you can still pause, rewind and fast forward through content. If you move far enough forward or back, you will get the buffering status bar again (and a slight delay before playback resumes) but this was never objectionable to me. Just the fact that I could watch a movie nearly immediately, in high definition, and without breaking any state or Federal laws was pretty impressive and bodes well for the future of the Netflix instant streaming service.
Turn Ons
Instant access to a decent-sized catalog of TV and movie titles
High Definition and widescreen titles look good even on large flat panel TVs and projection screens
No per-film rental fees for Netflix customers
It's legal!
Turn Offs
Quality at its best still lags behind Broadcast HD as well as VUDU's Pay-per-view HDX 1080p movie download service
No discrete surround sound (yet)
No ability to add movies to queue directly from device (must be done from a Web browser)
Relatively sparse selection
Final Thoughts
When Netflix first started in 1997, the name was appropriate as you could rent flicks over the internet, but you still had to wait a bit for the titles to show up in the mail. Now, with instant internet video streaming, the name is even more accurate. By embedding Netflix capabilities in a variety of consumer devices that are likely to be installed in the living room or home theater, Netflix is offering consumers a choice between the instant gratification of movies-on-demand and the higher quality of rented physical media (Blu-ray Discs and DVD). And it's giving us this choice at no incremental cost (for existing customers) and for a low flat monthly fee (for new Netflix customers). I like choices. If a Blu-ray player is on your wish list, then the Netflix-enabled LG BD300 and Samsung BD-P2500 or BD-P2550 should be on your short list.
More Information:
Manufacturer's Contact Details:
Netflix
100 Winchester Circle
Los Gatos, CA 95032

ph: (408) 540-3700
On the Web: netflix.com
Sign Up for a Free Netflix Trial: