Panasonic DMP-BD55 (DMP-BD55K) Blu-ray Player Review
By Chris Boylan
Panasonic DMP-BD55 (DMP-BD55K) Blu-ray Player
True Blu
2008 is the year that Blu-ray Disc is really coming into its own. It saw the end of the format war, with Blu-ray victorious and the first appearances of players that offer full Blu-ray functionality - not just high quality image and sound, but interactive picture-in-picture commentary (Bonus View) and more recently, internet access and networking (BD-Live).
And just as Panasonic was one of the first manufacturers to offer Bonus View support in their DMP-BD30, so are they one of the first to offer a fully functioned Profile 2.0 player with BD-Live capabilities, on-board decoding of all high bit rate (HBR) codecs and 7.1-channel analog outputs. And you'll find all of these tasty features in the DMP-BD55.
---
Note: Check out our hands-on review of the new
DMP-BD80
(replacement for the BD55).
---
Our experience with the DMP-BD30 was generally quite positive. It was the first standalone BD player to offer decent boot-up and load times (much faster than other players, though still slower than the PS3). It was also the first to support Bonus View and bitstream output of the advanced new lossless surround sound codecs, Dolby TrueHD and DTS-HD Master Audio. The DMP-BD55 (aka DMP-BD55K with "K" for black) is similar in many ways to the BD-30, with the addition of BD-Live support, on-board DTS-HD and Dolby TrueHD decoders (as well as bitstreaming) and 7.1 channel analog audio outputs for use with home theater processors and receivers which lack HDMI inputs. It also offers DivX video file playback, a feature not available in the step-down BD35 model.

The Set-Up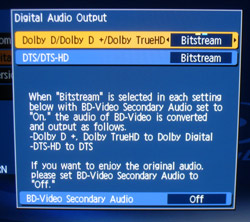 The DMP-BD55 ships with default settings that will work for most TVs and systems that it's likely to be paired with. I went into the audio settings menu (Digital Audio Output) to enable the bitstreaming audio, so I could pass DTS-HD Master Audio and Dolby TrueHD soundtracks to our Integra DTC-9.8 preamp/processor. I was happy to see that the audio menu was a lot simpler than the one in the DMP-BD50 model which directly preceded it.
If you want to pass DTS and Dolby bitstreams directly to your A/V receiver or surround processor for decoding, simply select "Bitstream" for each and turn off secondary audio. This means you won't be able to hear the audio commentary tracks that appear as a supplemental feature on some Blu-ray Discs. But this is consistent with all Blu-ray players. If you want to enable commentary tracks then simply choose "PCM" output instead of bitstream and this will decode DTS and Dolby surround soundtracks to Linear PCM in the player, mixing in the commentary tracks in real-time.
In order to take advantage of BD-Live, I connected an Ethernet cable, plugged that into my router, enabled DHCP in the Network menu and did a connection test (it passed). I installed a 2 Gigabyte (GB) SD card into the SD card slot (necessary in order to use BD-Live) and moved on to the video settings menu. Here I enabled 24 frames/second output, set the HDMI output resolution to 1080p and confirmed that the TV format was set to 16:9. Then I plugged in an HDMI cable from the player to our preamp/processor and that was it for set-up.

Features and Functions

Like other Panasonic BD players, the DMP-BD55 offers a front panel SD card slot, which supports playback of AVC-HD (high definition) video files or JPEG images stored on any SD or SDHC memory card. And while you're watching a slide show of your favorite digital pictures, you can set them to music, because the BD55 also supports concurrent playback of standard CDs or MP3 CDs with your photos. But the SD card does much more on the BD55. Lacking any on-board storage, the BD55 needs the SD card slot in order to fully support BD-Live.
When you access BD-Live content such as movie previews, this content is downloaded to the player (not streamed). This allows you to get high quality audio and video from these supplements, but it also means you'll have to store it somewhere. And on the BD55, this storage is provided by an SD memory card (not included). I tested with both SD (Secure Digital) and SDHC (Secure Digital High Capacity) cards, and both worked fine, though the faster SDHC card seemed to speed up the BD-Live operation a bit. Although 1GB storage is the minimum required for BD-Live, I'd recommend at least a 2GB card. High Def content takes up a lot of space, so a 1GB or smaller card will not be adequate if you actually want to keep local copies of the trailers and other supplemental content.
BD-Live, as a feature, is still finding its way, looking for that "killer app." Sony Pictures has been the strongest and earliest supporter of BD-Live to date, but even they have not yet offered anything so ground-breaking on BD-Live. You may get ring tones for your cell phone, trailers, sometimes exclusive video content not available elsewhere, but the more interesting stuff takes so long to download as to make it almost anti-climactic.
We tested the BD-Live features on the DMP-BD55 and found BD-Live to be quicker and more reliable than on the BD50, but it was still a sometimes frustrating process waiting for the BD-Live content to load. Hitting the BD-Live icon on Starship Troopers led to a five minute delay before the Sony Pictures Home Entertainment (SPHE) BD-Live "home page" came up. One SPHE title (Walk Hard: The Dewey Cox Story) that wouldn't load BD-Live at all on our earlier BD50 player loaded properly on the BD55, albeit slower than it does on the Sony PS3. Few other studios have BD-Live content right now, so it's difficult to determine how much of the delay is caused by the player, and how much by the back-end servers. I'd expect that both elements will be beefed up over time with firmware upgrades and with enhancements to the back-end web servers that deliver the content.
On Your Mark, Get Set, Go! No Wait.
First and second generation standalone Blu-ray Disc players were notoriously slow at booting up and playing discs. Panasonic made significant improvements in loading speeds in their third generation players. The difference between these new fourth generation players and their immediate predecessors is not as drastic, though Panasonic has managed to shave a bit of time off the disc loading process.
The initial boot-up time of the BD55 is not far off from that of the BD50. It takes roughly 24 seconds to boot up the BD55 from powered off to the Blu-ray splash screen and another 9 seconds to display the first screen of a Blu-ray Disc ("Hitch") previously inserted in the player. This is about 6 or 7 seconds faster than the BD50. When the BD55 is already powered on, the differences are a bit more substantial. Placing a disc in the tray and pressing "play" takes around 20 seconds for a Blu-ray Disc (9 seconds faster than BD50) and 18 seconds for a DVD (2 seconds faster than the BD50).
For Blu-ray Discs with BD-Java based menus, the difference is a bit more noticeable. Pirates of the Caribbean: The Curse of the Black Pearl loads in about 45 seconds on the BD55 versus 56 seconds on the BD50. We measured this by inserting the disc into the tray, pressing play on the BD55 and starting the clock. When the first trailer from the POTC Blu-ray Disc itself appeared on the screen (after the spinning coin), we stopped the clock. As a point of reference, the mighty PS3 from Sony loads that same BD-Java disc in about 40 seconds, so the Panasonic isn't far off. In fact, on "Hitch," the Panasonic was actually about 9 seconds faster than the PS3 and on a standard DVD, the BD55 was 6 seconds faster than the PS3. These load times are easy to live with, particularly with the enhanced picture and sound benefits available on Blu-ray Disc.
Big Picture Performance
On the Silicon Optix HQV Blu-ray Disc, the BD55 showed that it was capable of properly de-interlacing both video-based and film-based 1080i signals with an embedded 1080p source. Single pixel high rows were clean and well defined in both the film and video detail tests. They did not strobe as they do in some lesser players. In a pan across a stadium the seats were crisp and well defined without a hint of moiré. The player also passed the HD jaggies test with no visible stair-stepping on a moving white line.

Moving onto the standard definition DVD of the HQV Benchmark tests, the BD55 availed itself well as an upconverting DVD player, significantly better than its predecessor, the BD50. On the color bar test pattern, the black and gray color swatches showed smooth transitions from light to dark. On the single bar jaggies test with the spinning white line, the line shimmered slightly around 10 degrees showing slight stair-stepping, and on the three bouncing diagonal line segments of the second jaggies test, only the lowest of the three lines had any hint of jaggies. This is very good to excellent performance of the player's diagonal filter and clearly better than Panasonic's own. Real world content such as the Rome flyover sequence in Gladiator on DVD confirmed this performance.
The BD55 locked onto a 3:2 cadence properly in about half a second on the "Super Speedway" segment. This tests a player's ability to properly detect and compensate for the 3:2 cadence inherent in film-based material. So there was clear moiré distortion visible in the grandstands, but after half a second it disappeared as the player properly de-interlaced the moving image. On a tricky mixed content test with video titles overlaid on a film-based background, the player exhibited some comb distortion briefly on scrolling horizontal titles but quickly locked in to correct this and display the scrolling titles cleanly. Vertically scrolling titles were presented properly.
The only area in which the BD55's picture performance was a bit disappointing was in its noise reduction processing. The HQV test disc includes a number of test sequences which simulate broadcast noise and excessive compression artifacts and the BD55 was not that effective at removing these noise elements. Noise reduction circuitry is more important in a display device than it is in a DVD or BD player, as lower bandwidth broadcasts tend to suffer from more distortion than newer DVD and Blu-ray movie transfers on disc. But good noise reduction circuitry in a DVD player can clean up noisy older titles so it's nice to have it there. Overall, the SD to HD upconversion on this player is significantly better than its predecessor (the BD50) but slightly behind the best upconverting DVD players such as the Oppo DV-981H.
Where the BD55 outperformed the Oppo player was in its color rendition of standard definition DVD titles. On the BD55, DVDs took on a more natural look with well-saturated colors that looked nearly high definition. The extended edition of Gladiator looked sharp and clean on the BD55 with rich natural skin tones and excellent shadow detail. On the Oppo player, colors were ever-so-slightly slightly muted by comparison.
On Blu-ray Disc material, colors looked even better. The BD55's PHL Chroma Processor Plus, which converts a Blu-ray Disc's inherently compressed 4:2:0 color sampling to 4:4:4 output (with color detail restored for each pixel), effectively generates a more detailed natural looking image, with clear delineation of lines and color borders. This is particularly noticeable when you blow the image up on a large screen 1080p front projector.
On the Iron Man Blu-ray Disc, in the scene where Tony Stark tests out his new suit, heading straight up to the ionosphere, tiny points of colored lights on the ground below are rendered cleanly with no bleeding around the edges. And on the Casino Royale Blu-ray Disc, the various subtly shifting shades of blue in the ocean visible during the opening foot chase sequence were represented well. In the scrolling text opening of Blade Runner: The Final Cut (Blu-ray), the word "Replicant" which appears in deep red on a black background looked pixel perfect, with no motion trails or ghosted edges around the letters, and in the dark cityscape which follows the text, city lights and flames of factory smokestacks displayed excellent saturation, even on the smallest pinpoints of light.
It would be an overstatement to say the DMP-BD55 "blows away" other Blu-ray Disc players in Blu-ray video performance. Even the lowliest of BD players can produce excellent images from native 1080p content. But the BD55 does offer subtle improvements over other machines in the area of finely detailed color reproduction and in its ability to de-interlace and reconstruct 1080i material into 1080p.
The Sound
Most owners of the DMP-BD55 will probably connect their player to their TV and/or home theater systems via HDMI cables. HDMI carries both the audio and video components of the signal digitally for best results. The BD55 can internally decode and bitstream all of the high bit rate advanced audio formats and lossless surround codecs including multi-channel PCM, Dolby Digital Plus, Dolby TrueHD, DTS-HD High Resolution Audio and DTS-HD Master Audio. We verified that the player could both pass the raw bitstreams of Dolby TrueHD and DTS-HD Master Audio soundtracks to an external preamp/processor and decode these formats to multi-channel PCM. 7.1-channel PCM soundtracks and DTS-HD soundtracks each worked as expected, as verified by listening and by the preamp's display as you can see in the below photo.

Analog 7.1 Surround: The Final Frontier
If you use the 7.1 channel analog outputs, then you'll want to go into the TV / Device set-up screens to adjust the speaker levels, speaker size (large/small) and speaker delays. In a 7.1 channel system, it is ideal to have all speakers the same distance from the listener but reality and available placement options sometimes prevent that. The Analog Audio Output screen allows you to adjust these parameters (you get to it by clicking on the 5.1 or 7.1 output options in Analog Audio Output, under TV / Device Connection). Here you can selectively turn on or off any set of channels (and set the speaker to "small" or "large") just by clicking on the speakers in the set-up diagram. This allows you to set your system up in any configuration from two speakers to seven speakers with or without a subwoofer and the player will mix the soundtrack accordingly.
If you set the speakers to small, the crossover will send them only frequencies above 100 Hz. Set to large, the speakers get a full range signal. Speaker level adjustments are available in 1 dB increments from 0 to -6 db (front left/right) and 0 to -12 dB for the center and surrounds.
The center channel speaker delay can be adjusted from 0 to 5 milliseconds (ms) in .1 ms increments. The rear and side surrounds can be adjusted up to 15 milliseconds (also in .1 ms increments). The left and right speakers have no delay adjustment as these are the reference channels. Panasonic includes a handy reference table in the user manual that allows you to correlate distance to delay. For example, if the rear speakers are about 1.1 feet closer to you than the main left and right speakers then you should adjust the delay for the rears to 1.0 ms.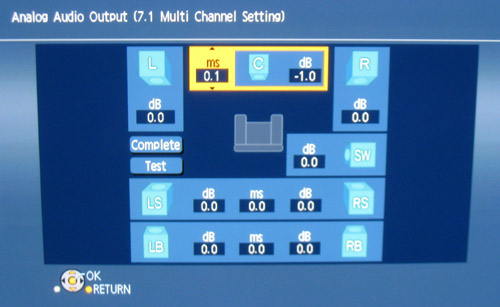 Also, keep in mind that the LFE channel is naturally about 10 dB low on most DVD and BD players over the multi-channel analog outputs. This is true for the BD55. Check your receiver's configuration settings for an "LFE boost" or "subwoofer sensitivity" setting specific to the multi-channel analog input to make sure the proper adjustment is applied in the receiver.
I connected the 7.1 channel analog outputs up to an Onkyo TX-SR605 receiver's multi-channel input, and used our trusty Radio Shack analog SPL meter to set levels using the player's built-in pink noise test tone. When doing the set-up I noticed that only the main left and right outputs were active. I disabled the player's HDMI audio output in the TV/Device connection set-up menu, tried again and found that all 7.1 outputs were live (to find out why this happened, see our Q&A with Panasonic on the topic on our forum).
A couple of odd things came up during level calibration, though. When you adjust levels on the individual channels, the adjustment is not done in real time - it sounds like your adjustments are doing nothing. However, after you save the settings, exit and come back in, the next time the test tone cycles around again to that channel, you will hear the results of the level change. This makes set-up a bit awkward, but you'll get the hang of it. Also, there is a button on the speaker set-up screen that says "Complete." You must hit this button when you're done calibrating levels to save your changes. I think it would be better for Panasonic to label this "Save Changes" as this would be consistent with most other applications. I quit out of the configuration screen at least once without hitting "Complete" and lost my changes.
Once configured, the sound from the Panasonic's on-board decoders was quite good. Listening to tracks from a DTS-HD Blu-ray sampler disc, as well as Blu-ray titles such as Forbidden Kingdom (DTS-HD MA 7.1), Dave Matthews and Tim Reynolds: Live at Radio City (Dolby TrueHD 96/24 5.1) and Blade Runner: The Final Cut (Dolby TrueHD 5.1), the player created an immersive and enveloping soundstage with excellent dynamics and throbbing deep bass. If your receiver or preamp/processor lacks HDMI inputs but does have a 5.1 or 7.1-channel analog input, the BD55 provides a good solution for adding next generation high bit rate audio to your system.
For those who plan to use HDMI for audio and don't need the multi-channel analog audio output, Panasonic's DMP-BD35 should offer similar video performance as well as support for DTS-HD and Dolby TrueHD via bitstream and PCM decoding. Find out more about the DMP-BD35.
Turn-Ons
On-board decoding of Dolby TrueHD and DTS-HD Master Audio with 5.1 or 7.1-channel analog outputs.
Very good DVD upconversion
Acceptable boot-up and disc loading times
Excellent Blu-ray Disc performance on 1080i and 1080p sources
Street price under $400
Turn-Offs
Sluggish BD-Live performance
7.1-channel analog set-up a bit awkward and limited in crossover support
Final Thoughts
The DMP-BD55 offers very good DVD upconversion, outstanding Blu-ray Disc performance, compatibility with new and old surround sound equipment via bitstream output and on-board decoding of Dolby TrueHD and DTS-HD Master Audio surround to PCM and 7.1-channel analog outputs as well as reasonably fast disc loading times. And it does all of this at a remarkably affordable price. Those who have been waiting to jump into the Blu-ray waters need wait no longer.
Where to Buy:
DMP-BD55K Key Features:
BD-Live: Enjoy Additional Content via Internet (requires optional SD card)
PHL Reference Chroma Processor Plus
High Precision 4:4:4 color processing: Experience the Original Movie Quality
P4HD: Advanced Picture Processing for 1080p (including 1080p/24 output for Blu-ray and standard DVD)
7.1-channel Lossless Decode & 7.1-channel HDMI/Analog Output
On-board decoding or bitstreaming of Dolby Digital, Dolby Digital Plus, Dolby TrueHD, DTS, DTS-HD High Resolution Audio and DTS-HD Master Audio
Advanced, High Quality Sound Enhances Blu-ray® Experience
96KHz Surround Re-Master
VIERA Link™: Control All of Your AV Devices With One Remote
SD Memory Card Slot: Enjoy Precious Memories in HD (Photos and Video)
MSRP: $399.95
Availability: Late October, 2008

Manufacturer's Contact Information:
Panasonic Corporation of North America
One Panasonic Way
Secaucus, NJ 07094
Web Site: http://www.panasonic.com/