Panasonic DMP-BD30 (DMP-BD30K) Blu-ray Disc Player Review
By Chris Boylan
Blu Light Special
Back in late October of 2007, we published an announcement and quick take review of Panasonic's DMP-BD30 Blu-ray Disc player on its early release date. As the first player to support BD-ROM Profile 1.1 otherwise known as "Final Standard Profile" or "Bonus View," the DMP-BD30 was the first player to properly support interactivity via BD-Java. This allows the player to support picture-in-picture (PIP) video commentary tracks as well as Java-based menus.
Our first impression of the DMP-BD30 (or DMP-BD30K as it's also known) was favorable, and now, over the past three months, we've gotten to know it even better, comparing it head-to-head against its closest competition, the Toshiba HD-A35 HD-DVD player. And even after all this time, we're still impressed with the Panasonic player's performance and ergonomics. It feels less like "bleeding edge" technology, and more like a final production piece.
Features and Functions

Although the DMP-BD30 does not include a network port (which means it will not support the upcoming "BD Live" specification with network interactivity), it does include an SD memory card slot. From this slot you can play back AVC-HD (high definition) video files or JPEG images stored on any SD or SDHC memory card. And while you're enjoying a slide show of your favorite digital pictures, you can set them to music, because the DMP-BD30 also supports concurrent playback of standard CDs or MP3 CDs with your photos.

The player also plays back (and up-converts) standard DVDs and does so fairly well (details to follow). However, the player does not support DVD-Audio discs in their native DVD-A audio format. It does play the standard DVD layer of any DVD-Audio discs.
In terms of operation, Panasonic has definitely improved the boot-up and load times with the DMP-BD30. It takes roughly 23 seconds to boot up from powered off to the Blu-ray splash screen and another 10 seconds to display the first screen of a Blu-ray Disc previously inserted in the player. When it's already powered on, placing a disc in the tray and pressing "play" takes around 26 seconds for a Blu-ray Disc and 17 seconds for a DVD. These are times I can easily live with, to get the picture quality advantages that are available with next generation discs.
With BD-Java discs such as "Pirates of the Caribbean: Dead Man's Chest" the load times are a bit longer but still come in around half the times of Panasonic's previous generation BD-10 Blu-ray Disc player. Basically, other than the remarkably nimble PlayStation 3, the BD30 is the quickest Blu-ray Disc loader we've seen to date.

When comparing the load times to Toshiba's 3rd Generation HD-DVD player, the HD-A35, the Panasonic's perkiness become even more impressive. Compared to the 33 seconds the Panasonic player takes to power on and begin playing a Blu-ray Disc, the HD-A35 takes a sluggish 76 seconds to accomplish the same task with an HD-DVD disc. Standard DVDs also load quicker on the DMP-BD30 than the HD-A35, but only about 2 seconds quicker (17 vs. 19 seconds). Also, the Panasonic player (as with most Blu-ray Disc players) actually remembers where you were on a Blu-ray Disc when you stop and resume playback, but the Toshiba players are unable to perform the same feat with HD-DVD discs.

I observed no HDMI "hiccups" or handshake errors, testing this player with a Panasonic plasma, a Panasonic 1080p projector (PT-AE2000U), a Toshiba LCD HDTV and a Sanyo 1080p projector (PLV-Z2000). Even with an HDMI switch and an Integra or Onkyo receiver in between, the displays were all quick to lock to the player's output and produce a picture-perfect 1080p image.
Remotely Interesting
Although many early adopters (still the primary audience for a Blu-ray Disc player) will have advanced home theater remotes such as a Logitech Harmony, a Monster or a Home Theater Master remote, there are those who still suffer through with a pile of factory remotes on their coffee tables. And if you're one of these people, you should find the Panasonic remote control functional if not exceptional. The remote does not include any backlighting, but the buttons are laid out well and the remote is easy enough to operate by feel. It's also easy to get in and out of the set-up screens for tweaking of the various settings, and it does so without too much fuss.
The Big Picture

All the ergonomic niceties in the world wouldn't make a difference if the player did not perform well from the video and audio side. In terms of video performance, Panasonic engineers have worked hard here, intending to match or beat any currently available Blu-ray Disc player's performance. Their proprietary UniPhier® technology includes chroma processing which effectively "upsamples" the color palate to compensate for color compression inherent in the Blu-ray mastering process.

Meanwhile Panasonic's proprietary P4HD video processing is designed to correctly reconstruct or convert 1080i content to 1080p with the highest quality image, minimizing judder and other artifacts and capturing the full 1920x1080 pixel detail of the original source material.

We tested the DMP-BD30 using a standard battery of SD and HD test discs as well as some actual movies and concert titles and found that it did an excellent job converting 1080i test signals to 1080p with pixel-perfect detail. The player was able to present single pixel high rows of alternating black and white lines from a 1080i video source without strobing or detail loss showing that it correctly de-interlaces a 1080i signal back into its 1080p source. On a film-based 1080i test patterns, there was some strobind during motion, but I have seen much worse performance than this, even on more expensive components. As a high definition disc player, The DMP-BD30 is capable of top-notch video performance.

The player also did a very good (but not exceptional) job converting standard definition DVDs to 1080p resolution. In the first "jaggies" test of the Silicon Optix HQV test DVD, the rotating white line of the test pattern had only a slight quiver of visible stair-stepping at about 10-15 degrees, but then recovered and was otherwise virtually straight throughout its revolution. Similarly on the 3 diagonal-line test, only the lowest of the 3 lines exhibited stair-stepping and even then, less dramatically than many lesser upconverting players.

On the 3:2 pulldown "Film Detail" test from the HQV disc (excerpt from "Super Speedway"), the player took around a second to recognize the 3:2 film cadence and correct for it. This displayed the telltale wavy line through the grandstand that results from improper de-interlacing of film-based content, but only briefly. After recognizing the 3:2 cadence the player produced excellent detail in the image.

In the "mixed film/video content" test, with video titles overlaid on top of film-based source material, the player passed the vertically scrolling title test, but failed the horizontally-scrolling title test. As to how important this is for real-world source material, that remains to be seen. I haven't seen too many films with rolling video titles overlaid on top of the film, nor do subtitles exhibit this type of problem since they're digitally overlaid on the film at playback time (and they're in a fixed position on screen). Ideally, the player would be able to handle this kind of mixed content, but it's unlikely to be a major factor in watching actual movies.
And on that note, over the past few weeks I've watched many of my favorite films on both Blu-ray Disc and on DVD. The Blu-ray titles looked a bit better on the DMP-BD30 than they did on our PS3, primarily in color depth and grey scale reproduction. The transitions from light to dark colors were smoother and the color palate itself just seemed less limited which made movies appear a bit more three dimensional.
The Blu-ray Disc of "Blade Runner: The Final Cut" looked dark and luxurious played back through the DMP-BD30, projected by Panasonic's PT-AE2000U projector. It was easily as enjoyable, if not more so, as watching the film in a New York City theater just a few weeks earlier. I also did a comparison between the Superbit DVD and re-mastered Blu-ray Disc versions of "The Fifth Element." Although, I was never fooled into thinking the DVD version was high definition, the Panasonic player did a good job of upconverting the standard definition material to 1080p with excellent detail. The big difference between the Blu-ray and DVD versions was in the lack of MPEG artifacts on the Blu-ray Disc and (again) the richer, more saturated colors in the Blu-ray version. But the DMP-BD30's playback of standard DVDs was always enjoyable.

Big Sound

In terms of support for advanced audio formats (DTS-HD Master Audio, DTS-HD High Resolution Audio, Dolby Digital Plus and Dolby TrueHD), the DMP-BD30 does not include on-board decoding, but it does offer you the option of passing them in unadulterated form (via bitstream) to a compatible receiver or processor. The on-board audio decoder will only decode the "core" portions of DTS-HD, Dolby Digital Plus or Dolby TrueHD soundtracks. But if you do own a receiver or processor that supports these formats directly, then this does not really matter to you - simply set the Panasonic's audio outputs to "bitstream" (and disable "Secondary Audio"), and the player will happily send along the raw audio bitstream via HDMI for decoding on your receiver.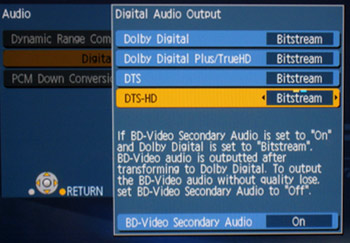 We verified that it works as designed for both DTS-HD Master Audio and Dolby TrueHD. Using a DTS-HD demo disc for DTS-HD Master Audio, and the "Dave Matthews and Tim Reynolds: Live at Radio City" and "Spiderman 3" discs for Dolby TrueHD, connecting via HDMI to an Integra DTR-7.8 and Onkyo TX-SR605 home theater receivers, we were able to listen to the next generation lossless surround sound codecs, which produced extremely high quality surround sound. The surround soundstage was rock solid, with excellent separation, effortless dynamics, accurate timbral reproduction and a complete lack of the usual digital artifacts that can plague bit-limited CDs and highly compressed DVDs.
Although multi-channel PCM soundtracks on Blu-ray discs are also lossless (bit perfect copies of the original source), the lower bandwidth and storage requirements of Dolby TrueHD and DTS-HD allow the disc producers to include higher sampling rates and/or larger bit-words, either of which allows you to get higher fidelity than you can get with PCM, using the same amount of storage space, and without any loss in quality.

Final Thoughts

Our first impressions of the DMP-BD30 haven't changed much over time - the player gets it right where it matters - in the reproduction of high quality color-rich 1080p images, and in its ability to pass next generation lossless audio surround soundtracks to a compatible receiver or processor. In comparison with the closest HD-DVD player (the third generation HD-A35), the DMP-BD30 is more responsive, more user-friendly and better at upconverting standard definition DVDs to high definition resolutions. Now that only two studios remain in supporting the HD-DVD format (Universal and Paramount), buying a Blu-ray Disc player is a safer bet than ever, and buying the DMP-BD30 - with its rich feature set, excellent video performance and low price - is an even safer bet than most.
Is its lack of network connectivity a show-stopper? Not for me. I still haven't bothered to connect any of our HD-DVD players up to the internet, except when they need a firmware upgrade. And so far, I haven't felt compelled to investigate whether a firmware upgrade is even available for the DMP-BD30 - its ergonomics and performance have been perfectly acceptable for the three months since we first got it in for evaluation.
But the lack of a network jack does mean the player will be ineligible for the eventual "BD Live" (Profile 2.0) feature set that should be rolling out some time later this year, an optional extension to the Blu-ray specification that enables network-based interactivity. If this is something that is interesting to you, then you may be better served waiting for the DMP-BD50, expected late this spring. It will feature DTS-HD and Dolby TrueHD native decoding with support for 7.1-channel soundtracks as well as "BD Live" capabilities.
But if you're looking for a high definition disc player today, that does a good job with standard DVDs and an excellent job with Blu-ray Discs, the DMP-BD30 would make a great addition to your home theater system.

Where to Buy:
Manufacturer's Specifications:
FORMAT:

.

BD-ROM Playback

BD-Video (Final Standard Profile)

DVD Playback

DVD-Video

DVD-RAM Playback

DVD-VR, JPEG, AVCHD(H.264)

DVD-R/-RW/-R(DL) Playback

DVD-Video, DVD-VR, AVCHD(H.264)

+R/+R(DL)/+RW Playback

Video, AVCHD

CD, CD-R/-RW Playback

CD-DA, MP3(CD-R/-RW only), JPEG(CD-R/-RW only)

SD CARD

AVCHD, JPEG

VIDEO:

.

P4HD (Pixel Precision Progressive Progressing for HD)

Yes

Precise Pixel Generation

Yes

16-Level Motion Detection w/ Pixel-Based Motion Adaptive

Yes

Diagonal Processing

Yes

3:2/2:2 Pull-Down Progressive Processing

Yes(3:2 Pull-Down Only)

i/p Conversion for 1080p Playback

Yes

Up-conversion to 1080p Playback

Yes

Video D/A Converter

148.5MHz/12bit

HD i/p Conversion

Yes

Progressive Scan

Yes

Digital Noise Reduction

Yes

Picture Mode

Yes (Normal/Soft/Fine/Cinema/User)

Picture Adjustment

Yes (Brightness, Color, Contrast, Sharpness, Gamma Correction)

AUDIO:

.

Audio D/A Converter

192kHz/24bit

Dolby Digital/Dolby Digital Plus Decoder

Bitstream output using required HDMI™ connection

Dolby True HD Decoder

Bitstream output using required HDMI™ connection

DTS/DTS-HD High Resolution/Master Audio Decoder

Bitstream output using required HDMI™ connection

Re-Master for DVD/CD

Yes (all formats)

Advanced Surround (V.S.S.)

Yes

Dialogue Enhancer

Yes

Dynamic Range Compression

Yes

CONVENIENCE:

.

EZ SyncTM (HDAVI Control 2)

Yes

Super Hi Speed Scan

Yes(x200)

Audio/JPEG Navigation Menu

Yes

INPUT/OUTPUT:

.

HDMI™

Support version: HDMI™ V1.3 with Deep Color™
1080p output: 24p(for BD-ROM only)/60p

Component Video Out (Y, PB, PR)

Yes

S-Video Out

Yes

Video Out

Yes

5.1ch Audio Out

Yes

2ch Audio Out

Yes

Digital Audio Out

Yes(1 optical, 1 coaxial)

SPECIFICATIONS:

.

Audio S/N

115dB

Dynamic Range

100dB

Power Source

AC 120V, 60Hz

Power Consumption

25W (approx)

Dimensions (H x W x D)

25/16'' x 1615/16'' x 125/8''

Weight

7.3 lbs
Manufacturer's Contact Information:

Panasonic Corporation of North America
One Panasonic Way
Secaucus, NJ 07094
website: http://www.panasonic.com/