Toshiba REGZA 46LX177 Cinema Series 46-inch LCD HDTV with 120 Hz Processing Review
By Chris Boylan
"Must See" TV
You gotta love technology. Just when you think you know everything about LCD TVs (poor black levels and picture uniformity, visible motion trails, etc.), clever engineers find ways to eliminate or at least minimize these technological drawbacks. For Toshiba, the current showcase of their technological achievements comes in their REGZA Cinema Series LCD televisions, including the 46-inch
46LX177 LCD flat panel HDTV
- the subject of this review.
Among a handful of picture improvement technologies, Toshiba's Clear Frame™ 120 Hz processing stands out as one of the more interesting advancements on this particular HDTV. Clear Frame uses motion adaptive interpolation to insert an intermediate frame between each of the 60 frames per second found on traditional HDTV broadcasts, thereby reducing motion trails of fast moving images. Combine this with Toshiba's "Film Stabilization" feature which smoothes out "judder" in film-based source material and you've got an LCD flat panel that's poised to challenge plasma as the picture reproduction champ. Is it successful? Read on to find out.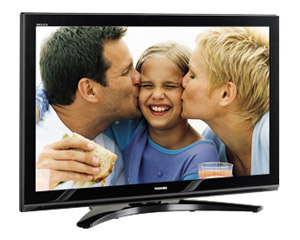 Ergonomically Correct

As a high-end television, it's nice to see that Toshiba did not skimp on the remote control. It's relatively large but feels comfortable in the hand and offers full backlighting of all keys — a very nice touch missing from many supposedly high-end components including Toshiba's own latest generation of HD-DVD players. It is a universal model capable of being programmed to operate multiple devices but at this level, you'll probably be using the set with a more advanced 3rd party universal remote so it's likely that the universal features of this remote will go unused by many owners.
The commonly used "pic size" button on the remote (aspect ratio control) nicely brings up a menu of available aspect ratios, which varies depending on the input format used and its resolution. You can select from these aspect ratios via the circular central controls, or by simply hitting the "pic size" button repeatedly. And if you enable the "Auto Input" feature then you can even use the "mode" buttons to switch directly to specific inputs. E.g., if your DVD player is connected to the "HDMI 1" input then you can associate the HDMI 1 input with the DVD mode button on the remote and switch to that input with a single press of a button.
Set up of the internal tuner was a straightforward process. With a rooftop antenna feed, the set was able to find all of our local HDTV and digital channels without any problems. HDMI and component inputs worked properly as did the PC (VGA) input, though that input is limited to 1024x768 resolution. If you're going to use this with a PC you're much better off using one of the HDMI inputs (which can be easily adapted from a DVI-D connection if your PC happens to have one of those).
In operation, the on-screen menus were pretty easy to navigate, which came in handy during set-up and calibration. Advanced picture controls and adjustments were only a few clicks away at any time and once I changed any settings, two quick taps on the "exit" button removed the GUI from the screen allowing me to measure the test patterns with our SpyderTV colorimeter. Because of this simplicity, I was able to get through basic calibration in about 25 minutes, about 5-15 minutes faster than on most sets.
Testing, Testing
Before digging into the TV and settling down for any critical viewing, we first had to calibrate the set. Like virtually all of the HDTVs on the market today, out of the box settings are not ideal. The "Sports" setting may look nice on the showroom floor, but is downright garish in the subdued lighting of the home. The "Cinema" and "Pro 2" settings were actually reasonably accurate so, if you want to enjoy the set without any fuss or bother, these are a good start.
For calibration, we used the SpyderTV Pro colorimeter and software package, starting with the "Pro 2" setting, with backlight set to 30 and making some tweaks to color, contrast, brightness and tint. The default sharpness setting proved to be too grainy, but dialing it down to 20 looked right. The "warm" color temperature setting in the Advanced Picture Settings menu is the closest to 6500 degrees NTSC standard, but it's still a bit cooler than that standard. The final slider settings are noted below.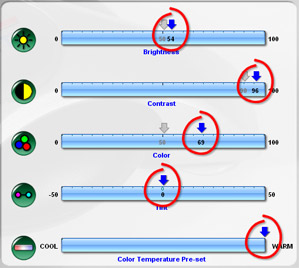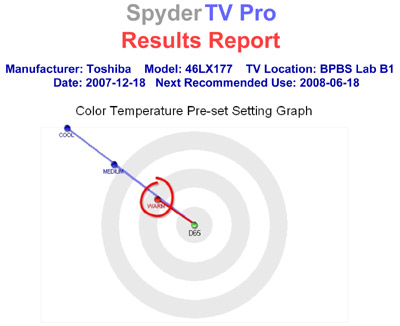 Once calibration was out of the way, we hit the HDTV with some video processing torture tests, courtesy of Silicon Optix SD and HD Benchmark discs. First up was the standard definition DVD which provides some excellent testing of de-interlacing and scaling (aka "upconversion"). This tests the HDTV's ability to generate a high quality 1080p image from a lowly 480i DVD.
On the "jaggies" test patterns which identify the quality of the set's diagonal filter, the set passed but not with flying colors. On the spinning line, minor stair-stepping distortion became visible between 10 and 20 degrees and on the three bouncing diagonal line test, the top two lines were smooth but the bottom (steepest) line exhibited major stair-stepping. The waving flag test also exhibited minor jagged lines but the bricks in the background were presented with good detail.
In the film detail test (excerpt from "Super Speedway") the set was not able to recognize the 3:2 cadence of the underlying film-based material. This was evident by the tell-tale wavy lines through the grandstands. But the set did pass the mixed content test (video titles overlaid on a film background) with perfect reproduction of these tests.
On the high definition version of the Silicon Optix test disc (on Blu-ray Disc), the set fared well in most areas. Motion adaptive noise reduction was good, as evidenced by the moving sailboat test, which exhibited no smearing. 1080i jaggies tests and 1080i video test patterns were solid showing that the set is able to effectively reconstruct an interlaced signal into a progressive one with no loss of detail. This is particularly useful when watching broadcast, cable or satellite HDTV as these are currently limited to 1080i resolution. There was some strobing, however, on the film-based 1080i test pattern which again suggests a possible problem locking to the 3:2 film cadence in the source material.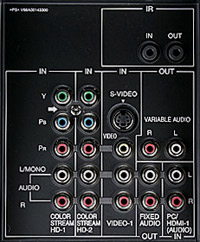 Viewing and Listening Impressions
Test patterns and clips are useful in identifying strengths and weaknesses, but since people don't usually sit around watching test patterns all day, we find it's also a good idea to watch actual movies and TV shows to see how the set does with real-world material.
There are a number of picture enhancement technologies on board, including "dynamic contrast" which accentuates the dynamic range between lights and darks. We found that setting dynamic contrast on, black levels, which were already pretty good (for an LCD set, that is) were further enhanced. And the set's most often touted feature — its "Clear Frame" 120 Hz processing effectively minimizes the motion smearing and trailing associated with many LCD TVs. We left these settings on for most of our viewing.
Although I'm not a huge sports fan (except perhaps, the Olympics and the occasional golf game), I'm often drawn into baseball and football games when broadcast in high definition, and displayed on a high quality HDTV. I tuned into a few football games on the Toshiba. The action was crisp, the field was ultra-green (maybe a little
too
green?), and the sweat beads were captured in all their grainy detail. Sports fans will not be disappointed with this TV. High definition network shows broadcast over the air looked equally good, with variety shows such as Letterman and Leno approaching the kind of three dimensionality you get with a top-notch plasma. But movies are my passion, and this is the kind of content that usually really challenges LCD TVs.

On the "Serenity" HD-DVD (played back on the Toshiba HD-A35) the blackness of space was just that — black, scattered with stars represented by precise points of light. Planetscapes were realistically portrayed with rich lush forests and dry arid deserts. Fast-moving ships (and hands and feet) in the many chase sequences and hand-to-hand combat scenes, were presented without significant motion smear. This Clear Frame technology definitely improves this set's reproduction of motion.
I also experimented with the "Film Stabilization" feature which is meant to further smooth out film-based material, reducing judder that can occur when converting from the 24 frames/second rate of film to the 60Hz frame rate of U.S. televisions. The feature is effective at eliminating judder but perhaps at the expense of artistic integrity. Jerky jump-shots that are meant to give films such as "Saving Private Ryan" a hand-held quasi-documentary feel become quick, but smooth pans — a little more "cinematic" than I believe was intended. But in other films, the film stabilization was less objectionable. I found myself leaving the feature on most of the time during the review, but it's easy enough to disable in the menu so feel free to experiment.
Next up was the HD-DVD of "Batman Begins" - a dark film, in more ways than one. The movie represents a respectable return to the Dark Knight ethos — a less than perfect vigilante hero in a corrupt world. As a film, "Batman Begins" favors dark shadowy scenes, reflective of the sickness that has befallen Gotham. Normally "Batman Begins" isn't much fun to watch on an LCD TV, with all of its subtle shadows and dark complexity, details are lost in that grey LCD haze. But on the Toshiba, the darkness is more palpable, compared to the washed out dark grey of some lesser LCD TVs. No, it's not quite up to the level of the best plasmas or CRT-based sets, and there are some minor brightness uniformity problems caused by the backlighting, but this set represents an improvement over earlier LCD models and gives me some hope for the future of LCD flat panels.
Big Sound?
The audio from the built-in speakers is clear, but slightly lacking in bass depth and impact. Dialog is intelligible, even amidst gunfire and explosions, and music is represented pretty well though the dynamic range is limited. Watching/Listening to the Diva Plavalaguna scene from "The Fifth Element" on Blu-ray Disc (re-mastered version) through the built-in speakers was fairly enjoyable, but at louder volumes the highs were a bit strident and steely and the bass was pretty weak.
As with video processing, this HDTV comes packed with audio features. We're not just talking about bass and treble controls (which are there too), but virtual surround sound. And not just one kind, but two: you have your choice between Dolby Virtual Speaker and SRS-WOW. Of the two, I preferred Dolby Virtual Speaker. It imbues movies and TV shows with a wider soundstage and a certain sense of ambience. It's no substitute for true surround but it can add some enjoyment if you don't want to fire up the surround sound system or (gasp!) you plan to use the set without external speakers.
The HDTV also includes a StableSound feature which normalizes volume levels between channels or between commercials and television programs. It sounds like it's doing simple compression of the dynamic range, but this can be useful for casual TV watching to prevent having to jump up every time a loud commercial comes on. In all, I'd say the Toshiba set produces above average sound for a television, but a set like this deserves to be mated with a high quality home theater receiver and speakers.
Final Thoughts
When friends used to ask me for advice on whether to buy an LCD or a plasma HDTV, it was simple — buy a plasma. The motion trails, inferior contrast and inability to reproduce true black in early LCD TVs were show-stoppers for me. But then along comes the REGZA with its 120 Hz processing, dynamic contrast enhancements, Film Stabilization and acceptable black level reproduction.
Is it better than the best plasmas? Not in most areas of performance. But it is definitely better in overall picture quality than
some
plasmas we have seen and tested and superior to most (if not all) of the other LCDs we have seen and tested. If you're in the market for a large screen flat panel, the choices are getting more complicated, and the Toshiba Regza Cinema series LCD TVs should be on your own "Must See TV" list.
Where to Buy:
Manufacturer's Specifications for Toshiba 46LX177 LCD HDTV
:
Video
MSRP: $2699.99
1080p Full HD Display

ClearFrame™ 120Hz Anti-Blur Technology
ColorBurst™ Wide Color Gamut LCD
PixelPure 3G™14-Bit Internal Digital Video Processing
DynaLight™ Dynamic Back Light Control
Cinespeed™ LCD Panel with 10 bit video output
ATSC/NTSC & QAM Digital Television Tuners
Display Resolution 1080p (1920 x 1080)
Colormaster Pro ™
Native Mode™
TheaterWide® Modes 6 (inc. Native Mode)
Auto Aspect Detection
Dynamic Contrast (4-Mode)
Static Gamma
Color Temperature Control
Blue & Green Drive Adjustment
DNR for all inputs (except PC)
4:3 HD Mode
Picture Freeze
HD Window ™ POP
Audio
SoundStrip™ 2 Speaker System
SRS® WOW™
Dolby® Digital Sound (AC-3)
Dolby® Digital Dynamic Range Control
StableSound®
Total Audio Wattage: 20 W
Two-level Mute (Half Mute/Full Mute)
Convenience
Gloss Black Premium Cabinetry
6-Item Illuminated Universal Remote*
Channel Browser™
Favorite Browser™
Game Mode
Channel Labeling
Input Labeling
Sleep Timer
Auto No Signal Off Feature
Auto Input Selection
Auto Date/Time
Built-In Discrete IR Codes
Inputs/Outputs:
HDMI™ Inputs (3)
HDMI Input Support: 1080p 60/24Hz
CE-LINK™ (HDMI CEC Support)
Deep Color Support
xvYCC Enhanced Color Space Support
HDMI Lip Sync Support
HDMI Input PC Support VGA/480i/480p/720p/1080i/1080p
15 Pin D-Sub PC Input
ColorStream® HD Component Video Inputs (2)
THINC™mail (RJ-45)
Rear S+AV Inputs(1)
RF Input
Audio Outputs - Fixed and Variable
IR Input
Theaterlink® IR Pass Through
Optical Audio Outputs (1)
Service Port (1)
Weights and Dimensions
:
Weight: 69.68 lbs.
Dimensions: 44.60" x 27.97" x 5.08" (WxHxD)
Weight With Stand: 76.95 lbs.
Dimensions With Stand: 44.60" x 30.06" x 13.87" (WxHxD)
Dimensions With Packaging: 48.62" x 31.52" x 12.81" (WxHxD)
Company Information:
Toshiba America, Inc.
1251 Avenue of the Americas
Suite 4110
New York, NY 10020
Websites: