Panasonic's Next Blu-ray Players: DMP-BD50 with BD-Live and a Blu-ray HTIB
By Chris Boylan
Although it was easy to be distracted by the huge plasma, Panasonic actually had other news and products on display at CES in Las Vegas last week. In the Blu-ray department, Panasonic will be following up their successful DMP-BD30 Blu-ray Disc player (the first to feature Final Profile 1.1 support, a.k.a "Bonus View") with the DMP-BD50. The BD50 will be network-enabled in order to support BD-ROM Profile 2.0, a.k.a "BD-Live." Also, Panasonic was showcasing the SC-BT100 Home Theater in a Box (HTIB) system - a complete home theater audio system including Blu-ray Disc player, receiver and speakers for around $1000.
In addition to BD-Live support - which opens up your player to interactive features and network connectivity, the DMP-BD50 will feature on-board decoding of all of the advanced audio codecs, including Dolby Digital Plus, Dolby TrueHD, DTS-HD High Resolution Audio and DTS-HD Master Audio as well as bitstream output of these audio formats in case you'd prefer your receiver or preamp/processor to do the decoding. Like the BD30, the BD50 also includes an SD card slot for direct playback of JPEG images and high definition AVC-HD video files.
For those still waiting to pounce on a Blu-ray Disc player, this one looks like it will have it all. And if the DMP-BD30's performance is anything to go by, the DMP-BD50 should be another strong contender for your high def dollars. Exact pricing and delivery date is not yet available, however Panasonic reps at CES told us it would sell for a nominal premium over the DMP-BD30 (so we'd guess a street price under $600) and it should be available in the Spring of 2008.
If you're looking for a little simplicity in your life, but don't want to sacrifice too much in the way of performance, the SC-BT100 HTIB system seems to be about as feature-packed as an integrated home theater audio system can be. In addition to 1080p Blu-ray Disc playback and 1080p DVD upconversion with on-board decoding of all flavors of Dolby, PCM and DTS (including Dolby TrueHD and DTS-HD), the BT100 also features an integrated iPod dock which charges your iPod while playing back images, music or video through the system. As on Panasonic's stand-alone BD players, the SC-BT100 features an SD card slot for viewing images or built-in high definition AVCHD video. Panasonic reps tell us the video portion is essentially the same as the current Panasonic DMP-BD30, including full "Bonus View" support.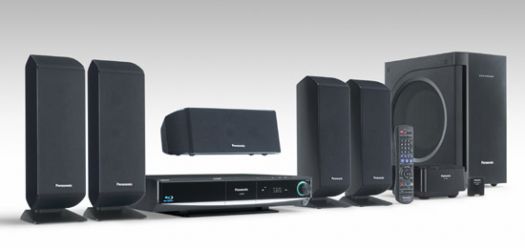 The unit includes built-in amplification as well as 5 speakers plus a subwoofer for a 5.1-channel home theater configuration. In case you're worried about running wires to the rear, the BT100 features wireless rear speakers which use advanced RF technology to minimize interference. An optional additional RF module and speakers can be added if you want to expand the system to 7.1 channels. The BT100 even includes an optical digital input so you can listen to programs from your cable or satellite set-top box, or over-the-air HD tuner in full 5.1-channel surround sound. Although the official MSRP has not been announced, Panasonic reps at CES told us the price will be "around $1000." The SC-BT100 is expected to begin shipping in May, 2008.