Iron Man on Blu-ray Disc Review
By Chis Boylan
The Film
Superhero origin stories are a tricky business. Not only do you need to tell the full story of how the lead character becomes a superhero, but you also have to find a compelling challenge or villain for the superhero to overcome with his or her newfound powers, and do it all in the confines of about two hours. But origin stories for me are the most powerful, watching as the hero learns mastery, and ultimately, seeing the hero's first reveal: Christopher Reeve as Superman saying "I've got you, ma'am" to which Margot Kidder's Lois says "You've got me? Who's Got You?" or Tobey Maguire's Spiderman slamming into the side of a billboard when learning how to swing from his web, then dusting himself off and trying again.
Iron Man has moments just as memorable as these: from the walk of destruction in the desert cave where he first reveals his Mark I suit with his captors fleeing in terror, to his first awkward flailing attempts to fly, to the magnificent details of the robots dressing him in his Mark III armor. Iron Man joins the ranks of powerful comic book adaptations to the big screen and should mark the beginning of a successful film franchise.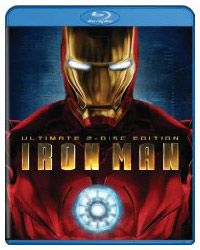 Director Jon Favreau (
Elf
,
Zathura
) and star Robert Downey, Jr. may have seemed an unlikely team, but the results speak for themselves: over $100,000,000 in its opening weekend, and over $560,000,000 in total box office earnings: one of the most successful comic book movies to date. Downey, with his own checkered past, is a natural to play the heavy-drinking womanizing billionaire weapons magnate Tony Stark. And the passionate fan with high attention to detail, Favreau was the perfect guy to direct him.
At the film's opening, Stark is kidnapped and nearly killed by an extremist group in Afghanistan who wants him to build a powerful weapon. What Tony builds instead becomes the first incarnation of the Iron Man suit, his ticket to freedom and the beginning of his new life as a vigilante protector of mankind, rather than a merchant of death.
The supporting cast is comprised of equally good choices imbuing three dimensional depth to their respective roles. Favreau himself plays a small role as Happy Hogan, Stark's driver and confidante, Gwyneth Paltrow plays his tireless and resilient personal assistant Pepper Potts, Jeff Bridges is Obadiah Stane, his second in command at Stark Industries and Terrence Howard plays Colonel James 'Rhodey' Rhodes, his air force liaison. Strong performances from all, but make no mistake: Downey is the star of this tale, he IS Iron Man, and it's a wild, fun ride watching him grow into the role.
The Picture
Movies like this are what Blu-ray was made for: a big budget extravaganza with flawless integration of computer-generated imagery with live action. The 1080p transfer simply oozes detail. Standout scenes include Stark's powerful weapons demonstration to US and allied forces in Afghanistan (actually shot in California with a stunning mountain backdrop), Stark's dressing (and more comical undressing) in the gleaming red and gold Iron Man suit by completely computer-generated robots which look as tangible and real as any piece of high tech machinery, and the sinister shadows that accompany life in the deep dark cave where Tony is being held hostage.
It's a testament to the film-makers that effects hold up as well as they do under the scrutiny of a high definition home theater system. I was not usually able to tell the difference between the real and the computer-generated aspects of the film even blown up on a 92-inch 1080p projection system. In short, Iron Man is a visual feast and an impressive achievement on Blu-ray Disc.
The Sound
As impressive as the visual component, the soundtrack is no slouch either, serving to emphasize the film's visuals to give the film a realistic and tangible feel. The Blu-ray Disc's lossless Dolby TrueHD 5.1-channel surround track exposes all the sonic details that went into the film, from the powerful score by Ramin Djawadi, with a liberal sprinkling of hard-edged rock, to the precise effects used to convey future tech "repulsor" fields and more traditional ballistic weapons and explosions. Also, little details like the sounds of the menu items being selected in the suit's HUD (Head's Up Display), the whir or the servos in Iron Man's suit, and the mechanized menacing overtones of his nemesis Iron Monger come through with great clarity, adding to the overall sense of immersion.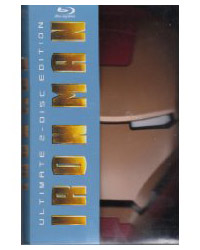 The Extras
When I first started watching the Iron Man discs, before the official release date, the BD-Live functions were not available. More recently, I looked at BD-Live on Iron Man again to see if I'd missed anything. With BD-Live active, the first time you load the disc in a BD-Live-enabled player, you'll get a message asking if you want to wait to download the BD-Live content. If you say yes, this will delay the loading of the initial menu by a few minutes while BD-Live content is downloaded to your machine. This BD-Live content is currently a sampling of movie trivia quizzes which incorporate clips from the film with Q&A.
I thought perhaps my scores would show up on some interactive web-based leaderboard, but this was not the case. In fact, many of the trivia options (other than selection of the "featured" quizzes) were greyed out. I thought perhaps that this was because I had not logged in to create an account, but even after I did this (a laborious process on a standard Blu-ray player remote), the options did not change. I assume more BD-Live content and features will be added over time but right now, it's fairly limited. But it did work properly on both a Sony PS3 and a Panasonic DMP-BD55 Blu-ray Disc player.
Other extras include several deleted and extended scenes which explain some of the little logistical problems in the film (like why Rhodey just happened to still be flying around in a helicopter in the Afghanistan desert three months after Stark's disappearance). These are always fun to see, to gain insight into the film-making process, and occasionally some additional depth into the characters, but nothing essential was excised from the theatrical release.
Also on board are a couple of feature length documentaries. "The Invincible Iron Man" includes interviews and segments with many of the original writers and illustrators of the "Iron Man" comic, getting into the details of how the suit was illustrated and evolved over the years and just how difficult it is to convey emotion from a man in an iron mask. "I Am Iron Man" clocks in at around two hours and covers the evolution of the film-making process from early on in its production, through the final hours where the film-makers are scrambling to meet deadlines, and even into its premiere at Grauman's Chinese Theater in Hollywood.
It's fascinating to see just how much work went into the process and how many innovations were required in order to make us believe that Iron Man is a real man in a real suit, not just a product of the heractive viual imaginations of Industrial Light and Magic. Overall, it's an enjoyable set of extras that adds depth into one's appreciation of the film.
Final Thoughts
If you're a fan of comic books or superheroes in general or Iron Man in specific, it's safe to say you're going to love this movie and this Blu-ray Disc. It treats the original character with respect and loving attention to detail and it features characters with real depth and a good story to boot. If you even just have a passing interest in superheroes or action movies and appreciate fine film-making then there's still a lot to like. Highly recommended for rental or purchase.
Where to Buy
Product Details