Samsung BD-P3600 Blu-ray Player Review
By Chris Boylan
Black and Blu
Less than three short years into the life of the Blu-ray Disc format and already it's not good enough to have a killer Blu-ray Disc player with outstanding audio and video performance. We expect more: dynamic PiP commentary over the film, interactive web-based content, multi-media playback, online audio and video streaming capabilities, etc. And Samsung's current Blu-ray offering, the BD-P3600 has all this and more… perhaps too much more (but we'll get to that).
Spinning Those Shiny Silver Platters
The primary task of a Blu-ray Disc player is, well, to play Blu-ray Discs. The BD-P3600 does that admirably, as well as playing CDs, DVDs, and a smattering of other content like AVCHD video, MP3 music, JPEG photos and Divx video files, from disc as well as from any (optional) flash memory drive connected to either its front or back USB port. As a disc player, the 3600 performs well, with noticeable improvements on disc loading speeds over its predecessors and comprehensive support of audio soundtracks, with on-board decoding of all of the latest surround sound formats including DTS-HD and Dolby TrueHD.

Those with older receivers which lack HDMI audio support will appreciate the BD-P3600's ability to decode and output these surround formats over analog multi-channel (5.1/7.1) outputs. The BD-P3600 also offers a "DTS re-encode" option for those who wish to convert multi-channel PCM, DTS-HD and Dolby TrueHD soundtracks to high bandwidth (though still lossy) DTS soundtracks for output over fiberoptic or coax digital outputs. And if your receiver does do HDMI audio decoding, but only at version 1.2 or below (no DTS-HD or Dolby TrueHD decoding), then you can set the HDMI digital output to PCM mode and still get the full benefits of lossless surround sound. And this is all in addition to the ability to deliver the raw audio bitstream over HDMI to the most modern receivers with full HDMI 1.3 audio decoding. Bottom line: if your surround sound receiver was built in the last 10 years, chances are very good that the BD-P3600 offers an audio output that will match your system.

How About That Picture?
In terms of video performance, the BD-P3600 includes Samsung's home-grown VQE video processing engine for upconverting standard def DVDs to HD resolution and delivering high quality images from high definition Blu-ray Discs. On test material, such as the Silicon Optix HQV test discs, the BD-P3600 proves itself a capable performer. It may not be quite up to last year's BD-P2500 in this regard (with that player's Silicon Optix Reon processor), but it's not far off. Overall the performance is about on par with the Panasonic DMP-BD80 in terms of its upconversion capabilities.
The BD-P3600 locks quickly to a 3:2 cadence on standard DVDs, preventing the tell-tale moiré distortion that can be seen on players that do not properly detect film-based (24 frame/second) material on DVD. It also handles mixed film/video content well, displaying video titles on a film-based background without the tearing and combing artifacts that can be seen on lesser players. It performs pretty well on the HQV DVD's "jaggies" tests (only mild stair-stepping) showing it has a good diagonal filter and this is borne out by actual film content such as the coliseum flyover sequence in chapter 12 of Gladiator on DVD where diagonal rooftops are presented cleanly and without jagged lines.
Switching over to Blu-ray material, 1080i Blu-ray content on the HQV Blu-ray test disc is handled well but again just a hair shy of excellence. There's a slight stutter in the video detail resolution test as the spinning line goes vertical, and the film resolution loss test shows a slight shimmer (though certainly not a strobe) suggesting that it's 1080i/p de-interlacing is very good but not quite perfect. To put things in perspective, the amount of 1080i content on Blu-ray is fairly limited and the player does handle it better than some other recent players (notably the LG BD300 and BD370). 1080p/24 content, which is much more common on Blu-ray Disc, is handled properly by the BD-P3600, passing this from the disc to display without any notable flaws.
Blu-ray movie content looked (and sounded) fantastic on the BD-P3600, including the newly released A Bug's Life where individual droplets of water glistened on the computer-generated leaves of Ant Island.  I noticed no compatibility issues with the discs I played on it, including the Bond remasters which had proven problematic for some earlier Samsung players.  And standard DVDs also came through with good overall clartify.  My son is a big fan of Brad Bird's The Iron Giant, which has yet to make it to Blu-ray and the DVD version looked more than acceptable on the BD-P3600 with nice detail and a fairly artifact-free presentation.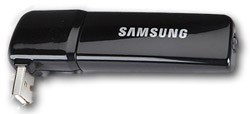 Look Ma, No Wires!
One thing many prospective Blu-ray owners complain about is the need to get a physical network cable to their Blu-ray player in order to take advantage of online content and web-based features. Samsung alleviates this complaint by providing a wireless network adapter with the player. Plugging this USB dongle into the player's rear USB port, I was able to select my router from a list of available networks, entered my WEP key and I was in business. The connection to my wireless router was solid, and from there out to the internet for access to BD-Live features and online streaming content (Netflix and Pandora).
Set-up for Netflix involved adding a unique player code to my account on the Netflix web site. Within a few minutes all of the movies and shows in my "View Instantly" Netflix queue were available for viewing on the BD-P3600. Even with the wireless connection, I had enough throughput to lock onto the highest quality "HD" signal available (for select titles), though one particular movie that was supposed to be available in HD could not reach the rate requirement to be delivered in HD. It was viewable in widescreen, however, with quality that approached DVD (but with more visible compression artifacts and only stereo sound). For more details on the Netflix online streaming capability, see our feature article on Netflix streaming.
Pandora set-up was similar: enter a unique activation code at Pandora.com/Samsung, enter your e-mail address and all of your stations will be available. If you don't have a Pandora account, it's simple enough to set one up, and there is no charge to do so. I consider Pandora to be one of the killer apps of online streaming. It can help you to discover new bands and artists and hear from old favorites via personalized real-time internet "radio stations." Pandora uses advanced algorithms and a massive database of musical data known as the "music genome project" in order to find songs and artists that match your personal musical proclivities.

Over time, with your feedback (you can vote "thumbs up" or "thumbs down" to any song in order to express your preference), your customized Pandora streaming station or stations will get better and better at delivering just the right type of music for your specific tastes and mood. To have this available in a component that integrates so easily with your home theater or home audio system is quite convenient as it will save you the trouble of having to plug a PC into your audio system. I only wish information like song title and artist would show up on the player's LCD screen so I would not have to have the TV screen on in order to see these helpful details. In terms of sound quality, Pandora sounds like fairly well-encoded MP3 files. I did get a few minor "hiccups" in the stream, normally at the beginning of a new song, but these were easy enough to overlook.
For the most part, the BD-P3600's online content access -- even playback of music and videos from a USB flash drive -- was reliable, easy to set-up and a pleasure to use. I wish I could say the same about the player's "PC streaming" feature.
With PC streaming, the player is able to connect to Windows PCs (XP or Vista machines only) on your home network in order to view and play back shared multimedia content (images, music and videos). Even with a helpful cheat sheet that one of our Samsung contacts put together for us on how to configure and use PC streaming, it was a bit of a chore to get everything set up and working, and occasional freezes and glitches during playback required me to re-start the player in order to resume playback.
My first attempt to connect resulted in the machine unable to see any machine on my network. After some finagling of the host PC's file-sharing settings, the player was able to find the shared machine, but then it would not accept my proffered user id and password. I switched over from "auto" to "manual" mode, and provided my PC's IP address, share name, user id and password. This time the connection worked and I was able to browse the entire PC, regardless of sharing permissions set up on sub-folders.
Once connected, every once in a while selecting an item or stopping playback on a movie or music file would hang the machine. Also audio cut out after a while and would not come back until I powered the machine off and on. When powering back up, I had to re-connect all over again, and this was a painful experience, manually typing in IP address and connection details again by moving the cursor from letter to letter on the on-screen keyboard using the player's remote. In my opinion, this PC streaming function is crippled without the ability to remember your credentials and connection details after you power the unit on and off. If Samsung were to add this feature and get the media playback a bit more stable, I would find the PC streaming feature a lot more interesting.
On the other hand, these same types of files (AVI movies encoded in Divx and Xvid), MP3 files and photos played back quite nicely from the USB connection with an 8 GB flash drive connected. So the player is able to handle the files. It seems to be the streaming element that is problematic. Overall, PC streaming seems like a feature with great promise, that needs a bit more development and polishing before it's ready for prime time. Don't believe me? Check out our forums (this thread and this one), where player owners report their own difficulties getting PC streaming to work.
I Don't Want to Wait in Vain for Your Love, errr… Playback
With apologies to Mr. Marley for the above sub-heading, one of the "joys" of early adoption (of a new technology that is) is the interminable waiting for things to happen. First and second generation Blu-ray players were painfully slow to load and play discs, particularly Blu-ray Discs encoded with a BD-Java interactive layer. This has been improving with each new generation and I'm happy to say the BD-P3600 is Samsung's faster player ever to load and play discs. In fact, it's the fastest player we've yet measured, including the mighty PS3. With the Samsung player completely off, hitting eject opens the tray almost instantaneously, and it only takes a few seconds more to boot up to the Samsung/Netflix/Pandora logo screen, showing that it's ready for action.
With the player powered on, disc tray open, a standard DVD (Gladiator) loads to the studio logo screen in a scant 11 seconds after hitting play. On a simple Blu-ray Disc (Hitch), the player displays the Sony Pictures logo in just 13 seconds and the menu in 22 seconds. And on a BD-Java Title (Pirates of the Carribean: Curse of the Black Pearl), the Disney logo comes up in just under 30 seconds with the simple disc playback menu available in about 55 seconds (this by hitting "next chapter" repeatedly to make it through Disney's lovely mandatory trailers and ads). As an apples-to-apples comparison, this means the BD-P3600 is just about twice as fast as the current Panasonic player (DMP-BD80) in loading DVDs and Blu-ray Discs. An impressive feat considering how nimble the Panasonic unit is compared to first and second generation players.
Style and Ergonomics
The new Samsung players certainly affect a certain style. Whether you like or dislike their design choices is a personal matter. The BD-P3600 resembles a glossy black trapezoid from the front (with the wider side on top) but with rounded edges and a slightly bulbous top. This design, as well as placement of the playback controls on the top panel, make it problematic if you want to put anything on top of the unit. It is meant to be either standing on its own or placed atop a receiver where its controls will be easily accessible.

The remote is also a slight departure from earlier designs with its rounded edges and glossy black finish. Overall, I didn't find the remote any more or less difficult to operate than that of the BD-P2500 but I did slightly prefer the more subtle matte black tones and cleaner lines of the earlier model's remote. Also, although the player does include 1 GB of on-board storage (suitable for BD-Live use), if you want to provide extra storage for BD-Live or playback of local media, the front panel must remain open to accommodate the USB drive (assuming the rear port is in use for the WiFi dongle). This can impact the player's overall visual aesthetic.
In the past, reliable playback has been a bit of an Achilles heel for Samsung. But over the course of nearly four weeks with the player, I did not find any discs that consistently failed to load or presented any significant playback problems. This is not to say that it is impervious to any disc incompatibility issues, but only that I did not experience any. Also, with the network connection, Samsung has the ability to deliver any firmware fixes or enhancements over time should compatibility issues arise with later titles.
Turn Ons:
Very good to excellent playback performance on DVDs, 1080i and 1080p Blu-ray Discs
Comprehensive audio decoding and output options
Netflix and Pandora streaming are two of the "killer apps" of online content access
Fastest player yet
WiFi dongle included
Turn Offs:
PC streaming feature is great in concept but poor in execution
Odd style choices make the player stand out from the pack (but not necessarily in a good way)
Final Thoughts
In trying to add robust multi-media features to their Blu-ray player line, Samsung seems to have bitten off a bit more than they could chew with the PC streaming feature. But for those who don't need local media streaming, the audio and video features and performance, WiFi networking, and fast loading times combined with the Netflix and Pandora online streaming make the BD-P3600 a worthy contender in the battle for your high def dollars.
Where to Buy (Authorized online dealers):
Manufacturer's Specifications (BD-P3600)
Playback

Compatibility

Playback Media

BD / DVD / CD

Playback Formats

VC-1, MPEG2, H.264

Netflix-Ready

Instantly Stream Video From Netflix

Yes
Video

A/V Quality

DVD Upconversion

Yes (up to 1080p)
Physical Features

A/V Quality

Dolby Digital Decoder

Yes

DTS Decoder

Yes

Dolby Digital Plus Decoder

Yes

DTS HD Decoder

Yes

Dolby True HD Decoder

Yes

Functional Features

BD Profile

profile 2.0

Secondary audio support

Yes

Connectivity

USB 2.0

Yes

HDMI CEC

Yes

Composite Video Outputs

Yes

Component Video Outputs

Yes

S-Video Outputs

No

HDMI Outputs(Version)

Yes (1.3)

Optical Digital Audio Outputs

Yes

Coaxial Digital Audio Outputs

No

Analog Audio Outputs

Yes

Functional Features

Local Storage

Yes (1 GB)

PiP

Yes

Product Weights & Dimensions

Dimension

17.32" x 2.17" x 9.84"

Weight

5.3 lbs.

Shipment Weights & Dimensions

Dimension

20.2" x 5.6" x 14.3"

Weight

6.8 lbs.
Company Information:

Samsung America, Inc.
105 Challenger Road
Ridgefield park, NJ 07660

Tel: (201) 229-5000
Fax: (201) 229-5080

On the web: www.samsungusa.com