Sony PlayStation 3 (PS3) Blu-ray Disc Player/Gaming Console Review
By Chris Boylan
Playing for Keeps
Sony really wants their PlayStation franchise to continue to dominate the gaming market. But they also want their fledgling high definition movie format, the Blu-ray Disc to become the de facto successor to the mighty DVD. So Sony made a choice, early on in the development of the PlayStation 3 (PS3) - to tie the gaming system and the new disc format together, effectively staking the fate of one on the success or failure of the other. Either of these tasks presents a significant challenge on its own, but tying the two new technologies together either represents true genius or utter madness. Whether it is the former or the latter will be revealed in the fullness of time.

The result of such a decision gives us a super-powerful next generation gaming console that also happens to include support for a full high definition 1080p movie format. At Big Picture Big Sound, we're really not that interested in gaming (not our bag, baby) but the fact that the PlayStation 3 represents one of the least expensive full-featured Blu-ray Disc players is quite interesting to us and we decided the PS3 was worth evaluating purely as a movie playback/home entertainment component. Can it compete with dedicated Blu-ray disc or rival HD-DVD players as a home theater component? Read on to find out.
Note: This review has been updated in April, 2008 with information from the 2.2 and 2.3 firmware upgrades. -Editor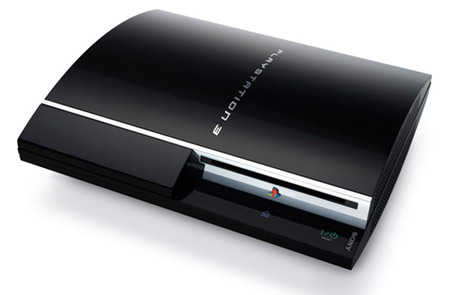 It's a Dessert Topping... It's a Floor Wax... It's BOTH!
It's almost unfair to ignore one of the primary features of the PS3 in this evaluation (its gaming capabilities), but because of the price point and feature set, many non-gamers are drawn to the PlayStation 3. And these people want to know whether they'll be satisfied with the performance and ergonomics of the PS3 as a pure home theater/movie playback device.

The PS3 includes full 1080p playback of Blu-ray Discs as well as support for the latest HDMI 1.3 specifications (unlike most stand-alone BD players currently on the market). And although operating movie playback via the included wireless game controller is kludgey at best, there is also an inexpensive remote control available for the PS3 that looks and feels more like a standard DVD or BD player's remote.
The Set-Up
As with any next gen movie player (BD or HD DVD), there are a few initial set-up steps required in order to get the most out of your movie-watching experience. When the PS3 first boots up - which is remarkably fast, by the way, for those of us familiar with first and second generation BD and HD DVD standalone players - it prompts you with some questions about language, TV format, etc. To step through these menus, you need to connect the (included) game controller to the console via its hard-wired USB cable, which doubles as a charger - the controller can be unplugged later for game play and/or movie playback operation.
During the set-up, the PS3 offers to "auto detect" the maximum resolution setting for your TV if connected via HDMI. But in my case, it thought that my set supported full 1080p resolution when actually the connected monitor supported resolutions up to 1080i. This caused an annoying blinking of the screen on and off, which was resolved after I backed out of the auto-setup screen and manually selected 720p/1080i as the supported resolutions.
You'll also need to go into the audio set-up menus to set your audio preferences. This is one place where Sony made some odd choices. When you select the digital audio output settings on the PS3 (using an HDMI connection for video and audio), the two choices are only "PCM" or "Bitstream." These settings are used both for Blu-ray Discs and for DVDs.
For Blu-ray Discs, choosing the "PCM" setting will allow the player to convert Dolby Digital and DTS soundtracks to multi-channel PCM sound. This multi-channel PCM can then be decoded by a wide selection of HDMI-enabled home theater processors and receivers currently on the market. Listening to a Dolby TrueHD track expanded to PCM and decoded by a high quality receiver produces some really excellent, wideband, highly dynamic discrete surround sound. The 2.3 firmware update (delivered 4/15/08) allows you to do the same with DTS-HD, converting these advanced lossless surround tracks to multi-channel PCM for decoding on your receiver.
Setting the audio output to "bitstream" instead will pass the native surround sound format (e.g., DTS or Dolby Digital) directly to your home theater processor or receiver for decoding. If your receiver does not support Dolby True-HD, Dolby Digital Plus or DTS-HD Master Audio, fear not, as the PS3 actually passes the "core" (legacy) DTS or Dolby Soundtrack from the stream on a Blu-ray Disc which still sounds pretty good.
But if you have set the digital output to PCM (on the PS3), then the behavior on standard DVDs is very different from the PCM setting on Blu-ray Discs. Instead of expanding the standard Dolby Digital or DTS track on the DVD into multi-channel PCM output, the PS3 actually downmixes the discrete surround soundtrack on the DVD to two-channel (stereo) output, thereby losing the discrete surround sound rear and center channels. The stereo PCM signal can then be decoded into virtual surround via Dolby Pro-Logic II or similar processing, but it won't be "true" (e.g., discrete) surround sound.

Next generation HD DVD players such as the Toshiba HD-XA2 maintain different audio settings for HD DVD and for standard DVD so they avoid this problem altogether. I'm really disappointed in this choice on the PS3 as it means I'll have to go back and forth in the set-up menu, depending on whether I'm watching a BD or DVD movie, in order to get the best possible sound quality for each format.

I also decided to configure the PS3's built-in wireless 802.11g networking feature to work with my home network. I've found this to be a little tricky on some network-enabled consumer electronics gear (including the Toshiba HD-XA2), but not so on the PS3. I had the networking configured and up and running within about 20 minutes. The player then detected that a new firmware version was available (version 1.7) and it guided me through the firmware upgrade, which went off without a hitch in a little less than 30 minutes.

Features and Ergonomics

Although most pictures of the PS3 show it in the tall vertically aligned position, I was happy to see that the PS3 has multiple rubber feet, to support both vertical and horizontal placement. This means you can slide it into a standard home theater rack without worrying about scratching the PS3 or having playback problems with the discs. Positioned horizontally the unit draws no undue attention to itself and fits right in with other home theater gear.

With the unit configured and the latest firmware freshly loaded, I started putting the PS3 through its paces. One of the first things I noticed was how speedy it was to load and begin playback of a Blu-ray movie. With the disc in the player, powering the unit up made it through the Sony boot menu and into Blu-ray disc playback in well under 30 seconds. That's less than half the time it took for Toshiba's HD-XA2 player to boot up and begin playback of an HD DVD movie.

A Few Words About Dolby TrueHD and DTS-HD on the PS3
Although the PS3's implementation of HDMI is version 1.3-compliant (which means it can support DeepColor output when the software and the display support this), the PS3 cannot support that other major HDMI 1.3 feature - output of Dolby TrueHD or DTS-HD over HDMI in native bitstreaming mode. This fact is unlikely to change with the current PS3 hardware. The PS3's current HDMI transmitter chip (Silicon Image SiL 9132) simply cannot pass bitstream output of the advanced audio codecs.
Does this matter to the average user or even to the die-hard audiophile? It shouldn't, because the PS3 does support internal decoding of Dolby TrueHD, Dolby Digital Plus, DTS-HD Master Audio and DTS-HD High Resolution Audio (as of firmware upgrade 2.3) in the player itself. The PS3 converts these advanced codecs into linear multi-channel PCM for output over HDMI to a compatible receiver. And in the case of Dolby TrueHD and DTS-HD Master Audio, this conversion process extracts a bit perfect PCM stream from the losslessly encoded stream.
Think of Dolby TrueHD (and DTS-HD Master Audio) like a "ZIP" file. You zip up a Word document into a ZIP file on a PC in order to save space. And when you "unzip" it, the Word document has not been damaged or changed in any way. Dolby TrueHD and DTS-HD Master Audio work the same way on a PCM audio soundtrack and the PS3 happily "unzips" the PCM stream without damaging it, sending the multi-channel PCM stream to your receiver for translation into analog sound to be sent to your speakers.
Current PS3s will never be able to send the underlying Dolby TrueHD or DTS-HD Master Audio bitstreams to your receiver (so your receiver will never have these logos light up on your display, even if you buy a brand new receiver that supports Dolby TrueHD and DTS-HD). But as described above, it's not really that important - the audio quality is being maintained when DTS-HD or Dolby TrueHD soundtracks are expanded to PCM by the player.



Remote Possibilities
The afore-mentioned optional remote control, which Sony simply calls the "Blu-ray Disc Remote Control" should be considered a must-have option for BD movie playback for two reasons: 1.) a game controller does not a comfortable movie remote control make, and b.) the PS3 is incompatible with all of the universal remote controls currently on the market because it lacks an IR (Infrared) sensor (note: see update below about IR add-on support from Nyko). So forget about using your fancy Logitech Harmony remote with the PS3. It doesn't speak its language. For the PS3 (and the PS3 controllers and remote), that language is Bluetooth.

Bluetooth does make a good choice for wireless communication between controller (or remote) and game station because it allows you to put the PS3 behind a closed door, or off in a corner somewhere and still control games and movies without the requirement for a direct line of sight. But until Logitech, Universal Remote Corporation or other remote manufacturers offer a Bluetooth-enabled version of their popular advanced universal remotes, you're going to need at least two remotes to control your system. And in my opinion, that's one too many.
Update:Nyko now makes an aftermarket Blue-Wave IR Remote for PS3 which allows you to control your PS3 via IR universal remote codes. It comes with a USB dongle that plugs into a USB port on the front of the PS3 plus an IR remote that communicates with that dongle, simulating a wired controller. The remote does not include power, eject or angle buttons, but otherwise controls most of the Blu-ray Disc playback functions of the PS3 and easily integrates with any IR-based universal remote.

Usability
On Blu-ray Disc movies, the ergonomics of the player and Sony Bluetooth remote were pretty good. There are both "Top Menu" and "Pop-Up Menu" buttons on the Sony remote. The former stops movie playback to bring up the Blu-ray Disc's main menu, the latter brings up the menu on top of the movie playback without interrupting it.

Since there is no LCD or LED screen on the PS3 unit itself, the remote provides a "Display" button which brings up a movie timeline showing where you are in playback, and also showing other details such as the audio/video codecs of the program material. With this subtle display option, I really didn't miss the LCD display found on most dedicated Blu-ray Disc players.

I'm not crazy about the Fast Forward and Rewind speeds on the PS3. It goes from 1.5x (which is too slow) to 10x (which is too fast). I would prefer to have a more gradual set of fast transportation options available, as on Sony's HD PVRs which include 3x, 9x, 30x and 90x speed options for rewind and fast forward. And on some DVDs - notably those recorded on a Panasonic DVD recorder - the "Next Chapter" button on the remote did not work when attempting to move to the next title of a multi-title disc. This works on standard DVD players as well as on the Toshiba HD-XA2.

For standard DVD playback, I noticed some sporadic audio outages when connected via HDMI to an Onkyo TX-SR674 receiver. These outages occurred usually during transitions where there was silence in the audio track, e.g., from menu screen to trailer playback, or from the studio logo to the movie itself. The audio would go quiet after switching from menu to movie playback and the audio simply would not turn back on.

I noticed this most consistently on the "Stranger Than Fiction" DVD but it also occurred occasionally with some other DVDs. These outages or drop-outs occurred only with standard DVDs, never on Blu-ray Discs. I tested swapping out the cables, and also bypassing an HDMI repeater/switcher that was temporarily in the signal path, but the audio outages persisted. Usually unplugging and plugging the HDMI cable back into the PlayStation 3 resolved the problem, but this was really annoying and should not occur, under any circumstances. It is important to note that I did not notice these outages after upgrading to firmware 1.8 so it may have been a temporary glitch that occured prior to version 1.8.

I was a little surprised to find that the PS3 stretched 4:3 DVDs to full screen by default when connected to a 16:9 display via HDMI. Of course, this can be corrected in most TV's aspect ratio controls, but the default behavior should be to present the DVD content in its native aspect ratio. This problem appears to have been corrected in the 1.8 version of the firmware as well, as I was not able to reproduce this behavior after upgrading.

Also, the PS3 does not currently allow simultaneous output of analog and digital audio (it's one or the other) which is not ideal if you want to do parallel connections to a home theater system and directly to a TV for "simpler" viewing/listening options. To enable the analog audio outputs, you need to go into the menu and select this as the active output (and this disables the digital output).

All in all, the ergonomics and features of the PS3 as a dedicated Blu-ray Disc or DVD player are pretty good but not quite up to snuff with the best stand-alone DVD, Blu-ray, or HD-DVD players.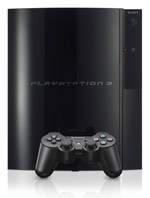 Viewing/Listening Impressions
Once you see true 1080P content played back on a high quality HDTV, it's hard to watch regular DVDs, even ones that are upconverted to HD resolution via a high quality scaler. And though not as dramatic as the picture quality improvements, the higher bandwidth, higher quality audio formats available on Blu-ray Disc enhance the sound significantly, eliminating or greatly minimizing the "digital nasties" that can be present on some standard DVD soundtracks with their low bandwidth limits and lossy compression.
On some early single-layer (25 GB) Blu-ray Discs there were subtle MPEG artifacts visible, but on dual-layer BD movies, using MPEG4 AVC (H.264) compression I was hard-pressed to find any flaws in the image. The differences between this and a standard DVD are not subtle, with sharper detail, more vivid colors and more three-dimensionality to the image. The quality of the image depended on the source material, of course, but well-mastered discs such as "Casino Royale" and "Pirates of the Caribbean: Dead Man's Chest" present a beautifully detailed widescreen image.
Audio was also of extremely high quality on most Blu-ray Disc titles. The standard Dolby Digital tracks were no better (and no worse) than the Dolby Digital you'd find on standard DVDs, but lossless multi-channel PCM tracks (generally recorded at 16 bits, 48KHz sampling), sounded crisp and detailed, with excellent dynamics and tonal balance. Audio quality in linear PCM encoding (on most titles) is slightly better than CD quality due to the higher sampling rate (48 KHz, vs. CD's 44.1 KHz). The format and player support much higher resolution PCM tracks - up to 192 KHz sampling rates - more than 4 times the resolution of a standard CD, but I've yet to see any titles that take advantage of this yet.
As for DTS-HD and Dolby TrueHD titles (with audio output set to "bitstream"), the player passed the core DTS and Dolby Digital tracks over HDMI and optical digital outputs. It's actually delivered at a higher bitrate than older Dolby Digital and DTS implementations on DVD, but it's not the true lossless surround sound of which both DTS-HD and Dolby TrueHD are capable. With the audio output set to "PCM," Dolby TrueHD tracks sounded excellent, and we expect to hear the same level of quality from DTS-HD tracks after the firmware 2.3 update.
As for watching/listening to standard DVDs, the PS3 produced perfectly acceptable results in this department as well, passing the audio and video digitally to our home theater system and display with little editorialization. The PlayStation 3 actually began supporting upconversion of DVDs to High Definition resolutions (up to 1080p) during our initial review period (firmware upgrade to version 1.8). Watching upconverted DVDs on the PS3 produced an image that was noticeably better than a standard DVD player but not as detailed as the Toshiba HD-XA2 HD-DVD player, with its Silicon Optix video processor on board. The PS3 was very good at locking onto film-based source material, and kicking in its 3:2 pull-down circuitry when appropriate.
Using the Silicon Optix Benchmark DVD, the PlayStation 3 passed the cadence tests and "jaggies" tests with good performance (but not excellent). The player was also able to properly display mixed film/video content (film material with both horizontal and vertical video title superimposed) without significant degradation.
If you use the PS3 as your primary DVD player, you should experiment with the video output settings between 480i, 480p, 720p, 1080i and 1080p and see which looks the best on your specific television. Virtually all HDTVs have built-in scalers to convert 480i and 480p outputs of a standard DVD player to the native resolution of the panel. Some HDTVs do this better than others (and better than some upconverting DVD players), so your results may vary depending on the video processing skills of your HDTV.
Final Thoughts
Overall, I was impressed with the performance of the PlayStation 3. It's the first videogame system I've purchased since buying a ColecoVision console in 1981 (OK, actually my parents bought that one). And although PS3 game titles look impressive, I'm resisting the temptation to get drawn into High Def gaming.
As a dedicated Blu-ray Disc and DVD player, the PS3 does many things well (audio and video performance) and others not as much (general ergonomics and configuration settings). It also offers the ability to download HD content from the internet, and to rip and store CDs as well as digital photos for playback and display through your home theater system. These are advanced features not found on many other BD or DVD players.
Also, over the course of just a few short weeks, two firmware upgrades were made available, each of which substantially improved the operation and functionality of the player. And over time, several more upgrades have been provided or announced to support Bonus View, BD-Live and DTS-HD decoding. This dedication to improvement is welcome and I wish more manufacturers would follow Sony's lead. I'm sure I'll get a lot of enjoyment out of the PS3 as a Blu-ray Disc Player for the next few months/years as the technology matures and high performance dedicated BD players become more user-friendly and more affordable.

If you're a high definition movie-lover and also a gamer, interested in checking out advanced high resolution games in addition to HD movies; or if you are looking for a computer/home theater convergence device providing some degree of content networking within your home without a significant investment in computers, then buying the PS3 is practically a "no brainer." Its robust and comprehensive feature-set is a geek-lover's dream. And its audio and video performance is sure to keep even the pickiest of audio/videophiles happy.

But if you're not into gaming, and not interested in the networking features of the PS3, then you might consider the later generation of Blu-Ray players such as Panasonic's DMP-BD30 or upcoming DMP-BD50. These have come down in price since the first generation players, while offering more advanced features, and these will more likely be better suited to use in a standard media center or home theater system.
Update (4/15/08): With Sony's latest firmware upgrade (version 2.30), the PS3 now supports DTS-HD decoding as well as BD-ROM profile 2.0, a.k.a. "BD-Live" making this the first (and currently only) Blu-ray Disc player to support the new Web-enabled features of BD-Live. And although our early experience with BD-Live software has been a bit frustrating, we are confident that the studios will work things out and begin delivering unique new features via this method. For this reason, we are bumping up our "Features" and "Overall" ratings of the PS3 half a star each.
Other than next generation audio support via bitstreaming (which cannot be delivered without changing the hardware), the PS3 now includes all of the essential features of a stand-alone dedicated Blu-ray Disc player plus many additional features not available on dedicated BD players. And with the addition of the 3rd party Nyko remote, the PS3 can be integrated fairly well into a home theater system with any IR-based universal remote. Now, more than ever, the PS3 is a great choice for those who want to test the Blu waters and start experiencing full high definition content at home.

Where to buy the PS3:
Popular PS3 Accessories for Blu-ray Playback:
Specifications and Features:
Suggested Retail Price (at time of review): $599.99
Kill-A-Watt Rating: Average power consumption of 197 Watts when powered on
Features a powerful Cell processor and a dynamic RSX graphics chip
Memory: 256MB XDR Main RAM; 256MB GDDR3 VRAM
Hard Disk Drive: 2.5' Serial ATA (60GB)
I/O: USB 2.0 X 4; Memory Stick/SD/CompactFlash Slots
Plays DVDs, CDs, and Blu-ray Discs
HDMI 1.3 compatibility
Completely backward compatible, all the way to the original Sony PlayStation
Supported output resolutions: 480i, 480p, 720p, 1080i, 1080p
A/V Outputs: HDMI (version 1.3) x 1; Analog AV Multi Out x 1; Digital Audio Out (optical) x 1
Integrated Web browser
Built-in Ethernet port and Wi-Fi (802.11g/b) access for easy connection to gaming services, the Internet and compatible media servers
Bluetooth 2
Supports up to 7 Wireless Bluetooth controllers (1 included)
Dimensions: 12.8 x 10.8 x 3.9 inches
Weight: 11 pounds
MSRP: $599.99
Manufacturer's Contact Information

Sony Computer Entertainment America, Inc.
919 East Hillsdale Boulevard
Foster City, CA 94404
ph: 800-345-7669 (800-345-SONY)

On the Web: www.us.playstation.com