Blu-ray's BD-Live: DOA?
By Chris Boylan
As you may have heard, Sony's PlayStation3 officially became the first (and currently the only) Blu-ray Disc player to support the new Web-based feature set of the format, known as "BD-Live." And BD-Live content will be coming shortly to stores in the form of two upcoming Blu-ray Disc titles: Walk Hard: The Dewey Cox Story, and Arnold Schwarzenegger's clone-fest The 6th Day.
Thanks to Sony Pictures' ever-efficient PR firm, we were able to get our hands on Walk Hard yesterday, ripped open the package and eagerly inserted the disc into our freshly updated BD-Live-enabled PS3. After all, we've been waiting for BD-Live with great anticipation for many months.
We're still waiting.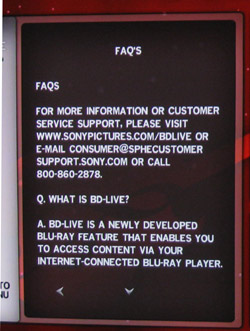 The film itself (
Walk Hard
), the story of the greatest rocker who never lived, was more than a little entertaining, at times laugh out loud funny. John C. Reilly (Will Ferrell's sidekick in
Talladega Nights
) has shown that he can carry a lead role in a comedy with aplomb. But not so funny was the BD-Live content – movie trailers and exclusive mockumentary clips from certified Coxologist Derek Stone (played by Saturday Night Live's Bill Hader). It's not that the content isn't enjoyable or entertaining, it's that I wasn't able to view it - any of it.
After reading through the BD-Live FAQs on the disc (some basic Q&A on the feature) I attempted to download all three of the Derek Stone clips, and a few of the trailers. The not-terribly-intuitive status bar that accompanied each download stayed pure white (no progress) even after leaving the player on overnight. I was able to crawl through a download of the Untraceable trailer in HD, but then clicking on the new "Play" arrow that appeared after the download produced no results. I hope that the issue is that someone back at Sony Pictures' HQ hasn't fired up all the servers, as they're not expecting the disc to "hit" until April 8th (next week). But we're not the only ones having the problem (see similar reports from The Man Room).
In terms of whether or not they needed BD-Live to deliver this specific content, the answer is no (they could have fit these trailers and clips on the dedicated Special Features disc that came with the set). But the point is that this content can change and evolve over time, and new content can be unlocked, allowing you to get additional enjoyment from the disc over the lifetime of ownership, and this is something you can't do with a static stand-alone silver disc.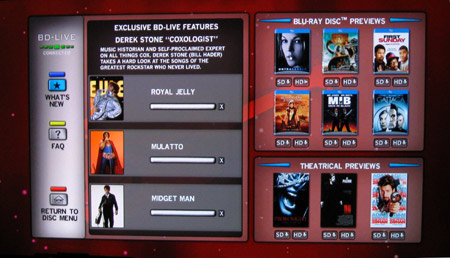 We're still waiting to see a BD-Live "killer app" that will pave the path for widespread adoption of the format. Walk Hard on Blu-ray doesn't have that (even if the downloads were quicker and worked as expected) but the potential is certainly there for something quite unlike the experience of standard DVD.
We'll try again over the next few days and will update this article if things improve before Walk Hard's official street date. Watch this space.
Update 1 (12:30 PM ET - 4/3/08): SPHE (Sony Pictures Home Entertainment) has acknowledged the download delays and expects these to be worked out before the disc is generally available. Here's their response to our enquiries:
"Thanks for checking with us. As SPHE continues to configure the BD-Live Service for a successful launch on 4/8, you may experience some minor issues with the BD-Live features and downloads. Sony Pictures Home Entertainment anticipates the service to be fully functional by 4/8 and apologize for any inconvenience."
Update 2 (6:12 PM ET - 4/5/08): I checked out the "6th Day" Blu-ray Disc and was able to download the trailers in the BD-Live section (albeit slowly) but repeated attempts to view the BD-Live content on "Walk Hard" met with failure. So I went into the PS3's BD-ROM data cache area and deleted a file labeled "spe" (approximately 267 MB). Once the file was deleted, we were able to successfully download the Derek Stone segments and several HD trailers. Again, the download speed wasn't that impressive (who wants to wait 5 or 6 minutes just to watch a trailer?), but the content was viewable. Let's hope performance improves when the BD-Live features "officially" go live on April 8.