Starship Troopers on Blu-ray Disc Review
By Chris Boylan
If there were a sub-genre in film for satirical Science Fiction, Director Paul Verhoeven and writer Ed Neumeier would own it. First, with RoboCop, in 1987, then Starship Troopers in 1995, the duo has shown a unique ability to combine exciting action, a compelling story and borderline subversive satire into one satisfying package. And, at least with Starship Troopers, this film only gets better with time.
After a brief flash-forward depicting one of the bloodier battles in the war against the bugs, Starship Troopers begins one year earlier with the story of four high school friends in their last days of school, faced with making a decision about their respective futures. Living in a surprisingly Caucasian (almost Arian) future Buenos Aires, Johnny Rico (Casper Van Dien) is in love with Carmen Ibanez (Denise Richards); Dizzy Flores (Dina Meyer) is in love with Johnny Rico, and Carl Jenkins (Neil Patrick Harris) is only interested in furthering his burgeoning psychic abilities to put them to use in the military's xenophobic bug-squashing campaigns.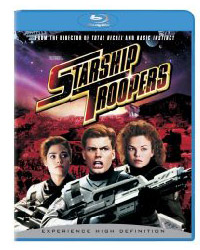 In order to gain full citizenship, the population is encouraged to dedicate two years to military service, though the rich and privileged are able to opt out if so desired. Ibanez and Jenkins, with their high math and science test scores (and Jenkins' psychic abilities) are eligible for Flight Training school and "Games and Theory" (military intelligence) respectively. Flores plans to play pro football (gender is apparently less of an issue in the future), and Rico's parents believe he is set to go to Harvard. But in order to impress the girl (Ibanez), Rico chooses instead to enlist as a grunt in the Mobile Infantry. And, in an attempt to get closer to him, we later learn that Flores ditches her pro ball career to follow him there.
The story unfolds with each of our heroes going their own way, but being brought back together by circumstance in what may be a pivotal battle in the war. Rife with political commentary which draws some fairly obvious comparisons between Fascist regimes and our own country's military expansionism, Troopers was misunderstood in its time and didn't do particularly well in the box office. Over time, as some of the film's scenes have been echoed in real events (a terrorist-style attack on a major city, followed by a rush to action for a decisive, yet ultimately unattainable victory), the satirical elements of Starship Troopers have become more obvious - people are starting to get Verhoeven's jokes - and this has brought a second wave of success to the film in its home video releases on DVD and now Blu-ray Disc.
The Picture
The beautifully clean and well saturated 1080p transfer at 1.85:1 aspect ratio reveals just how well the film's visual effects teams integrated CGI (the bugs), miniature models (the spaceships) and real live actors to create a seamless, realistic film. When a bug plasma pulse rips a ship in half, you can see intricate details of the exposed decks, not to mention the bodies left floating in the aftermath. There is some artificial edge enhancement visible in the Whisky Outpost attack and a few other desert scenes, but nothing which detracts from one's overall enjoyment of the film. If you're a fan of the film, the Blu-ray Disc's picture quality improvements over the DVD may be reason enough for a purchase.
The Sound
The Soundtrack is presented in lossless Dolby TrueHD 5.1-channels sound. The mix makes heavy use of the surround tracks, which creates a wonderfully chaotic cacophony of sound during the numerous bug battle sequences. Dialog is still clean and clear in the mix, though there are a few rough edges where the sound is slightly harsh. Overall, a solid but not outstanding audio mix.
The Extras
Sony has done a good job here including many of the extras from the previous DVD release of the film as well as adding some brand new extras which were not possible on DVD. Particularly enjoyable is watching the film in "FedNet mode" which boxes the screen border with the familiar FedNet window used throughout the film for various news reels and propaganda pieces. A PIP window comes up at various points in the movie with factoids from the film, and with new video commentary from the lead male actors (Denise Richards and Dina Meyer are oddly missing from the mix), director Paul Verhoeven and screen-writer Ed Neumeier, as well as tidbits from critic/author Paul Sammon. This commentary provides good insight into the film-making process, including a few funny observations on Verhoeven's unusual directing style.
Deleted scenes are presented in standard definition. These scenes add some depth into the relationships among the main actors, but were not strictly necessary to advance the plot. The original screen tests of Casper Van Dien and Denise Richards are also included. It's easy to see the chemistry between these two fine-looking specimens of humanity, and not hard to understand why no one else was seriously considered for either role. Although I'd wonder how Carmen Ibenez would have been played by someone with more of an edge. Richards' Carmen just seems too happy all the time.
The BD-Live feature can evolve over time but it currently offers free ring-tones like Johnny Rico's "I'm from Buenos Aires and I say Kill 'Em All!" line. BD-Live also includes a "put yourself in the film" feature which requires a bit of effort. You will need to create a log-in ID, e-mail a headshot image (presumably from your PC) to a Sony Pictures address, position your face onto the body of a trooper, and then when you've done all that, you can watch selected scenes with your face on a Starship Trooper. Sounds too much like work to me, but it's cool to see Sony experimenting with BD-Live here. If only they could make it faster.
One thing I did notice about BD-Live on this title is that I was able to access BD-Live content from other Sony titles that I'd previously viewed/downloaded onto my PS3. Specifically the Bill Hader "Coxologist" bits from "Walk Hard" were available to me while accessing BD-Live from the Starship Troopers disc. I had thought these were title-specific (requiring the specific title to be loaded), but apparently this is not the case.
All in all, it's a satisfying package of extras sure to keep Troopers fans entertained for hours.
Final Thoughts
I like a movie that gets better with time, and holds up to the scrutiny of higher resolution video and audio mixes available with newer technology. Starship Troopers is just such a film. It looks and sounds better than ever on Blu-ray Disc. Combine high quality video and audio transfers with some compelling extras and you have a must-own title suitable for your Blu-ray Disc library.
Where to Buy:
Product Details:
Actors: Casper Van Dien, Denise Richards, Dina Meyer, Neil Patrick Harris, Jake Busey, Clancy Brown, Michael Ironside, Patrick Muldoon
Director: Paul Verhoeven
Writers: Robert Heinlein (novel), Ed Neumeier (screenwriter)
Audio Formats/Languages: Dolby TrueHD 5.1 (English, French)
Subtitles: English, English SDH, French, Spanish
Aspect Ratio: 1.85:1
Number of discs: 1
Rating: R
Studio: Paramount
Release Date: August 5, 2008
Run Time: 129 minutes
List Price: $28.95
Extras:

Fednet Mode (requires BonusView capability on player)
BD-Live (requires BD-Live capability on player)
Recruitment Test
Blu-Wizard
Commentary with Paul Verhoeven and Ed Neumeier
Director and Cast Commentary
Documentaries and Featurettes:

"Death from Above"
"Know Your Foe"
"Bug Test Film: Don't Look Now"
"The Making of Starship Troopers"
"The Spaceships of Starship Troopers"

FX Comparisons
Storyboard Comparisons
Scene Deconstruction with Paul Verhoeven
Deleted Scenes
Screen Tests (Casper Van Dien and Denise Richards)