For Your Eyes Only on Blu-ray Disc Review
By Brandon A. DuHamel
The Film
In this 12th outing for the 007 franchise based on two short stories, "Risico" and "For Your Eyes Only" by Ian Fleming, Roger Moore is in the lead role as the globetrotting MI6 secret agent. Coming after 1979's
Moonraker
, a nearly outrageous space adventure of a Bond film, producers decided it was time to reign the series in, giving it a reboot and, in their own words, bring Bond back down to Earth.
What they ended up with is, although one of Roger Moore's stronger Bond outings, nothing more than a facsimile of Sean Connery's groundbreaking and tone setting turn in
Thunderball
.
For Your Eyes Only
runs through every previously well established plot device in the 007 legacy to form a film that feels more like a patchwork of 007-themed vignettes than one cohesive storyline. For instance, the film opens with Bond at his wife's grave site where he is picked up by a helicopter. The helicopter is then taken over remotely by a bald villain in a wheelchair who we are to presume is Blofeld. Bond eventually recovers control of the chopper, snags Blofeld on the helicopter's landing gear and drops him down a smokestack. What's the problem? The problem is this scene is in no way related to the rest of the film and is never mentioned again.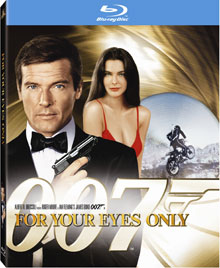 For Your Eyes Only
finds Bond trolling the globe with his typically beautiful companion, Bong girl Carole Bouquet as Melina Havelock as he tries to obtain a device known as the ATAC that can control British nuclear submarines. The device has been sunk in the Ionian Sea. This situation leads to the most obvious references to
Thunderball
as
For Your Eyes Only's
underwater sequences are a blatant allusion to the former film's groundbreaking underwater camera work.
What
For Your Eyes Only
does do successfully is temper the overuse of gadgetry which became so common place in 007 film's after
Thunderball
and its incorporation of winter sports such as skiing, ice hockey and figure skating -- a response to the growing interest spawned by the 1980 Winter Olympics -- somehow makes the film more tangible. But Roger Moore is less effective portraying hand-to-hand combat than Sean Connery. The chemistry between Moore and Bouquet also never develops, leaving the usual chemistry between 007 and his female companions nowhere to be found in this film.
Overall,
For Your Eyes Only
is a decent attempt at a back-to-basics Bond, but it feels too slapdash and inconsistent. Am I being too harsh on it because I watched it within days of watching
Thunderball
and
From Russia with Love
? It's quite possible, but it's still an inescapable fact that one cannot jump from Connery to Moore and expect the same quality Bond.
The Picture
In comparison to the other two classic James Bond films I've recently reviewed,
From Russia with Love
and
Thunderball
,
For Your Eyes Only
has a completely different look. Utilizing a more realistic color palette,
For You Eyes Only
has the look of a typical late 70's production. Colors are flat, flesh tones a bit pale, though natural, and black levels are slightly washed out. In essence, nothing about
For Your Eyes Only
's production is eye catching. Even the exotic locales, such as The Bahamas, don't look that vibrant.
Production values aside, however, this is still another excellently handled rendering of the original source. Fully restored by Lowry Digital in a 4K (4000 x 3000 pixels) scan and digitally cleaned up to removed all evidence of its aging,
For Your Eyes Only's
grain structure and remain intact. The 2.35:1 AVC/MPEG-4 1080p/24 high definition encoding offered on this Blu-ray Disc shows off that newly restored master in an impeccable transfer unhindered by any compression artifacts, edge enhancement, motion jaggies or any other nuisances. In other words,
For Your Eyes Only
has never looked this good before and probably exceeds the quality it was being projected at in theaters.
The Sound
For Your Eyes Only
comes to Blu-ray with an all-new English DTS-HD Master Audio 5.1 lossless mix in addition to English Dolby Surround 2.0, French Dolby Digital 5.1 and Spanish Mono versions. The new lossless 5.1 mix opens up the soundfield adding a sense of depth and energy that is not apparent in the 2.0 surround mix. Only slightly more discrete, the surround channels are utilized to good effect for ambient effects and to boost the effectiveness of sound effects from explosions to gunshots with subtle yet useful assistance from the LFE. Dialogue is intelligible, though limited to the center channel, and the front left and right channels see a fair amount of directional activity following the onscreen action. It may not reach the standards of what people have come to expect from an action film's soundtrack today, but I guarantee you've never heard
From Your Eyes Only
sound this good.
The Extras
For Your Eyes Only
comes with plenty of behind-the-scenes footage and featurettes that offer up plenty of Bond trivia that 007 fans should be quite happy and occupied for a good amount of time. There is a bit of overlap with the information, so skipping the audio commentaries won't be a bad thing, with the sole exception of the commentary by Sir Roger Moore himself, which is a pleasant surprise, Moore serves up some interesting tidbits on the film as he reminisces while the film progresses.
The extras available on this release are:
MI6 Commentary

Commentary by Sir Roger Moore
Commentary by Michael G. Wilson and crew
Commentary by director John Glen and members of the cast

Declassified: MI6 Vault
Deleted Scenes and Expanded Angles (2.35:1/high definition)

Deleted Scenes with intro and commentary by the director

Hockey 007 Style
Joining Forces

Expanded Angles

Death of Locque -- This comparison between the final sequence and the expanded angle can be toggled between using the remote's red button for a view of the original, expanded, or multi-angle comparison. The final sequence with the tighter angle was eventually used because it was felt that the dummy used in the wide-angle shot looked too unrealistic.

Bond in Greece (4:3/standard definition) -- With commentary by producer Michael Wilson, this featurette focuses on the location shooting in Corfu where the crew painted the entire town white to make it resemble a Spanish village,
Bond in Cortina (4:3/standard definition) -- Producer Michael Wilson once again offers the commentary for this behind-the-scenes look at the on-location filming in Cortina. Wilson offers up the information that the film's use of the many winter sports such as skiing, ice hockey and figure skating was inspired by growing interest in the sports due to the 1980 Winter Olympics.
Neptune's Journey (4:3/standard definition) -- This piece puts the spotlight on the film's underwater film unit in the Bahamas and the prop submarine The Neptune. Led by Al Giddings of The Deep fame, the crew's work is a major part of For Your Eyes Only. After filming, The Neptune was used by UA for promotion of the film and was even paraded across the Brooklyn Bridge.
Credits -- credits for the Declassified: MI6 Vault supplemental materials.
007 Mission Control -- This section offers access to selected scenes from the film that highlights the many characters that populate the world of 007. It is divided into the categories 007, Women, Allies, and Villains.
Mission Combat Manual -- A selection of action scenes from For Your Eyes Only
Q Branch -- A selection of scenes highlighting 007's gadgets.
Exotic Locations (2.35:1/high definition) -- Bond girl Maud Adams narrates this segment offering anecdotes and trivia on For Your Eyes Only's many international locations, such as England, The Bahamas, Greece and Italy as scenes from the film go by.
Mission Dossier

Inside For Your Eyes Only (2.35:1/high definition) -- The filmmakers discuss adapting the film from two Ian Flemming short stories, "Risico" and "For Your Eyes Only" and offer up anecdotes on the production of the film, such as the difficulties filming the rock climbing sequences due to Roger Moore's fear of heights.
Animated Storyboard Sequence -- Snowmobile Chase --This is a montage of the storyboard sketches for a snowmobile chase that was later changed to having the villains chasing Bond on mortorcycles for the film.
Animated Storyboard Sequence -- Underwater -- Montage of storyboards for the film's underwater sequences.
Sheena Easton Music Video (4:3/windowboxed/standard definition) -- "For Your Eyes Only" music video.

Ministry of Propaganda

Theatrical Archive

Theatrical Trailer (2.35:1)

TV Broadcasts (4:3/standard definition):

For Your Eyes Only TV trailer
For Your Eyes Only Second TV Trailer
TV Teaser Trailer

Radio Communication

"Bond, James Bond"
"When it Comes to Action…"

Image Database -- A gallery of dozens of production and promotional stills from For Your Eyes Only:

The Filmmakers
Portraits
The Pre-Credits Helicopter Sequence
Music and Titles
Gonzales' Villa/Deux Chevaux Chase
Cortina & Ski Action
Willy Bogner's Ski Action Unit
Corfu
The "Underwater" scenes
Michael Wilson's Cameo
Meteora
007 Meets the Prime Minister
Donai O'Connor Visits the Set
Doubling 007
Around the World
Final Thoughts
After viewing both
From Russia with Love
and
Thunderball
before watching
For Your Eyes Only,
I have to admit that Roger Moore's 007 comes across a bit silly. Despite being an attempt to reboot the series and go back to basics,
For Your Eyes Only
still feels simply like an attempt at recapturing the magic of Sean Connery's
Thunderball
. Still, for fans of James Bond and, in particular, those who fall on the Roger Moore side of the 007 debate,
For Your Eyes Only
is one of the stronger films in the Moore cannon of 007 films. This Blu-ray Disc presentation from MGM offers a fittingly well done level of quality and introspect through its various supplements making it a must have edition to any Bond fan's collection.
Where to Buy
Also available in the following boxed sets:

Compatibility Issues:
Some people are reporting playback problems with certain Bond titles on Blu-ray. Specifically the Samsung BDP-1500 player and LG BH200 players have problems playing some of these new Bond Discs. Please check the
Bond Blu-ray Player Compatibility
thread in our forum for more details and to report your results.
Product Details
Actors: Roger Moore, Carole Bouquet
Director: John Glen
Audio/Languages: English DTS-HD Master Audio 5.1, English Dolby Surround 2.0, French Dolby Digital 5.1, Spanish Mono

Subtitles: English, Spanish
Region: A
Aspect Ratio: 2.35:1
Number of discs: 1
Rating: PG

Studio: Fox/MGM
Blu-ray Disc Release Date: October 21, 2008
Run Time: 128 minutes
List Price: $34.98
Extras:

Audio Commentary with Director John Glen and members of the cast
Audio commentary with co-screenwriter Michael G. Wilson and Crew Members
Audio Commentary with Sir Roger Moore
Deleted Scenes and Expanded Angles
Bond in Greece Featurette
Bond in Cortina Featurette
Neptune's Journey Featurette
007 Mission Control Interactive Guide into the World of For Your Eyes Only
Inside For Your Eyes Only Featurette
Animated Storyboard Sequences
Image Database
Sheena Easton Music Video
Theatrical Trailers, TV and Radio Spots