Vongo's Movie Download Application Puts Up a Strong Fight Review
By Joe Lozito
Vongo's Movie Download Application Puts Up a Strong Fight

With its subscription-based model, Vongo (stands for "video on the go" in case you haven't guessed) operates more like a cable channel. This video download application and service was developed by the Starz Entertainment Group and offers subscribers access to more than 2,000 movie and video selections, plus a live, streaming Starz TV channel. Vongo has access to first-run movies from all of the Disney and Sony studios and Vongo also licenses select recent films exclusively from Universal Pictures and New Line Cinema.
So on to the important stuff…
Cost
Vongo sets itself apart from the competition with its subscription model; there's no purchasing on Vongo. It works like this: for $9.99 per month you get unlimited access that catalog of 2,000 movie and video titles (as well as access to stream the Starz TV channel). Just browse the catalog and download to your heart's (or hard drive's) content. Each title has an "available until" date (anywhere from 3 months to a year depending on the title) at which time the content you've downloaded will automatically expire.
Keep in mind, you still need to pay $3.99 to view certain "popular pay-per-view" titles. Meaning, the good stuff'll still cost ya. What Vongo calls "pay-per-view" titles are effectively rentals. You download a "pay-per-view" movie to your desktop where you can keep it for up to a month or until you start watching it, whichever comes first. Once you start watching it - just like the other services - you have 24 hours until the movie expires (anyone else feel like Jack Bauer?).
Vongo offers a free 14-day trial of their subscription option, as well as convenient gift cards so you can bequeath a film unto your favorite movie fan. Makes a great gift!
Selection
Across the board, the current selection of movies on all these services is slim. While numbers like 1500-4000 movies may sound like a lot, when you compare that with the number of movies out there, it's a drop in the well. Not that I'm complaining, mind you. I'm happy we're at the point that movies are being distributed online, but we have a long way to go before the online browsing experience mirrors that of a Netflix, Blockbuster or independent video store.
Usability
After Vongo's 8-step (!) registration process, I was up and running. The Vongo application is sluggish and the interface takes some getting used to, but its download manager is very smart. It'll happily run in the background as a tray icon and inform you of your download status. Vongo is also able to streamline the searching and downloading process since they have their own desktop application. But playback on the Vongo video player (which skins Windows Media Player and ties it to the Windows platform) was choppy and stuttered until I made sure no other processes were running on my PC.
While the other movie download services use the standard e-Commerce model (browse, fill your shopping cart, checkout), Vongo's subscription model differs. Once you're a Vongo member, you can browse the catalog, fill your library with whatever you feeling like watching (or however many titles your hard drive can handle) and let the downloading begin. The movies will stay on your hard drive until the "available until" date runs out (again, anywhere from 3 months to a year) at which time they will be automatically deleted. Naturally, if you go the "pay-per-view" route, there's that additional charge, and the movie expires after a month or 24 hours after you start watching.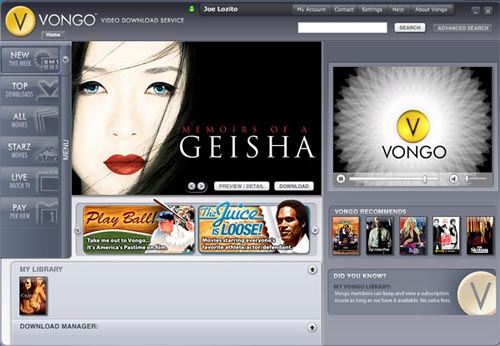 Speed/Quality
The movies on these services usually top out at about 1GB. Vongo is the only service to offer a "portable" option for downloading to Toshiba's excellent
gigabeat portable media player
. Choosing this option cuts the filesize in half while retaining good quality. Surprisingly, iTunes didn't offer a similar option for the ubiquitous iPod.
For testing purposes, I always tried to pick films that were around 100-120 minutes and contained some amount of visual flair so I could test the quality (though due to the limited selection, that was sometimes a problem.
As with the other services, films downloaded from Vongo were perfectly acceptable - not DVD-quality, but more than adequate for viewing on a medium to large screen. Even the smaller files downloaded to the gigabeat player looked OK when connected to a television. But if you plan to view your films on a large screen, take the hit and download the larger filesize version, because it is appreciably better.
Portability
For the most part, these services are expecting that you'll watch the film on the PC where you downloaded it, or on their certified portable player (gigabeat or iPod for Vongo and iTunes, respectively). Each of the websites, in fact, has detailed instructions about how to attach your PC to your TV. However, you can't drag the movie to a Media Center, such as the
Mvix player
for example, since Vongo playback requires the Vongo-modified version of Windows Media Player.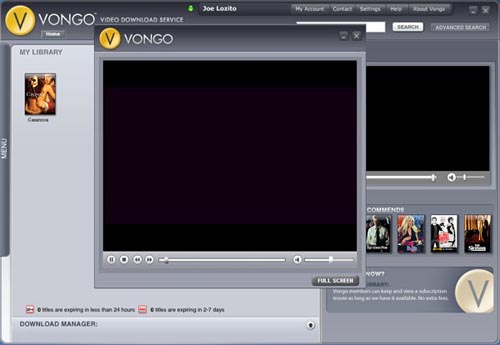 Vongo also allows you to assign three devices to a single Vongo account. This means that you can install the Vongo application on your home PC and your laptop for taking your movies on the road. Just login with the same userid, and use your same subscription. You can also assign your portable media player (i.e., the gigabeat player) to your Vongo account and the download manager will sync with it directly.
Security/Ownership
Vongo's subscription option sets it apart from the other services. Because the Vongo/Starz Network purchases the rights to distribute a film for a certain amount of time (usually weeks or months) you're free to watch the movies you download as many times as you want until the "available until" date runs out. But the flip side of this is that you don't really "buy" anything on Vongo.
With Vongo's subscription service (again with the exception of the "premium" titles), you're getting unlimited access to the Vongo "channel" and its current catalog of titles. You don't even need to keep a copy on your computer if you don't like. You just access it whenever you need to - kinda like a virtual movie library.
Final Thoughts
In terms of overall usability, Vongo has an uphill battle ahead to catch up with iTunes, but I liked its smaller file size option for downloading to portable players. Also, because of its affiliation with Starz network (Vongo is the online distribution arm of Starz), it offers a fairly robust catalog of "non premium" (e.g., older release) films for you to view as often as you like for a flat $9.99/month subscription fee, as well as a decent selection of new titles available as "pay per view."
Vongo also offers the unique bonus of being able to stream the live Starz broadcast right on your internet-connected PC. If you have no interest in permanently buying any movies, but like to watch a lot of them, then Vongo may be your best choice. Overall, it's a strong offering with several unique features.
Related Articles:
Company Information
Starz Entertainment, LLC
8900 Liberty Circle
Englewood, Colorado 80112
www.vongo.com