Movielink Offers a Strong Movie Download Option Review
By Joe Lozito
Movielink Offers a Strong Movie Download Option
A joint venture of five major movie studios (Metro-Goldwyn-Mayer Studios, Paramount Pictures, Sony Pictures Entertainment, Universal Studios and Warner Bros. Studios), Movielink offers 1400 titles in its rental store and 1000 titles in its purchase store. Movielink also counts Walt Disney Pictures, Twentieth Century Fox, Miramax, Sundance and others for non-exclusive distribution in its collection.

So on to the important stuff...

Cost

Movielink offers two options: you can buy a film, or rent a film. Purchase prices range from $8.99 - $19.99 and rental prices range from $0.99 - $4.99. Movielink also allows for a quick "re-rent" at a nominal cost (usually $0.99). Movielink is strictly pay-per-view, there's no membership or subscription option.


As with other services, Movielink offers a free trial download and convenient gift cards so you can give your favorite movie fan a film of his or her choice. Makes a great gift for the computer-savvy movie lover.

Selection

Across the board, the current selection of movies on all these services is slim, though the Movielink selection is better than some. While a number like 1400 movies may sound like a lot, when you compare it with the number of movies available on a service such as Netflix, for example (currently over 65,000 titles), it's a drop in the well. Not that I'm complaining, mind you. I'm happy we're at the point that movies are being distributed online, but we have a long way to go before the online browsing experience mirrors that of a Netflix, Blockbuster or independent video store.

Usability

In general, the sites work like any other e-Commerce site: you browse, you fill your shopping cart, you checkout. That's when the downloading starts. Once you have the file downloaded, you play it in the company's player of choice. Movielink uses the native Window Media Player which offered a far smoother playback than iTunes' or Vongo's players (both skin Quicktime and WMP, respectively).

Like CinemaNow, Movielink is also browser-based, yet it solves CinemaNow's download management problem by installing an actual application that runs outside the browser and intelligently manages your downloads and your library.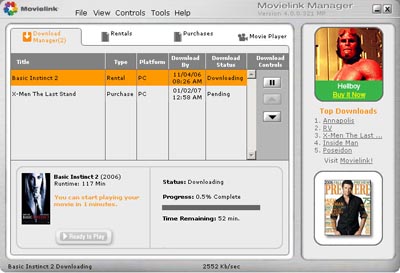 While they separate the rental and purchase categories for some reason, the Movielink store interface is more streamlined and features clearer instructions than CinemaNow. There's nothing particularly fancy about Movielink, it's just a straight-on list of movies - which is exactly what you want. The site does feature some special offers (currently "X3" for $9.99) and there's also a $1.99 or less option, which is the equivalent of the discount rack at video store. Movielink is also the only service to offer live customer service.
Movielink is tied to the Windows platform and to Windows Media Player 10.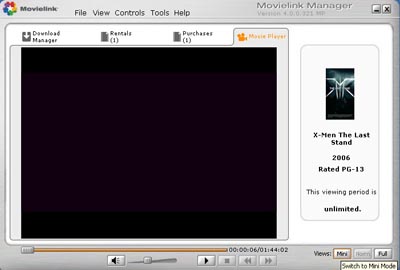 Speed/Quality
The movies on these services usually top out at about 1GB. For testing purposes, I always tried to pick films that were around 100-120 minutes and contained some amount of visual flair so I could test the quality (though due to the limited selection, that was sometimes a problem.
For example:
On Movielink, a purchased copy of "X-Men: The Last Stand" and a rented copy of "Basic Instinct" (what'd I tell you about the selection) downloaded in about 45-55 minutes each on my cable modem! After a short time, it buffered enough to play, but since the download was happening so quickly, I just waited. Also - and this is more a factor of my PC than Movielink - movie playback tends to be a bit choppy while movies are downloading.
Movielink's download manager (pictured in the "Usability" section) nicely controlled my queue of movies, allowing me to start/stop and change the order of my downloads. The download manager also works as a catalog of rented and purchased movies as well as providing playback functionality (a skinned version of Windows Media Player).
As in all cases, the film quality was excellent. Not DVD-quality, but more than adequate for downloading.
Interestingly, none of these services have embraced bittorrent as a downloading application.
Portability
Movielink's expectation is that you'll watch the film on the PC to which you have downloaded it. Their web site has detailed instructions about how to attach your PC to your TV, so you can enjoy the film on the (assumably) larger screen of your entertainment system or home theater. However, you can't drag the movie to an external Media Center, such as the
Mvix player
for example, due to DRM (Digital Rights Management) issues.
Only certain movies on the Movielink site support "Multi-PC Playback", and those are for purchase only. Otherwise, you're pretty much stuck with watching on the PC to which you download the title.
Since Movielink uses the native Windows Media Player, it plays nicely with "placeshifting" services like
Orb Networks
. No such luck with iTunes and Vongo.
Security/Ownership
The sense of ownership gets a little tricky in the online downloading world. Movielink offers a rental option which allows you to download a film for a limited time. A rental download works the same as any other download, but when you first click on the file to watch it, your time limit starts. So don't make the mistake I did and open the file immediately to test its quality. Once you launch the file, it queries the site's license server and the clock starts. 24 hours later, you'll find that the license server won't validate your copy, so you've got a 1GB memory hole sitting on your hard drive. There's no returning to the video store: license revoked.
Purchasing content is a different story. With Movielink, you're buying DRM-protected wmv files which you can play whenever you want on your authorized PC. So you are actually purchasing something for your money, just make sure your PC is authorized properly.
Final Thoughts
Of the browser-based apps, Movielink has the strongest download manager and a simple straightforward buy/rent pay-as-you-go option that competes with the other services in value. Also, because of their close ties to the studio giants, their selection of first run theatrical titles is currently among the best of the available download services.
I'd love to see them offer a DVD burning option for true content portability, but even without it, Movielink offers solid value.
Special Sign-Up Offers:

Company Information:

Movielink, LLC
2120 Colorado Ave., 4th Floor
Santa Monica, CA 90404
www.MovieLink.com