When Will We See Dolby Atmos on Blu-ray Disc? Sooner Than You Might Think
By Chris Boylan
Dear Big Picture Big Sound,
I've heard the news that Dolby Atmos is coming to home theater receivers and processors this fall. I can't wait to get it in my own home theater. When will we start to see Blu-ray Discs with Dolby Atmos soundtracks? Do we need to wait for a new Blu-ray format or new players?
Thanks,
-Dave in Denver
---
Hi, Dave,
Thanks for writing in. We're excited about Dolby Atmos too, having seen (and heard) several movies in the format in theaters and at Dolby's own screening rooms in San Francisco and New York. The added dimension of height and the precision with which you can map a 3D soundstage using Atmos is pretty impressive. And movies which include Dolby Atmos ("Gravity," "Godzilla," "Edge of Tomorrow," and many more), create a much more immersive movie-viewing experience when experienced in Dolby Atmos.  You can read my first impressions on the format here as well as last month's news about many of the first home products to offer Dolby Atmos decoding:
As to when you might see Dolby Atmos on Blu-ray Disc, that time may be sooner than you think. Dolby has announced that Dolby Atmos surround sound will be delivered in two different flavors, both of which use existing codecs: Dolby True HD, which is a part of the Blu-ray standard, and Dolby Digital Plus, which is available on popular streaming services such as VUDU and Netflix and is a part of the UV Digital Copy standard. Dolby has been pretty tight-lipped about exactly what this means, but our understanding of it is that the Dolby Atmos sound objects and meta data sit on top of a standard Dolby TrueHD or Dolby Digital Plus "bed" (usually 7.1 channels) in a data layer that is invisible to existing Dolby TrueHD and Dolby Digital Plus decoders.
What all this means is that Dolby Atmos can be delivered via the existing Blu-ray Disc format, without the need to wait for a specification change to the Blu-ray Disc standard. In fact, it's entirely possible that there may be a Dolby Atmos-enabled title already on the market. We've heard whispers about this but no direct confirmation as to which title it is. To an existing player or receiver, a Dolby Atmos-encoded title would look like standard Dolby TrueHD and it would decode as such without any problems (but of course, without the height channel or object information from the Dolby Atmos mix).
For streaming or UV Digital Copies, a Dolby Atmos-encoded title would appear to the TV, set top box or receiver exactly like a standard Dolby Digital Plus soundtrack (again, without the height-augmented Dolby Atmos objects). But played back through a receiver or processor that supports Dolby Atmos, you'd get the complete Dolby Atmos mix.
Using your existing Blu-ray Player set to "bitstream" mode, with an HDMI connection to a Dolby Atmos-compatible receiver or preamp/processor (with the necessary speakers), a Dolby Atmos-encoded Blu-ray will give you a 3D soundfield that approaches the sound of professional Dolby Atmos-equipped movie theaters.
Per an article on Dolby's blog, Dolby Atmos titles will begin to become available via Blu-ray Disc and streaming services this fall with more titles to follow in early 2015.  If you read between the lines, you'll understand what this really means: Dolby Atmos titles are already in the pipeline. Neither Dolby nor the studios are going on record about which titles will have Dolby Atmos soundtracks yet work is undoubtedly underway on bringing these films to market on Blu-ray.
Here are a few films that we'd love to see get (or may have already gotten?) the Dolby Atmos treatment on Blu-ray Disc:
"
How to Train Your Dragon
" - this film was re-released on Blu-ray Disc in May, 2014 with a newly mixed Dolby True HD 7.1 soundtrack. Wouldn't it be cool if they slipped a Dolby Atmos mix in there at the same time? The film was not released theatrically in Dolby Atmos (it came out before the format was available) but the sequel, "
How to Train Your Dragon 2
" was mixed and released in theaters in Dolby Atmos. So a remix of the original film in Dolby Atmos would make sense. A great animated movie with an excellent score deserves a great surround sound format, n'est-ce pas?
How to Train Your Dragon 2
- this successful and entertaining follow-up features the continuing adventures of Hiccup the Viking and his human and dragon friends. In theaters, this sequel sported a shiny Dolby Atmos soundtrack, making the sweeping score more majestic and the battles and dragon flights more enveloping. This will make for excellent demo material if the film makes its way onto Blu-ray with that Dolby Atmos soundtrack intact.
"
Star Trek Into Darkness
" - when this one was originally released on Blu-ray Disc, the outrage from fans was tangible. There were so many diffferent "exclusive" releases from different retailers that, if you wanted to get all the various extras, you needed to buy multiple versions of the Blu-ray Disc from multiple outlets. Paramount is
making good on that gaffe
on September 9, 2014 by releasing "
Star Trek: The Compendium
" - a comprehensive 4-disc boxed set of the J. J. Abrams-helmed films: "Star Trek: Into Darkness" and the earlier "Star Trek" (2009). The set features all of the extras from the multiple Blu-ray versions of "Into Darkness." It also includes an IMAX version of that film which delivers the scenes that were shot in IMAX in their full 1.78:1 frame. The film will also feature a Dolby TrueHD 7.1 soundtrack.
"Star Trek Into Darkness" was released theatrically in Dolby Atmos and clips from the film are frequently used as Dolby Atmos demo material. So a Dolby Atmos soundtrack on this set is certainly a possibility. Even without it, this set is worth a purchase to get the IMAX version of the second film and all the extras in one place, but with Dolby Atmos, it would be a no-brainer.
UPDATE (7/30): We heard back from Jeff Hare, VP of Publicity at DreamWorks and he tells us that neither "How to Train Your Dragon" nor the upcoming "Star Trek: The Compendium" set have Dolby Atmos encoding. Per the home video team, "Atmos encoding for Blu-ray was not available when we made the newest Dragon disc to include it there, hidden or not." So the mystery about which title has a stealth Atmos track still remains...
"Godzilla" (2014) - this reboot of the franchise may have earned a tepid response from critics, but it had its share of fans and was a massive improvement over the Roland Emmerich dud from 1998. I saw "Godzilla" in a Dolby Atmos-Equipped theater and really, this is the only way to hear that giant lizard roar. Warner Brothers has announced a Blu-ray release of the film, with a fair helping of extras, coming in September. Conspicuously absent from their announcement was the audio format. Will it be a Dolby TrueHD 7.1 mix, with Dolby Atmos-encoding?  Let's hope so!
"Edge of Tomorrow" - this action-packed extravaganza features Tom Cruise as a future soldier stuck in a time loop. It did fairly well at the global box office, and was a surprise hit with critics as well (including yours truly). In select theaters, it was available in Dolby Atmos, and we're hoping this is how it makes its Blu-ray debut.
"Gravity" - this film could (and should) be the poster-child of Dolby Atmos. The score is excellent and the sound mix is a work-of-art unto itself. In "Gravity," sound is as vital an element in story-telling as the picture. I attended the premier of this film in New York in Dolby Atmos, then viewed the IMAX version the very next day. It was no contest: the immersiveness of the Dolby Atmos mix made a great film even better and drew the viewer into the story in a way that few cinematic experiences have done before. It was released on Blu-ray and Blu-ray 3D Disc with a DTS-HD Master Audio 5.1 surround track. It's not a bad-sounding mix, but it's nothing like the Dolby Atmos presentation. We haven't heard about any plans to re-release this on Blu-ray in Dolby Atmos, but when it is (in 3D please), sign us up!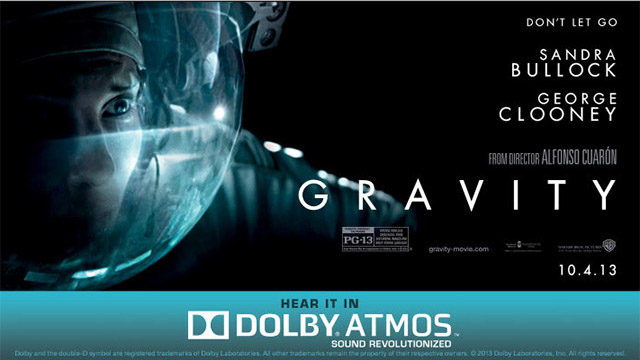 Do you have any hopes, predictions or predilections about which films will get the Dolby Atmos treatment at home? If so, let us know in the comments.
UPDATE (10/3/14): It looks like we were being way too optimistic about the Dolby Atmos rollout to Blu-ray. Since the June hardware announcement, only a single movie has been announced (and now released) on Blu-ray with a Dolby Atmos soundtrack: Transformers: Age of Extinction. The "Star Trek" Compendium release does not have Dolby Atmos, "Godzilla" and "Edge of Tomorrow" have come to Blu-ray without Atmos, even the blockbuster hit "Guardians of the Galaxy" just got it's official Blu-ray announcement and guess what? No Dolby Atmos.
Will a promising format once again be crippled by the studios dragging their feet to adopt new technology?  We shall see...
Keep those cards and letters coming!
if you have a question for one of our home theater experts, shoot us an e-mail to "
Ask The Expert
." We'll select among these for future installments in this column. Due to the volume of requests we receive, we cannot reply to each question personally.