Gravity Blu-ray 3D Review
By Greg Robinson
The Film
Every five or ten years, a film comes along to push the envelope of what is possible in movie making, establishing the next benchmark in cinema. Alfonso Cuarón's Gravity is one of those films. It is the shark in Jaws. It is the dinosaurs of Jurassic Park. It is the up-ended transom of the Titanic, and the floating mountains of Pandora. Years from now, it's one of those films about which you'll say, "I can remember the first time I saw that."
If you're a regular BPBS reader, odds are good I'm preaching to the choir. But just in case you haven't heard it already, the message warrants repeating: If you haven't seen Gravity yet, you owe it to yourself to experience it on the largest screen you can find, preferably one accompanied by a top shelf sound system. Call your friend with the front projection system, use that tax refund to buy yourself a bigger TV, just do whatever you need to do. Gravity's jaw-dropping visuals play such an important role in the film, it seems downright criminal to watch the film on a small screen.  Please promise you won't watch it on your phone.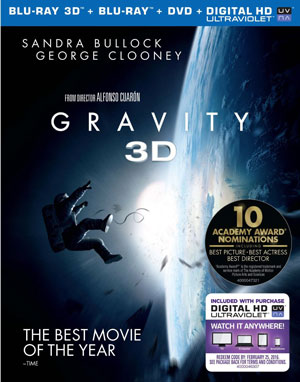 If you've somehow managed to avoid learning the plot of
Gravity
, I won't be the one to ruin it for you. Suffice to say, Sandra Bullock and George Clooney play two members of a space shuttle crew servicing the Hubble Space Telescope. Somewhere around 15 minutes into the film - marking the end of a magnificent, uninterrupted tracking shot - things go horribly wrong. It's at this point that Director Alfonso Cuarón grabs you by the throat and doesn't let go for the next 75 minutes.
The Picture
Warner brings Gravity to Blu-ray Disc in two combo package flavors, one featuring both the 2D and 3D editions and one featuring just the 2D edition. As my editor can tell you, I typically avoid 3D whenever possible - both at the theater and especially at home. (Heck, I received a pair of ThinkGeek 2D glasses for Christmas!) However, after seeing Gravity in an IMAX 3D theater, I quickly added the film to my short list of 3D exceptions.  Like Avatar, 3D does make a difference here and it does enhance the viewing experience.
If you've watched The Dark Knight or The Dark Knight Rises on Blu-ray, you may recall those eye-popping IMAX-filmed sequences, where the image would expand to a screen-filling, more IMAX-esque 1.78:1 aspect ratio. If you're expecting the same thing here, think again. Despite its billing as an "IMAX 3D Experience" in theaters, Gravity was shot and presented using a traditional 2.40:1 aspect ratio - even on IMAX screens - and no part of the movie was actually filmed using IMAX cameras.  That being the case, it should come as no surprise that Warner Bros. presents Gravity on Blu-ray in its intended 2.40:1 aspect ratio.
Unlike the rash of films we see being unnecessarily and sloppily converted to 3D (here's looking at you, Clash of the Titans), Gravity features 3D done right. Despite the occasional bolt or tear drop spinning towards you, most of the 3D on display here is subtle and far from gimmicky. Even at home on this stellar Blu-ray 3D edition, camera pans over the shuttle exhibit tremendous depth of field, with isolated elements in the foreground standing out convincingly against the ever-present Earth in the background.
My wife and I watched the Blu-ray 3D disc using my Oppo BDP-93 player mated to my reference Epson 5020UB projector. The 3D image the Epson put forth was among the most engaging I've seen yet, with minimal crosstalk and little flickering to speak of. The 2D disc was even more satisfying when evaluating the inky-deep blackness of space and the rich colors of mother Earth, but it's hard to say which version I prefer. The good news is, there's no wrong answer. In 2D or 3D, Gravity is a visual stunner on Blu-ray.
The Sound
Houston, I have a bad feeling about this Blu-ray Disc.
Allow me to elaborate. Gravity features a fantastic score by Steven Price and a rich soundtrack filled with countless, localized ambient sounds and a brilliant use of silence when appropriate. Among the film's ten Oscar nominations are nods for Best Sound Mixing, Best Sound Editing, and Best Original Score - and it will probably win all three awards. Furthermore, Gravity is one of a small handful of films to be given the Dolby Atmos treatment for theaters and rumor has it the Atmos soundtrack is even more amazing than what I heard at my local IMAX theater. Given all that, I'd love to know who thought it made sense to give Gravity a 5.1 (!) soundtrack on Blu-ray with standard 48 KHz/16-bit sampling instead of a 7.1-channel high res audio track.
Don't get me wrong: as 5.1 DTS-HD Master Audio soundtracks go, this is one of the best I've heard - perhaps even THE best.  However, for the reasons I've already listed, Warner's decision to go 5.1 here with standard sampling rates seems like a missed opportunity. On the 3D version, I could see bandwidth being at a premium, but how about on the 2D disc? Assuming it was a space issue (no pun intended), it would seem that moving the special features onto a separate disc to make room for a 7.1 mix would have been the right thing to do. Heck, they did as much for Pacific Rim and that movie had elbow rockets.
One can only assume we'll see another, more decked-out Blu-ray release of Gravity after it (hopefully) wins a truck load of Oscars. And with any luck, when that happens, the film will get the 7.1 soundtrack it deserves.  Or perhaps this title will one day be the poster child for Dolby Atmos sound at home? We shall see.
The Extras
On the 2D Blu-ray disc (only), you'll find a host of first rate extras covering every aspect of the film's production. Featuring an assortment of engaging interviews, each presented in high definition, every single extra here is well worth a watch. Thankfully there's very little fluff and taken together these supplements serve to make an already impressive production that much more.
Final Thoughts
The highest compliment I can give Gravity is this: upon exiting the IMAX 3D theater after my initial viewing, I had to collect myself before driving home. There are very films about which I can say that. Gravity deserves to be seen and as you've undoubtedly heard from others, it deserves to be seen on the biggest screen you can find.  Despite Warner's head-scratching decision to omit a 7.1 audio option, this Blu-ray 3D edition is still a winner. Highly recommended.
Product Details
Actors: Sandra Bullock, George Clooney
Director: Alfonso Cuarón
Audio/Languages: DTS-HD Master Audio 5.1 (English), Dolby Digital 5.1 (French, Spanish, Portuguese)
Subtitles: English SDH, French, Spanish, Portuguese
Aspect Ratio: 2.40:1
Number of Discs: 3
Rating: PG-13
Studio: Warner
Blu-ray Disc Release Date: February 25, 2014
Run Time: 91 minutes
List Price: $44.95
Extras:

Blu-ray 3D Disc
2D Blu-ray Disc
Standard DVD
Making-of featurettes (HD)
Ultraviolet Digital Copy