Ears on with Dolby Atmos: Impressive... Most Impressive.
By Chris Boylan
Dolby made a big splash at this year's Cinema Con show in Las Vegas unveiling a new surround sound system for movie theaters.  It's an object-oriented platform that can support up to 64 discrete channels of sound. The system, known as Dolby Atmos expands on traditional surround formats by offering not only more side and rear surround channel options but also height channels to give theater goers a more immersive and three dimensional surround sound experience.
Earlier this week, we had a chance to hear Atmos in action at Dolby's screening room in San Francisco in a 26.3 channel configuration and we were impressed with what we heard. Editor at Large, Chris Chiarella and I watched (and listened to) a series of clips including the climactic Golden Gate Bridge scene from Rise of the Planet of the Apes remixed in Dolby Atmos, and the sense of spaciousness and presence was breathtaking.  A helicopter flying overhead, bullets whizzing in all directions, monkeys making all manner of multi-directional mayhem - all of these sounds were brought to life in a broad, deep (and tall!) three-dimensional soundscape that enhanced the on-screen action.  Another complex, multi-layered audio-only clip of an airline flight gone awry (from the perspective of one of the ill-fated passengers) was so realistic as to be difficult to sit still through.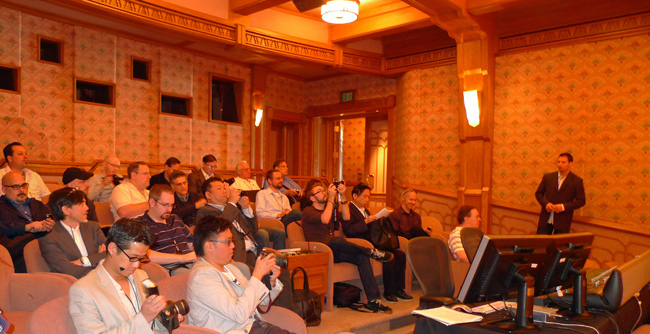 The Dolby Atmos system is object-oriented, which means the mixing engineer can position audio clips, tracks or effect sounds at a point in three-dimensional space with various controls for pans or sweeps or other motion effects all stored as metadata in a dedicated datastream. At playback time, the Atmos decoder positions each sound with precision based on the available number of speakers. This way a single soundtrack can be delivered to theaters whether they have 10, 20, 30 or 64 speakers.
The minimum number of channels recommended for the Atmos experience is 9.1 (a traditional 7.1 surround system plus two height channels), though up to 64 discrete channels are supported. So far, the largest implementation of Dolby Atmos has been the Brenden Theatres in Las Vegas for CinemaCon with a 47.3-channel Atmos system (that's 47 discrete speakers plus 3 low bass/LFE channels). Although Dolby recommends the use of full-range speakers for all channels, Atmos also includes robust bass management so multiple subwoofers can be used to supplement the bass response of smaller speakers.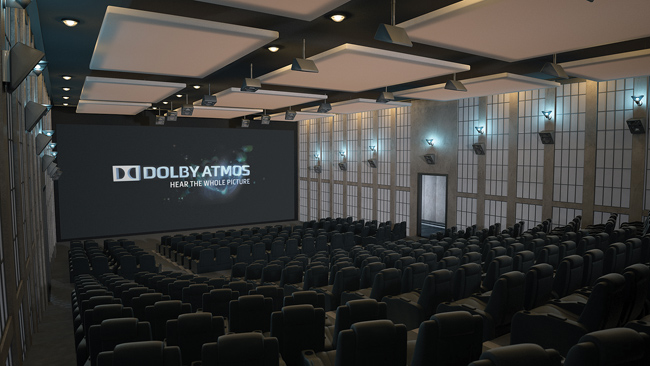 For compatibility purposes, the Dolby Atmos encoder can also render standard 5.1 channel and 7.1 channel soundtracks for use in non-Atmos-equipped theaters.  This means that recording/mixing engineers can work on a single soundtrack in Pro Tools and they will end up with traditional surround mixes, plus the metadata-enhanced Atmos mix.
According to Dolby execs, the expected upgrade costs for existing theaters will normally come in between $15,000 to $25,000 for a typical installation. This includes speakers, amps, Dolby Atmos processor and installation/training. But Dolby has also stated that a basic Atmos upgrade could be done for as little as $10,000. Atmos is available to mixing engineers as a series of plug-ins for ProTools, the industry standard for movie and television audio mixing. The system supports up to 128 discrete sounds or sound objects ( a 9.1-channel "base" plus up to 118 additional objects) and renders all of these elements at playback time using up to 64 output channels.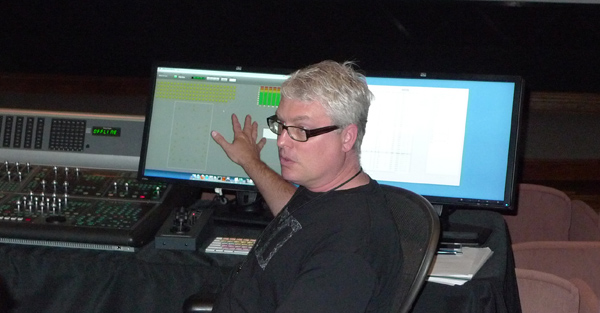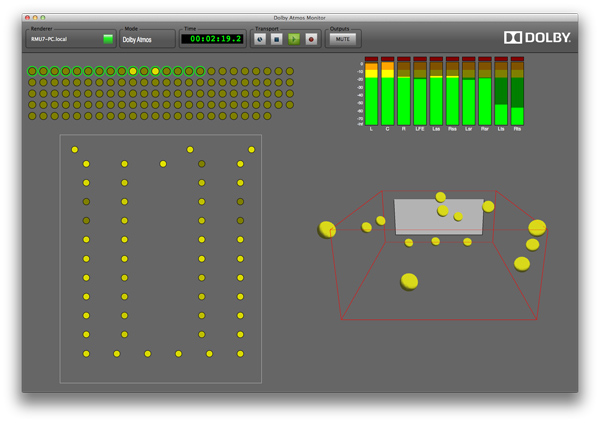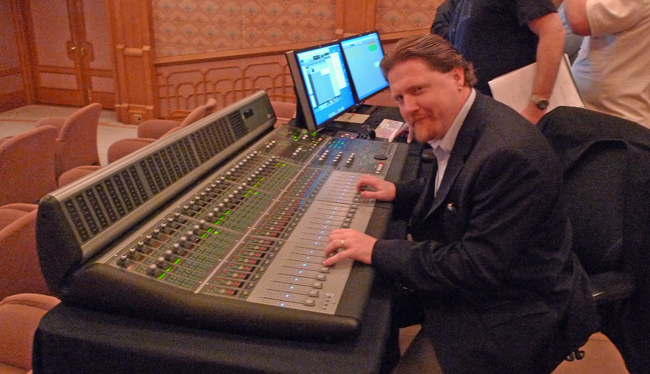 As to when we'll be able to see and hear Atmos in the real world, Dolby execs said that they are beginning to work with Disney/Pixar in creating a Dolby Atmos mix for the upcoming animated film, Brave, which is expected in theaters on June 22. Dolby expects that approximately fifteen theaters across the United States should be up and running in Atmos in time for the launch of this film. Expect to see Atmos in flagship, high-end large theaters at first, though it should trickle down to medium- and smaller-sized theaters over time.
"We are offering Dolby Atmos to theater owners as a way of improving the overall movie-going experience. It's another tool in their arsenal to attract viewers to theaters with an experience that cannot be duplicated at home," said Stuart Bowling, Dolby's Senior Worldwide Technical Marketing Manager. It is Dolby's hope that major improvements to film sound such as this will help their cinema customers become more profitable by bringing more movie-goers back to theaters.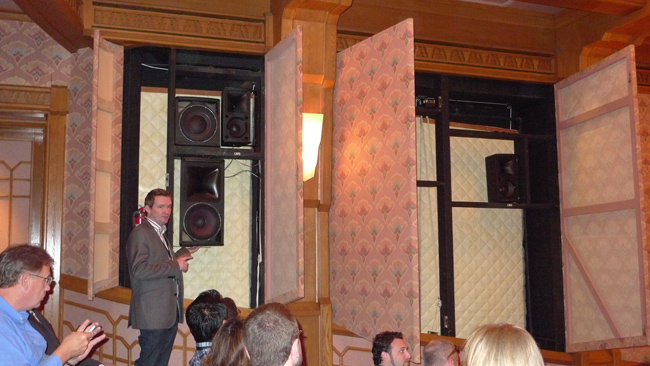 When asked when we could expect some form of this technology in the home theater environment, Dolby reps said they are committed to leveraging the Atmos technology for home use, but there is no immediate timeline as to when this will come and what it will look like. I asked Gary Epstein, Product Marketing Manager, Professional Content Tools, about whether it would be possible to encode Atmos height channel information into a standard Dolby TrueHD 7.1-channel mix using Dolby ProLogic IIz matrix encoding, so it could be delivered on a standard Blu-ray Disc. He said that this is one option they are exploring, but not the only one. A Blu-ray Disc actually has up to 16 channels available in Dolby TrueHD (a 7.1 channel main track, a 5.1-channel alternate track and a 2-channel stereo track). Although there is not currently any way to access all of these channels at the same time (at least not yet), a solution like this, or like PLIIz-encoding could conceivably work with existing Blu-ray standards.
So it's too early to tell what the home market impact will be, or when we'll see it, but one thing is clear: movie-goers are in for a real treat with Dolby Atmos and we hope Brave is the first of many films to be given the Atmos treatment.
More Information:
Special Thanks to Dolby for covering travel expenses to visit their headquarters in San Francisco for this demo and briefing.