Star Trek Into Darkness Blu-ray 3D Review
By Rachel Cericola
The Film
Director J.J. Abrams has produced a Star Trek movie for people that don't really like Star Trek movies. That said, Star Trek Into Darkness should also please fans of the franchise. After all, it's a pretty entertaining film.
After a routine mission goes horribly wrong, Captain Kirk (Chris Pine) loses control of the Enterprise to Admiral Christopher Pike (Bruce Greenwood). The whole transaction is pretty fleeting though, because Khan Noonien Singh (Benedict Cumberbatch) is afoot.
Abrams gathers up bits and pieces of the classic TV show, but certainly puts his own high-octane twist on things. He's also giving audiences an updated version of a classic sci-fi villain. If you can get past the fact that he doesn't have the glistening chesticles (Khaaaan!), Sherlock's Cumberbatch is one of the best things about this film.
The rest of the cast does a nice job, when they're actually given the chance. For a movie that runs over the 2-hour mark, you'd think some of these people would be given more to do. (John Cho and Anton Yelchin are blips and we can never have too much Simon Pegg, please.) Now, I'm also not 100-percent sold on Pine as the leader of the group. He's got the jawline, but seems like a graduate of the William Shatner School of Acting. Maybe it's part of the throwback vibe. That said, there's so much adrenaline pumping in this film, it won't really matter all that much.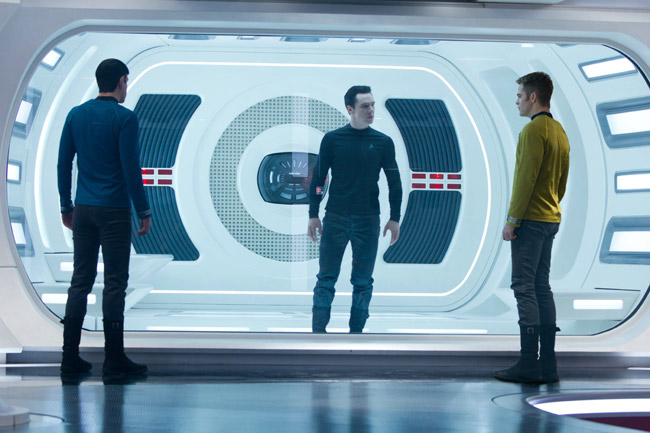 Ready to boldly go where several readers have gone before? Check out Joe Lozito's theatrical review of Star Trek Into Darkness.
The Picture
Paramount has delivered another 3D conversion for viewers to feast upon. While this trip into the third dimension certainly wasn't necessary, it's fine. That's right -- just fine. It adds a nice level of depth, but very little else. Some of the pop-outs include the opening volcanic ash, as well as other occasional debris and even some glare during the ship's travels. I didn't find the latter to be all that pleasurable, but it's fleeting. In fact, if you take off your glasses at various points throughout the film, you probably won't notice too much of a difference. That said, the 3D certainly doesn't hurt the release in any way. It's still bursting with the sharp imagery and gorgeous colors you'd expect from a brand-new, big-budget sci-fi extravaganza.
The Sound
Star Trek Into Darkness has an extremely active Dolby TrueHD 7.1 track, whether it's cranking out the Beastie Boys or sounds of the Starfleet. The film's musical score is also a strong one, but it's really the special effects that make this audio track -- well, special. The sounds of the Enterprise are the most impressive, both inside and while whipping through the galaxy. Also, the Klingon attack literally made my dog jump up and exit the room. It's a forceful track for sure, with explosions, gunfire and other adrenaline-pumping moments. However, it never drowns out the little sounds or any of the dialogue. It's exactly the type of audio you'd expect in a big-budget action flick, but gets bonus points for all of the little bits of atmosphere that pop up throughout the soundfield.
The Extras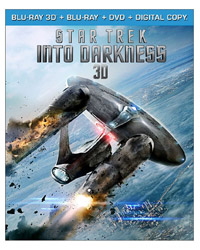 Apparently, this film's $465 million box-office take wasn't enough. Now, Paramount wants you to buy both the 3D and 2D Blu-ray releases -- several of them. Depending on where you buy your copy, you could end up with different special features. According to
Forbes
, the extras range from additional featurettes to commentary to collectible packaging. Um, lame. For this review, I received the standard set, which has seven shorts on Nibiru, incorporating Klingons, Khan, and a few of the more action-packed scenes in the movie. There's also an 89-second PSA for The Mission Continues program.
Final Thoughts
Director J.J. Abrams is obviously a Star Trek fan and has delivered a nice homage here. Of course, fans will find plenty to pick apart -- both good and bad. That said, Star Trek Into Darkness is more of a film for the masses. Viewers don't need backstory or even a love for sci-fi to enjoy this installment. It's pretty action-packed from beginning to end. All of the weirdness with the special features is disappointing and even a little confusing, but it shouldn't detract you from picking this one up. The 3D isn't all that necessary, but certainly doesn't hurt the film's demo-quality AV presentation. Enjoy.
Product Details
Actors: John Cho, Benedict Cumberbatch, Alice Eve, Bruce Greenwood, Simon Pegg, Chris Pine, Zachary Quinto, Zoe Saldana, Karl Urban, Peter Weller, Anton Yelchin
Director: J. J. Abrams
Audio/Languages: Dolby TrueHD 7.1 (English), Dolby Digital 5.1 (French, Portuguese, Spanish), DVS 2.0 (English)
Subtitles: English, English SDH, French, Portuguese, Spanish
Aspect Ratio: 1.33:1
Number of Discs: 3
Rating: PG-13
Studio: Paramount Pictures
Blu-ray Disc Release Date: September 10, 2013

Run Time: 132 minutes
List Price: $54.99
Extras:

2D Blu-ray
Creating the Red Planet
Attack on Starfleet
The Klingon Home World
The Enemy of My Enemy
Ship to Ship
Brawl by the Bay
Continuing the Mission
The Mission Continues
Standard-Def DVD
Digital Copy
UltraViolet Digital Copy
Where to Buy: