What's the best flat panel TV on the Market in 2013?
By Chris Boylan
Dear Big Picture Big Sound,
I know the consumer electronics show is coming and the TV companies will all be showing off their latest and greatest. But I want to buy a TV now and I'm wondering what you guys think is best. Also, is this a good time to buy or did I miss all the deals at Black Friday? By the way, my couch is about 12 feet from my TV so I think I need about a 50 or 55-inch set. Is that right?
Thanks in advance for any advice you can give.
-Walter in Washington
---
Hi, Walter,
Yes, we are going to see some great things at CES in Vegas next week I'm sure. But now is actually a pretty good time to buy the 2012 models. We've seen discounts on some of the high-end sets appear only recently as retailers and manufacturers team up to try to reduce inventory. And I really can't see there being any ground-breaking advancements in TVs this year. OLED is still way too expensive (though they should be coming in limited quantities this year, according to LG at least). LED/LCD sets are actually moving away from full array backlights, which was the only real way to minimize lighting uniformity problems. And plasma sets got so good this year that it's hard to imagine them getting much better.
And frankly, even after seeing the best LED/LCD sets from LG, Samsung, Sony, Panasonic and even Sharp's ELITE brand, I still think the best picture quality you can get is from plasma. Yes, it's true that LED TVs are brighter and can compete well with bright rooms but these amazing inventions called "light switches" and "window blinds" can work wonders in reducing ambient room lighting. And interestingly enough, the high end LED/LCD sets use shiny glass screens that are as reflective as plasma sets, if not more so.
So, I'd pare the competition down to two model lines: the E8000 plasmas from Samsung and the VT50 plasmas from Panasonic. The Samsung E8000 series plasmas are available in 51-inch, 60-inch and 64-inch screen sizes. The Panasonic VT50 is available in 55-inch and 65-inch screen sizes. In terms of "best size" for your room. That's a bit subjective. Anything above 50 inches will give you a nice size picture for most viewing from 12 feet away, but the larger screen sizes (64-inch and 65-inch) will be more immersive and cinematic. Keep in mind that many Blu-ray movies are released in 2.35:1 or 2.4:1 aspect ratio (just like in the theater), which reduces some of the viewable screen size on any 16:9 HDTV.
Both the Samsung E8000 and Panasonic VT50 are excellent sets, packed with features, but also leading the pack for performance. We have had both sets in house for evaluation for a few months and though we have not published formal reviews of either, I could happily live with either set.  The Samsung we are testing is the PN51E8000 (51 inch) and the Panasonic model is the TC-P55VT50 (55-inch model).  The black levels on each are superb, with the Panasonic VT50 having a slight edge.
Color accuracy and saturation are also excellent on both. Last year's Panasonic sets had some trouble decoding primary colors (particularly green) but this year's sets, including the ST50, GT50 and VT50, all score excellent marks in color decoding. Where the VT50 beats the ST50 and GT50 pretty handily is on black level reproduction due to the set's pre-discharge processing and advanced louvre filter. The filter reduces ambient room lighting without sacrificing the overall brightness of the TV so you can enjoy the set even in fairly bright rooms. This is only available on the VT50 series. The VT50 is also the only one to get Panasonic's 96 Hz Cinema mode which presents 24 frame per second content (like you see on most Blu-rays) at a native frame rate so movies retain their full cinematic impact.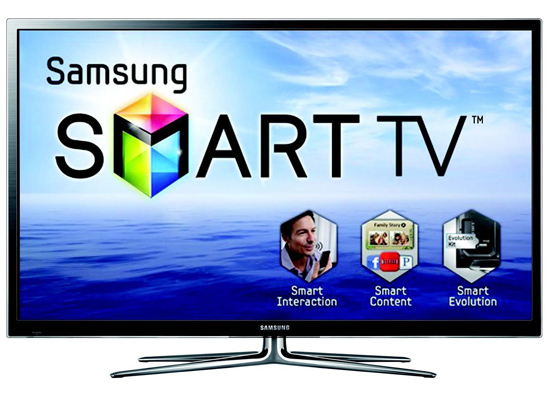 Both the Samsung and Panasonic sets include a wealth of "Smart TV" features, including all the big streaming services: Netflix, Pandora, Amazon VOD (new to Samsung in 2012), VUDU, Hulu+ and much more. Both sets include built-in WiFi support and DLNA so you can wirelessly transmit 1080p video from recent Smart Phones.  I tested this on the Samsung using a Samsung Galaxy SIII and was able to view the videos shot on my phone in HD on the set easily, without any wires.  But you can also get the WiFi and streaming services for under $100 from a Networked Blu-ray player, Roku or Apple TV box. Unfortunately neither manufacturer offers a stripped down "monitor-only" version of their top of the line panels so you're going to get things like streaming and 3D capabilities whether you want them or not (the good news is, you don't have to use them).
Samsung included some interesting control options, namely voice control and gesture control on its high-end sets in 2012. But in my experience, these are fairly gimicky and really don't work that reliably. Sure, it's fun to play "Angry Birds" on the Samsung sets with your hand as the controller, but after a while your arms get tired and the novelty wears off. Also, with the voice and gesture-controlled features enabled, I found that the TV would sometimes turn itself on when no one was around. Maybe the neighbor was shouting "HI TV POWER ON" really loud, just to mess with us?
Both sets come with a traditional remote plus a touch-screen remote but I found the touch-screen remotes a little awkward to use when I had to keep going into menus to adjust calibration settings.  The Panasonic was a bit more responsive but each introduces a learning curve.  I preferred using the traditional remote, or a universal remote such as a Logitech Harmony. The touch screen is handy for scrolling through menus in Netflix and other streaming services, though, so feel free to try it yourself and see which you prefer. The real "power remote" for both sets is a wireless Bluetooth keyboard, which both sets support.  An actual keyboard makes navigating through web sites and doing searches on YouTube or other services as easy as using a PC. We tested the Samsung bluetooth remote and found it incredibly useful for advanced browsing and content-surfing.
In terms of 3D performance, both sets work well with 3D content. Forget about upconverting 2D to 3D as it just doesn't work that well on either set. We did see a bit of crosstalk (doubled lines) with some 3D content on both sets. But no worse than we've seen in theaters. Also, you will need to boost the brightness a bit in 3D mode to compensate for the loss of light output. Even calibrated and with the brightness turned up slightly, we did see a bit of a loss of shadow detail on both sets in 3D mode on "Avatar" in the dark jungle scenes. Both sets looked excellent on the Blu-ray 3D versions of Disney-Pixar's latest 3D film, "Brave" as well as on "The Avengers" which is technically upconverted 3D but a pretty good example of that.
Both the Panasonic and Samsung sets use active 3D technology, whcih means you do need battery-powered or rechargeable glasses to view 3D, but it also means the sets maintain full HD 1080p resolution in 3D mode.  This is different from passive 3D sets which split the resolution between the left and right eyes.  And if you don't want to pay $60 for the rechargeable 3D glasses from Panasonic, then feel free to pick up a few pairs of the Samsung battery-powered 3D glasses which sell for under $20/pair.  2012 is the first year that both manufacturers have adopted the universal 3D glasses standard so either brand glasses will work with either 3D TV.
If I had to pick one winner, I'd have to pick the Panasonic VT50, again going back to those sweet inky black levels. On the opening credits of "Blade Runner: The Final Cut" on Blu-ray, the white and red text emerges from a jet black background with absolutely no ghosting or haloing. The black background is really black without any hot-spotting around the edges of the screen or anywhere else. On the Samsung it's nearly as impressive but just a hair lighter on the background. To me, a dark, consistent black level is really what makes a set look "3D," without the need for glasses or special content.
But if you can find a deal on either set, then snag one. Also, the Panasonic ST50 and GT50 are based on the same plasma panel as the VT50, though without some of the top end model's advanced video processing (and the advanced louvre filter). So these offer excellent value.  And you'll find the E8000's plasma panel in Samsung's E6500 and E7000 sets as well, though again without some of the advanced features and processing.
I hope that helps and happy shopping!
Where to Buy:
Related Articles:
Keep those cards and letters coming!
if you have a question for one of our home theater experts, shoot us an e-mail to "
Ask The Expert
." We'll select among these for future installments in this column. Due to the volume of requests we receive, we cannot reply to each question personally.