LG Keeps Hope for OLED TV Alive with February Launch in Korea
By Rachel Cericola
In January 2012, LG Electronics was one of the few companies showing off OLED TV. Then, the drool-worthy TV technology kept popping up throughout the year. It's coming this year, each of the manufacturers said. We're now into 2013 and we still don't have any of those OLED TVs -- at least not yet.
LG just announced plans to roll out its 55-inch WRGB OLED TV in South Korea next month. The model, which goes by the name 55EM9700, will be in about 1400 retail stores. Starting tomorrow (January 3, 2013), customers can start the pre-order process, with delivery expected sometime during the first week of February.
Boasting excellent color saturation, image uniformity, brightness and contrast, OLED can generate the same or better black levels than what plasma can do. It can also do bigger images, but in a form factor as slim as 0.16 inches and weighing just 22 pounds. LG's OLED TV has a Four-Color Pixel system, Color Refiner for tonal enhancement, and an infinite contrast ratio for optimal contrast levels regardless of ambient brightness or the viewing angle.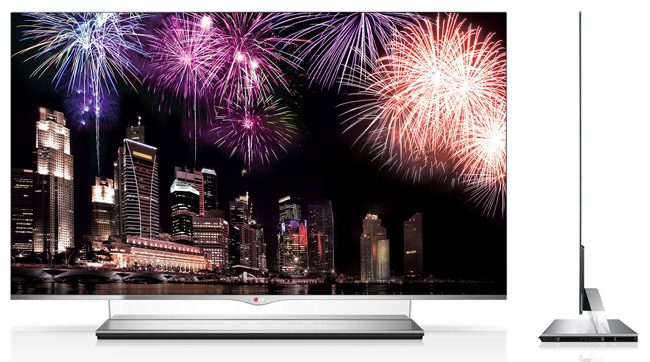 Back in August 2012, estimates put the price of the set somewhere in the $8000 range. LG plans to make a formal announcement about pricing in the coming weeks.
"We are extremely pleased to be able to make this announcement at the start of the new year because we believe that OLED will usher in a whole new era of home entertainment," said Havis Kwon, president and CEO of LG's Home Entertainment Company. "Not since color TV was first introduced 60 years ago has there been a more transformational moment. When high definition TV was first introduced 15 years ago, the public's reaction was 'wow!' but when customers see our razor-thin OLED TV for the first time, they're left speechless. That's a clear indicator as any that OLED TV is much more than just an incremental improvement to current television technology."
According to DisplaySearch (and LG), the OLED market is expected to hit 7.2 million units by 2016. LG plans to contribute to those numbers, by announcing additional markets over the next few weeks. If you're looking for a sneak peek, LG plans to have that OLED TV out at next week's 2013 International CES.
More Information about OLED TV: