LED TV vs. Plasma TV: New Winner Crowned at 2012 Value Electronics HDTV Shootout
By Chris Boylan
Six TVs enter a room; only one leaves
For the eighth year in a row, Robert Zohn, owner of Value Electronics in Scarsdale, NY has graciously hosted the annual HDTV shootout.  It's a simple concept: put six of the best TVs on the market along the wall of a darkened room, ask four top calibrators to tweak them to perfection and invite people to vote on their favorites. I was there and had my own favorites, but we'll get to that.
This year, as the previous, three plasma sets, one each from LG, Panasonic and Samsung, went up against three LED/LCD sets including a Samsung LED and the Elite LED TV which won last year's shootout (though it wasn't my personal favorite as you can read in my 2011 HDTV Shooutout coverage).  But this time there was no Sony model present (Robert said it didn't make the cut), and instead we saw Panasonic's first LED TV entry into the event. Robert claims not to have any favorites here - he's a dealer who sells all of the models in the shootout and many more that were not included. And he repeatedly stresses to the audience to reach their own conclusions.
To make sure that it was a fair fight, the sets were all calibrated to peak performance by respected ISF calibration technicians, Kevin Miller, Ed Johnson and Dewayne "D-Nice" Davis, with David Mackenzie from HDTVtest coming all the way over from Scotland to lend a hand with test patterns and calibration.  All sets were angled roughly toward the viewing area so as to minimize off-axis viewing limitations of the LED sets but viewers were also encouraged to stand up and walk around to view the sets both on and off angle before making any final decisions.  Also, although the sets were all 3D-capable and offered a wealth of different "Smart TV" features, these were not considered during the shootout. By request, the Samsung rep did give a quick demo of voice and gesture controls (cheesy), but it was really just good old-fashioned picture quality in 2D mode that we were concerned with here.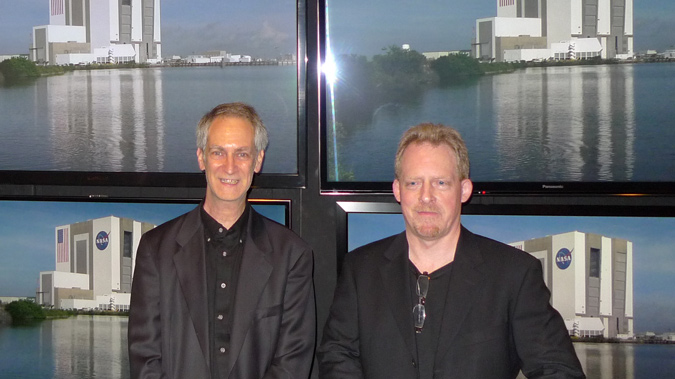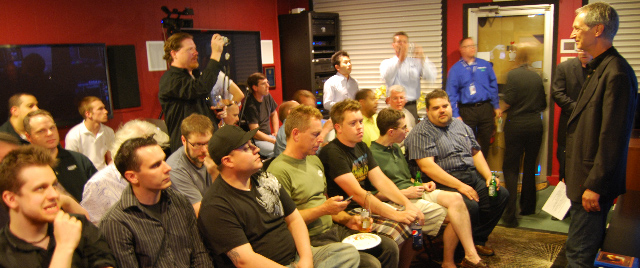 Each manufacturer with a set (or two) on the wall had a few minutes at the beginning of the event to highlight the design or feature set of their respective TVs. Some reps kept it high level, mostly going over features, while others drilled down into the technology, but never too deeply. The representatives were mostly trainers, not design engineers or sales reps and so walked the line between marketing hyperbole and a deep technology dive fairly well.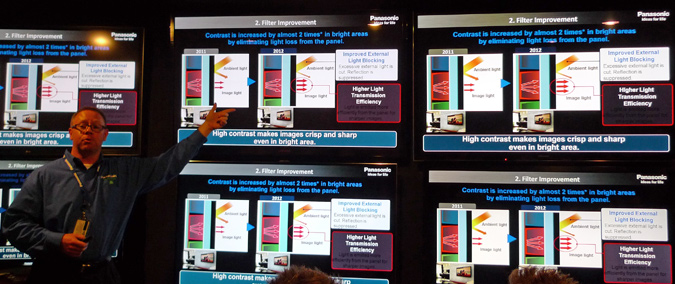 The audience was made up of video hobbyists, local customers of Value Electronics, technology journalists such as Grant Clauser, online editor of Electronic House and me, and discussion forum members from AV specialty forums.  I attended the Saturday session while there was a whole new crowd of attendees on Sunday.
Viewers were instructed by Mr. Miller, Mr. Davis and Mr. Mackenzie about what to pay attention to in the various test patterns and clips and the sets were confirmed to be in their calibrated modes for the evaluation. We were then treated to a fairly wide mix of test patterns interspersed with movie clips (fed by an OPPO Blu-ray player) which were chosen to highlight specific areas of performance.
The Contenders:
Panasonic TC-P65VT50 65-inch plasma HDTV
Samsung PN64E8000 64-inch plasma HDTV
LG 60PM9700 60-inch plasma HDTV
Samsung UN60ES8000 60-inch LED-lit LCD HDTV (side lit)
ELITE PRO-60X5FD 60-inch LED/LCD HDTV (full array LED backlit)
Panasonic TC-L47WT50 47-inch LED-lit LCD HDTV
The Panasonic LED TV had a clear disadvantage in size - 13-inches smaller in diagonal screen size than the nearest competitor - but Robert said they were unable to obtain a larger (55-inch) sample in time for the shootout. The models were selected from store stock and are all sold by Value Electronics.  Robert believes these are the current cream of the crop in flat panel HDTVs and he would be happy to sell you one or more of each.
Let the games begin!
As with last year, the plasma sets were generally more impressive overall in their reproduction of deep black levels and scenes with heavy shadow detail.  The Elite LED set, last year's winner, was the only one of the LED sets that could give the plasmas a run for their money in this department.  Also, as last year, the LG plasma appeared to have the weakest blacks of the plasma sets.  But this year's LG model (the PM9700) was significantly better in this department than the 2011 model (PZ950), so it's nice to see some improvements there.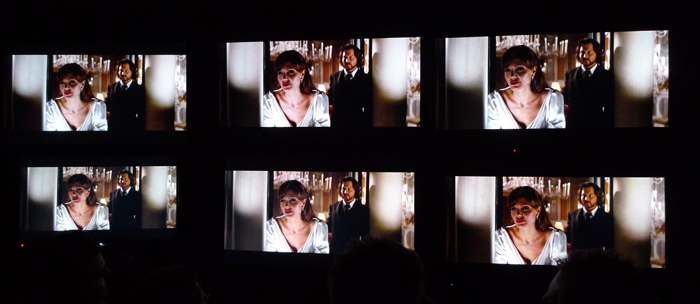 The Samsung LED set had a neat little trick: if the black level went down to zero (as in a movie fade to black or transition between program material and commercials), the set would shut off its backlight. It's hard to get any blacker than that! The Samsung plasma set did something similar. This meant we had to view test patterns with both a full black pattern and one step above that in order to make any fair comparisons. The winner here? In my opinion. the Panasonic plasma had the best overall black levels - a deep inky black that has been improved even over last year's VT series set. This was followed closely by the Samsung plasma and then the Elite LCD.
The plasma sets also had the edge in terms of color saturation: the Panasonic and Samsung sets in particular had deep, rich colors that were not only pleasing but richer, which gave the image more depth and realism. By comparison, the LED/LCD sets' colors looked slightly paler and washed out.  The worst performer in the bunch in terms of saturation and vibrancy of the colors was probably the Panasonic LED set. The calibrators said they had to step down the color controls significantly in order to come close to an accurate color mix, and this took its toll on the set's overall brightness and color clarity.
In terms of color accuracy, again the Panasonic plasma won the day, with some nice improvements in color accuracy over the 2011 VT series.  In addition to reproducing natural skin tones, vibrant green grass and luscious red lipstick, the set also performed well on color bar test patterns across all primary and secondary colors as well as nailing the color tracking tests. The Samsung plasma did well on color accuracy followed by the Samsung LED set. The Elite still has some color decoding errors around blue and teal but eked out a slightly higher performance than the LG plasma and Panasonic LED set which brought up the rear (again, in my own personal scores).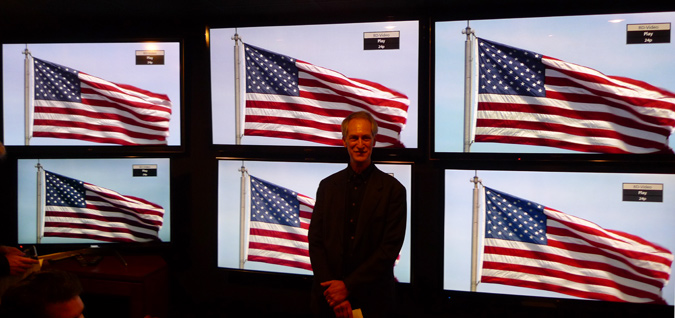 Looking at detail in static images, all of the sets looked stunning, with full HD 1920x1080 pixel resolution. In this regard, it would be difficult to pick a clear winner.  But once the images start moving, the competition widened a bit. With the various motion interpolation features turned off, the Panasonic and Samsung plasmas performed best on moving images. David Mackenzie brought some of his own complex motion tests and showed that the LG set's motion interpolation feature appeared to still be turned on, even when off, as a complex checkered background looked like a hot mess on the LG set while other sets fared generally better on this torture test. The ELITE set had generally good motion performance, though it did exhibit some pulsing on the trailing side of a moving black/white edge in a test pattern. It's fairly unlikely that this exact condition would exist in real world material, but it is an artifact of what happens when you have to fix panel deficiencies (in motion reproduction) with electronic processing.
Peak white levels were not something that we were specifically asked to rate, but the LED-lit sets had the edge here. When reproducing full field white or a generally bright screen, the ELITE, Samsung LED and Panasonic LED sets were able to reach higher perceived levels of absolute brightness - higher than the plasma sets. This higher brightness capability will come in handy in brighter rooms or while watching 3D content, but isn't as essential if you like to watch TV or movies in more subdued lighting. [editor's note: I should mention that all sets were calibrated to 33-35 foot Lamberts of light output to assure a level playing field on real-world content. The differences in perceived brightness levels between the sets are greatly minimized on calibrated sets, compared to factory preset modes].
There was one odd processing anomaly on the Panasonic plasma and LED sets that I had not seen before. When presented with a standard black and white zone plate pattern (from the Spears and Munsil test disc), the Panasonic sets displayed an odd interference pattern around the concentric circles of the test pattern that formed what looked like a four leaf clover. The presenters speculated that it may have been some form of edge enhancement that led to this pattern and it was something that they could not get rid of despite trying every option in the picture setting menu. They said that they were not able to see any evidence of edge enhancement on real world material (looking for it quite intently), but it does seem worth mentioning (see photo for illustration).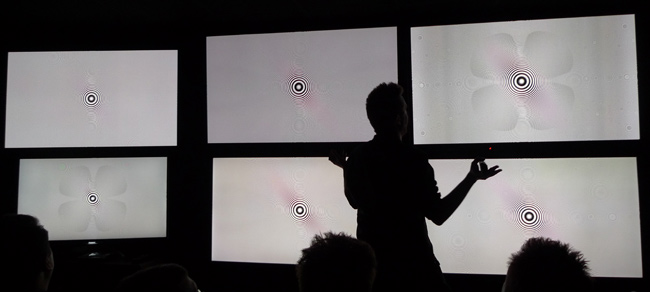 And the Winner Is...?
Overall, given the material and test patterns, and assuming that the calibrations were all performed fairly and that none of the sets were defective, my favorite-looking set in this year's shootout was the Panasonic VT50 plasma.  Only the Samsung plasma put up a real fight here. Of the LED sets, the ELITE was still the best-looking with inky black levels (but virtually no haloing or spotlighting).  As far as LED/LCD sets, the ELITE model is an impressive piece of gear.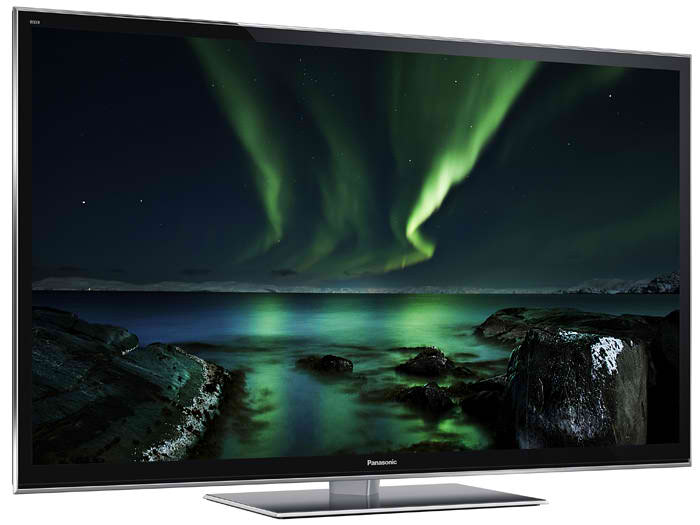 As of the publication of this article, the detailed official results and scores have not yet been posted, but Robert did reveal that the Panasonic plasma won the popular vote as well.  We will add an update when these results are available.  The above comments were solely my own opinions, formed based on sitting in for the 2012 shootout.
UPDATE (5/22): Final composite scorecard is now available: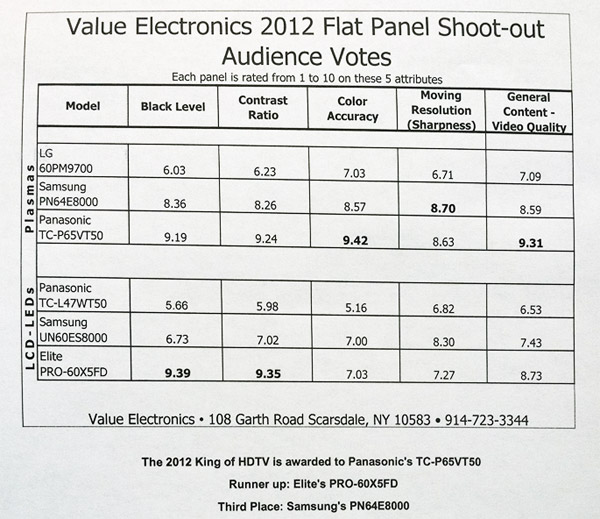 Thanks once again go out to Robert Zohn for his passion and generosity in hosting the event as well as Kevin Miller, David Mackenzie, Dewayne Davis and Ed Johnson for their calibration collaboration.
Robert tells us that the top picks will be up for a second round shoot-out this fall when the highly anticipated new OLED sets should be available (and there was much rejoicing).
More Information:
Related Articles: