Samsung HW-K950 Dolby Atmos 5.1.4 Channel Soundbar with Wireless Rear Speakers Review
By Chris Boylan
Listen Up!
In 2012, with the movie "Brave," Dolby brought the next generation of cinematic sound to life with Dolby Atmos. Using advanced object-based encoding and a new speaker array that included speakers on the ceiling, Dolby Atmos gave movie-makers the ability to create a more immersive and compelling soundtrack by placing sound all around and above the viewer. The following year, Dolby Atmos made its entrance into the living room in high-end A/V receivers, preamps and speakers. Dolby Atmos soundtracks started coming out on Blu-ray and on streaming services such as VUDU. Yes, Dolby Atmos was available for home, but only for those willing to make a significant investment in gear, in wiring and in space in their living room.
For those who were not interested in putting speakers on their ceilings, Dolby developed an elevation module: a speaker that could bounce sound off the ceiling in order to create sound from above. Last year, Samsung brought the power of Dolby Atmos to a simpler package - a soundbar. Samsung took advantage of Dolby's elevation speaker concept combined with wireless rear speakers to keep things as simple as possible for the user, while still providing truly immersive surround sound. Thus the Samsung HW-K950 5.1.4 Channel Soundbar was born.

Why do they call it 5.1.4? With Dolby Atmos, there's a new speaker nomenclature. As with traditional surround sound speakers, the first number represents how many main speakers there are (typically at ear level) and the second is the number of dedicated bass speakers (subwoofers). After these two numbers comes a third number that represents the number of height speakers that create sound above the listener. So a 5.1.4 system has five main speakers surrounding the listener, one subwoofer and four height speakers.
In the case of the HW-K950, the front left, center and right speakers are integrated into the main soundbar, as are two upward-firing Dolby Atmos elevation speakers. The subwoofer module and the rear speakers are all wireless, needing only to be plugged into a power source. The up-firing rear speakers are built into the surround speakers so there are only two small speaker cabinets that need to be placed in the rear of your room to handle both the surround and rear height duties.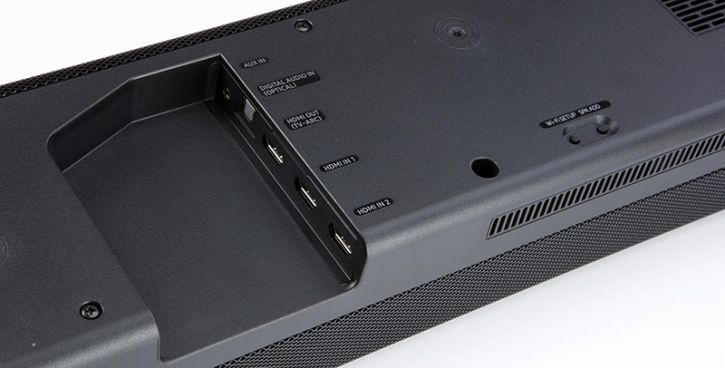 The HW-K950 also provides source switching with two HDMI inputs and an HDMI output to connect to your TV. If you have additional devices connected directly to your TV or are using your TV's built-in tuner as a source, then you'll want to connect the soundbar to your TV's HDMI ARC-compatible input (Audio Return Channel). This allows any source connected directly to the TV, the built-in tuner and the TV's built-in streaming apps to send audio back to the soundbar. If you want to take advantage of the Dolby Atmos feature, you should connect your Blu-ray Player or streaming box directly to the soundbar (not through the TV) as most TVs cannot pass the required Dolby Digital Plus or Dolby TrueHD sound through HDMI-ARC. Dolby Atmos sound cannot be transmitted via standard Dolby Digital or over fiberoptic audio connections.
The Set-Up
Setting up the HW-K950 soundbar is simple: plug in the soundbar, subwoofer and rear speakers to power sources, hit the power button on the soundbar (or on the remote) and within a couple of minutes everything should pair automatically. If the connection process fails, you can pair the speakers manually (see user manual for details on that). Then you just need to connect some sources and connect the soundbar to your TV. For the purposes of my testing, I connected Samsung's UBD-K8500 Ultra HD Blu-ray player as well as a Roku streaming box directly to the soundbar, then connected the soundbar to a Samsung UN65KS9800 Ultra HD TV via HDMI-ARC. I also connected a DISH Joey DVR directly to the TV and passed the sound from the TV to the soundbar over that same HDMI-ARC connection.
Listening
I first heard the HW-K950 at CES 2016 and was decidedly underwhelmed. Whether it was due to it being a preproduction sample, or just too noisy in the listening room, the sound quality did not win me over. I heard it again later last year during a visit to Samsung's new California audio labs and had a vastly different experience. Apparently after CES, the audio engineers at Samsung put the HW-K950 through a battery of tests, listening sessions and design tweaks to bring the system's sound quality up to the level of a flagship product before it entered production. I was looking forward to spending some time with the system using familiar material.
I watched and listened to a number of movies in Dolby Atmos, both in 4K (Ultra HD Discs), on regular Blu-ray Disc and on the VUDU streaming app. One of my go-to discs for Dolby Atmos is the Diamond Luxe edition of "Gravity" on Blu-ray. A powerful crescendo opens the film, building to almost painful levels, then abruptly cuts to silence. Out of this void slowly emerges the sound of radio communications among astronauts and mission control personnel. On the Samsung soundbar you can pick out these individual voices as they span the entire three dimensional space, side to side, front to back, top to bottom, floating through the room to match the space shuttle's position. Later in the film (spoiler alert!), as the shuttle is bombarded with schrapnel and later still when the International Space Station is destroyed, all channels are used to full effect to create a menacing and truly immersive soundscape. And at the film's conclusion, buzzing insects and sweeping music again create a huge, wide open soundscape that accentuates the emotional impact of the finale.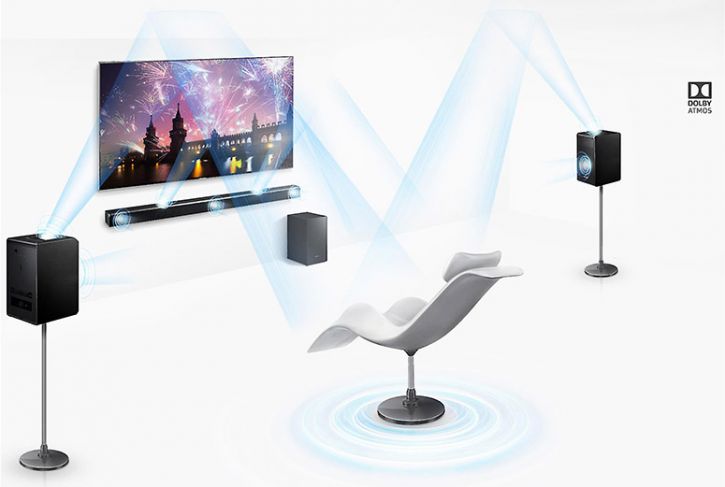 Moving on to the nightclub scene in "John Wick," the Samsung system did a nice job conveying the varying sonic signatures of the different floors, thanks to generous use of the height channels. The prolific gunfire throughout the film was also represented with suitable impact and visceral bass. On the 2015 Dolby Atmos demo disc, the track "Bailando" by Enrique Iglesias showed off the Samsung system's ability to create cohesive sound from all over the room, around and above the listener, without losing the clear articulation of the lead vocals from front and center. And the Dolby Atmos "Amaze" trailer also created a wonderfully immersive three dimensional soundstage immersing the listener in the sounds of a stormy rainforest and jungle.
On content which was not encoded in Dolby Atmos, the sound quality was less impressive, though still generally enjoyable. The Blu-ray Disc of "Ex Machina" is encoded in DTS-HD Master Audio with DTS:X extensions, but the Samsung HW-K950 doesn't support DTS:X decoding. So while the core DTS track does still offer enjoyable sound on the Samsung, it is lacking the 5.1 surround decoding as well as height dimension which you get on a DTS:X-compatible surround sound system. DTS support on the HW-K950 is 2-channel only. Stereo material such as music tracks were represented with good dynamics on the Samsung system, and good vocal clarity, while somewhat lacking the three dimensional imaging you'd get on a high-quality component speaker system. Very good for a sound bar, but I did miss my reference system.
Music, Music Everywhere
In addition to improving your TV sound, the HW-K950 supports Samsung's wireless music app and ecosystem. Using the Samsung Wireless Music app, you can stream music from your phone or tablet, or from a number of different music streaming apps, right to the soundbar. The app doesn't use Bluetooth (which the soundbar also supports), but uses your home wireless network to deliver the audio goods. The benefit here is that you won't get interrupted by the sounds of text messages or incoming phone calls, and you don't need to dedicate your phone or tablet as the playback device. Fire up your favorite playlist or streaming service and you can use your phone for something really important, like playing "Words with Friends" or "Pokemon Go." And you can also synch up multiple Samsung speakers in the home for multi-room playback.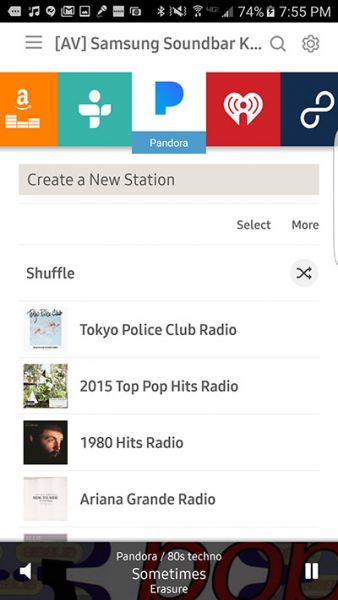 The Samsung Wireless Music app supports popular streaming services including Amazon Music, Pandora, I Heart Radio, Spotify, Rhapsody, Tidal and a few others. It can also connect to music on your phone or tablet and on your home network servers or desktop PCs with the installation of some additional Samsung software on your PC. But apparently its support for high res audio is limited as it could not find the High Res uncompressed AIFF format audio files on my phone which I had downloaded from HD Tracks. Sound quality on music varied depending on the source material, but was generally very pleasing - certainly a huge improvement over the TV speakers that it replaces. But again, it was a bit short of a component speaker system. Bass response was generally good, not too boomy, but it lacked real extension.
Overall, the sound on Dolby Atmos-encoded material was immersive and impressive but non-Atmos content (stereo and surround) was a bit less engaging. Also, the rear speakers emitted a hissing sound which was quite audible during quiet movie passages, like the intro scene of "Gravity." On most music and louder movie passages, the hiss was not as noticeable.
Turn-Ons:
Excellent sound quality from Dolby Atmos material
Support for Samsung multi-room wireless music app
Passes through 4K Ultra HD content with HDR to a compatible TV
Simple set-up
Sleek design
Turn-Offs:
Sound quality on non-Atmos material less impressive
Not enough HDMI inputs
Audible hiss from rear speakers
No support for DTS:X
At $1499, it's a bit expensive
Final Thoughts
As a first effort to bring the immersive surround sound of Dolby Atmos to the simplicity of a soundbar, the Samsung HW-K950 is an impressive product. Its sound quality on Dolby Atmos-encoded content is exceptionaly good and it couldn't be much simpler to set up. Add in the fact that it supports the Samsung whole home wireless music platform and you have a strong argument on the buy side. But its lack of support for DTS:X immersive sound and slightly underwhelming sound quality on non-Atmos content make its price tag seem a bit steep.
More Information:
Related Articles: