Samsung Packs Dolby Atmos into HW-K950 Soundbar Package
By Rachel Cericola
Last year, several consumer electronics manufacturers introduced different ways to put Dolby Atmos into the home. Of course, adding new technology isn't always an easy (or cheap) endeavor. Now, Samsung Electronics is looking to ease some of the pain with an effortless sound solution.
The company just announced the new HW-K950 Soundbar, Samsung's very first Dolby Atmos-enabled soundbar package. Having support for the Dolby Atmos audio format allows listeners to experience sound from just about every angle -- including above.
Measuring a mere 2.1 inches high, the soundbar piece can deliver those immersive audio tracks using three forward-facing and two upwards-facing speakers. That's just part of the HW-K950's 5.1.4-channel sound, which also includes two Dolby Atmos-enabled wireless rear speakers and a wireless subwoofer.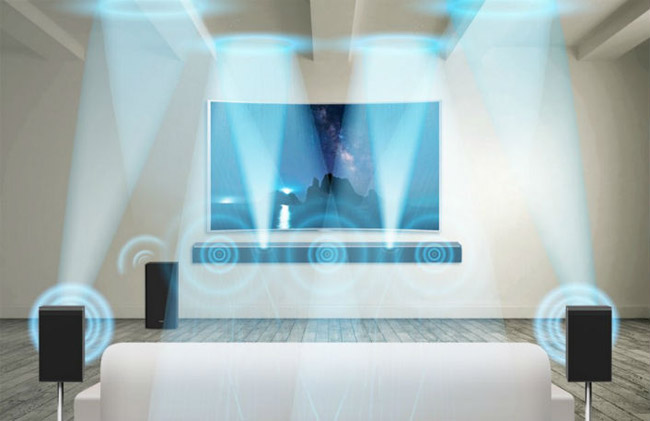 "Dolby Atmos has received overwhelming support from major studios and continues to expand into other form factors, including the new Samsung HW-K950 Soundbar, which allows more consumers to bring an unrivaled sound experience into their homes," said Doug Darrow, senior vice president of Dolby Laboratories. "Consumers can experience sound that comes alive from all directions, including overhead, to fill their home theaters with astonishing clarity, power, detail, and depth."
In addition to the HW-K950, Samsung will also unleash new colors and patterns for the company's Radiant360 Series. With the new designs, you can truly put each of these wireless speakers into any room. Each one features Samsung's Ring Radiator technology, which allows each speaker to be placed anywhere in the room and still deliver big, yet balanced sound. Other new Radiant360 features include a touch-enabled, tap-and-swipe interface, new apps for the Gear S2 and Gear S smartwatches, and new smart home functionality.
Samsung has yet to announce pricing or availability for the HW-K950 or the new Radiant360 options. However, the company will be showing all of the above audio products at this week's CES 2016 in Las Vegas.
For More Information:
Also Check Out: