Gravity Diamond Luxe Edition Blu-ray Review
By Chris Boylan
It's a good week for fans of space exploration Science Fiction. Christopher Nolan's Interstellar just came out on Blu-ray Disc this week, and we're also treated to a new "Diamond Luxe" Blu-ray edition of Alfonso Cuarón's Oscar-winning film, Gravity.
The new release of Gravity includes all of the special features of the previous Blu-ray release, plus three new HD video features. There's also an interesting new soundtrack option called the "Silent Space" version of the film which omits the film's musical soundtrack so you can feel more like you're inside the spacesuit of the protagonist in the silent but deadly realm of space. But the main reason the Diamond Luxe edition of Gravity is noteworthy is for its inclusion of a Dolby Atmos soundtrack.
Dolby Atmos is a new "immersive sound" format which augments traditional surround sound with height information, creating a more immersive top to bottom sonic experience. Although Atmos has been in theaters for nearly three years and has been released or announced on over 250 titles, there are still only a handful of Dolby Atmos titles on Blu-ray Disc. Gravity is a film that takes full advantage of the capabilities of Dolby Atmos with a soundscape that completely surrounds the listener. So the fact that we can now watch the film at home in Dolby Atmos surround is a pretty big deal.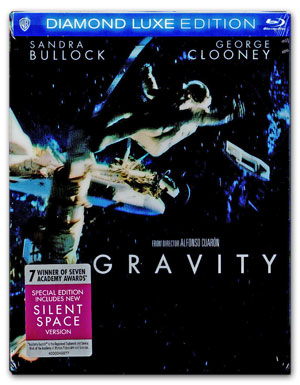 The Film
We've reviewed Gravity a couple of times here at BPBS: there's the Gravity Movie review by film maven Joe Lozito as well the Gravity Blu-ray 3D review by Blu-ray aficionado Greg Robinson. Suffice it to say: we're fans. Gravity is an intense audiovisual experience, and an enjoyable film overall, enhanced through the use of both 3D and Dolby Atmos surround. Yes, there are some contrivances and annoyances that may impact one's enjoyment (escapes all seem to happen just in the nick of time), but these are fairly minor.
There are only two main characters: Dr. Ryan Stone (Sandra Bullock), a civilian scientist who is in space to install her prototype imaging device in the Hubble Space Telescope and Lieutenant Matt Kowalski (George Clooney), the shuttle pilot who brought her there. The mission goes awry due to some runaway space debris and our two leads spend the rest of the film trying to stay alive in the decidedly life-unfriendly reaches of space.
Some criticize Clooney for being too... well... "Clooney-like" in the role but personally I think he's perfectly cast. You still see George Clooney but you think, "ya know, if he weren't an actor, he would have made a great astronaut!" His egocentric yet sympathetic, no-nonsense embodiment of the role fits it to a T. And Sandra Bullock's take on the fish-out-of-water scientist also rings true. At its roots, the story is about Dr. Stone's deconstruction (and possible rebirth?) in the cold, dark womb of space. It combines equal parts desolation, wonder, despair and hope to create a truly unique work of art.
The Picture
On Blu-ray, Gravity is a visual stunner in its MPEG-4 AVC encoding, presented in its original ultrawide theatrical aspect ratio of 2.40:1. The deep black backdrop of space, suffused with million of tiny pinpricks of light, will certainly put your display's contrast ratio and black levels to the test. There isn't much in the way of color here, but the colors you do get -- the warm green, blue and brown earth and various floating items inside the space crafts, as well as vivid red and yellow flames -- are well reproduced. Digital artifacts are few and far between, most likely due to the short running time of the film and the fact that most of the supplementary material is housed on its own separate Blu-ray Disc. This allows the studio to use more bits for the audio and video content.
The only thing missing here from a picture standpoint is a 3D version of the film. Some may say that Gravity is "fake" 3D because the live action shots were shot in 2D and converted into stereoscopic 3D. However, so much of the film is CGI-based (and rendered in true stereosopic 3D), that I consider it more real than fake, at least as far as the 3D effect is concerned. Also, director Alfonso Cuarón has said that the sound and 3D imagery are both important elements of the film. It's a shame that Warner didn't offer buyers the choice of a 3D version, complete with the enhanced Dolby Atmos soundtrack, and the new special features.
The Sound
If there were a rating above 4 stars on this site, this disc would get it for its soundtrack. Played back on a properly equipped Dolby Atmos system, the sound is nothing short of spectacular. In scenes where there are layers upon layers of sound objects on top of the powerful score, Dolby Atmos helps to keep the mix sounding both coherent and immersive.
If you need convincing, sit back and watch the opening scene for proof. Deep bass and effects build to a crescendo as on-screen text describes the inhospitability of space. The sound peaks at intense levels and abruptly ends, followed by a deep enveloping silence. Out of this audio void slowly come the sounds of radio communications among astronauts and mission control personnel. Only in Dolby Atmos can you pick out the individual voices as they span the entire 3D space, side to side, front to back, top to bottom.
Comparing to my memory of the film in theaters (I saw it once in IMAX, twice in Dolby Atmos in theaters), I think the home mix on this Blu-ray is an excellent representation of the theatrical audio. Switching over to the standard 5.1 "Silent Space" track, these same conversations sound jumbled. I've never thought of standard 5.1 surround sound as "flat" or "congested" before, but it feels that way, compared to the wide open height-enabled Dolby Atmos mix.
Dolby Atmos continues to be used to excellent effect throughout the film, including that opening scene, the initial bombardment of the space shuttle with schrapnel (at about 11:00), the destruction of the International Space Station (52:39), and the final scene with buzzing insects and sweeping music (1:22:00). The picture may not be in 3D, but the sound certainly is.
The Extras
As for extras, there is a separate disc dedicated to Special Features, most of which were carried over from the previous Blu-ray release (with 3 new exclusives, detailed below). You can read our earlier review for details on the features that are carried over here. The main new thing here (other than Dolby Atmos) is the "Silent Space" version of the film. This is a bit of a misnomer, as there are still plenty of sounds and effects (including Dr. Stone's racing heartbeat). The only thing missing is the music.
If Dr. Stone would have heard the sound from within her own spacesuit (or from inside the various crafts she enters), you'll here it here. Frankly, to me, this is an interesting experiment, but not one that I'd enjoy for repeated viewings. The film's score by Stephen Price is one of its highlights and I miss its presence. Without the music, the film is certainly a bit more claustrophobic, but it feels a little more like a documentary and is, ultimately, less dramatic. The Silent Space track is lossy Dolby Digtital 5.1, but again, that doesn't bother me much as I don't plan to watch it that was again.
Also exclusive to this release are three new videos, all in HD. "Looking to the Stars" is a 42-minute homage to space-based SciFi films with interviews of various film-makers and authors on the topic. "Gravity: The Human Element" is an 11-minute feature on what it takes to be a real astronaut. And "Sandra's Birthday Wish" is a 3-minute sappy, silly birthday greeting from Sandra Bullock to the director (complete with ultra-cheesy green screen-based visual effects). Pile on the special features from the original release and it clocks in at nearly six hours of bonus materials (including 90 minutes for the Silent Space version of the film). In other words, there's a lot to keep a fan busy, even after you watch the Atmos and Silent Space versions of the film.
There is no digital or Ultraviolet copy included in this release.
Final Thoughts
All in all, the Diamond Luxe edition of Gravity is really an excellent Blu-ray Disc set. Had they included a 3D version of the film with Dolby Atmos, it would have been a clear 4-star set, but without that, it's still definitely worth a purchase. Even the case feels more solid than typical Blu-rays: heavier, with magnetic clasps holding it closed. Kudos to Warner for supporting Dolby Atmos on Blu-ray, and doing so with its most stunning example of the technology. Please sir, can I have some more?
Product Details
Actors: Sandra Bullock, George Clooney
Director: Alfonso Cuarón
Audio/Languages: Dolby TrueHD 7.1/Dolby Atmos (English), Dolby Digital 5.1 (French, Spanish, English)
Subtitles: English SDH, French, Spanish
Aspect Ratio: 2.40:1
Number of Discs: 2
Rating: PG-13
Studio: Warner
Blu-ray Disc Release Date: March 31, 2015
Run Time (feature film): 91 minutes
List Price: $24.98