Panasonic TC-P50ST30 3D HDTV Review
By Ian White
Edited by Chris Boylan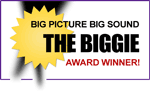 Let There Be Black
It's like, how much more black could this be? and the answer is none. None more black. - Nigel Tufnel (Spinal Tap)
Since the beginning of time, before Adam incurred the Lord's wrath by eating of the tree of forbidden fruit (all Eve's fault, by the way), before Moses parted the Red Sea with his rod and the Almighty drowned the Egyptians, before the Dodgers fled Brooklyn for the left coast, and before John, Paul, George, and Ringo changed the world -- there were black levels. In fact, if it weren't for that whole "Let There be Light" thing, black levels would be all we have (so I guess we can thank the Lord for contrast?). Kurowites (religious fanatics obsessed with the black levels of their no longer made Pioneer plasma panels) will call you names over the internet should you dare claim that your Panasonic/Samsung/LG plasma offer superior black levels.
Panasonic's flagship VT30 models are still weeks away, but the entry-level ST30 series of 3D-ready 1080p Plasma HDTVs is here today and offers a lot of bang for the buck. They also offer black levels comparable to some of Panasonic's best HDTVs from 2010, but at even lower prices. The TC-P50ST30 50-inch 1080p 3D HDTV is a heretic of the highest order.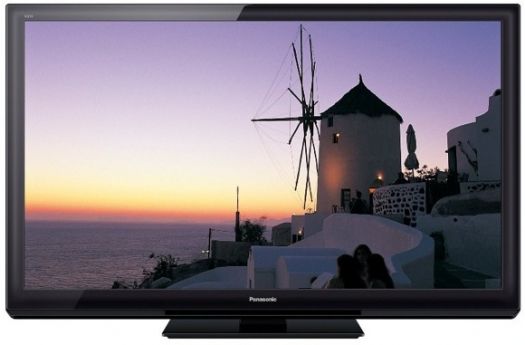 3D TV: Hope or Hype?
If you believe the numbers, 3D TV has a long way to go before consumers see the light (although in 3D TV's case, that would be a reduction in light) and the brewing active/passive format war is not helping matters one bit. Some proponents of 3D, including 3D uber-crazy director James Cameron, have weighed in on the fight telling consumers that they believe passive sets/glasses will prevail -- much to the dismay of Panasonic, Samsung, and Sony who are ramping up their efforts to push their active 3D technology.
Cameron may have made the best live-action 3D movie so far with Avatar, but he's doing consumers a major disservice promoting passive 3D technology, at least with today's models; we've yet to see a passive system that compares to the best active 3D set from a detail perspective. We like what Panasonic and Samsung are doing with their 3D sets and we don't understand why consumers should settle for an inferior picture; especially considering how expensive these sets are to begin with.  Yes, passive glasses are cheaper but when did price of admission ever stop an early adopter in search of audio/video nirvana?
Big Boxes Made of Ticky Tacky...
At a newly lowered list price of $1349.98, the TC-P50ST30 may be the entry-level 50" model in Panasonic's VIERA 3D HDTV line-up, but its feature-set and picture quality are anything but entry-level: this 2011 model has a lot to offer. Panasonic's bezel design has never been popular with style-conscious consumers who found it bulky and overly reflective and many of us wondered when they would finally get the message. They got it folks. While not as slim as the bezel on the new VT30 flagship models, the new design looks dramatically thinner and while still reflective, it isn't that bad. My living room gets a lot of sun in the morning and even more in the afternoon (we had to invest in some pricey shades for the front windows), but the reflections off the bezel were never really a distraction.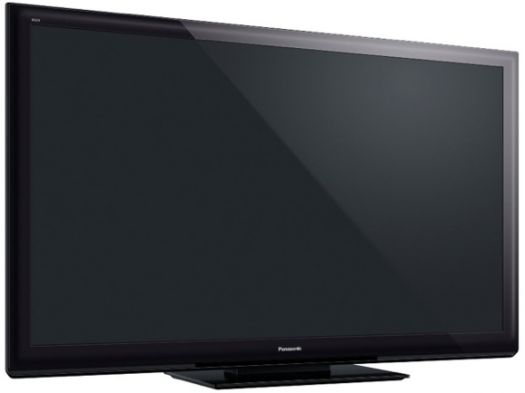 One of my biggest complaints about the Panasonic panels has also been addressed; the g-d awful stands that never felt sturdy and always made me wonder when the panel was going to topple over on the floor. The new base is flatter, wider, and significantly more sturdy. If you mount your HDTV on the wall this won't apply, but for those of us who have media units and little children, it is a cause for concern. The TC-P50ST30 is a large television (30.7"H x 47.4"W x 13.2"D - with stand) and at 66 pounds, heavy enough to do some damage to a curious child, pet or Canadian goose (currently having some issues with a flock who have moved into the neighborhood).  So it's reassuring to know that this set is very stable on top of a console.  Of course, we'd recommend securing the panel to your wall via a bracing strap for any permanent or semi-permanent installation.
I/O, I/O, It's Off to Work I Go
The rear panel of the TC-P50ST30 has more than enough inputs/outputs, and I must confess that I don't get consumers who complain that 3 HDMI inputs (2 rear, 1 side) are not enough. Run one HDMI cable from your receiver or HTiB and be done with it. Panasonic has also included 1 composite video input, 2 analog audio inputs, 1 component video input, 1 optical digital output, an audio return channel (HDMI input 1), 2 USB 2.0 ports (side), and the LAN port, which you'll find handy if you want to explore any of the set's newly enhanced VIERA Connect networking features. Panasonic now includes a USB wireless network adapter for free in the box (about time), but I did most of my streaming experiments with the LAN port connected to my network via Ethernet cable.
The side port also includes an SD/SDHC/SDXC card reader slot that supports AVCHD, MPEG-2, JPEGs, and MP3s. Just pop your SD card out of a compatible camera or camcorder and you'll be enjoying your home made videos and photos on the big screen in no time.  One of the new features for 2011, is that you can put 3D images and videos on a card and view these onscreen. The 2011 models support DLNA and I had no issue getting my LaCie HD to work with the set. Plug and play. Sweet.
I've pretty much given up on remote controls and use my iPad as a universal controller, but I don't have too many bad things to say about the supplied remote. The backlit design is fairly large and sturdy and it does have all of the relevant controls covered. Panasonic is really pushing the 2D-3D conversion mode and it's hard to miss the 3D button at the top of the remote. Not a bad remote to say the least.
Another major improvement for 2011 is the VIERA Connect interface which is easier to navigate and far more responsive than its 2010 predecessor (the older VIERA Cast version was slow and often crashed in my experience).  Things get a bit confusing here because the TV remote button says "VIERA Cast" and this brings you to the traditional VIERA Cast standard on-board apps.  But in 2011, Panasonic is branching out into 3rd party app support (including games), so, theoretically at least, more will be coming to this platform as the app catalog grows.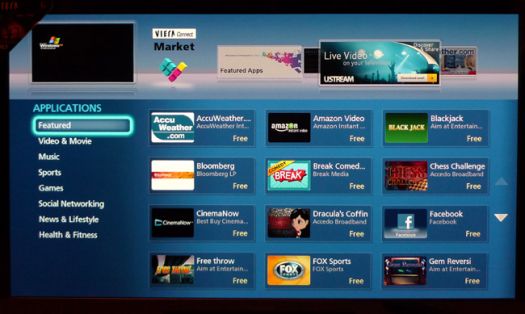 In terms of those on-board VIERA Cast apps, other than VUDU and Hulu Plus, not much is missing here. You'll find all the usual suspects: Amazon VOD, Netflix, YouTube and Pandora, as well as some extras like Fox Sports and Twitter.  Panasonic does need to improve its music apps and Web 2.0 offerings however; Pandora, Twitter, and Shoutcast are really not enough in 2011 when I can get MOG, TuneIn, Slacker, Sticher, and others via my Roku XDS. Perhaps the VIERA Connect app platform will help here?  Netflix and Amazon Instant Video are very responsive, but the interface could use a facelift.
2D or not 2D, That is the Question
The TC-P50ST30 is a 50" (49.9" screen size diagonal) 1080p 3D plasma that can convert 2D content to 3D on the fly, but the results were kinda mixed and I can't say that I'm a convert to this real-time 3D conversion at this point. There were some definite ghosting issues when watching Fox News and ESPN; although animated programs such as Max and Ruby and SpongeBob didn't suffer as badly. My kids watched two episodes of SpongeBob in 2D-3D and didn't flinch for a second; granted they could sit and stare at a blank screen for hours so I'm not sure how valuable a test it was. The 2011 ST-series models also use the Infinite Black 2 panel which is a big upgrade for a so-called "entry-level" Panasonic set.
Purple People Eaters of Nazareth

I let the TC-P50ST30 break-in for a few weeks or normaly usage (120+ hours) before I performed a calibration; although I did use some test discs to initially play with the brightness, contrast, and color settings. The black levels out of the box were quite good, but the set needed a calibration to really let it perform at the highest levels. During my ISF calibration course, I spent a lot of time calibrating Panasonic's VT25 and GT25 series so I feel rather confident saying what I am about to say.
The black levels on the TC-P50ST30 (once calibrated) are excellent; most definitely on par with the more expensive GT-models from 2010, but they are not as deep or inky looking as the VT25 models. That being said, should you really expect an entry-level panel to outperform a flagship model that is 2-3 times the price? Not really.  It does get the juices flowing for the 2011 GT and VT series though, for sure.
After watching content in every mode, I can only recommend "cinema" and "custom" for serious viewing. The "custom" mode unlocks some pro adjustments that allow you to really dial in the grayscale and improve the color accuracy. Both came relatively close to 6500 Kelvin (both were barely over 6670 Kelvin when I was done adjusting the grayscale and other adjustments), but there were a few issues that stood out as I went through the calibration process.
The ST30 series (unlike the GT and VT series) is not THX or ISF-certified and I found that color accuracy was the set's weakest feature; although once corrected, it does look rather impressive. Flesh tones on the TC-P50ST30 were a tad muted/pale to my eyes, and I found the overall presentation somewhat cool. Messing with green is always problematic, but I found that bumping it up a few points gave the image more pop and flesh tones looked more natural as a result.
During the calibration, I turned off all edge enhancement, noise reduction, black level enhancement and immediately turned off the 24p Cinema Smoother adjustment; which is set to "weak" as a default mode. Samsung and Panasonic include this feature on their sets (it's called Auto-Motion Plus on my Samsung LCD) and personally, I can't stand it as it gives film motion a smoother more "video-like" look. Film should never look like video. Ever.  Thank you PAnasonic for including the "Off" setting.
Using PLUGE patterns (thank you Master Joel), I was able to reproduce some very deep black levels on the TC-P50ST30 with very little crush or noise being visible. One thing I will suggest (and this applies to all HDTV sets); invest in a good power line conditioner for your set. Don't connect your set's power cord to some cheapo power strip because you may see an increase in noise if you do (I know I did).
As an experiment, I connected the TC-P50ST30's power cord to a Staples-produced power strip (about $15) and to a Chang Lightspeed 6400 line conditioner (purchased in 1994 for $900). Plugged directly into the wall, the set had some noise and ringing issues. They actually got noticeably worse plugged into the $15 strip. Not only did they completely vanish plugged into the Chang, but the black levels were deeper and the image had more pop. It's worth experimentation if you're looking for that extra little bit of performance.
Calibrating a 3D HDTV is a lot more difficult than a standard TV because you need to take your readings through the glasses and that involves using a non-contact Tristimulus Colorimeter like the X-Rite Hubble or a Minolta CS-200; which my budget doesn't really allow for. I love my X-Rite EyeOne Pro Enhanced, but it needs to be on the screen for it to work. What's my point? If you really want to calibrate the 3D picture quality of your HDTV properly (and I've seen it done with great results on the Panasonic 85" VX200 panel...only $40,000), you need the right equipment... or to hire someone with the right equipment.
We can get pretty close by starting with a calibrated 2D image, then adjusting 3D mode by eye with the right test patterns, but not 100% of the way there. A properly calibrated 3D HDTV will produce a brighter and sharper image (when watching 3D content), which are the two areas where 3D technology is a tad weak in 2011. I think that Panasonic has done a great job with their 3D sets, I saw almost zero ghosting (crosstalk) unless the content was rife with it, but I do know that its possible to improve the 3D quality even more.
The TC-P50ST30 does a great job with HD sources, but it made me hate Comcast even more than I usually do; 1080i broadcasts looked good, but some were quite noisy and some pushed red quite significantly. I don't watch a lot of television other than ice hockey (which looked great on Versus...now owned by Comcast) and the news, but I can't say that the set made SD programming look like HD. Garbage in. Garbage out. Sadly.
Why did I fall in love with a prince of fools?
Paramount's recently released Blu-ray transfer of The Ten Commandments is really something to behold, and while it doesn't have the same impact on a small screen (compared to the image on my 100" Stewart screen and JVC D-ILA projector), the 50" Panasonic HDTV impressed the hell out of me with this disc; gorgeous colors, inky looking blacks, and fantastic detail and clarity. I watched the film over again one night on my 40" Samsung LN40C670 (which is a great LCD set that I calibrated within an inch of its life) and it just wasn't the same experience at all. The Panasonic had more accurate colors, superior shadow detail, and far greater gestalt. The Panasonic also looks better off-axis; something that was more obvious in our living room with seating on three sides.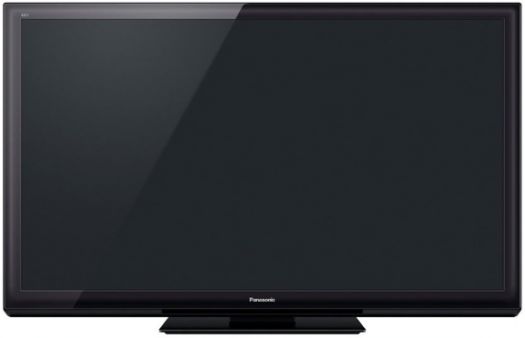 TRON: Legacy (both the 2D and 3D versions) looked jaw-droppingly good on the TC-P50ST30 and really emphasized how well this set reproduces black levels; although it did look better on my JVC/Stewart set-up which is also 8 times the price. There was something about the Panasonic with solid Blu-ray transfers that just impressed me more than other sets that I have looked at in the past year; not to sound corny, but it felt very cinematic.
Our Blu-ray 3D collection has now grown to 17 titles, so I had more than enough content to throw at the panel and while I'm still not sold on the widespread viability of 3D HDTV, I have to confess that Avatar, Tangled, and Despicable Me were gorgeous looking on this set. Floating blacks are not an issue at all. Panasonic's 3D HDTVs don't suffer from crosstalk issues, like some of their competitors (although I really dislike the design of the first generation glasses) and my kids are downright ruthless when it comes to describing 3D picture quality -- I would have heard it from my learned younglings. Huge thumbs up from Dr. Jake (my 4-year-old) who is super serious about his animated films in 3D. I just wish the glasses were more affordable.
Turn Ons
Excellent picture quality post-calibration
Attractive design, compared to earlier models

Fantastic 3D image with Blu-ray 3D content
Improved VIERA CAST/VIERA Connect interface
More than enough inputs
Comes with wireless adapter for streaming media
Superb value for the money
Turn Offs
VIERA CAST/VIERA Connect needs better selection of apps
Colors are slightly pale pre-calibration
Awful sounding internal loudspeakers
SD content could look better
Not a great match for super bright rooms unless you have shades
Final Thoughts
I have been sitting on the 3D fence for more than a year and I could never justify spending $4,000 on a 65" 3D HDTV due to the lack of content and because my projector set-up is quite superior with 2D content. The Panasonic TC-P50ST30 isn't a perfect looking HDTV out of the box, but you can achieve some jaw-dropping picture quality out of it if you calibrate it properly. And it also hapens to do 3D, quite well I might add.  At its asking price, it is an exceptionally good deal on a really high-end HDTV and it's the first product I've reviewed since 1999 that elicited this response from my wife -- "We're buying this, right?" Don't argue with a genius when she speaks.
Where to Buy:
Product Details (TC-P50ST30):
Video:

Screen Size Diagonal (inches): 49.9
Aspect Ratio: 16:9
Native Resolution: 1,920 x 1,080
Moving Picture Resolution: 1080 lines
Shades of Gradation: 6,144 equivalent
HDTV Display Capability: 1080p, 1080i, 720p
EDTV Display Capability: 480p
Aspect Control: 4:3, Just, Zoom, Full, H-Fill
Louver Filter: Yes
600Hz Sub-field Drive: Yes
24p Playback (2:3): Yes
Deep Color: Yes
x.v. Color: Yes
Super Resolution: Yes
Pro Setting: Yes
3D Color Management: Yes
Sub Pixel Control: Yes
Motion Pattern Noise Reduction: Yes
Full HD 3D
3D Panel: Yes
3D 24p Cinema Smoother: Yes
2D-3D Conversion: Yes
3D Image Viewer: Yes

Audio:

Speakers: Full-range x 2
Number of Speakers: 2
Audio Output: 20 watts
Surround Jack: Yes

Inputs:

Integrated ATSC Tuner: Yes
VIERA Image Viewer: Yes (AVCHD/MPEG-2/JPEG/MP3 Playback)
HDMI Input: 3 (1 side)
Composite Video Input: RCA x 1
Audio Input (for Video) RCA x 1
Component Video Inputs: 1
Audio Input (for Component Video): 1
Digital Audio Output (Optical): 1
HDMI Input-Support: Audio Return Channel (Input 1), 3D Input (all)
Analog Audio Input (for HDMI/DVI): Yes
USB: 2 USB 2.0 Ports
LAN Port: 1
Convenience:
VIERA Link: Yes
VIERA Connect (IPTV): Yes
VIERA Tools: Yes
Game Mode: Yes
3D Active Shutter Eyewear: Not included
Pixel Orbiter: Yes
Built-In Closed Caption Decoder: Yes
Off-Timer: Yes
Trilingual Menu: English/Spanish/French
Wireless LAN Adaptor: Yes
DLNA: Yes

General:

Power Supply: AC 12o V, 60Hz
Receiving System: ATSC/QAM/NTSC
Optional Wall-Mounting Bracket: TY-WK4P1RW
Dimensions with stand: 30.7" x 47.4" x 13.2"
Dimensions without stand: 29.3" x 47.4" x 2.8"
Weight with stand: 66.2 lbs.
Weight without stand: 57.4 lbs.
MSRP: $1,349.98
Manufacturer Contact Information:
Panasonic Corporation of North America
One Panasonic Way
Secaucus, NJ 07094
1-800-211-PANA (7262)
Web Site: www.panasonic.com