Tron: Legacy Blu-ray Review
By Ian White
Messing with My Zen Thing
The Film
TRON may not have been a box office bonanza for Disney in 1982, but you have to give them credit for trying. The film was silly, but it captured the imagination of a new generation of dweeb truants; kids who skipped school to hang out in arcades -- we were the first and true generation of gamers, unlike the posers who hold that mantle today. TRON took us inside a world that we could only imagine; where users could interact with their lines of code; and even fight them with deadly identity discs and blazing light cycles. It was the beginning of a new technological age.
28 years later -- after incredible advancements in technology and how we interact with the digital world, Disney decided to go back to the digital well and have a family reunion with Kevin Flynn (Jeff Bridges, True Grit), the zen-like creator of the grid and leading software manufacturer, ENCOM (Microsoft, Apple, take your pick...). TRON: Legacy is an interesting, but also flawed sequel that presents a lot of ideas that don't necessarily get explained too well.
Having discovered an opportunity to blend the digital and organic worlds (in the hope of changing the human condition), the programming genius disappears inside his digital creation, leaving his young son, Sam, an orphan. Decades pass and Sam Flynn (who essentially owns ENCOM but has no interest shaping its future) grows into a bitter and troubled young man with no sense of direction; whose only interests are hacking, riding his Ducati, and playing with Marvin the dog. TRON -- I mean Alan Bradley (played once again by Bruce Boxleitner), shows up at his apartment to tell him that he's received a page (because all the old '80s programmers still carry those...sheesh) from his father.
Sam Flynn then ventures down to the old family arcade where dear old dad used to work in the basement. Young Sam finds his father's old server still active (yet with no connection to the Internet considering that it didn't exist yet) and gets digitized and dropped onto the grid where all hell breaks loose. Sam discovers that his father has been in exile (living off the grid), while a rogue program called "CLU" sets in motion a plan to merge the digital/organic worlds that probably won't end well for the imperfect humans.
Before Sam Flynn can be reunited with his father, he must introduce a new generation to the deadly disc, race against CLU and other programs in smash up light cycle derby, before being saved by the uber naive and delicious program that protects the elder Flynn named Quorra (Olivia Wilde,
House)
. Quorra, as we discover is "the last of the Mohicans" from a programming sense. She's a miracle of digital evolution. She's also intense eye-candy and the best part of the film. '80s computer nerds are allowed to have digital crushes on 2011 light-cycle babes, right?
The problem with TRON: Legacy is that it doesn't make a lot of sense. How does the grid develop cut-off from all of the technological advances in networks, software, and artificial intelligence that have taken place since 1982? CLU (a computer generated image of a young Kevin Flynn -- which looks too robotic) stomps around the grid with the insanity of a digital Hitler and crushes everything in its path, including the flamboyant Castor; the grid's version of Nikki Finke and Priscilla, Queen of the Desert, rolled into one. Michael Sheen's (Frost/Nixon) over-the-top performance is fantastic, but way too brief.
While this review is focused on the 2D Blu-ray release (I have watched the Blu-ray 3D version a few times), I would like to throw in my two cents on the use of 3D in this film. Have you ever watched the home run derby at the MLB All-Star Game; where some pitching coach throws perfect strikes to hitters who proceed to crush the baseball sending it 420 feet into the top deck in left field. Disney had the same opportunity with this film. Nothing standing in its way. What did it do? A limp line drive into the glove of the ball boy in right. Very disappointing.
For a more detailed review of the Blu-ray 3D version of the film, check out Chris Chiarella's review of the Tron Legacy/Tron Blu-ray 3D Set. One thing I will give Disney a lot of credit for is the Blu-ray restoration of the original Tron. It is a much better film than you remember and looks phenomenal. Cindy Morgan (Caddyshack, TRON) who played Yori still looks fabulous today (she's 56...but doesn't look it).  And no, that original film is not included in this Blu-ray release, but Tron fans will probably want to opt for the aforementioned 2-movie set.
The Picture
Gorgeous. Stunning. Curvaceous. Pardon me -- I thought you were referring to Olivia Wilde. Disney has done a really superb job on the Blu-ray transfer of Tron: Legacy; sharp, deep blacks with a tremendous amount of shadow detail present, and really beautiful color reproduction. My only criticism would be that the image is kinda soft in a few scenes. You'll notice that the details on Olivia Wilde's face are blurred for a few seconds and then just pop off the screen. Jeff Bridges still looks great. The real Jeff Bridges. Not so sure I like the digitized one.
Legacy is an AVC-MPEG-4 encoding with a very high bit rate. The only weird thing is that the aspect ratio flips between 2.35:1 and 1.78:1 throughout the film [editor's note: this is to respect the original aspect ratio of portions of the film that were made for IMAX, as we saw with "The Dark Knight"]. I've compared the 2D and Blu-ray 3D and it is certainly more noticeable in the 2D version.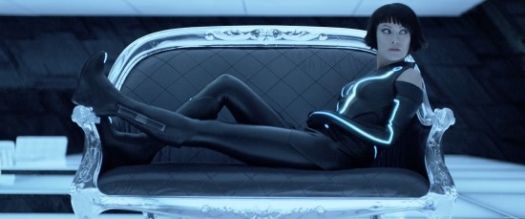 Between the 2D and 3D versions, I really think this 2D transfer looks better. There is almost no crosstalk/ghosting on the 3D version, but there isn't enough effective use of 3D to make the experience that much more immersive.
A fantastic transfer regardless.
The Sound
I'm pretty sure that the members of the Academy were on something when they omitted Daft Punk from the Best Original Score category this year, because the French duo produced one of the most spectacular soundtracks in recent memory; it was far more integral to the film than the Trent Reznor soundtrack for The Social Network which walked away with the award. The Grammy-award winning house/synthpop/techno musicians created a pulsating rave; minus the ecstacy and Euro trash, that pulled the film together and really energized the theater.
The 7.1 channel DTS-HD Master Audio track is easily one of the best you'll ever hear; pulsating deep bass, dynamic, and a real test of your surrounds. The dialogue in the film may not be the greatest, but it was very clear and crisp. The level of ambience was really quite impressive; possibly even as good as Avatar. A reference quality disc to show off your system's audio capabilities. Here's hoping that Daft Punk sells a lot of soundtracks because they got shafted.
The Extras
TRON: Legacy has a very impressive collection of bonus features; primarily because none of them drag on forever (The Lord of the Rings anyone?). Disney is creating an animated series for Disney XD called TRON: Uprising, and there is a taste of it in 1080p that piqued my interest. Also available in 1080p is a feature called The Next Day: Flynn Lives Revealed which explains what happens after the film ends. Not going to ruin it for you, but Olivia Wilde and Cindy Morgan do not take over the grid.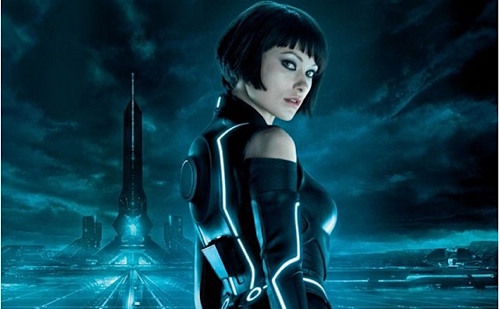 Disney has also included
Launching the Legacy
,
Visualizing TRON
, and
Installing the Cast
(all offered in 1.78:1 1080p); three featurettes that deal with the pitch for the sequel, the technical aspects, and the cast. All are quite short, but informative. The best part of the bonus material is the Daft Punk music video "Derezzed" which was shot in 1080p and is offered in Dolby Digital 5.1. Fantastic stuff to wake the kids up with at 6am.
Final Thoughts
TRON: Legacy is a very frustrating film to watch. There are moments where it all comes together and is a energetic good time wrapped in a fantastic score. There are are also moments where it seems like a glorified music video. The film's visuals and outstanding score are certainly reference quality material, and we got to know Olivia Wilde a little better. My DVR is set to record House. Fight for the users!
Versions Available on Blu-ray Disc on Amazon.com:
Product Details:
Actors: Jeff Bridges, Garrett Hedlund, Olivia Wilde, Bruce Boxleitner
Director: Joseph Kosinski
Aspect Ratio: 2.35:1/1.78:1
Video Code: Tron Legacy: AVC/MPEG-4
Resolution: 1080p/24
Audio: Tron: Legacy (2D) English DTS-HD Master Audio 7.1, English Dolby Digital 2.0, English Descriptive Video Services Dolby 2.0, French and Spanish Dolby Digital 5.1
Subtitles: Tron: Legacy (2D) English SDH, French, Spanish
Region: ABC (Region-Free)
Rating: PG
Discs: 2
Studio: Walt Disney Studios Home Entertainment
Blu-ray Release Date: April 5, 2011
Run Time: 125 minutes
List Price: $39.99
Extras:
TRON: Legacy:

Disney Second Screen
"The Next Day: Flynn Lives Revealed"
"First Look at TRON: Uprising
"Visualizing TRON
"Installing the Cast"
"Launching the Legacy"
"Disc Roars"
"Derezzed" music video
DVD of the movie with select bonus features
Digital Copy