Panasonic TC-P50VT25 Plasma 3D TV Review
By Chris Boylan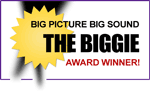 3D TV As it was Meant to Be
3D TV. These four simple characters represent perhaps the biggest hype in the consumer electronics market so far in the 21st century. But does reality live up to the hype? Will 3D viewing at home become the next big thing? TV makers sure hope so, and few manufacturers have thrown so much of their resources behind the 3D TV industry as Panasonic. Their VT20 and VT25 series of Full HD 3D Plasma TVs were among the first on the market, with the 50-inch TC-P50VT25 being in the sweet spot of price vs. size.
The VT25 HDTV may be the first generation to support 3D, but it doesn't scream "early adopter." There are no hoops to jump through, long delays to experience or gyrations necessary in order to view a high quality image, or get the 3D feature to work. If you connect a compatible 3D source device to the TV, the VT25 recognizes it as 3D, puts itself into 3D mode, and gives you their standard warning on screen about how extended viewing may make some viewers uncomfortable, yadda, yadda, yadda. I know their lawyers made them include the disclaimer, but the idea that viewing a TV for extended periods could be harmful to your health is one that goes back a long way before the days of 3D TV, "honey, if you sit too close to the TV you'll go blind." Thank you very much, mom. I'll take my chances.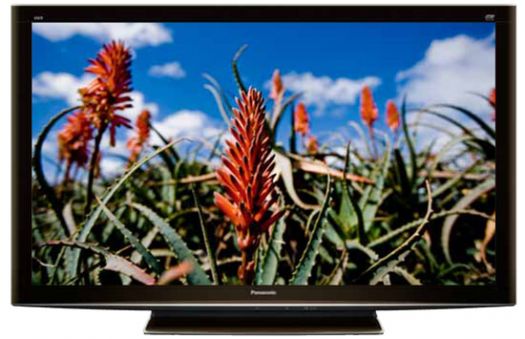 The Set-Up
In terms of connections, the VT25 series has pretty much all the jacks you could possibly need: HDMI, component video, composite video, coax antenna/cable jack, even a VGA port for hooking up an old school desktop or laptop computer. For our purposes, we tested the component and HDMI inputs, and we hooked an OTA roof antenna up to test the efficacy of the on-board ATSC tuner. If you want to do 3D (and you will), then you'll need to connect a 3D-compatible source, such as a Blu-ray 3D player or a cable or satellite set-top box.
As with most of the TVs that have been into the BPBS labs for review lately, the TC-P50VT25 is so much more than your grandfather's TV. In addition to built-in NTSC, ATSC and QAM tuners, for tuning in, you know, TV stations, the VT25 also includes a number of apps that transcend the normal viewing experience. Netflix, YouTube, Pandora, Amazon VOD... the choices we have these days for entertainment are dizzying, and Panasonic's VIERA Cast platform includes most of the major ones (absent are Hulu Plus and VUDU). As long as you have plugged the TV into a home network using an Ethernet cable (or Panasonic's optional Wi-Fi adapter), you should be good to go for streaming.
If you want to stay connected, without getting off your couch, then check out Twitter which is also available on screen as well as Skype, which turns your huge flat panel TV into an enormous high definition video phone (requires optional Panasonic communication camera). For Twitter, YouTube and other apps that benefit from fast typing, you'll be happy to hear that the Panasonic VT25 supports connection of a USB keyboard (wired or wireless) to either of its on-board USB ports. Computers? We don't need no stinking computers!
Watching the Tube
Using the on-board ATSC tuner, I was easily able to pull in the 40+ channels broadcast over the air for free in New York City. The local networks' HD feeds looked gorgeous on the VT25, particularly live sports and news broadcasts. Fine details such as the pattern in a news anchor's pinstripe jacket were clearly evident and colors were rich and well saturated. The VT25 also offers excellent reproduction of moving images like footballs, baseballs, soccer balls, masquerade balls -- really any type of balls looked great on the VT25. The quality of the image from the on-board tuner was about on par with local broadcasts tuned in from a DISH Network ViP922 DVR, and was noticeably superior to satellite broadcasts of those same local HD channels (thanks to lower compression rates in over the air broadcasting). It you get your HD channels for free over the air, you should be extremely satisfied with the performance of the VT25's tuner.
Testing, Testing...
To evaluate the quality of the VT25's onboard scaling and de-interlacing processing in an objective fashion, we first tried some test DVDs, including the HQV Benchmark disc, connected to the TV at 480i via component video. This allows the TV to perform all the heavy lifting involved in upconverting standard definition interlaced content to the panel's native 1080p resolution.
On the HQV Benchmark disc's standard def detail test, the VT25 showed that it has no trouble de-interlacing a 480i signal and presenting all the lines of detail present in a standard def source. The set also performs well on the "jaggies" tests with just a mere shimmer in the single white spinning diagonal line test and some minor stair stepping on the lowest of three line segments in "jaggies test #2." Moving onto noise reduction tests, the set does a decent but not outstanding job removing noise from an artificially noisy test signal, including cleaning up the skies and edges in the "motion adaptive noise" test (the roller coaster segments).

More importantly, at least for movie lovers with decent-sized DVD collections, the VT25 is able to lock on the underlying 3:2 film cadence in the "Film Detail" test, though it does take a full second to recognize, and correct for, the 24 frame per second film cadence. This means you do see some moiré distortion in the grandstands in this test clip, but it disappears after about a second. The set is quicker to detect the cadence in subsequent passes. The odd cadence tests on the HQV DVD are a mixed bag, but on the 2:2 (video) and 3:2 (film) tests, the unit performs pretty well (and these are the most common cadences used on DVD-based material). The detail test shows good interpolated detail in grassy areas and brick bridges without any ringing or visible artifacts of edge enhancement.
In the final mixed cadence test -- scrolling video titles overlaid on a film-based background -- the set takes a fraction of a second to recognize the mixed cadence.  This leads to slight comb distortion on the horizontal scrolling titles, which then goes away. Vertically scrolling titles are similar. With a very slight delay, then smooth sailing afterwards. Overall, this is solid upconversion performance.
1080? Aye!
Moving onto the high definition de-interlacing tests (1080i) on the HQV Blu-ray, the TV continues its winning streak, with one fairly significant caveat. The VT25 handles 1080i video segments well (2:2 cadence), presenting single-pixel high lines cleanly and evenly. Similarly, HD Noise tests and "jaggies" tests present no real challenge to the TV. However, with the set's default settings, it does not properly detect a 3:2 film cadence encoded into the 1080i Blu-ray Test Disc. This leads to serious strobing in the test pattern on the HQV Disc's Film Resolution test. Going into the TV's menu ("Advanced Picture" settings), you'll find a "3:2 Pull Down" option. The default setting is "Auto" but if you set this to "On" then the TV does correctly detect and correct for the underlying 3:2 cadence, making those single pixel high rows in the corners rock solid.
In the real world, this means that the TV may have trouble handling film-based material broadcast as 1080i, either via the built-in tuner, or on a cable or satellite set-top box. Some detail may be lost, or slight moiré patterns may be visible where they shouldn't. As an owner, if you understand what's happening, it's easy enough to go into the menu to correct it for material that you know came from film, but really the TV's "auto" mode should be able to detect and correct for the commonly used film-based 2:3 cadence. Ironically, Panasonic's own Blu-ray players (DMP-BD85 and the DMP-BDT350) have no trouble with this kind of material. Maybe the Blu-ray and TV engineers should discuss the matter over a bottle of Sake?
Old-Fashioned 2D
What some prospective buyers don't realize about 3D TVs is that you don't need to keep the glasses on all the time to watch them (nor would you want to do so). Most high quality 3D-enabled TVs also make great 2D TVs for watching regular TV, Blu-ray Discs and DVDs. The VT25 is no exception here. Unlike some other 3D-enabled sets, including those from Samsung and even Panasonic's own GT25 series, the VT25 series sets do not offer any real time 2D to 3D conversion options. And judging by what we've seen of these modes on other sets, it was probably a wise choice. While a 2D to 3D mode can impart some depth to the 2D image, it also introduces artifacts that can be distracting and not a little annoying. The VT25 instead only goes into its 3D mode when presented with true 3D content. The rest of the time, it's just a super high-end HDTV which plays back regular content in two dimensions.
And this is where the set really shines. Given high quality 1080p source material on Blu-ray Disc, the TC-P50VT25 set produces a richly detailed dynamic image with excellent color saturation and deep black levels virtually unmatched by any other television we have seen or tested. Moving images appear almost three dimensional even without glasses or special content. On Blade Runner: The Final Cut, the scrolling white credits are sharply delineated against the deep black background and the orange red flames coming out of smokestacks in this near future dystopia are also clearly defined and natural looking without any color bleed or haloing. On more colorful fare, such as the latest "Tinker Bell" Blu-ray Tinker Bell and the Great Fairy Rescue (yes, I know... a straight-to-video release, but it's an awfully good-looking one), the flowers and fairy outfits nearly pop off the screen and delicate patterns in fairy wings are easily discernible. Just about everything we looked at in 2D, from local broadcasts to standard DVD to Blu-ray Disc looked better on this set than on any other that we have reviewed.
Enter the Third Dimension
If you're looking at the VT25 series, you're probably interested in its 3D performance, and here the set is also a strong performer. All 3D TVs can have some issues with crosstalk at times (a faint ghosting of the image that occurs when the left eye image is visible to the right eye and vice versa). While this is present to a certain degree on the VT25 series TVs, it's far less objectionable than we've seen on other current models, including the also excellent C8000 series PDPs from Samsung. We used about a dozen Blu-ray 3D Discs to evaluate 3D performance: mostly animated fare but with some live action content thrown in, and the TV's performance never failed to impress both ourselves and the visitors we had during the evaluation period.
On Coraline, the needle in the opening credits nearly pokes you in the eye as it makes its way through the fabric. Despicable Me presents the antics of the uber-villain Gru and his lovable minions in all their proper depth -- you feel as if you could reach out and grab the moon to put it in your pocket. And in the 3D version of Avatar, the viewing experience is akin to being in a really good 3D movie theater with amazing depth of field noticeable throughout, particularly in scenes such as the cryo wake-up and the final battle sequence through the forest and the floating Hallelujah Mountains. The only part that isn't quite as impressive as theaters? The size.
As I mentioned in my review of Samsung's PN50C8000, I've never considered a 50-inch TV to be "small" in our 17 foot by 15 foot viewing area, with a couch about 12 feet from the screen. But when viewing 3D content, you feel a little less drawn into the action compared to viewing 3D in the theater. Instead of filling my field of view with a portal into the action, the 50-inch TC-P50VT25 gave me more of an impression of a large window into the action. Dimming the room lights helps (for a number of reasons), but really a bigger screen is the best solution. If you're shopping for a 3D-enabled TV and intend to do a lot of 3D viewing, then opt for the next size up.  Panasonic's VT25 series is available up to 65 inches which should be plenty big for most viewing rooms. Even the 54-inch option offers a noticeable bump in viewing area.
Those Damn Glasses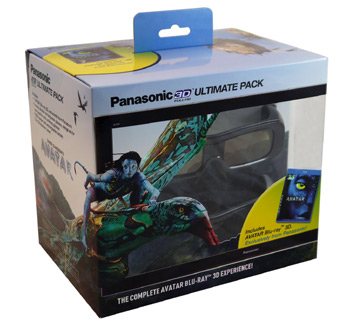 The one piece of feedback I hear most often when discussing the possibilities of watching 3D at home are the need for 3D glasses. And in this particular area, Panasonic's first generation battery-powered glasses probably aren't going to win any friends. The pair of glasses that come in the box with the VT25 series TVs are bulky, heavy and awkward. One of the pairs that we were sent for review actually cracked on its bridge during the review process. When I set up a viewing of
Despicable Me
for my kids, my son's glasses were smeared with popcorn butter at the end of the film as he was constantly holding or adjusting the glasses to keep them on his face. I should note that he didn't want to take the glasses off though - the 3D effect was compelling enough that he put up with the discomfort gladly for the full length of the film. Meanwhile, my daughter had no complaints. The difference? She was using Panasonic's new smaller, lighter (and rechargeable) 3D glasses from the "Ultimate 3D Starter Kit."
Right now, most stores (including Amazon) are offering a generous credit toward both the 3D starter kit (which includes Avatar 3D plus two pairs of the new rechargeable 3D glasses) and Panasonic's DMP-BDT100 Blu-ray 3D player with the purchase of the VT25 series TVs. This allows you to bring home the player, a 3D movie and two additional pairs of glasses for a price barely above the cost of the TV alone. You'll want to take advantage of this bundle offer as the newer 3D glasses are vastly superior to the old ones. Panasonic also offers smaller kid-sized glasses in case you want to outfit the whole family with closer-fitting 3D glasses.
If you're waiting for glasses-free (auto stereoscopic) 3D TVs, then be prepared to wait a while. Manufacturers tell us it will be at least five to ten years before then become available in real world sizes (and at real world prices).
A Sound Investment?
While we would hope that anyone who purchases an HDTV of this quality would invest in a decent sound system to go with it (or at least a powered sound bar), the built-in speakers are acceptable for casual listening. The set includes two stereo speakers and a single ported woofer for low frequency reproduction.  The sound is enhanced with BBE VIVA HD3D Sound for great depth and spaciousness. The cabinet depth of nearly 4 inches does give the speakers a bit more room to breathe, compared with super slim LED and LCD TVs, but even so, for best performance we'd recommend using an external sound system.
Turn-Ons:
Excellent 2D performance - best black levels of any 2010 model TV we've tested
Very good 3D performance with minimal cross-talk

Enough picture tweaks to satisfy die-hard hobbyists and professional calibrators

Player/glasses bundles bring down the price of admission
Turn-Offs:
Included pair of 3D glasses is heavy and can be uncomfortable

Problems detecting 2:3 cadence in 1080i signals in "auto" mode

Fairly high list price, but discounts are available

Final Thoughts
The TC-P50VT25 is quite simply the finest TV we have reviewed in 2010 for both 2D and 3D viewing. It's a bit pricy but worth it. Seek out a player/glasses/movie bundle so you can watch Avatar in 3D at home and with the improved rechargeable eyewear. The only real caveat is that 3D viewing makes the set seem smaller than it is, so we'd recommend upgrading to the 54-inch or larger screen size if space and budget allow.
Buy Panasonic's VT25 Series on Amazon:
Manufacturer's Specifications (Panasonic TC-P50VT25)
VIDEO:
Screen Size: 50" Class (49.9" diagonal)
Contrast Ratio: Infinite Black Pro/5,000,000:1 Native
Aspect Ratio: 16:9
Native Resolution: 1920 x 1080 pixels
Moving Picture Resolution: 1080 lines
Shades of Gradation: 6,144 equivalent
Supported input resolution: 1080p/60, 1080p/24, 1080p/24 (frame-packed 3D). 1080i, 20p, 480p, 480i
Full HD 3D
AR (Anti-Reflective) Filter
600Hz Sub-field Drive
24p Cinematic Playback: 96 Hz
24p Playback (2:3 pulldown): Yes
Deep Color support
x.v.Color support
Pro Settings
THX Mode: Yes (2D)
ISFccc
3D Color Management
Sub Pixel Control
Motion Pattern Noise Reduction
AUDIO:
Speakers: Woofer x 1, Full-range x 2 (L, R)

Audio Output 30 W (10% THD)

BBE® VIVA HD3D Sound
INPUTS & JACKS:
Integrated ATSC Tuner

VIERA Image/Movie Viewer: AVCHD/MPEG2/JPEG Playback

HDMI Input: 4 (1 side)

Composite Video Input: 2 (1 side)

Audio Input (for Video): 2 (1 side)

PC Input: D-sub 15-pin x 1 (side)

Component Video Inputs (Y, PB, PR) : 2

Audio Input (for Component Video): 2

RS232C: 1

Digital Audio Output: 1 (fiberoptic)

HDMI Input-Support Feature: Audio Return Channel (Input 1) / 3D Input (All)
Analog Audio Input (for HDMI/DVI)

USB ports: 2

LAN Port (RJ45): 1
CONVENIENCE:
VIERA Link (HDMI-CEC): Yes, with Network Camera support

VIERA Cast

Skype Ready: requires optional camera

VIERA® Tools

Game Mode

3D Active Shutter Eyewear 1 included

Pixel Orbiter (Anti-Image Retention)

Built-In Closed Caption Decoder

Off - Timers

Trilingual Menu: English/Spanish/French
GENERAL:
Power Supply AC 120 V, 60Hz

On Mode Average Power Consumption 139.0 W

Energy Star Certified

Receiving System: ATSC/QAM/NTSC

Operating Temperature 32°F - 104°F (0°C - 40°C)

Safety Standard UL6500/C-UL

Table Stand Swivel Angle +10°
MSRP: $2599.95
PHYSICAL SPECIFICATIONS:
Dimensions (H x W x D) with Stand 31.9" x 48.2" x 13.2"

Dimensions (H x W x D) without Stand 30.4" x 48.2" x 3.6"

Weight (lbs.) w/Stand 67.2 lbs.

Weight (lbs.) without Stand 60.6 lbs.
What's in the Box?
50" HDTV
Universal Remote Control (incl. batteries)
Manual
Power cord
Swivel stand (+10-degree swivel)
One pair 3D eyewear
Manufacturer's Contact Information:
Panasonic Corporation of North America
One Panasonic Way
Secaucus, NJ 07094
1-800-211-PANA (7262)
Web Site: www.panasonic.com