The Site for Home Theater and Movie Reviews
The Ten Commandments Blu-ray Review
By Ian White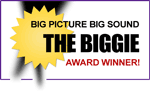 So let it be written. So let it be done.
The Film
Against a great deal of resistance, director Cecil B. DeMille unleashed a film of literally Biblical proportion on the world in 1956, and its staying power some fifty-five years later cannot be overstated. At its core, The Ten Commandments is a film about freedom; man's inalienable right to determine his own destiny regardless of race, color, or religious beliefs. The story has repeated itself for thousands of years; only the actors and levels of barbarity have changed.
DeMille's interpretation of the story of Moses and the Exodus from Egypt is possibly the most important religious film of all-time; if not the most influential in terms of how it shaped the historical perception of the period, Moses and the passing down of G-d's written laws. Biblical scholars (and a lot of Hebrew school and Sunday school teachers) have not been kind in their treatment of the film, but not even they can deny the impact the film has had on a worldwide audience.
DeMille's masterpiece of filmmaking could have been a over-the-top cinematic flop with the wrong cast, but the savy director knew exactly what he was doing when he cast Charlton Heston as Moses and the stoic Yul Brynner as Rameses. Critics lambasted Anne Baxter for her campy portrayal of Nefretiri, but many years later it is quite clear that the Oscar-winning actress (All About Eve, The Magnificent Ambersons) was about as perfect in the role as any actress could have been. The all-star cast which featured screen veterans Edward G. Robinson, Nina Foch, Vincent Price, John Derek, and Yvonne De Carlo was possibly the best ensemble performance in film history.
DeMille, however, does get away with a Biblical boner thanks to his use of technicolor; there has always been a controversy in regard to the color of Moses' wife, Sephora (Yvonne De Carlo, The Munsters), who was a Bedouin. I always thought it was weird that the teachers passed over that sentence when we studied the Book of Exodus, but the reality is that Moses married a black woman and it would have not been politically correct for DeMille in 1956 to portray that. Apparently, it was not politically correct to discuss it in Yeshiva in 1975 either. De Carlo gets darker looking as the film rolls on, and I suspect the rather clever DeMille knew the source material well enough to hint at it.
Regardless of your religious beliefs, The Ten Commandments is one of the greatest films ever made and it is quite disheartening when one has to compare it to the vast majority of big budget studio crap masquerading as "epic" cinema in 2011. Even with state-of-the-art technology at its disposal, the movie industry has no clue how to make a movie like this anymore.
The Picture
When The Ten Commandments was released in 1956, it was hailed for its magnificent use of technicolor. How does it measure up fifty-five years later? Paramount's 1080p restoration is unquestionably one of the best looking films on home video. Ever. There are some edge adjustment issues, but they don't make the film any less brilliant. If you look carefully at the earthen tones (stone walls, desert sand), they pop off the screen with tremendous levels of detail being visible. The bright blues (ornate jewelry and costumes) and natural looking greens (take a look at the reeds in the Nile in the basket sequence) are breathtaking. Some critics marveled at the exceptional neutrality of the flesh tones, but there must have been a sale on tanning solution in both Hollywood and Egypt because everyone looks like they have been hanging out at the beach. 400 years in the blistering sun of Egypt would certainly have darkened the skin of the Hebrew slaves, but it looks unnatural in certain segments.
Paramount has decided (very shrewd move) to split the Blu-ray across two discs to preserve the bit rate and it certainly works. At about 3 hours and fifty minutes (disc one runs 2:15:48, disc two runs 1:35:49), the film is split near the middle for an intermission (which happens at the end of disc one), but you'll be running to insert disc two - trust me.
The picture is wonderfully crisp and free from artifacts, but there is an issue with the edge enhancement that rears its ugly head in some scenes.  To be fair, one might expect a bit of this from a 56 year-old film that has been remastered in 1080p and already suffered from some optical effects issues. During the pivotal scene where Rameses banishes Moses to the wilderness of Sinai, there is a rather pronounced edge to the actors which is visible against the inserted background. It's clear that this scene was shot on the set in Hollywood; versus the next shot that has Charlton Heston walking into the real desert in Egypt. It happens a few times, but the reality is that the specific look is integral to the film.
The black levels are quite strong (check out DeMille's suit during the introduction compared to his blue tie and the elaborate curtains behind him) with a lot of shadow detail present. There is some softness in the image, and a mild level of grain, but the overall magnificence of the transfer is truly inspiring. Bravo Paramount.
The Sound
One of the things I hate about modern movie soundtracks is that they are loud for the sake of being loud. The bass is pumped up because we all need to feel that visceral kick in the gut when the hero decides to play chicken with an F-22 Raptor; and walks away no less. The dialogue in most films is so putrid, that they need a way to distract our attention away from it. Hence, the rattle of gunfire so loud that your teeth move. Music used to be an integral part of films. Good films. It introduced characters. It created mood. It swept up a good story with solid acting and took it to another level. Elmer Bernstein created a masterful soundtrack for The Ten Commandments and thankfully, Paramount has preserved its integrity with a truly powerful DTS-HD Master Audio 5.1 channel presentation.
The opening overture is presented across the front three channels and while there isn't a lot of rear channel support, it just sounds right. The opening title (which always brings tears to my eyes) has a more potent low end and it creates a solid foundation for the rest of the film; which relies heavily on character interaction and wonderful dialogue. The center channel gets a great workout from this film; dialogue is very prominent and forceful sounding, with excellent clarity.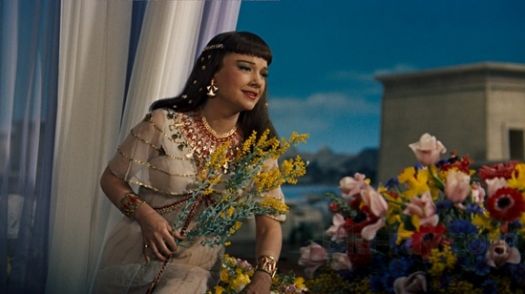 If you are looking for some effects-laden soundtrack that will have you jumping out of your seat, you've clearly never seen this film. Paramount has added some content for the surrounds, but it is mostly subtle and can be noticed only in very strategic places, as when Moses is banished to the Sinai desert and he is overtaken by the swirling, dusty winds or when Rameses is standing on his balcony and the hail begins to fall all over Egypt. Subtle, yes, but also quite effective.
Additionally, when there is a need for strong bass content, it exists. During the pivotal scene where Prince Moses frees his mother, Yochabel, before she can be crushed between the massive stone structures, the Hebrew slaves are using battering rams to move the tonnage along. If you have a good subwoofer, you'll feel the rumble. It may not cause your home to shake, but it will certainly add to the tension.
The Extras
The Blu-ray release of The Ten Commandments was moving along swimmingly (unlike the Egyptian chariots who excelled at drowning), until we got to the additional content on the 2-disc version. Someone at Paramount must have a twisted sense of humor, because 4-hours of commentary (which is admittedly about as informative as any film commentary I've ever heard), newsreel footage of the film's premiere in NYC, and 3 theatrical trailers, is not exactly the mother lode when it comes to this film.
If you are looking for the 1923 silent version of The Ten Commandments, technical segments (all offered in 1080p), the documentaries about the making of the film, and the gorgeous photo gallery - you are going to have to pony up some additional shekels because Paramount has only included all of that must-see content in the 6-disc special gift set. My matzo just fell.
The 4-hour commentary that is present on the 2-disc set, by Katherine Orrison, author of "Written in Stone: Making Cecil B. DeMille's Epic, The Ten Commandments", is the equivalent of a college course on the film and guaranteed to make you an expert. I usually fall asleep listening to the film commentaries (especially if the same person is talking for four hours), but the material presented had me researching cast members on IMDB for hours. That said, the failure to include the 1923 silent film was extremely disappointing.
Final Thoughts
With the exception of the disappointing special features, Paramount's Blu-ray release of The Ten Commandments is one of the few must-have films available on home video. It is a breathtaking film that has never looked or sounded better and should be a part of every film collection. If I could buy only one film on Blu-ray in 2011; this would trump the upcoming release of Star Wars without even blinking an eye.
Versions Available on Blu-ray Disc on Amazon.com:
Product Details (2-Disc Blu-ray Edition):
Actors: Charlton Heston, Yul Brynner, Anne Baxter, Edward G. Robinson, Yvonne De Carlo, John Derek, Nina Foch, Vincent Price, John Carradine
Director: Cecil B. DeMille
Audio Format/Languages: DTS-HD Master Audio 5.1, Dolby Digital 2.0, French: Dolby Digital Mono, Spanish: Dolby Digital Mono, Portuguese: Dolby Digital Mono
Subtitles: English, English SDH, French, Spanish, Portuguese
Aspect Ratio: 1.78:1 (Original Aspect Ratio: 1.85:1)
Number of discs: 2
Rated: G
Studio: Paramount
DVD Release Date: March 29, 2011
Run Time: 231 minutes
List Price: $39.99
Extras:

4-hour commentary by Katherine Orrison, author of "Written in Stone: Making Cecil B. DeMille's Epic, The Ten Commandments"
Newsreel: The Ten Commandments Premiere in New York
Theatrical Trailers: 1956 "Making of"/1966 Trailer/1989 Trailer
What do you think?
| | |
| --- | --- |
| Overall | |
| Video | |
| Audio | |
| Movie | |
| Extras | |
Explore Big Picture Big Sound