Samsung LN40C670 LCD HDTV Review
By Ian White
Edited by Chris Boylan
Television is dead. Long live the streaming media display device sitting in your living room. It has become nothing short of an open portal to a vast world of internet-based content.  And Samsung's 40-inch LN40C670 1080p LCD HDTV is a prime example, but we'll get to that...
With the World Wide Web as your oyster, there's little reason to leave the house any more.  Ask the folks at Blockbuster who just declared bankruptcy how well things are going in the physical media rental world. We just watched three of our local Blockbuster locations shut down (which had an upside as we were able to add close to 50 Blu-ray titles to our library for pennies on the dollar).  And while the Red Boxes continue to propagate where the blue boxes failed (it's hard to argue with $1/night rentals), the trend is clearly migration away from physical media.  Manufacturers that embrace this concept are poised for success and Samsung is clearly one of those manufacturers.
As the owner of a really good JVC 1080p D-ILA projector, I have not had any interest in acquiring a new HDTV for a very long time. The JVC RS25 works amazingly well in my media room and produces a brilliant image on my 100" Stewart Filmscreen Studiotek 130 G3 screen. Just as long as I watch in complete darkness. It is not fantastic between the hours of 7am and 7pm (even with blackout shades), which royally stinks, but it is the price that we decided to pay when we chose to go the projector route.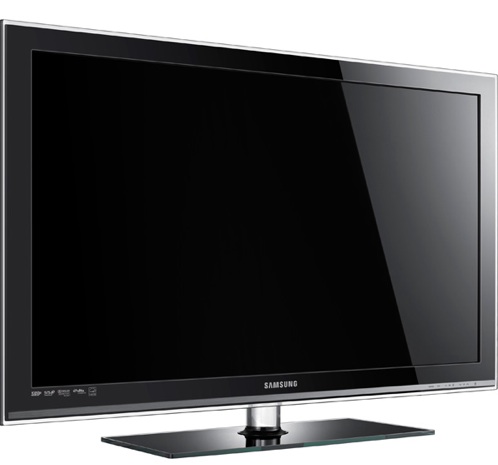 Even though we don't watch a lot of television in our home (minus the children who watch far too much television... do your homework!), we realized that we needed something good for daily use in our living room and it had to be 40" or smaller to fit into our pre-existing fancy schmancy custom wall unit. Bummer. I watch less than five hours of television programming per week, versus 15 or more hours of movies, so the TV's performance with DVD, HD DVD (yup, still got some) and Blu-ray was critical. It also had to be easy for everyone to use; including my in-laws who live around the corner and stop by often to watch Fox News (don't get me started).
A relatively brief process of natural selection (too small! too big! too klugey! too pricey!) led me toward the Samsung LN40C670 (which, by the way, is the same TV as the LN40C650 except for the touch of color bezel).   The LN40C670 is a 40" LCD HDTV from Samsung's "6" series for 2010. Unlike the more common LN40C650 which is available virtually everywhere, the 670 is a Best Buy exclusive.
For under $1,000, the Samsung LN40C670 looks on paper like a pretty good set. It has more than enough HDMI inputs, an optical digital output, USB ports for the wireless adapter and flash drives, and a really attractive design. Would the reality live up to the numbers?  Time to load up.
On the launch pad...Ground Control to Major Tom....
Attaching the set to its very heavy stand was quite easy (good quality hardware always does the trick) and I had it positioned in my wall unit in less than fifteen minutes. The set powered up and I spent about thirty minutes going through all of the menus. An LCD needs at least 100 hours of burn-in (200 is even better), before you can conduct a meaningful calibration and I made minimal changes for the next few weeks. I ran all of my sources directly into the HDMI and component inputs, rather than let some AVR's internal processing screw up the picture.
The next thing I did after connecting everything was to plug in the included wireless adapter and try to connect to my home network. Miracles of miracles; it actually worked. Sporadically. As long as I was less than twenty feet from my router which in theory downloads at 20.19 Mps through a hard wired connection to my iMac. The speed test on the televison told a very different story; 4.14 Mps. Not a good start but we'll deal with how the LN40C670 deals with networking and streaming apps later on.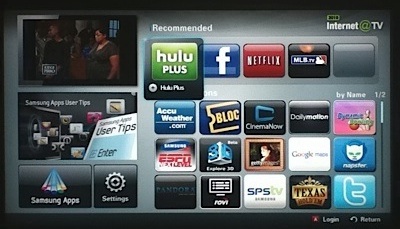 The LN40C670 connects to its app interface with the push of one button on the remote: "Internet@TV." I would also give thumbs up to the interface which is very easy to navigate and has a little window so that you can watch the last channel selected in the left corner while you make a selection. The selection of widgets is fairly limited right now, but the selection of film rental services is absolutely stellar: Netflix, VUDU, Blockbuster on Demand, CinemaNow. Seriously, who needs a physical video rental store when you have this level of selection and video quality? The one feature that I didn't like was that you can't access the main app menu while using an app; not even if you pause the film. You have to cycle backwards three clicks which was a royal pain in the butt.  But if you're trying to access the settings menu from within an app (like while in a Netflix streaming movie), then here's a tip: hit the "Tools" button instead of the "Menu" button on your remote, and you'll get instant access to picture controls and other set-up options.
A quick measurement with my colorimeter and CalMAN 4.0 calibration software, told me to use the LN40C670's "Movie" mode as the starting point. In the other modes, white ran fairly cool - well over 9000 Kelvin, giving the color white a blue-ish tint.  While they offer a brighter image, they don't get anywhere near 6500 Kelvin which is what you are trying to achieve. After calibrating the grayscale and adjusting the rest of the settings, I achieved 6600 Kelvin which was quite impressive, and very close to ideal. Some of the other picture modes don't give you access to the set's more advanced picture settings and CMS (color management system), which is incredibly important, in order to get accurate color reproduction. I will not recommend any television set or projector that does not have some form of CMS. Not gonna do it. Wouldn't be prudent. Not at this juncture. The set doesn't allow you to save multiple ISF Day/Night modes for each input, but it does save all of your changes to each picture mode.
I also turned off all edge enhancement, noise reduction, black level enhancement, and the utterly horrible (IMHO, of course) Auto-Motion Plus 120Hz setting. While it certainly made HD football broadcasts on Fox (Go Bears...let Cutler get sacked another 9 times) sharper looking with less motion artifacts, it totally ruined just about everything else. Films had a "video-like" feel to them that was not only distracting but downright annoying. It also played havoc with film-sourced HD programming such as "Law and Order: SVU" which had me reaching for the remote. Mariska doesn't need any 120Hz meshugas. She's yummy enough the way she is.
The backlight on the set certainly made the image brighter, but it ended up post-calibration at "10" which is the middle of the range. Using PLUGE patterns, I was able to reproduce very deep black levels, but there was certainly some crush and noise present. It was more evident with SD and HD programming from the Comcast set-top box (which totally sucks to the tune of $140 a month) than from the Oppo or Panasonic BD players that I used. The set also pushed red in each mode, especially with the temperature setting on Warm 1 or Warm 2. I was able to achieve reasonably accurate color settings in "Movie" mode using Warm 1. I still feel that the set errs slightly toward red, but it's not so glaring as to preclude a recommendation. The fact that the set has a really decent CMS is to be commended.
I spent a few hours calibrating the LN40C670 and overall, it held up quite well. It is not the last word in detail and sharpness, but that also depends a great deal on the source. Toss some SD television programming its way and you'll get a very average picture. Using the Oppo BD player, I watched some great films on Blu-ray and was very pleased with the image quality. We sat nine feet from the screen and it was very hard to complain about the image quality with Blu-ray, HD DVD or even streaming HD content.
When the moon hits your eye, like a big pizza pie, that's Moiré...
The Spears and Munsil Blu-ray test disc is by far one of the best around and it tried hard to trip up the LN40C670, especially with its 3:2 film cadence sequence (output at 1080i). The set passed with flying colors. It did a great job with the deinterlacing. While it didn't do as well with the Jaggies test, as it displayed an above average level, it wasn't the worst that I've seen either. During my ISF Level II training, I must have watched the "Super Speedway" segment on the HQV Test DVD 50-100 times. Man, was that annoying. The moiré distortion in the speedway's grandstand was noticeable even on the $40,000 Panasonic TH-85VX200U 3D plasma panel (the best panel I've ever seen, which will be available in December 2010 for the lucky few who can afford it) and it was easy to see on the LN40C670. The good news is that it vanished rather quickly. Not as fast as the professional 85" Panasonic panel, but fast enough to tell me that 3:2 film-based content is correctly procesed. Not too shabby.
After getting the set calibrated, I decided to throw some of my favorite films, SD and HD content, and streaming media at it. With the wireless adapter connected and locked into my network, I decided to watch some films and television via Netflix and Vudu (which I had to download as a brand new app). With the set 10 feet from my router, it had zero issues; no artifacts, no drop-outs, no freezing. I caught up on Season Six of The Office courtesy of Netflix and it proved to be a good test of the set's capabilities. The show is broadcast in HD and I was very impressed by how well it reproduced the dark black in Michael Scott's (Steve Carell rocks) suits, while preserving the grey pinstripes. Very little loss of detail. Flesh tones were also quite natural looking post-calibration. NBC might have one of the worst line-ups on television right now, but the set sure does make the Office look pretty.
Criterion Collection's Paths of Glory Blu-ray release offers a nice improvement over the dreary looking DVD and it looked exceptionally good on the LN40C670. It has always been one of my favorite films; certainly my favorite Kubrick movie, and I enjoyed watching it again very much. Don't rent it. Own it.
Sci-Fi fans are probably still frakkin mad over the conclusion of Battlestar Galactica, but I am glad that it ended when it did. Way too preachy if you ask me. I was never overly impressed with the Blu-ray transfers, but I must confess that the show on Blu-ray looked quite good on the Samsung. Deep blacks, excellent shadow detail, and very few artifacts. It made watching the final eleven episodes a lot of fun. Sticking with deep space for a second, I popped in the remastered BD of The Fifth Element (which has become even more annoying to me than The Eagles:Hell Freezes Over as over-used demo material) and let the diva scene seduce me. You lose a lot of the impact on a 40" screen (it looks so much more dramatic on a 100" screen), but the image quality is still very impressive. The Samsung passed with flying colors. I switched back to Netflix and started viewing Ichi the Killer which looked great until the screen went black. Not a good development.
I had to reset the wireless connection five times before the film resumed playing. Sadly, this became the norm until the good folks from Comcast made a trip to our home and rectified the situation; by installing an ethernet connection in the living room. The issue was solved, but I can only give the wireless adapter connection a passing grade if you have your router within twenty feet of the set. It is totally unacceptable that it crashed on a daily basis with the set 40 feet away. The only consolation is that the $80 adapter is sometimes offered as a freebie when you buy the set on BestBuy.com due to a manufacturer promotion.  If you can accept the limitations of the wireless adapter, or just skip it and use a hard-wired connection or your own wireless bridge, the streaming media feature works exceptionally well.

The bottom line is that LN40C670 offers excellent post-calibration picture quality, anemic sounding speakers, and some of the best media streaming around. The size of the image should not deter you, even if you can swing a slightly larger set, because the overall package is quite persuasive.
Turn Ons
Excellent picture quality post-calibration
Plethora of inputs
Attractive Design
Excellent media streaming apps
Good value for the money
Turn Offs
Anemic sounding loudspeakers
Cheap looking remote
Wireless adapter has very limited range
Slight red push

Final Thoughts
There is a vast ocean of television choices out there for the consumer to wade through and its easy to get frustrated trying to pick the right one. If you are looking for a quality set that looks great with Blu-ray and HD content, but also does a very competent job with SD, then take a look at the Samsung LN40C670 or the nearly identical LN40C650 40" LCD models. Their exceptional performance with streaming media (as long as you get the wireless adapter working properly) is just further icing on the cake. The good stuff. Not Fudgie the Whale with the artificial frosting. I'm walking the walk on this one. Where is my checkbook? No, seriously...has anybody seen my checkbook? Frak.
Where to Buy:
Manufacturer's Specifications for the Samsung LN40C670 HDTV:
Video:
Panel Type: 40.0" 16:9 widescreen LCD
Display Compatibility: Full HDTV 1080p
Signal Compatibility: 480i, 480p, 720p, 1080i, 1080p
Native Panel Resolution: 1920 x 1080 pixels
Response Time: 4 ms
Dynamic Contrast Ratio: 150,000:1
Refresh Rate: 120Hz Auto Motion Plus
3:2 Pull-down
Color Temperature: 4 modes
Tuner: Integrated NTSC/ATSC/QAM HDTV Tuner
Audio:
SRS Theater Sound
Bottom-firing speakers: 10 watts
Inputs:
4 HDMI 1.3 inputs
2 Component inputs
1 Composite (AV) input
1 PC Input (D-sub)
1 PC Audio input (Mini-Jack)
1 Ethernet port
2 USB 2.0 ports
1 Optical Digital Audio ouput
1 DVI Audio input (Mini-Jack)
1 RF input
Weight and Dimensions:
Weight: 29.8 lbs
Weight with stand: 37.3 lbs
Dimensions: 3.2" thin
Dimensions: 38.6" x 23.4" x 3.2" (W x H x D) without stand
Dimensions: 38.6" x 26.0" x 10" (W x H x D) with stand
Additional:
Samsung Apps Platform
AllShare DLNA Networking
Wide Color Enhancer Plus
ConnectShare Movie
BD Wise
Game Mode
Anynet+(HDMI-CEC)
1 Tuner Picture-in-Picture
Wireless LAN Adaptor
Auto Channel Search
Auto Volume Leveler
V-Chip
Sleep Timer
MSRP: $1,099.00
Manufacturer's Contact Information:
Samsung U.S.A.
105 Challenger Road
Ridgefield Park, New Jersey 07660
Tel: 973-601-6001