LG 55LW5600 Cinema 3D LED HDTV Review
By Ian White
Edited by Chris Boylan
The passive shall inherit the Earth?
Kool-Aid. While it may be the favorite drink of millions, it was something that I never really warmed up to as a child. Never really liked the taste; my seven-year-old taste buds preferred the burn of Vernor's Ginger Ale and Brio Chinotto. When adults speak of drinking the Kool-Aid, it has a completely different meaning and it is rarely a good one.
Having sampled the various flavors of 3D HDTV and Blu-ray 3D, I am no longer on the fence. Sorta.  As much as I've developed a distate for what passes for "3D" in cinemas these days, I do still appreciate the effective use of 3D in films (Avatar and Tangled come to mind).  So, upon hearing about the recent push toward passive 3D TV solutions from vendors such as LG and VIZIO, I cringed.  I couldn't imagine enjoying Blu-ray 3D discs on what is effectively a half resolution format (the polarizing filters built into current passive 3D TVs cut effective resolution in half by allocating each alternate row of pixels to each eye).
LG would be quick to point out their "full HD 3D" certification from VDE in Europe, but without details as to how this certification was determined, and with direct observations that suggest otherwise, we are skpetical about these "full HD 3D" claims.
Even with the inherent advantages of passive 3D: cheaper glasses and brighter images, plus the claim of a more "restful" 3D viewing experience, I couldn't fathom why consumers would want to sacrifice image detail for the sake of convenience. If you can't see the differences between an active set and a passive one, you're wasting your hard earned shekels buying either one. So where does that leave a tricked out passive LED Cinema 3D HDTV like the LG 55LW5600? Based on the actual responses to it in my home (where another highly rated active 3D HDTV resides), it may well be the future of 3D.
Fans of full resolution active 3D TV technology might not be ready to drink the Kool-Aid just yet, but a little sip never hurt anybody.
Everybody's Got an Opinion
One of the perks of being a reviewer is that we get to compare competing technologies in the social environment of our homes and I always invite friends and family over during the review period to gauge their reactions to the various new products. My children love going to the movies and also seem to enjoy being my guinea pigs when it comes to HDTV reviews. It's amazing what you can learn from little kids who go into this without the biases of a jaded critic.
Passive 3D may never be my own personal cup of Kenyan Gatomboya (through a Clover brewing machine), but I suspect if 3D TV has any chance of graduating beyond the domain of early adopters and A/V aficionados, it will have to be through the passive 3D format. The consortium of active 3D manufacturers  (Panasonic, Samsung, Sony) took its sweet time to join forces and work to develop a universal, more affordable active 3D glasses standard, but I suspect that the proverbial cherry Kool-Aid has already been consumed by many; especially by consumers in Asia and Europe who seem to prefer passive 3D in both movie theaters and in the home, and in large numbers.
Timing is often everything when it comes to consumer products and it's easy to understand why a nation of unemployed folks (that would be the goold ole US of A) would not rush out to buy an expensive 3D HDTV and a bowl full of expensive active 3D glasses when the bank is calling about a mortgage payment that is overdue. Had the format been launched before the real estate implosion and financial crisis, things might have been quite different. Toss in a devastating earthquake and tsunami that ravaged Japan in March, you have to start to wonder which side the big guy is on.
How do you take your humus?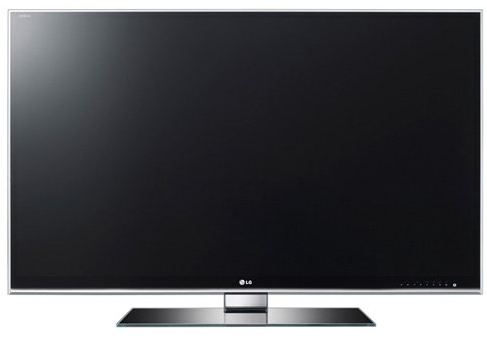 The 55-inch LG 55LW5600 LED 3D HDTV ($2,399) is an intriguing piece of technology; it offers solid performance -- particularly in 2D mode -- excellent features, and certainly looks the part. Its price tag might cause some sticker shock on our side of the pond (especially in comparison to the list prices of similar sized 3D-capable sets from Samsung, Panasonic, and VIZIO), but I was surprised to find out from some recent house guests from Israel that LG is considered to be
the
brand in the land of milk, cottage cheese, and Grad rockets. When I mentioned the price, my guest shrugged and told me that nobody in Israel in the market for a high-end HDTV would complain about that price. Spoiled we are in America, apparently with our big box stores and our even bigger shopping carts.
Also, to be fair, a recent sampling of actual "street prices" of comparably sized and featured 3D-capable TVs from LG, Samsung, Sony and Panasonic (on Amazon) narrows the pricing gap significantly.  Savvy online shoppers in the U.S. should pay no more than $1500 for this set, which is not far off from the competition.  And when you consider the pricing of passive vs. active 3D glasses, and the fact that LG includes four pairs of glasses in the box, that sticker gets a lot less shocking.  You can see for yourself at the below link (TVs may need to be placed into your shopping cart in order to see final pricing):
With the four pairs of 3D glasses in the box, and considering that RealD 3D glasses can be liberated from your local theater for free (not that we're condoning stealing those...much), that makes outfitting your neighborhood with passive 3D spectacles quite affordable.  Search a more legitimate source of generic passive 3D glasses such as Amazon, and you'll find compatible eyewear for as little as $10 for 3 pairs.  The 3D glasses included in the LG box are lightweight and comfortable for extended periods, but they are not as robust as the RealD 3D passive shades we've used in local theaters. Shame on my five year-old son for stuffing 8 pairs in his pockets.
[editor's note: "I'll take Inappropriate Parenting Behavior for $500 please, Alex"]
Black boxes made of ticky tacky.
The 55LW5600's footprint is a very sleek 50.9" x 33.5" x 13" on its supplied stand (one of the best stock stands we've seen).  It took less than 10 minutes to have the set assembled and safely placed on the media console in our recently remodeled den. Should you decide to mount the 55LW5600 on the wall, you will be pleased to know that the panel itself measures a mere 1.2". The weight is also a very manageable at 48 pounds so I had no issue lifting it by myself. The bezel is slightly reflective, but not enough to have any significant impact on the screen. The overall look of the panel is quite sleek and high-end.
From a connectivity perspective, the 55LW5600 gets very high marks; 4 HDMI 1.4a-compatible inputs, 2 component video inputs, 2 USB 2.0 ports, an optical digital output, 1 LAN input, and many more. The supplied Wi-Fi adapter worked perfectly out of the box. The set is also DLNA and Windows 7 certified so it can stream content directly from any DLNA-compatible server in your home network.
I Stream, You Stream
Speaking of streaming, in addition to local network content, LG's Smart TV function allows you to connect to Netflix, VUDU, Hulu Plus, Amazon Video on Demand, MOG, and Facebook (and many more). The one glaring omission is Pandora and I hope that LG rectifies this in the near future. LG's apps include a collection of games which I found only mildly entertaining and I think that they detract from the set's rather solid collection of streaming media apps.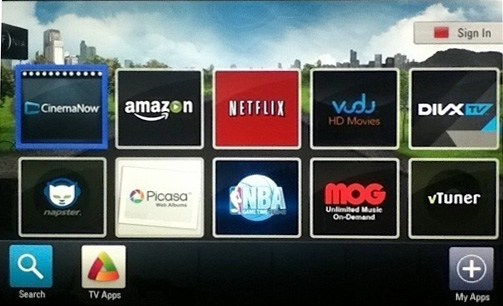 The Smart TV interface is easy to navigate and I liked the fact that you can create a custom home page with all of your favorite media apps; which can be directly accessed from the supplied remotes.
LG has decided to include two remotes with the 55LW5600, and this is where LG kinda lost me. The main remote (which is quite handy and easy to use) does everything you need, although it would have been great for LG to include a QWERTY keyboard on the other side, as VIZIO and Samsung do on their smart TV remotes. The supplied Magic Motion remote (which my very astute son called his "third Wii remote") doesn't justify its existence at all. Not only is it not necessary, but we lost it twice due to its diminutive size.  I also couldn't get the LG app for my iPod Touch or iPad 2 to work with the set, which was quite frustrating.
[editor's note: some reviewers feel quite differently about that Magic Motion remote, as in Greg Robinson's review of the LG PX950 Plasma].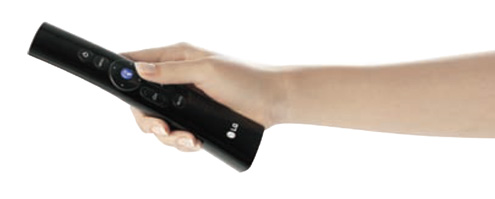 Neither one of these remote issues is a deal breaker, but they should be addressed, particularly the issues with the LG remote app. To its credit, LG is constantly updating the 55LW5600's software and I went through no less than five updates during the review process, most of thewhich involved adding new media apps to the interface, at no incremental cost I might add.
"You traded the Bluesmobile for this?" - Jake Blues

"No ... for a microphone." - Elwood Blues
The 55LW5600 is one of the upper end models in LG's Cinema 3D line-up and the 1080p LED HDTV looks pretty darn good out of the box. The TruMotion-enhanced 120Hz set utilizes LG's LED Plus backlight system with local dimming. While the set measured well during the calibration process, I did notice that it suffered from some lighting uniformity issues; similar to those observed by our editor Chris Boylan in his VIZIO VXT3D650SV Review. The corners (bottom left is the most glaring) are certainly brighter than the rest of the screen in dark scenes and even though I was able to dial that down during the calibration, it was always visible on certain content.

Unlike the VIZIO, however, the passive LG does not suffer as egregiously from the stair-stepping issue (jaggedness on diagonal lines) nor does it degrade significantly in the detail department when you switch over to viewing 3D content. The reason for this may stem from the technique LG uses for making up for the loss of detail in the FPR filter.
The FPR (Film Patterned Retarder) is a filter on the screen that separates the left and right eye images using a technique called circular polarization in order to create the 3D effect.  Each odd line of the image contains one half of the 3D image while each even line containts the other half.  The odd rows are polarized through the FPR filter in one direction (clockwise) while the even rows are polarized in the other direction (counter-clockwise).  Passive 3D glasses separate these signals out so that each eye sees only what it is supposed to see, and the brain pieces this back together for the illusion of 3D.  It's a neat trick, but it means that each eye's image data is cut in half from 1080 lines of resolution to 540.
LG compensates for this loss of detail by displaying the other half of the data for each eye on the screen in rapid succession.  In their words, "our sets deliver both the odd and even lines to each eye sequentially in the same time frame (60Hz) as an active shutter set does."  And so the claim is that the customer still sees full 1080p resolution, even in 3D mode.  But our observations don't quite support that claim.  The results in 3D mode were better than on the VIZIO, but also the image was noticeably less detailed than an active 3D TV.
I was present when Lord Boylan conducted the Avatar starfield test on the VIZIO.  On an early scene in the Blu-ray 3D version of Avatar, stars in the background blinked out of existence as they passed through the dead zone between rows of pixels on the VIZIO set, leading to a very distracting 3D image (and not in a good way).  On the LG set, we did not observe that rather glaring artifact. In fact, the 55LW5600 might have done a better job with Avatar than any passive 3D HDTV that I have had the opportunity to watch to date. The LG even outperformed a number of active 3D sets with that film, but let's not start pounding the Kool-Aid quite yet.
The 55LW5600 has a number of picture modes, but you'll want to limit yourself to Cinema mode as a starting point as it's the most accurate out of the box. The set is ISF-certified; which means that you can save separate Day and Night modes (and lock the kids out of them) and this feature proved to be quite handy. Using my CalMAN 4.0 calibration software and various meters (I did let the set burn-in for about two weeks before making any meaningful changes), I got this little lady ready for the prom. The set measured a respectable 7,790 Kelvin out of the box (with color set to "warm") and I managed to get it down to almost 6,850 after making some adjustments to the grayscale and the other settings. The set's color accuracy was quite good (even better after making some adjustments using the set's CMS adjustments in the set-up menu).
Black levels on this LED HDTV are quite solid, but I still think that the Panasonic TC-P50ST30 plasma that I reviewed in May does a better job; deeper blacks with better shadow detail. The Panasonic's image is more film-like to my eyes. The LG does do a good job with detail and the image was always quite crisp looking without any annoying artifacts.
I ran the usual battery of tests to check for de-interlacing or cadence problems (with both DVD and Blu-ray) and the 55LW5600 passed these with flying colors. The LG BD670 Blu-ray 3D player that I reviewed recently was also very solid with these tests and it is quite clear that LG is paying close attention to the technical performance of its products as they are starting to rival the best products in the marketplace.
"Who's scruffy looking?"
When it comes to 3D content (I won't even waste space talking about the merits of 2D-3D conversion...there are none), the 55LW5600 reproduces one of the brightest, sharpest, and most detailed looking 3D images that I've seen so far from a passive set. Avatar may not have been a great movie (at least from a storytelling perspective), but the visual quality of the film has not been surpassed by any 3D film that has followed. It is the visual benchmark that all 3D films (and perhaps most modern 2D films) should be judged against.
The aforementioned Panasonic ST30 was rather spectacular with this film's Blu-ray 3D release, but it was also quite dark looking; one of the big issues with active 3D -- particularly active 3D on plasma -- that has turned people off. I've seen Avatar look rather unimpressive (which is a rather dubious feat for any HDTV) on both active and passive 3D sets, but the LG soared with this film. I wasn't expecting such a high level of detail from a passive 3D LED HDTV, but you can't help but be impressed by the 5LW5600's performance. The brighter image also contributed significantly to the effectiveness of the 3D; even in a room with some ambient light issues.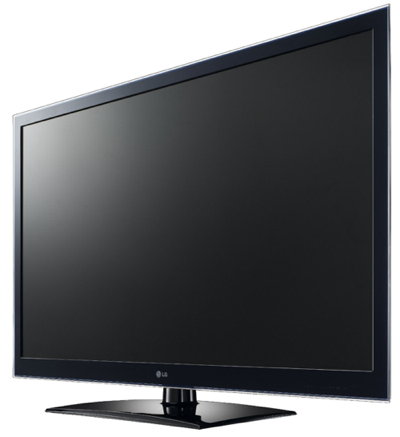 I queued up some of our favorite 3D films; Tangled, Despicable Me, and SI's 2011 Swimsuit Issue (my kids promised not to tell...for $20), and the experience was quite interesting. Not only did my children endorse the picture quality, but they said with unanimity that 3D films looked better on the LG passive set than on the Panasonic active plasma. The reviewer in me wanted to correct them with why the LG couldn't look better than the Panasonic set (which I still think is a better HDTV overall) with 3D, but I quickly realized that my explanation would fall on deaf ears. Nothing I could say would change their minds and when their friends were asked to make the same comparison, every child selected the LG for 3D viewing. A PR victory for the folks at LG. A big one.
When it comes to crosstalk (ghosted edges on 3D content), the LG does exhibit some of this, especially if you change your viewing angle and watch standing up. Looking at the set from too high or too low actually makes the 3D effect collapse entirely with nothing but doubled images.  Sitting too far off-axis also caused some issues, if you were more than a few feet on either side of the set. On poorly mastered Blu-ray 3D content (which sadly describes a lot of it), the crosstalk is a bit more pronounced; but I wouldn't bash the 55LW5600 on that issue too harshly as most 3D HDTVs have issues with such content to a greater or lesser extent.  And if you keep it in "the zone" -- not too low, not too high, and not too far off to the side -- the 3D effect is stable, deep and realistic.
The film purist that resides inside me still prefers the image quality of the Panasonic with 2D content (love those deep black levels), as well as the detail present in the active 3D image, but I can't say that I'm entirely disappointed with my first full glass of passive 3D Kool-Aid.
Turn-ons
Excellent picture quality with both 2D and 3D content
Plethora of connections
LG's Smart TV interface is easy to use
Worked well with numerous Blu-ray 3D players from 4 different manufacturers
Solid Design
Cheap glasses (and 4 pairs in the box) make 3D a much more social experience
Viewer opinions make a compelling argument for passive 3D
Turn-offs
Relatively expensive
Some lighting uniformity issues
Magic Motion remote is useless
LG Apps (games) are not terrribly interesting
No Pandora
Limited vertical viewing range in 3D mode
Detail in 3D mode suffers compared to active 3D sets

Final Thoughts
The folks in the active 3D camp are not going to like this, but LG has figured out how to make a passive 3D HDTV that will sell the technology better than anything the competition has come up with for under $2,500. The inclusion of four pairs of glasses is a smart move and likely to influence potential customers. If LG can figure out how to make a 70-inch version of this set for under $4,000, I will gladly drink the entire pitcher of Kool-Aid. Highly recommended.
Manufacturer's Specifications:
Manufacturer Contact Information:
LG Electronics1000 Sylvan AvenueEnglewood Cliffs, NJ 07632
ph: 1-800-243-0000
Website:www.lg.com