LG BD670 Blu-ray 3D Player Review
By Ian White
Edited by Chris Boylan
The Rodney Dangerfield of Blu-ray Players?
One of the worst things a reviewer can do is live life inside a bubble (no, not the kind of bubble that Travolta lived inside in that crazy movie with the girl). I know that there are reviewers who venture out to the occasional trade show (mostly for the free food) and solicit review gear that way, but for the most part it comes to us via FedEx or UPS after the PR folks offer it up.
It is distinctly possible that I just enjoy getting out of the house, but I make a point of visiting the big box stores (Costco, Best Buy, Target, BJs) at least once a week; yes, I lurk in the aisles pretending to read the greeting cards or fondle the fresh produce, but what I am really doing is listening to what customers are asking for in regard to HDTVs and other components. Call it market research if that makes you happy.
Samsung, Sony, and Panasonic have justifiably earned their "premium" badges in the world of HDTVs and playback devices but LG is one major manufacturer that doesn't seem to get enough respect. Despite having a nice chunk of the TV and Blu-ray player market, the LG brand just doesn't seem to have the panache of a Sony or a Samsung as a premium product.  Having just spent some quality time with both the Panasonic DMP-BDT210 Blu-ray 3D player (review forthcoming) and LG BD670 Blu-ray 3D Player, I'd venture to say that LG might need to get some polish ready because that "premium" badge is going to look mighty pretty.
LG is taking the picture quality issue so seriously that they are now partnered with the good folks at the ISF (Imaging Science Foundation) and THX, offering HDTVs with ISF calibration settings and THX certification. That's great news for consumers as the THX picture modes on a number of new HDTVs from Panasonic and LG offer outstanding performance out of the box.  But it's also good news for custom installers as all their careful calibration settings can be stored in ISF day and night settings on select LG TVs.  This dedication to picture quality flows over into LG's Blu-ray player line-up as well.
The Dude Abides...
The BD670 Blu-ray 3D player looks like...well, almost like every other Blu-ray player out there. Thin is in in 2011. It is not enough that I have to watch Kate Winslet get all crazy skinny, but now I have to watch movies on television screens connected to players that are approaching the thickness of matzo. My OPPO player has nothing to fear in that regard. I like a woman with some meat on her bones.

LG doesn't offer a player with a touch-sensitive top panel yet (gotta love that feature on the Panasonic players), but they did figure out how to pack a great CD, DVD, Blu-ray, Blu-ray 3D, player and media streaming device in a chassis only 1.9" tall, so they are certainly playing with the big boys.
In many respects, with all this talk of the "cloud," it makes me wonder how relevant any of these players are in 2011.  Some may think portable media players and the ability to store your content on the cloud for access from multiple devices may end up being the final nails in the coffin for physical media playback. But I disagree.  Am I selling my records? Not a chance. Am I adding Blu-ray discs to my film collection at a frightening rate? 300 so far in 2011 and it's only May.
Why am I doing this?
If the recent troubles surrounding Sony's PSN have taught us anything, it is that networks are not 100% secure (especially when their encryption security isn't up to snuff) and that nothing beats having the real thing to put in the player rather than relying on some cloud or internet connection that may not always be available, and when it is, it may not have sufficient bandwidth to deliver a movie in sufficient quality to take advantage of my high-end home theater system. You know what happens when clouds get too heavy with moisture (users)? It rains. Sometimes, it even pours.
But the LG BD670 is a good hedge as it includes top notch playback of silver discs as well as a good selection of streaming media services all in one box.
The BD670 Blu-ray 3D player is a tad on the expensive side. At $249 MSRP  (although you can get it for a lot less on Amazon), it is almost $50 more than the Panasonic DMP-BDT210 and I would suggest, without giving away too much of my forthcoming review that their performance is pretty comparable. Both do well on the technical tests and neither one has a huge edge over the other in picture quality.
So why even consider the BD670?  If you live for media streaming, solid playback, and DLNA-compatibility; this player comes to play.
Uncle Howie's Test Bench
I had an Uncle Howard who was this mad genius. He was a brilliant engineer, but also incredibly crazy. Scared the bejesus (or is it the beMoses?) out of me. He went off the reservation and did a lot of time in the big house. The one thing I remember about him is that he used to have all of this test gear in his basement. He would build stereo components and CB radios and test every last capacitor and hand solder every resistor. When he was done, he would run a battery of tests and not be satisfied until it worked flawlessly. "Never accept crappy engineering." That was his parting advice.
If you buy one test disc for your home theater, invest in a Blu-ray copy of the Spears and Munsil High-Definition calibration disc. It has a fabulous set of tests that will tell you a lot about your HDTV or Blu-ray player.
The BD670 soared through this battery of tests with one exception; it failed the Chroma Zone Plate test. Is that bad? Well, the fact that it doesn't pass full chroma resolution isn't great, but what would be more telling would be truly visible issues with color while watching films and television programs. Players that do well with chroma upsampling can reproduce fine lines of color detail and borders between light and darker colors effortlessly, with minimal color bleed.  This is more noticeable on certain material and usually only visible at larger screen sizes. A great Blu-ray to test this out is Baraka, which has some glorious looking fly over shots of a volcano. The BD670 did a fairly good job with minimal bleed, but the Panasonic BDT210 did a better job of resolving the detail between the glowing red magma and the charred rock background.

I ran the player (briefly) through 2 calibrated HDTVs (
Panasonic TC-P50ST30
,
Samsung LN40C670
), and a calibrated JVC DLA RS25 projector, before plunking it down with the LG 55LW5600 55" 3D LED HDTV for most of the testing (review also forthcoming) and didn't see too much evidence on real world content of poor chroma upconversion.
The LG did pass the luma multiburst, chroma multiburst, luma zone plate, and both chroma upsampling error tests, so I'm not sure what to make of the failed chroma zone plate test as it doesn't seem to have that noticeable an effect on real world program material. But the Panasonic BDT210 passed all of these tests as well as acing the Chroma zone plate test.  So does it matter?  It may if you view content on a really large screen and are very conscious of minute color details, but for most people the Blu-ray performance of the BD670 will be just plain fabulous.
When it comes to deinterlacing performance, converting interlaced DVDs and 1080i Blu-ray Discs to 1080p progressive output, the BD670 is rock solid. My son loves watching the race car clip from "Super Speedway" which is used on several discs to test a player's 2:3 cadence detection. If a player is able to detect this as a film-based 24 frame/second source, you'll get clean details in the background grandstands.  If not, you'll get major moiré distortion in the grandstands - curved lines that shouldn't be there.  So while Jake likes watching the car zoom around the track, I focus instead of the background.  What little moiré I saw vanished faster than any player I've tried to date. Impressive.
The player also passed every cadence test we threw at it. The jaggies test didn't trip the player up, but it wasn't perfect. Certainly a little better than the Panasonic player. The performance with DVDs was equally as impressive using the HQV 2.0 Benchmark disc.  Unlike the Panasonic, the LG player lacks 24P output capability on DVDs so film-based standard def material may have some judder artifacts (uneven motion) unless your TV is able to detect and correct for that.
The one area where the BD670 was disappointing was its disc-loading times. On some of the newer Blu-ray 3D discs (Tangled, Gnomeo and Juliet, Despicable Me), it loaded quite quickly. On some of the torture Blu-rays like The Expendables and Pirates of the Caribbean: Curse of the Black Pearl, the LG was noticeably slower than the Panasonic. On The Expendables, the BD670 took 1 minute and 27 seconds before loading the Lionsgate gears. That isn't quick. POTC: COTBP took 38 seconds which is dramatically slower than the DMP-BDT210. On DVDs like Gladiator, the BD670 took 13 seconds to present the Dreamworks opening; the Panasonic took 17 in one of the rare instances where it was slower than the LG player. The BD-Live heavy Inglourious Basterds took 59 seconds which is also quite average.
Interestingly, the BD670 was faster with streaming media than the Panasonic -- 2 seconds faster accessing Netlfix and getting to a movie. Overall, the Panasonic is a faster loading player. I'd call the BD670 average or below in this category.  It's no speed demon.
Speed, however, should be secondary to image quality and that's where the Panasonic Blu-ray player has a big leg up on the LG. Panasonic has implemented its UniPhier chroma upconversion and scaling technology on streaming sources this year and it does have an impact on streaming media image quality from providers such as Netflix and VUDU. The picture quality is better on the 2011 models; sharper image, greater detail, less edge enhancement. The LG is far more dependent on the quality of the stream versus the Panasonic. If you watch a lot of movies via one of the online streaming services, this might be important to you.
So many movies. So little time.
One area where the BD670 isn't average, is media streaming capabilities. The SmartTV interface is a tad clunky looking (not as polished as Samsung's), but it's also easy to navigate and there is a lot to select from. A recent firmware update added Amazon Instant Video and MOG, and it's hard to complain when you have Netflix, Vudu, CinemaNow, and Amazon Instant Video staring right at you. Hulu Plus is still noticeably absent, as is access to Facebook (kickass) and Twitter. But I'm personally not too disappointed by these omissions.  Pandora, Napster, and MOG are your main choices for music; aside from Slacker, what else could you possibly want?
[editor's note: LG informed us after publication that they expect to deliver Hulu+ and NHL to this player in a firmware upgrade next month, with Twitter and Facebook to follow some time later this year]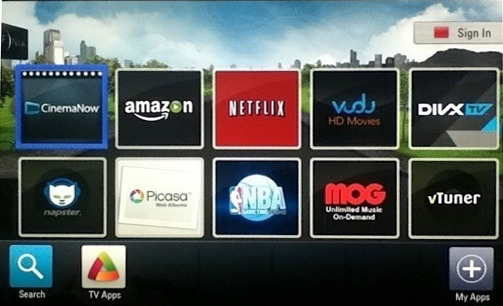 The LG apps are not on the same page as the premium ones (see above), and I think that may confuse some people. Granted, the current selection of LG apps is pretty limited and I couldn't find one that interested me. Samsung clearly has a leg up in that department, though they, like Panasonic, limit their third party app catalog to their TVs (their players only include the standard streaming services).
One thing I didn't like about the remote is that it lacks a button to directly access the premium apps. You need to navigate through an additional page to find them and with other remotes offering specific Netflix and Vudu buttons, LG needs to pay closer attention to this.
The streaming video quality was generally good across the board; wired was preferable to wireless, but the LG's WiFi capability was still quite respectable in a house filled with wireless devices feeding off my router. Setting up the player to work with DLNA was quite easy and I had music and pictures streaming in under 10 minutes. Okay, I'm a tad slow of late. All of the various media formats that I tested worked flawlessly, but that doesn't guarantee that every format will be problem-free; there's always one to cause trouble. Hate those pesky AVI files.
LG also offers a remote control app that works with your iPhone or iPod Touch (let's not forget our friends at Google) and while it worked, it doesn't do enough to make it something that I would go to on a regular basis unless I lost my factory remote or the dog ate my universal remote.

Your Inner Sanctum
Sanctum 3D may have been an awful film, but it did give me the opportunity to test the BD670 on both an active and passive 3D set-up and compare the two. My general dislike of passive 3D systems is well-known, but I must confess that the BD670 with the LG LED Cinema 3D passive-glasses HDTV was pretty respectable. Sanctum 3D certainly looked better on my active 3D Panasonic set-up; almost no crosstalk, deeper blacks, a true HD 3D image -- but the difference in picture brightness was disconcerting. I'm still ready to sock Cameron in the nutz for telling folks to support passive 3D, but I can see why it would be an easier sale; cheaper glasses, brighter image.
The BD670 produced terrific results on both sets, so it's hard to slam either format.
Animated films have kept the 3D flame burning (live-action films better get good quick because the natives are restless) and with a house full of kids who love movies, it's inexcusable for me not to own everything that is available (which isn't that tough considering how little there is). My son loves Despicable Me. My daughter loves Tangled.
Both make fantastic demo material and the LG didn't disappoint. We switched between active and passive (I had to bribe them with money) and back. Both kids thought the passive LG system looked better. When I told them that the Panasonic had real HD 3D, they shrugged and returned to watching Gru on the LG. Very interesting.  From the mouths of babes, indeed.
We also checked out the IMAX Under the Sea Blu-ray 3D disc, which was previously a promo title that LG distributed with its 2010 players (but no longer). Minus the fact that it is narrated by Jim Carrey (who is really annoying), it's gorgeous to watch.
Standard Blu-ray releases looked genuinely solid, but I must confess that the passive vs. active debate kept raging inside my head. Your home theater life can be very good with the BD670 regardless of which technology you decide to go with.
Final Thoughts
LG has played second fiddle to Panasonic, Samsung, and Sony for far too many years, but with the BD670 Blu-ray 3D player, they come to the party packing some substantial steel. While not inexpensive, the player delivers excellent Blu-ray and Blu-ray 3D playback, and is one of the best media streaming devices available today. Throw in excellent support for DLNA and almost every relevant media format and you have the makings of a first-class device. If you can deal with the absence of Facebook, Twitter, and Hulu, and don't mind the average disc-loading speed, this is a player to seriously consider. Highly recommended.
Turns Ons
Excellent picture quality with Blu-ray and Blu-ray 3D
Easy to use interface
DLNA server access works flawlessly
Fantastic media streaming
Amazon Instant Video, Vudu, Netflix, CinemaNow, Pandora, MOG
No Hulu, Facebook, Twitter (though LG says they are coming soon)

Performed well on most technical tests
Turn Offs
Slightly expensive compared to competition
Interface cosmetics need work

Remote should have direct link to apps like Netflix or Pandora
Disc-loading times are average to below average

No Hulu, Facebook, Twitter (though LG says they are coming soon)

Failed Chroma Zone Plate test (weak chroma upconversion)

Where to Buy:
Product Details: LG BD670 Blu-ray 3D Player
Blu-ray 3D Disc Playback
Wi-Fi Connectivity
NetCast Entertainment Access
Blu-ray Support
Full 1080p HD Resolution
USB 2.0 Connectivity
Express Reaction Support
Disc Capacity: 1
Disc Playback Capability

Blu-ray Disc, BD-R/RE, DVD, DVD +/-R/RW, Audio CD, CD-R/RW

Video Content Format:

DivX, DivX HD, MPEG-4 AVC, HP L4.1, MPEG-2, HP ML, SMPTE, VC1, AP L3, AVCHD, MKV

Home Link Playable Content Format:

DivX, DivX HD, MPEG-2, TS/PS, MPEG-1 SS, XVID, MKV, AVI, WMA, MP3, AC3, AAC, JPG, PNG

SimpLink Connectivity
Warranty: 1 Year Parts, 90 Days Labor
Menu Language: English, Spanish, French
LG App Store:

Netflix, Vudu, CinemaNow, YouTube, Pandora, Picassa, Amazon Instant Video, NBA Game Time, Napster, MOG, Accuweather, Google Maps

MusicID
Home Link (DLNA Client)
Blu-ray BD-Live
Screen Saver
Zoom
Marker/Search
Resume Play
Lock (Parental Control)
Search (Fwd/Rev)
Repeat
Video Capabilities:

Digital/Analog Conversion: 12-bit/162MHz
NTSC Hz: 60Hz
Deep Color (HDMI)
x.v.Color (HDMI)
Component Output: Limited to 480i due to AACS rules
HDMI Output: 1080p (24 and 60Hz)

Audio Capabilities:

Digital/Analog Conversion: 24-bit/192KHz
LPCM, Dolby Digital, Dolby Digital Plus, Dolby TrueHD, Dolby Digital 2 channel Down Mix, DTS, DTS-HD Master Audio

Audio/Video Inputs & Outputs

HDMI: 1
Digital Audio Output : 1 Optical
Audio L/R: 1
Component Video Out: 1
LAN Port: 1
USB Port: 1
Composite Video Output: 1

Wireless LAN

Internal Antenna
Wireless Networking Access
Wi-Fi Certified: 802.11b/g/n (2.4GHz band only)

Accessories:

Remote Control
Batteries
Quick Start Guide
Customer Registration Card
A/V Cable

Dimensions:

16.9"W x 1.9"H x 7.9"D
4 lbs
MSRP: $249.00
Manufacturer Contact Information:
LG Electronics
1000 Sylvan AvenueEnglewood Cliffs, NJ 07632
ph: 1-800-243-0000
Website: www.lg.com