DISH Network Hopper Whole-House DVR Review
By Rachel Cericola
Edited by Chris Boylan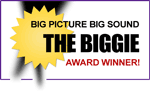 Let's get hopping!
Back in January, DISH Network introduced the Hopper Whole-House DVR to thousands of slobbering International CES show attendees. In May, the satellite provider unleashed its latest and (yes!) greatest box on subscribers (and those commercials on everyone else). While another black box doesn't seem all that thrilling, DISH is doing something that hasn't been done since the early days of TiVo: They're actually making the digital video recorder category exciting again.
That's because the Hopper is packed with a ton of exclusive new features. First, the box has a hearty 2TB of storage. So no more playing favorites; the Hopper can hold about 2,000 hours of your recorded movies and TV programs. However, it doesn't restrict live or recorded content to one main viewing area. Using secondary boxes called "Joeys" (get it? Hopper? Joey? Kangaroos? Anyone?), subscribers can pause, play and rewind live and recorded programming stored and recorded on the Hopper in up to four other rooms without interfering with the main viewing system.
A huge hook on the Hopper, however, is not how much the box can hold, but how it records that content. The Hopper box packs in three tuners, but can actually record up to six HD shows at the same time via the new PrimeTime Anytime feature. It can even effectively eliminate commercials from your viewing experience, using something called Auto Hop. But I'm getting ahead of myself and you're just going to have to read on to learn all of the ins, outs, and edits associated with this magical box.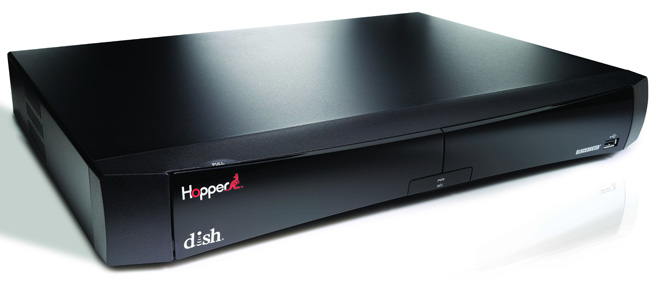 Hopping on the Hopper Bandwagon
Unlike TiVo, which offers DVRs for OTA broadcast and/or cable use, the Hopper is exclusively available to DISH Network subscribers. It's also a freebie (some exclusions may apply) for new customers who sign up for the America's Top 120 package and up. Existing customers and lower tiers should expect to pay $99 for the equipment, though you should contact DISH directly for details on pricing as this may vary. Once you've got the hardware, you'll need to pay $10 a month for the Hopper (the "DVR" fee) and $7 each (per month) for any Joey or Hopper you add to the account. Each Joey enables another room or zone to share in that Hopper goodness.
If you'd prefer to own the Hopper outright, that will cost you a bit more up front.  You can't currently buy the units from DISH, but you can from third party resellers. Solid Signal currently has the Hopper for about $350 and the Joey for about $120.  Of course, you still need a DISH subscription to make it work.
While pricing seems pretty straightforward, I had a lot of other questions going into the Hopper installation. Thankfully, no less than three DISH technicians showed up for my installation. Since we were one of the first in the area to receive the new box, apparently we got special treatment.  The guys were very knowledgeable about the Hopper and its capabilities -- and were pretty enthusiastic about the system as well.
For this review, DISH hooked one Hopper box to my 50-inch 1080p Panasonic plasma 3D TV, with one Joey connected to a small 720p HDTV located in the bedroom. One Hopper can accommodate up to three Joey boxes or you can go whole hog with two Hoppers with up to three Joeys each, for a maximum of eight TVs. That said, the Joeys can only access the DVR features and tuners from one Hopper -- at least right now. DISH says that there are plans for mixing and matching in the works.
Speaking of features we're waiting on, the Hopper does not currently offer support for over-the-air programming. Those of you tapping into extra channels using a DISH DVR and an OTA antenna will lose those channels -- at least for a while. While a DISH spokesperson says that this is a feature they are working on, there's no definitive promise that it will be added soon (or ever).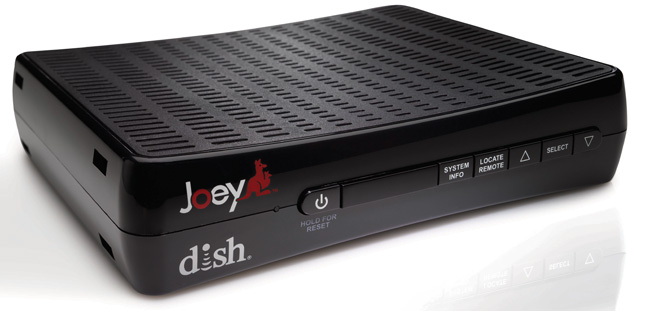 Say Hello to the Hopper!
At 16 by 11.4 by 2.05 inches, the Hopper DVR is much slimmer (and shinier!) than some of DISH's previous receivers. The front has a single USB port and a panel that flips down to reveal a Smartcard slot, a reset button, a 4-way navigation pad and other manual controls. The one button that's the most interesting (and insanely useful) is Locate Remote. Push this button and within seconds, you're remote will flash and sound off an audible tone. Don't worry about having to search the couch cushions -- unless that's where the sound is coming from, of course.
Around the back of the Hopper, there are HDMI, component and composite outputs, a digital audio output, two more USB ports, an eSATA port, and dual Ethernet ports. You're going to need one of those Ethernet jacks to hardwire the Hopper box to the web. Sadly, there's no built-in WiFi, although you can add that option with a $90 dongle [or get a Trendnet wireless adapter for around $40 instead - Ed.].
Speaking of add-ons, you may want to set aside another $100 for the Sling Adapter. Surprisingly, DISH didn't include Sling features in the Hopper box. Odd? Well yes, considering that DISH owns Sling Media and built such features into the last DVR, the ViP922. The Hopper can certainly Sling with the best of them, though, as well as DISH's compatible app. However, you're going to need that Sling Adapter to do it.  For more on the Sling Adapter and all it can do, see our Sling Adapter review.
Run, Joey, Run!
At 6.62 by 5.27 by 1.49 inches, the Joey is much more compact. The front has buttons to reset the box, show System Info and flip channels, as well as the catchall Select button. Since the Joey has its own remote, it also has its own Locate Remote button. Around the back, there's an HDMI output, a Digital Audio out, one USB port, an Ethernet jack, and composite AV jacks.
Also, it should be mentioned that even though the Joey has an Ethernet jack, it does nothing at this point. According to the techs, this will allow for on-demand access, Pandora and other web-based services at the location of the Joey -- assuming that's not an option where the Hopper is installed. If you have web service at the Hopper, you don't need it at the Joey. For instance, some people may not have web access near the TV, but have it in the bedroom. At this point though, it doesn't matter; that Ethernet jack is not supported just yet.
Not Exactly Jumping for Joey
The Hopper installation seems pretty easy, in theory. My particular install, however, was a bit of a nightmare. The techs could not have been nicer and it seemed like a rare incident, but one that I need to mention (or rant about) anyway.
My installation took a total of six (6!) hours. That time featured no new wiring but all three technicians were working simultaneously to get it done. The system uses MoCA (Multimedia over Coax Alliance), so it streams the audio and video data through the coax cables which are (hopefully) already running through your walls. It's nice that you shouldn't need to run any additional wiring. Apparently, I had a random splitter left over from the previous homeowner, and it seemed to be messing up the Hopper's communication with the Joey. However, even after the splitter was removed, the Hopped and Joey wouldn't link. Two Hoppers and four Joeys later, everything was hooked up and working and everyone couldn't have been happier.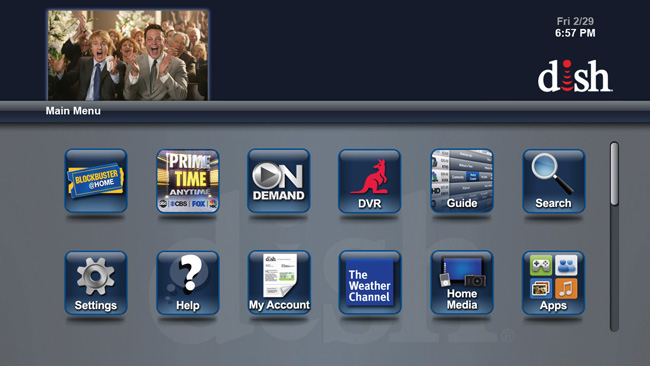 Strange, New World
Once you fire up the Hopper, the most obvious difference is, well... everything. DISH has completely redesigned the user interface, making it more pleasing to look at, but not without a learning curve.  Customers with a ViP922 won't be too befuddled but I'm stepping up from an older ViP722k so things look significantly different.
The Menu button offers a graphical peek at all of the options at your fingertips. This screen offers a total of 12 options, including perks such as Blockbuster@Home, the new PrimeTime Anytime feature, On Demand, the DVR, the Guide, Search, Settings, connected Home Media, Apps, and even instant access to The Weather Channel. This spot also provides instant access to maintenance and customer service features, such as Help, My Account info, Purchase History, Caller ID, the option to Transfer Recordings to and from an external drive.
It's also important to note that once the Hopper was installed, some of my channels had changed as well. First of all, the Hopper does not support the standard-def version of channels that are available in HD. My old ViP722k gave me both options. This was not the case with the Hopper, and our technician confirmed that this was something new.
Also, Sports, Sirius and all of the music channels had moved. Also, the actual look of those Sirius channels changed as well, with a slightly different on-screen graphic.
PrimeTime Anytime, All the Time

One of the Hopper's best features is something new called PrimeTime Anytime. This option allows users to record up to six HD programs simultaneously during primetime hours, four of which are recorded via one of the Hopper's three tuners. In other words, you can watch True Blood in one room, Food Network in another, and still record The Good Wife, Family Guy, and everything else on the four major broadcast networks during primetime hours.
How does it accomplish this nifty trick? Apparently the four major broadcast networks are all transmitted by DISH over the same stream so a single tuner is all that is needed to capture all of these channels in this stream.  At playback time, each show appears independently so there's really no visible indication that they were once all jumbled together.  Take that, TiVo, with your four tuners!  The Hopper does more... with less.
Once PrimeTime Anytime is enabled, you automatically record the shows on ABC, CBS, FOX and NBC in HD (where available) from 8:00 p.m. to 11:00 p.m. Monday through Saturday and from 7:00 p.m. to 11:00 p.m. on Sunday. The DVR will then store that content for up to eight days after the shows have aired. This puts a week's worth of TV programs on-demand, all without sucking up any additional DVR space.
One of the DISH technicians told me that since he had the Hopper installed in his own home, he's watching more primetime programming than ever. I thought, is that a good thing? The answer is, yes! However, it gets better...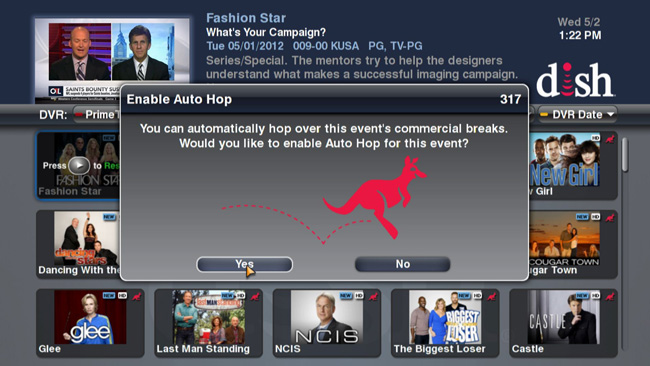 Let's Go to the Hop
PrimeTime Anytime is nice, but the entire DVR-watching world changed the second that DISH announced its Auto Hop feature. Auto Hop allows Hopper users to skip all of the commercials on those Primetime Anytime recordings. The feature is enabled after 1:00 a.m. the night (or technically, the morning after) the programming is recorded through Primetime Anytime. Sadly, it doesn't work on any non-PrimeTime Anytime programming.
Much to the chagrin of the four major broadcast networks, it's also the single greatest thing to happen to TV since the DVR. Lawsuits are pending on both sides of the fence, regarding the legality of the whole thing. Before that fun is squelched (please no!), this is something you must experience -- at least if you are a fan of TV and not a fan of commercials.
It may please some TV execs to know that such a feature actually causes you to watch more TV. Yes, thanks to the instantly availability of TV shows, I found myself squeezing more programming into my eyeballs, and most of it was stuff that I typically wouldn't be caught dead watching and certainly wouldn't want to repeat in print.
Also worth noting is the fact that commercials will still seep into your brain one way or another. Occasionally, the Auto Hop feature had a glitch and wouldn't skip or you'll catch the tail end of something. Both were rare occasions. What wasn't as rare is that networks seem to be utilizing the bottom of the screen during actual programming to get that message across. The bottom line: They're going to get you one way or the other.
And Now for Something Completely Different
The Hopper doesn't support Netflix, Amazon Instant Video, VUDU or other competing services. However, it certainly goes beyond what's available on your channel lineup. The Hopper does have several built-in apps, such as Pandora, Facebook, access to Twitter via DISH Tweet, and even Texas Hold'em. The Hopper also supports 3D, but currently only for select on-demand programming such as pay per view movies. So if you have a 3D TV, there will be some 3D video-on-demand options calling your name (and your eyeballs).  We'd like to see DISH step up to the plate to support live 3D TV broadcasts (something virtually all of their competitors now support), but this is one area in which the service lags.
Users shouldn't be too surprised that the Hopper doesn't support Netflix and the like. DISH owns competitor Blockbuster and has built support for the Blockbuster@Home service into the box. Along the lines of Netflix, this option is an extra $10 a month. Pay the fee and you will have the option to get discs set to your home, as well as instant streaming access to a decent selection of TV and movie titles.
Like Netflix, the disc selection is better than what you'll find on-demand. Unlike Netflix, however, the online queue is only for discs. It doesn't tell you what's available for streaming, which seems a bit hit or miss. Want to watch Bucky Larson: Born to Be a Star? (Really?) It's available for streaming through Blockbuster@Home on the Hopper. However, the online queue only allows users to save titles that will come on disc.
That said, I was pretty pleased with the speedy disc services. I received my first request within 2 days and returns were just as speedy. The service also offers Blu-rays at no extra charge, as well as game titles.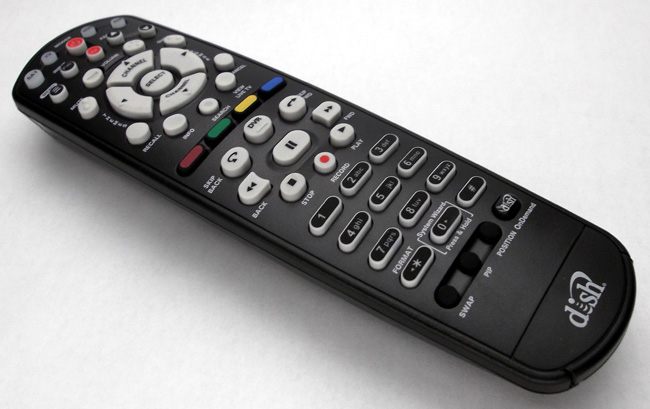 Remote Possibilities
Existing DISH customers should recognize the Hopper's remote. It's very similar to DISH remotes of yore, with the exception that those little colored buttons now actually do something -- well, some of them. Out of the four, two of them provide access to various features. The red button will show viewers what's currently playing across all of the Hopper's tuners, as well as provide access to the DVR, Primetime Anytime recordings, and on-demand services. The yellow button provides one-touch access to settings.
One other nice perk is how you can add additional components to the remote, such as a receiver or Blu-ray player. Before, DISH required keying in codes and responding to flashing lights. The Hopper, however, uses an on-screen setup process that can be found under the settings menu. It's so much easier!
The most interesting thing about the Hopper's remote, however, is that it has ZigBee. Why? Well, we're not sure except that maybe DISH plans to add in some home automation goodies at some point.
Turn Ons
Auto Hop is the greatest thing since the DVR
PrimeTime Anytime remembers to record things you don't
More DVR space
3D support (limited)
Graphical DVR is a nice touch
Better overall user experience
Turn Offs
No built-in Sling
No built-in WiFi
No OTA antenna support
No more SD for HD channels
Final Thoughts
It's hard to get excited about a DVR, but DISH Network will certainly have customers jumping for joy over the Hopper. Forget about the apps and extra storage. The private on-demand selection created through PrimeTime Anytime and that Auto Hop feature are downright addictive. Hop on the Hopper bandwagon and you'll never want to go back.
Where to Buy:
Manufacturer's Specs:
Manufacturer's Contact Information:
Dish Network LLC
9601 S. Meridian Blvd.
Englewood, CO 80112
800-823-4929
On the web: www.dishnetwork.com