DISH Network Sling Adapter Review
By Rachel Cericola
Edited by Chris Boylan
TV Everywhere, Exactly the Way You Like It
With so many options for portable entertainment, it makes sense that you should be able to take the TV lineup that you know, love, and are already paying for almost anywhere.
A slew of Slingbox set-top products were designed to do just that. DISH Network bought the company back in 2007, and has been working hard on creating a "TV Everywhere" experience for its customers. That includes the latest, and possibly easiest Sling-enabled product, the Sling Adapter.
The Sling Adapter is a wafer-thin device that plugs right into the back of select existing DISH HD DVRs. From there, subscribers can tap into live satellite TV as well as stored content, via any web connection. Even better, it also allows viewers to check out their content via smartphones, and specifically the iPhone, via DISH's existing DISH Remote Access app. The company says that enhanced search capabilities, DVR scheduling, and even an iPad-specific app are all on the way as well.
The beauty of this new functionality is that it's mostly free, with the exception of the $99 one-time fee for the Sling Adapter, as well as the cost of DISH satellite service. Also, the Sling Adapter is currently only compatible with ViP 722 and ViP 722k HD DVR boxes (the ViP922 has a slingbox built-in). Accessing your live prograamming and recorded content via your Sling Adapter through the web is free and the DISH Remote Access app is free.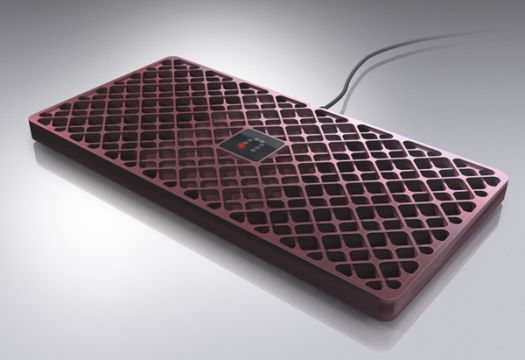 Easy-Peasy Install
As mentioned, you will need a ViP 722 or ViP 722k HD DVR box to use the Sling Adapter. Out of the box, the Sling Adapter is super thin, and slightly resembles a mouse pad. It can easily hide on top of your set-top box, which is a good thing, because its attached USB cable is a short one.
Attach the Sling Adapter via USB and the DVR box will instantly recognize the device. However, that's not all. To use your newly acquired hardware, you'll need to establish DISH Remote Access through your account online. This is another insanely easy freebie, which probably few subscribers know about and/or use on a regular basis.
Log onto your DISH Network account at DISHNetwork.com. On the home page, under My Account, the last selection in the drop-down menu is DISH Remote Access. Even if you don't have the ViP 722 or 722k, this offers broadband-connected subscribers a few nifty features. Without the Sling Adapter, subscribers can use DISH Remote Access to set DVR recordings, as well as cancel them. Forget to record Glee? Log into your account online and click to set the recording, even if the show is already in progress (though you may miss some of it). The Sling Adapter adds live TV and DVR viewing into the mix. However, you will still need DISH Remote Access to use the Sling Adapter.
For online testing, we used a PC with Firefox, which required a quick, easy plug-in. That took maybe 5 seconds to load. The browser then restarted, and we were ready to go.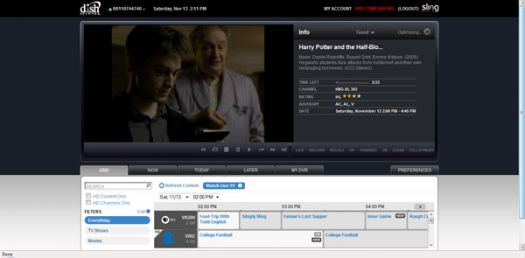 PC Viewing
When we're out of town, we often miss our local weatherman. The Sling Adapter allows DISH subscribers to stay in touch with local news, sports, and even the many episodes of Sons of Anarchy that have amassed on the DVR. One way to access content is through a web-connected laptop.
Accessing the Sling Adapter is as easy as logging into DISH Remote Access, which is part of your online account. From there, you can check out the channel lineup, schedule recordings, watch live TV. or view any of your stored recordings. You can even manage, organize or delete recordings currently stored on your DVR.
We tried our laptop in three separate locations: At home, at a friend's house, and at the local Starbucks. Each time, we tapped into the box via a Wi-Fi connection. Without a doubt, watching on the computer was the best way to go, just because it allowed for a larger image. However, the larger picture wasn't always better.
When viewing on a PC, the service allows you to choose a streaming speed: Good, Better or Best/HD. The actual quality will vary based on your connection. For instance, in Starbucks, live TV in Good gave us an average of 300 Kbps. It streamed fine, but looked a little pixelated, even in the smaller window. When we flipped over to DVR content, we scored a better connection at around 700 Kbps. "Better" increased the image quality, as well as the stream, at around 1000 Kbps. There were a few jitters, especially when we switched between small and full screen viewing. "Best/HD" had an excellent image on the small screen and bumped up to around 1140 Kbps. However, it was almost unwatchable, thanks to all of the buffering. When we tried to flip to another show, we received a message that the Sling Adapter was starting up and needed a few minutes.
Also, when you pump up the picture to full screen, the on-screen controls disappear. To access them again, you'll need to go back to the small view. That was fine, but it often caused a hiccup in service, and in at least two separate cases, caused us to completely lose our connection.
The Best Connection
While having your lineup on the go screams out for a wireless connection, if you have the option to hardwire, it would be worth the effort. We saw a noticeable picture difference when using a computer connected to our network, as well as outside of the house.
On a desktop PC, Good level streaming didn't show too much improvement, despite a 2100 Kbps transfer. Both in the smaller and widescreen windows, the image had its share of blurred pixels. It was basically like watching TV on a computer! The Better level showed a huge improvement, boasting speeds up to 8200 Kbps. On this level, the image had brighter colors, as well as better details overall. Pushing the streaming speeds to Best/HD did not improve our streaming times or the actual image. The speed seemed to hover around the same 8200 Kbps. The image itself seemed a tad brighter, but we encountered too many audio and buffering problems to actually call this an improvement.
As with wireless, the Better level seems to the way to go. If you happen to be staying with family for the holidays or any other time of year, this would be a godsend, especially if you can sniff out a hardwired connection.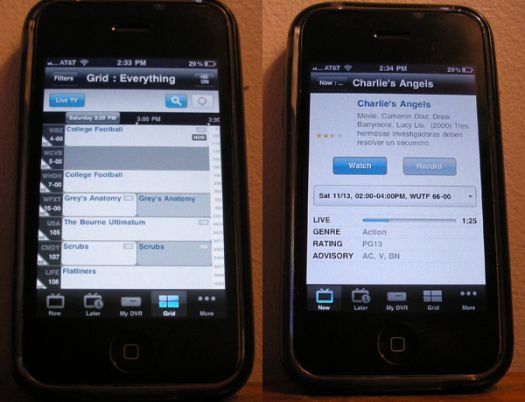 iPhone, Anyone?
DISH Network also has a DISH Remote Access app, available through Apple's iTunes store. Add in the Sling Adapter, and you can use this app to view live TV and DVR content through any iPhone or iPod touch. As mentioned before, DISH is working on other platforms, including an app specifically designed for the iPad.
The app was free and easy to install right through our iPhone's iTunes app. Open up the DISH Remote Access app, punch in your DISH account name and password, and within seconds, you will have another way to access your DISH Network lineup, with a slightly different interface.
For our testing, we used the iPhone 3GS, which was fun, but had its issues -- ones that the iPhone 4 could possibly improve on. For instance, the image was more than acceptable, but didn't show much of a difference between HD and SD content. Also, there were some delays whenever we moved around the program, whether it was to load titles, skip ahead, or flip between the content and the programming grid. When we did skip ahead during DVR playback, the audio would get thrown off. Skipping ahead a second time seemed to cure that problem on more than a few occasions. However, it didn't exactly make for a pleasant viewing experience.
Aside from the portability factor, one thing we enjoyed about iPhone access over our PC was the controls. The PC does offer controls below the image playing, as well as a replica of your home remote, but only as a complement to small-screen viewing. Once you go widescreen, the controls disappear. The only way to get them back was to go back to that smaller window, which would sometimes cause the program to stutter. On the iPhone, there is no option for widescreen and small screen, so the controls were always there, easy to access, and also easy to hide.
The DISH Remote Access app is extremely easy to use, and currently the only way to score this service on a smartphone. We did attempt to get the service via a web browser using Verizon and LG's Chocolate Touch, but it wasn't optimized; we couldn't even log into our DISH account.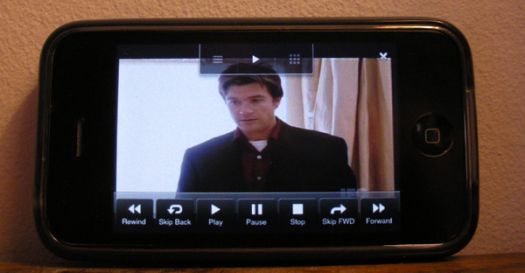 Turn-Ons:
Live TV and DVR content almost anywhere
No additional service fees
Decent image and audio quality
Streaming speeds can accommodate your connection
Easy iPhone app provides more portability
Turn-Offs:
Only works with ViP 722 and ViP 722k HD DVRs
More smartphone access, please!
Buffering issues with HD
Final Thoughts
It's hard to pooh-pooh having access to your beloved TV almost anywhere. While the Sling Adapter doesn't make that available to the masses, it's certainly a nice start. The Sling Adapter is an incredibly easy way for existing subscribers to add on a few nifty features, without a box upgrade or service call. It looks like DISH could have a hit on its hands, thanks to no service fees and a very nice $99 hardware price.
Where to Buy:
System Requirements:
DISH Network ViP 722 and ViP 722k Receiver
High-speed Internet service
PC Viewing: Windows XP, Windows Vista or Windows 7 with the latest updates; Internet Explorer 7 or higher, Firefox Version 3 or higher
Mac Viewing: Mac OS 10.5.7 (Leopard) or later; Safari Version 3 or higher, Firefox Version 3 or higher
What's in the Box:
Sling Adapter
Quick Start Guide
MSRP: $99
Manufacturer's Contact Information:
Dish Network LLC
9601 S. Meridian Blvd.
Englewood, CO 80112
800-823-4929
On the web: www.dishnetwork.com