Networks Threaten Legal Action Over DISH TV Commercial Skipping "Auto Hop" Feature
By Rachel Cericola
Just weeks ago, DISH Network announced its new "Auto Hop" feature for the newly launched Hopper Whole-Home DVR. Know who didn't think it was so cool? All of the major networks.
According to The Hollywood Reporter, Fox, CBS and NBC have all filed separate suits against DISH Network, claiming that Auto Hop violates copyrights. ABC doesn't seem happy either, but has yet to follow a suit.
Auto Hop is a complement to the Hopper DVR's PrimeTime Anytime feature. PrimeTime Anytime allows Hopper users to record all of the primetime TV programming on ABC, CBS, FOX and NBC in HD. Once recorded, viewers can use Auto Hop to automatically skip over all of a recorded program's commercials -- starting at 1:00 a.m. (EST) after that show has aired.
"This service takes existing network content and modifies it in a manner that is unauthorized and illegal," CBS said in a statement. "We believe this is a clear violation of copyright law and we intend to stop it."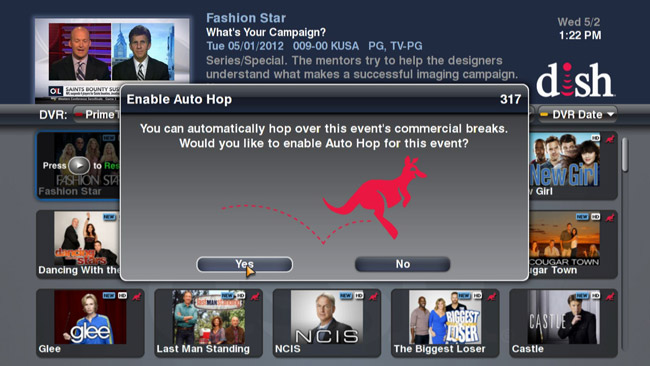 On Thursday, DISH Network fired back with a lawsuit against ABC, CBS, Fox and NBC in federal court. The satellite provider is asking the United States District Court, Southern District of New York for a declaratory judgment that the Auto Hop does not infringe any copyrights and that the feature remains in compliance with DISH Network's agreements with the networks.
According to DISH, subscriber fees include "retransmission fees" which DISH pays to all four of the major networks.
"Consumers should be able to fairly choose for themselves what they do and do not want to watch," said David Shull, DISH senior vice president of Programming. "Viewers have been skipping commercials since the advent of the remote control; we are giving them a feature they want and that gives them more control."
Meanwhile, DISH says that CBS, Fox and NBC are currently rejecting ads for DISH's Hopper Whole-Home DVR, the device that features the Auto Hop function.
"We respect the business models that drive our industry, but we also embrace the evolving nature of technology and new ideas," said Shull. "Advances in the ability to measure and target viewership will give the entire industry -- including advertisers -- the ability to develop better programming, more effective advertising and deliver an overall better experience to the viewer."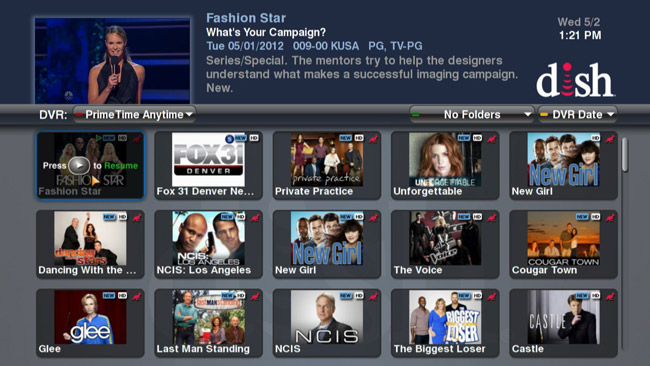 For More Information: