VIZIO VP322 32-inch Plasma Flat Panel HDTV Review
By Chris Boylan
HDTV Steal of the Century
As the recession hits this country and the world at large, sales of some luxury items will certainly be impacted as consumers tighten their belts to take care of basic necessities. On the flip side, as gas prices rise and the cost of a simple evening at the movies goes up (without a commensurate improvement in the overall movie-going experience), consumers are "nesting" more than ever - spending more time entertaining themselves at home rather than travelling. And for this reason, investments in HDTVs and home theater systems which bring the best parts of the cinema experience home actually make good fiscal sense.
And this is why it's a fine time to be VIZIO, that young upstart California-based flat panel maker that offers quality HDTVs at rock-bottom prices. And it doesn't get much lower than the VP322 (VP322HDTV10A), a 32-inch flat panel plasma HDTV that list for $649 but is currently available on the shelves at Wal-Mart (or online at WalMart.com) for the previously unheard of price of $528. But what does $528 get you as far as high definition TVs are concerned? More than you might expect. A lot more. Update: WalMart's price on this set is now down to $437 as of 11/27/08 making this an even better value.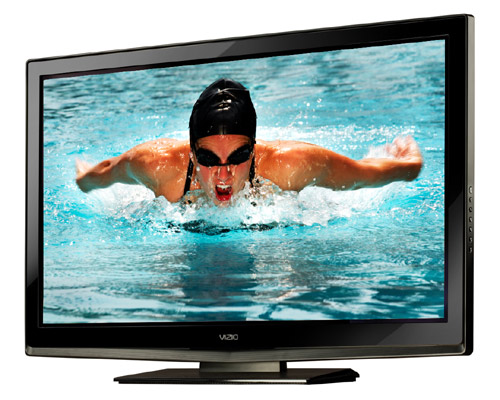 Features and Ergonomics
In addition to the usual complement of component, composite and S-video inputs (one each, with S-video and composite sharing a single input), the VP322 offers a generous three (3) HDCP-compliant HDMI inputs as well as an analog computer (VGA) input jack. You'll be able to tune into SD and HD channels directly via a built-in tuner that supports standard NTSC television signals, QAM (digital cable) and ATSC digital over-the-air broadcasts. The set supports input resolutions from 480i all the way up to 1080p (1920x1080 pixels, progressive), all of which it converts to its native panel resolution of 1024x720 pixels.
Although this 1024x720 pixel resolution is a bit unusual, it does qualify as high definition via the CEA specifications, and the VP322's widescreen 16:9 aspect ratio, built-in ATSC and QAM digital tuners together with its optical digital output mean that this set is a true HDTV. Its 720 line resolution makes the set a great match for a 720p source - it need not do any horizontal scaling, it only needs to reduce 1280 columns down to 1024 to display a 720p source on screen. Of course, you can also just leave your high definition sources set to 1080i or 1080p output and let the set do the down-conversion to its native resolution.
Whether you "need" a full 1080p panel (1920x1080 pixels) or you can "get by" with this 720p panel depends on how you intend to use the set. At most viewing distances (six feet or more), a 720p panel is virtually indistinguishable from a 1080p panel, particularly at this smaller screen size. But if you intend to use your set as a computer monitor as well, then a set with a more common resolution such as 1920x1080 or 1366x768, might be a better fit.
For regular TV and HDTV watching, we never felt that the set lacked in detail (as described below), so paying a premium to get a full 1080p panel at this screen size is probably overkill. Other picture properties such as color reproduction, contrast and moving image reproduction matter more than absolute number of pixels, and on these factors, the set does quite well. More on that later.
Remotely Simple

The remote control is fairly intuitive and straightforward to use, if simple. It lacks backlighting but it does offer direct input buttons for each type of input (e.g., component, A/V, TV tuner or HDMI). Since the set offers a generous three HDMI inputs, you will have to hit the HDMI button multiple times if you have more than one device connected via HDMI, but that's a small price to pay for flexibility. Accessing the set's VGA input requires you to hit the "Input" button on the remote and scroll down to the RGB input.
The one glaringly obvious button missing from the remote is any kind of aspect ratio control. When you want to change from Normal (4:3) to Wide (16:9) or to Panoramic (zoom/stretch) mode, you'll need to get into the on-screen Menu, and enter the Set Up sub-menu - six button pushes to get where most remotes take you with one.
The set-up menus themselves are simple and straightforward. I was able to get in, get some basic picture controls tweaked, and get my local SD and HD channels added within a few minutes of opening the box, without referring to the manual. The VIZIO also offers a basic built-in HDTV program guide - hit the "guide" button on the remote, when viewing a channel on the TV's integrated digital tuner and you will see a list of the current and upcoming shows on the channel for the next several hours. Oddly, exiting from the Menu itself is a little tricky. Instead of the "Menu" button taking you back out of the Menu (standard on most TVs), you need to hit the "Last" button to exit. Weird, but you'll get the hang of it.
Calibrating the set was a pretty simple affair - the picture setting sliders move one step at a time if you press them quickly but jump rapidly to the extremes if you hold them in. Using our SpyderTV Pro 2007 colorimeter and software, it took less than 30 minutes to dial the set in, and the final settings were not that far off from the defaults. With SpyderTV calibration, "normal" (the default) was the most accurate of the color temperature presets. The VP322 allows RGB levels to be set individually in an "advanced" color temperature menu, but we felt this was unnecessary. Contrast was best at 48 (default was 50), brightness was best at 51 (default was 50), Color was best at 50 (default), and tint was best at +2 (default was zero).
One thing different from many other sets we have tested is that the VP322 calibration settings are not input specific. You can only have one "Custom" setting and this carries over to all inputs. This required some adjustments as the integrated ATSC tuner's ideal picture settings were a little different than those that applied to the Blu-ray Disc player used for SpyderTV calibration. Notably, skin tones were a bit too orangy red viewing HDTV channels. Dropping the Color control down two notches to 48 improved this issue, albeit at the expense of some color saturation.
Viewing and Listening Impressions
In the audio department, the VP322 is pretty basic, with built-in speakers, adjustable bass and treble controls and a "surround" feature that makes the soundstage a bit more spacious without sounding overly phasey or tinny. Movie dialog comes through clearly enough, as does music, though it's missing any real bass. For the price and size, the set cannot be expected to compete with a dedicated audio system but it does produce decent sound on its own.
In the video department, considering the low price, I was expecting less than stellar performance on some of the torture tests we like to subject our displays to here in the Big Picture Big Sound labs. But I was happily disappointed. In fact, what struck me was just how good the set looked (compared to comparably priced LCD sets) right out of the box, with the default settings in place. Calibration improved things, of course, but buyers who leave the picture settings untouched will still be able to enjoy a very nice picture.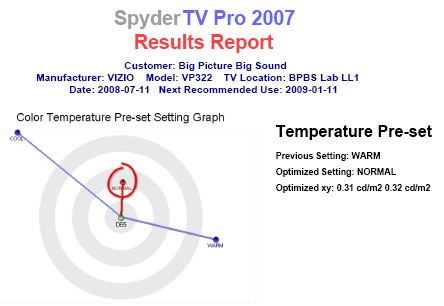 First up for testing was the Silicon Optix HQV Benchmark DVD. This disc tests a display or video processor's ability to upconvert standard definition content to high definition resolution. On the color bar tests, the VIZIO set displayed the detailed lines properly and presented the grey and blue graded color swatches smoothly with no obvious steps in the gradation. Moving on to the "jaggies" tests, the VIZIO did well on the rotating line test, with just a slight waver around 10 degrees, but on the three line test there was some minor stair-stepping on the bottom of the three lines. Still very good performance from the set's internal diagonal filter. On the waving flag jaggies test, there was some stair-stepping visible in the edges of the waving flag but nothing major.
On the film detail test - an extract from "Super Speedway" which tests a video processor's ability to recognize an inherent 3:2 film cadence on a DVD - the VIZIO locked to the cadence in less than half a second, preventing the tell-tale wavy lines through the grandstands that occur with lesser displays and processors. The set performed well removing simulated analog and digital broadcast noise and was also able to perfectly reproduce mixed content - film-based content with horizontal and vertical scrolling video titles overlaid on top. All in all, the VP322 performed remarkably well on these tests. It's not the best we've seen but was noticeably better than many components we've tested, including VIZIO's own 60-inch Plasma from last year, the VMP60.
One thing I noticed when using the set-up menus, was that the set's image retention (the appearance of an "after image" on the screen) was somewhat worse than the best current generation plasmas. This is not a permanant condition but it can be annoying when watching certain material with fixed logos on the screen, or when using the set for gaming. An "image cleaner" option in the Set-up menu allows you to put up a fully white screen which erases any residual images in a few seconds (or minutes, depending on how severe). You might want to hit this before settling in to watch a movie. Also, this condition got better over time even just in the few dozen hours we had the set during the evaluation.
The other annoyance we noticed during the evaluation is that the VP322's screen is quite reflective. A sconce light directly opposite the television was clearly visible on the screen when illuminated. To really enjoy the VP322's picture, you'll need to control your room lighting. If the TV is opposite a window, then make sure you have good drapes if you want to watch TV during the day.
Moving on to Blu-ray Discs, color saturation on the new Batman Begins Blu-ray Disc was excellent with warm skin tones, and lush vivid greens (that trended just slightly toward blue), as well as good shadow detail. This is a very dark film at times, and details in the dark alleys and prison cells that are lost on lesser sets were preserved well here. In the "Dark Knight Prologue" (the first six minutes of the upcoming Batman film, which is included as a teaser on the Batman Begins Blu-ray Disc), bricks in the buildings showed excellent detail and color saturation as did the colorful masks worn by the bank-robbers, not to mention the human skin "mask" worn by the main villain.
Standard DVDs were eminently watchable on the VIZIO. The ET 25th Anniversary Edition DVD did show some signs of age and clearly could not compete with a true high definition source, but colors were true and upconverting artifacts were few and far between. If you don't own a high quality upconverting DVD player, the VIZIO's on-board upscaling processor is more than up to the task.
Watching shows on the internal ATSC tuner was also enjoyable. The set found all of the local HD channels in our area (New York City) in a few minutes, using Terrestrial Digital's simple but effective (and stylish) PF-7 indoor Picture Frame Antenna. Unlike the 60-inch VMP60, the VP322 was able to switch between 16:9 (wide), 4:3 (normal) and stretch/zoom (Panoramic) aspect ratios on the internally tuned standard definition digital channels. I'm happy to see that VIZIO corrected this as this was one of my major criticisms of the earlier set. It would have been nice to have a "Zoom" aspect ratio which would enlarge letterboxed 4:3 content to fit the 16:9 screen, but as more channels and more content becomes available in true widescreen high definition, this type of image ratio control is becoming less relevant.
On high definition channels (as well as on high definition sources connected via HDMI) the aspect ratio option in the menu was greyed out, so if your source device does not allow aspect ratio control, then you're "stuck" with whatever is being transmitted to the set. Probably not a big deal for most people, but worth mentioning in case your cable or satellite box does not offer aspect ratio control.
In order to make this a truly comprehensive review, we also connected a laptop to the VP322 via both an analog VGA connection (DB15) and also via HDMI. Both connections worked as expected. I don't believe there are many (if any) video cards that support native 1024X720 resolution in widescreen (16:9) mode, but setting the PC resolution to either 1280x720 or 1366x768 produced decent results. Lower resolutions in 4:3 aspect ratio are also supported, including 640x480, 800x600 and 1024x768.
I'm completing this review using the VP322 as my monitor about 18 inches away from my face (connected via HDMI) and the text is readable and clear, if not pixel-perfect. Watching DVDs and video files using the PC as a source is quite acceptable as well. Clearly this is not a PC monitor, and anyone who wants a super high resolution large format PC monitor should consider something like Gateway's UltraHD 30-inch LCD panel (at about three times the price), but for casual computer use, the VP322 will suffice.
Turn-Ons
Extremely low price
Those great plasma black levels
Excellent color saturation
Very good standard def upconversion
Easy to configure and use
Generous jack pack including 3 HDMI and a PC input
Very good picture quality right out of the box, even better with calibration
Turn-Offs
No "aspect" button on remote
Reflective screen requires control over room lighting
Image retention somewhat worse than the best current plasmas

Final Thoughts
Who'd have thought five years ago, when entry-level plasma flat panel televisions were still selling for upwards of $4000 that a then unheard-of brand would be offering one for less than 15% of that price, and selling it at Wal-Mart no less? And who'd have expected that the quality of its image would actually exceed those early generation sets by a wide margin? But then, that's exactly what has happened. And if you're jonesing for a little bit larger screen, the comparably equipped 42-inch model (VP422) is available for only about $200 more.
If you're looking for a new HDTV for a dorm or bedroom, or simply something that provides good picture performance and generous inputs for an affordable price, look no further than VIZIO's VP322. It's the HDTV steal of the century.
Where to Buy:
VIZIO VP322 32-inch Plasma HDTV Specifications:
HDTV and SDTV formats supported: 1080p, 1080i, 720p, 480p, 480i
Contrast ratio: 30,000:1
Brightness: 1,000 cd/m2 (typical)
Digital HDTV (cable/OTA) & standard TV combination tuner (ATSC/NTSC/QAM)
Computer monitor (analog RGB/VGA) up to 1366 X 768 WXGA resolution
Wall mounting capable
Typical lamp life of 60,000 hours (equivalent to 27 years @ 6 hrs/day)
1x RF, 1x RGB, 3x HDMI, 1x Component, 1x Composite, 1x S-Video Inputs
2x Built-In 10-watt Speakers
Size: 32 inches (viewable: 31.96 inches diagonal)
Panel Type: 16:9 widescreen PDP
Panel Specifications: Anti-Static and hard coated surface
Pixel/Dot Pitch: 0.690mm (H) x 0.555mm (V)
Viewable Angle: 178° (horizontal and vertical)
Tuner: Integrated NTSC/ATSC/QAM HDTV Tuner
Native Panel Resolution: 1024 x 720 (720p)
Supported PC Resolutions: 1366 x 768, 1024 x 768, 800 x 600
Response Time:
Colors: 16.7 million
Inputs:

RF (F Connector for internal tuner): 1
HDMI with HDCP: 3
Analog Stereo Audio for HDMI Inputs: 1
Component YPbPr plus Stereo Audio: 1
Composite Video: 1
S-Video plus Stereo Audio: 1
Computer RGB plus Stereo Audio: 1
Service Port: 1

Outputs:

Analog Audio out (RCA): 1
5.1 SPDIF Digital Optical Audio
Additional Information:
V-Chip
3D Comb Filter
3:2 or 2:2 Reverse Pull-down
ATSC with 8VSB & QAM demodulation
ATSC with MPEG-2 decoding
NTSC Video decoding via RF: Yes, thru Antenna, Cable, or Satellite
NTSC Video decoding via Video: Yes, thru CVBS, S-Video, or Component
Progressive Scan Video: Yes, thru Component YPbPr, VGA or HDMI
HDTV: Yes, thru HDMI or Component YPbPr
Computer: 640x480, 800x600, 1024x768, 1280x720, 1366x768 via RGB and HDMI
Sound enhancement: Yes
Color Temperatures: 6500K (standard), 5400K and 9300K
Color Fine Tuning: Independent Red, Green and Blue
Audio: Built-in 10W x 2
Panel (PDP) Life: 60000 hours
Power: IEC Connector for direct power line connection
Voltage Range100 ~ 240 Vac at 50/60 Hz
Power Consumption: 250W average
Removable Base
Weight

Gross (in packaging):48.5 lbs
Net: 39.7 lbs
Without Stand: 39.1 lbs

Dimensions

Net: 32.5" W x 22.6" H x 8.0" D
Without Stand: 32.5" W x 21.1" H x 3.5" D

MSRP: $649.99
What's In the Box:
VP322 32-inch Plasma HDTV
Vizio Remote Control
A/V Cable
Power Cord
Registration Card
Manual
Quick Start Guide
Manufacturer's Contact Information:
VIZIO, Inc.
39 Tesla
Irvine, CA 92618

Phone: 949-428-2525
Toll Free: 888 VIZIO CE (888.849.4623)

Web: www.vizio.com