VIZIO VM60P (Maximvs) 60-inch Flat Panel Plasma HDTV Review
By Chris Boylan
Size Matters
Not long ago, a 50-inch plasma HDTV would have set you back around four grand. In fact, on a shopping expedition with a friend two years ago, we were thilled to find him a 50-inch plasma set for "only" $3600 (after some serious negotiation). And as for a 60-inch plasma, forget it. Then you were talking $5K or more. And now
VIZIO
is offering the
VM60P
- a full 60-inch plasma flat panel HDTV for a list price of only $2499.99. And while the difference between a 50-inch and 60-inch set may not seem like much, those ten inches actually get you 50% more screen area. So that's 50% more viewing area for around 30% less money. What a difference a couple of years makes.
VIZIO's VM60P, also known as the
MAXIMVS
(pronounced maximus), debuted in January of this year at CES at a list price of $2999.99 and was available for purchase at warehouse stores such as Costco a few weeks later. Due to competition and price pressure, the set was recently reduced an additional $500 to just $2499.99. This makes it the least expensive flat panel HDTV in this size range by a fairly wide margin. If you shop around, you may still be able to find Panasonic's slightly smaller 58-inch plasma model from last year for around the same price but it has two fewer HDMI inputs, does not support 1080p inputs and won't be available for long as it's been replaced by a newer model. Other 60-inch plasma sets are appreciably more expensive.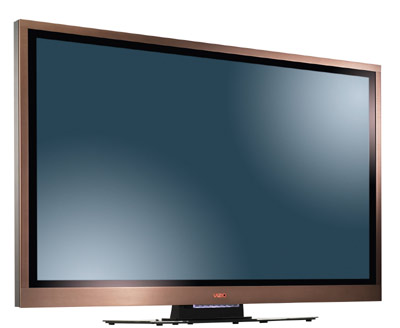 Features and Ergonomics
In addition to the usual complement of component, composite and S-video inputs, the VM60P offers a whopping four (4) HDCP-compliant HDMI inputs as well as a computer (VGA) input jack. You'll be able to tune into SD and HD channels directly via a built-in tuner that supports standard NTSC television signals, QAM (digital cable) and ATSC digital over-the-air broadcasts. The set supports input resolutions from 480i all the way up to 1080p (1920x1080 pixels, progressive). Unlike some recent plasma offerings from Panasonic and Pioneer, however, the native resolution of this panel is 1366x768 pixels, not the 1920x1080 pixels available on a few considerably more expensive competitive products. The set's internal Genesis/Faroudja scaler converts 1080p and other input signals to the native panel resolution.
Whether you "need" a full 1080p panel or you can get by with this 1366x768 pixel panel depends on how close you sit and how picky you are. From seven feet away (or less), the scan lines are visible, but over ten feet away, you'd be hard-pressed to see the pixel structure. If your viewing distance is ten feet or more (as it probably should be for an image this large), the considerable premium you'll pay for a true 1080p plasma panel may not be worth the cost.
Downward-firing speakers are hidden into the thin frame with a removable transparent sound reflector that allows the sound to travel forward without bulky stand-mounted front-firing speakers. The Maximvs features an elegant new bronze-colored metal frame and a glowing VIZIO logo lending the set curb appeal, even when the picture is off. Some might prefer the simpler black frame of competitive products, but the VIZIO does stand apart from them visually.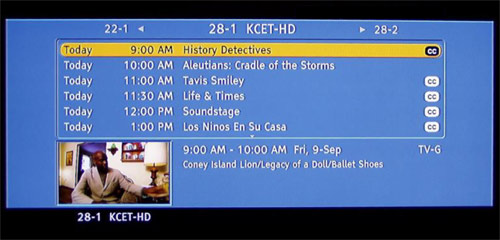 The set's rated brightness is 1200cd/m(2), and contrast is specified as 7,000:1, with the ability to reproduce 1.07 billion colors. In addition to its generous selection of inputs, the VIZIO flat panel also offers a 5.1 optical digital audio output to pass Dolby Digital surround sound from the set's integrated HD tuner to an external receiver or processor. The set also supports PIP, POP, Closed Caption, V-Chip, Zoom and Freeze features. VIZIO offers a one-year limited warranty including parts and labor.

The remote control is fairly intuitive and straightforward to use, and unlike some less expensive VIZIO models, it does offer full backlighting. The entire remote keypad illuminates for a few seconds when any button is pressed. Although it does not offer direct input buttons for each input, it does offer input "type" buttons, e.g., hitting the "HDMI" button will cycle through each of the four HDMI inputs. The remote is a "universal" model in that it can be programmed to operate up to 4 different devices (DVD players, cable boxes, etc.).
Of course, the remote features the requisite "Wide" button which allows you to adjust the aspect ratio to best fit the source material, but on this set the "wide" options include a significant omission - I was surprised (and disappointed) to find that the aspect ratio control when watching the built-in ATSC tuner did not include a "normal" or "4:3" mode.
If you have any digital channel you like to watch which happens to be broadcast in 4:3 mode (e.g., PBS-Kids, The Tube, qubo, and others) then your only aspect ratio options are 16:9 (which stretches the screen to fit) and "zoom" which zooms in on the center of the screen. Neither option is ideal - one distorts the geometry of the image, the other potentially cuts off large portions of the image on each side. This "feature" also effects devices connected via HDMI and component video, when connected at 480p, 720p, 1080i or 1080p. If your source device (set-top box, cable box or satellite receiver) offers its own aspect ratio controls, then you should be fine, but not allowing 4:3 digital channels to be displayed in their proper aspect ratio via the set's own internal tuner is a pretty significant oversight.
The set-up menus are simple and straightforward. I was able to get in, get some basic picture controls tweaked, and get my local SD and HD channels added within a few minutes of opening the box, without referring to the manual. The VIZIO also offers a basic built-in HDTV program guide - hit the "guide" button on the remote, when viewing a channel on the TV's integrated digital tuner and you will see a list of the current and upcoming shows on the channel for the next several hours.
Viewing and Listening Impressions
For audio features, the TV's speakers are actually perfectly acceptable for casual listening, with or without the sound reflector in place. The focus of the dialog is a bit better and the directionality of sounds clearer with the reflector panel in place, but if you prefer the look of the set without the sound reflector you won't miss too much by leaving it off. There is a slight boominess or chestiness that effects male voices, but some tweaks to the bass and treble level controls can minimize this.
Tip:
to adjust tone controls, you'll need to turn off the set's SRS surround sound (also in the Audio set-up menu). Once you've disabled the SRS surround sound, you can adjust bass and treble levels and these adjustments are respected when you turn SRS back on.
If you are going to use the set with a next generation disc player such as a Blu-ray Disc or HD-DVD, using the HDMI cable to pass both the audio and video to the set, then you'll need to be sure to set the player's HDMI output to 2-channel PCM only. If you attempt to send the VIZIO a raw Dolby Digital or DTS "bitstream" then you'll get no sound. Also, if you send the set multi-channel (5.1) PCM audio, then you'll only get part of the sound. I noticed this when first watching the "Planet Earth" series on Blu-ray Disc, played back on a Sony PlayStation 3. The 1080p video signal came through fine, and the music track (left/right channels) sounded great. But there was something missing - the narrator's voice! This is carried in the center channel. Once I got into the PS3's settings and disabled everything but two-channel PCM audio output, the narrator's voice was restored and all was well on "Planet Earth."
The VIZIO's digital audio output (Toslink fiberoptic) is active only when you are using the set's internal ATSC TV tuner. It allows you to pass 5.1-channel Dolby Digital surround sound (or PCM if you prefer) to your home theater receiver or processor when the programming includes it.
As for the picture, I did some initial viewing without calibration, and found the set too bright, the picture a bit grainy and colors unnatural. But this is par for the course for televisions these days, even high-end models. If you want to get the most accurate picture possible, without calibration, choose "Movie" mode and set the color temperature to "Warm." This will give you a more enjoyable and accurate image than the "vivid" and other factory pre-sets.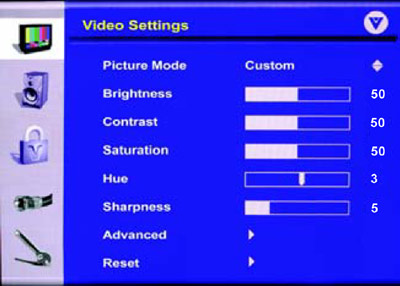 After calibrating the set with SpyderTV Pro, the temperature of white was not as close to 6500 degrees Kelvin as many of the other sets we've reviewed, but contrast and detail were much improved over the factory settings. As mentioned earlier, the "Warm" color temperature setting was closest to NTSC standard, but still quite cool as can be seen in the chart. This means whites will run more toward blue than pure white.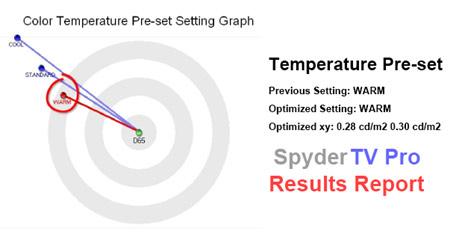 We did notice a bit more image retention in this LG-sourced plasma panel than in our reference Panasonic plasma. For example, during calibration the picture setting menus lingered on the screen after they were turned off, causing a faint ghost image to be visible for over a minute. VIZIO does include an "Image Cleaner" feature, which pulses a bright signal to all pixels in order to eliminate any residual ghosting. If you watch channels that have fixed logos in one position of the screen (e.g., CNN) or if you're a frequent video game user, then you
will
need to use this feature to periodically refresh the screen. This is not to say that there will be any permanent screen burn-in, but image retention was definitely noticeable in certain scenarios.
The set's sheer size (5 feet diagonal) means that its pixels are significantly larger than those of a 50-inch set with comparable resolution. This means the ideal viewing distance is larger than that for a 50-inch set. We found that the image looked best from about nine feet away or more. Anything less and detail and realism suffered as the pixel structure began to be noticeable.
Subjecting the set to the torture tests on the Silicon Optix DVD Benchmark disc (fed to the set at 480i resolution via component video cables) produced mixed results. On the circular "jaggies" test, the set's internal scaler and processor passed, producing a smooth diagonal line up until about 20 degrees off the horizontal axis, where they started to get slightly jagged. But in the second jaggies test (three parallel diagonal lines moving back and forth in a radial motion), it took the set's processor a good 4 or 5 seconds just to recognize the interlaced signal and begin deinterlacing it properly. On the "Film Detail" test with the car going around a racetrack, the set's internal 3:2 pull-down converter and deinterlacer failed to lock to the interlaced signal entirely, producing the tell-tale curved lines through the grandstand that indicate that the interlaced signal is not being properly reconstructed into a progressive image.
However, the set was able to decode and properly display mixed film/video content (scrolling video titles on a film background) with no problems whatsoever. This is a feat that some other more expensive sets have choked on.
The shortcomings in this HDTV's internal video processor make it more important to pair the set with a high quality upconverting DVD player such as the Toshiba HD-XA2 HD-DVD player or even the Sony PlayStation 3 Blu-ray Disc player, each of which does a better job than the VIZIO of upconverting standard DVDs to a progressive signal. Take the money saved by buying this set over its competition, and use it toward a next generation disc player. You'll be glad you did. When presented with a 1080i or 1080p HD signal, the set did a very good job converting it down to its native 1366x768 panel resolution.
On high quality 1080i or 1080p high definition content such as BBC's "Planet Earth" series (available both on Blu-ray Disc and on HD-DVD), the VIZIO showed what it was capable of, with sharp crisp images, very good contrast, bright colors and excellent motion tracking. High Def content on the internal tuner also looked enjoyable on this set, when viewed from a proper distance. Episodes of PBS-HD's "Soundstage" concert series (filmed on location at various concert halls in 1080i) were richly detailed, and the sound satisfying, even through the built-in speakers. It didn't quite have the 3-dimensiona depth we've seen on some other smaller plasma sets, but it still beats standing in line and paying a couple of hundred bucks to see these artists play live.
Final Thoughts
Two things stand out with the VIZIO VM60P - its low price and its large size. To get a true flat panel plasma HDTV measuring a full five feet diagonally would have cost more than twice the price of this set as recently as six months ago. Even now there are very few other plasma sets available in the 60-inch size that aren't significantly more expensive. The VIZIO has a few quirks (stretching 4:3 material to 16:9, inaccurate color temperature even after calibration), but overall it's a strong performer in its price range.
Specifications from the Manufacturer
Plasma Panel: 60-inch diagonal, 16:9 Widescreen

Panel Resolution: 1366 x 768 pixels

Viewing angle: Greater than 178°

Panel life (estimated): 45,000 hours

PIP (Picture in Picture) and POP (side-by-side)

Stand: Included

Signal Compatibility: 480i (SDTV), 480P (EDTV), 720P (HDTV), 1080i (HDTV), 1080p (HDTV)

Brightness: 1,200 cd/m2 typical

Contrast Ratio: 7,000:1

Tuners: NTSC Analog TV, ATSC HDTV off-air Digital TV and clear QAM

Inputs:

RF x 1(F Connector for internal ATSC/QAM/NTSC Tuner)

HDMI with HDCP x 4 (1 with Stereo Analog Audio)

Component Video (YPbPr) x 2 plus Stereo Audio

Composite Video x2 plus Stereo Audio

S-Video x2 plus Stereo Audio

Analog RGB (VGA input) x 1 plus Stereo Audio

Outputs:

SPDIF Digital Audio x 1

Stereo Analog Audio x 1

Headphone (Stereo Mini-Jack): 1

Speakers: 2 x 20 W (built-in)

Weight: Gross:218 lbs (in box); Net: 179 lbs

Dimensions:

Carton: 65" W x 50" H x 18" D
Net: 56.3" W x 37.2" H x 13.4" D
Without Stand: 56.3" W x 35.8" H (with sound deflector attached) x 4.9" D
Without Stand and Speakers: 56.3" W x 34.4" H (with sound deflector detached) x 4.9" D

Power Consumption: 650W average

MSRP: $2499.99
What's In the Box:
VM60P 60" Plasma HDTV

VIZIO Universal Remote Control

A/V Cable

Power Cord

Screen Cleaning Cloth

Registration Card

Manual

Quick Start Guide
Manufacturer's Contact Information:
VIZIO, Inc.
39 Tesla
Irvine, CA 92618
Phone Numbers:
949.428.2525
888 VIZIO 23
888.849.4623
Web:
www.vizio.com