Gateway XHD3000 30-inch Extreme HD LCD Display/Monitor Review
By Chris Chiarella
1600 Is The New 1080
We've all lamented at some point, "Sure, 1080p is swell, but isn't there anything more?" Not long ago I saw a photo--smuggled out of Asia at the cost of a few pairs of nylons and a couple of Hershey bars--of a prototype 1440p, purported "next-generation" display, and thought I'd seen a glimpse of the future. But in keeping with the cutting edge of computer graphics capabilities, Gateway has blown past ten-dozen-dozen lines and achieved a whopping 1600p in their XHD3000 30-inch Extreme HD Display.
A new breed of LCD monitor from the bovine PC mavens, the "Quad-HD" XHD3000 active matrix liquid crystal display specs out at more than four times the resolution of popular 720p high-definition, owing to its Silicon Optix Realta HQV video processor, powered by Teranex. (Big Picture Big Sound readers might be familiar with Silicon Optix, as we use their branded test discs in our display reviews). It quite simply upsamples all video sources, all the way down to the lowly 480i, up to a nigh-unthinkable 1600 progressive lines of resolution. Input options are run the entire video gamut naturally, including HDMI, DVI-D, VGA, component, S-video and composite. We can toggle between up to six video sources, while a sophisticated picture-in-picture system allows us to customize the transparency of the PIP window, as well as resize or move it using just the mouse.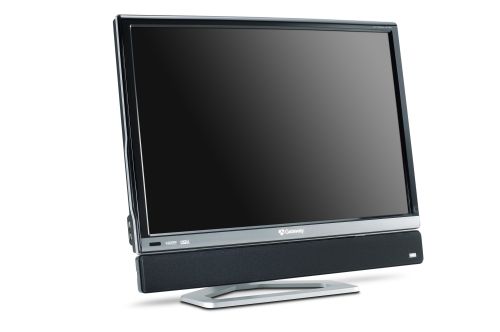 To accept a signal at the display's native, maximum resolution of 2560x1600 from a PC, dual-link DVI-D connection must be used. Included in the carton, the dual-link DVI cable provides a full set of 24 pins for increased bandwidth; unlike their more common, single-link, 18-pin brethren; enabling higher resolutions.
Aesthetically, the monitor incorporates many subtle innovations. The attractive brushed metal frame houses a series of blue LED touch-sensitive buttons down the right side, all of which except Power completely disappear when turned off. This "EzTouch" approach calls up all manner of menus and sub-menus, complete with virtual sliders, and we can fully interact with the onscreen controls, making almost all desired adjustments without need of the remote.
The stand has a small footprint considering the impressive screen size, easily tilting and swiveling while offering basic cable management around back. It also accepts a 100mm VESA wall mount. Most surprising was Gateway's DXP powered speaker bar, a full-width stereo loudspeaker housing eight small drivers: two tweeters, four midranges and two passive radiators, all with Neodymium magnets. Another space-saving design, the sound bar mounts quickly below the screen with three screws, no tools required. The compact, palm-friendly remote can be programmed for a DVD player and cable/satellite box, and arrives Windows Media Center-ready right out of the box. An IR blaster is included to relay commands to any device that is not located within line-of-sight.
High-End Video Nepotism?
Yes, it is a computer monitor, but with all of its home theater chest-thumping, we needed to put this LCD through its paces. Not surprisingly, since I was using the HQV Benchmark DVD and HD HQV Benchmark Blu-ray disc once again, the Silicon Optix Realta HQV-powered XHD3000 performed quite admirably on the battery of tests.
On the standard-definition, 480i "Jaggies" Test Pattern 1, I could see very modest jaggies on the edge of the long line for a fraction of a second, and then witnessed the diagonal filter smoothing it out before my eyes. The three short lines in Test Pattern 2 qualified as smooth, although I did notice an unusual geometric pattern across the surface of the bottom line, curious artifacting but acceptable. The American flag billowed cleanly, with crisp stripes and more than adequate detail in the background bricks.
Every horizontal line at Marker 1 on the Color Bar/Vertical Detail screen was clear and stable, with smooth color transition across the blue swatch. On Picture Detail, the background statue had a natural shine, the grass looked fluffy yet with individualized blades, and I could count the bricks in the bridge. Noise Reduction showed absolutely minimal flaws, the least I've ever seen on these tests. Motion Adaptive Noise Reduction fared almost as well, with no streaking and only minor twitching on the sky in the roller coaster scenes, although more detail on both the riders in the coaster and later in the boat would have been welcome.
The processor locked onto the Super Speedway racetrack image in a fraction of a second and utterly banished the moiré from the stands, a textbook example of proper Film Detail/3:2 Detection. No jaggies tainted the coffee cups at any film/video cadence and the newspaper remained crisp and legible. Text was solid on both horizontal/vertical video crawls in the 3:2 Mixed Film Mode challenge.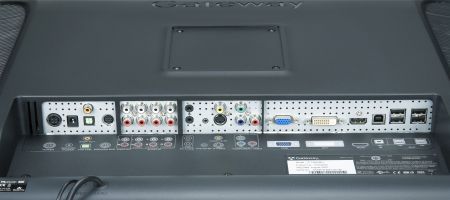 Switching to the Blu-ray HQV test disc, at 1080i output, performance on HD Noise Test A was damned near perfect, but for some very minor twitching in the shadows. The sky above the sailboat was gorgeous, with precise movement on the surface of the water. With zero strobing on the corner boxes of the test pattern, the Video Resolution Loss Test was a complete success. I could barely perceive the video processor working its magic on Jaggies Test Pattern A as the bottom line approached the near-horizontal position, providing virtually straight edges. The long line in Test B revealed only faint jaggies when the bar entered the green band/ten-degree range.
The Film Resolution Loss Test yielded a clean pattern again with no troublesome strobing. The Stadium iteration of the Film Resolution Loss Test was simply, stunning, as individual seats in the upper deck were readily discernible. With a trillion operations per second and 16.7 million colors, the HQV processor delivered the high-def goods, no matter how difficult.
Office Politics
Of the four desktop/laptop computers I tested with, none were able to output the monitor's daunting native 2560x1600 resolution, but the monitor did an excellent job upconverting more common resolutions such as 1024x768 and 1920x1200 to fit the screen. Still images and digital video looked sharp and detailed, as if I was seeing them for the first time. Although the feature set of the XHD3000 is geared more toward consumers, without question it would be an outstanding monitor for photography or video editing professionals as well.
Perhaps more importantly, if you're considering the XHD3000 as your primary computer monitor for everyday use, text in Microsoft Word and Excel documents and a wide variety of Web pages took on an almost surreal crispness and clarity, making even my writing come alive as never before [editor's note: it's pretty lively as it is, even on lesser monitors].
The wide screen lends itself to multiple open windows at once, handily displaying two full document pages side-by-side. I would imagine this could look even better connected at the monitor's native resolution, so if you have a ATI Radeon HD 3870 X2 video card installed or a third-party card with the NVIDIA GeForce 9800 GTX chip or one of their ilk (with the requisite dual DVI connection), you may experience even better results than mine.
This being a widescreen monitor from a computer manufacturer, the aspect ratio is actually 16:10, a screen shape common to the PC realm but less so in the consumer electronics/home theater world. I was happy to see that 16:9 Blu-ray discs connected to the monitor at the player's native 1920x1080 (1080p) resolution were upconverted to the native panel resolution without noticeable artifacts. Assuring correct geometry, to compensate for the greater screen height, was simple enough once I explored the onscreen controls.
With the HDMI connection active, I entered the Main Menu, selected Video Adjust and then Video Scaling. Set to Wide, all PS3 imagery was "pinched" to look a little too tall and thin. Zoom, the next choice, reinstated the correct shape, cropping the sides but eliminating the black bars top and bottom. Best is 1:1, preserving the full image with proper geometry and black bars to compensate for the disparity between the two rectangles. Watching DVDs on the computer via Windows Media Center was a pleasure, particularly when I was at a high-resolution, 16:10-friendly setting like 1920x1200. There were thicker black bars above and below the 1.85:1 frame than I was used to on my 16:9 screen, but proper geometry was maintained and the video scaling was seemingly flawless.
Playtime
All this discussion of graphics cards gave me the gaming itch, so I thought I might indulge in a little fragging, albeit on the PS3. One of the most beautiful-looking titles thus far, the somewhat underrated Heavenly Sword, showed me her true colors, upconverted from a native HD resolution of 720p. The remarkable detailing enhanced the multiple layers of focus as waves of soldiers attacked against sprawling vistas, the lighting at different times of day and the weather effects were almost palpable, while the tiniest nuances of facial expression were laid bare. Even without the benefit of 5.1 audio, playing on this display was spellbinding.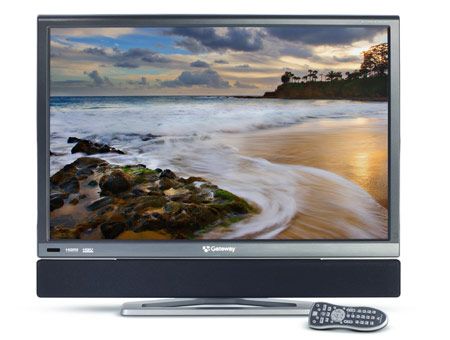 Staring at the sound bar made me wonder what tricks it had in store too, so I popped a CD into the PS3. At the default settings, the audio leaves a lot to the imagination, as trebles are not fully realized and bass is extremely limited. Both can--and should--be adjusted in the sub-menus, and the 3D effect should most definitely be enabled, providing a bigger, more forward soundfield. Even so, I wouldn't dream of playing music above 80% volume because of the distortion that starts to intrude, although the bar does a great job of filling a small office with sound all by itself, while demanding zero desk space. And I might watch a drama, maybe a comedy over this included speaker, but any movie with a respectable soundtrack demands more than this.
Both speaker and screen employ passive heat management. The lack of a fan inside the LCD cabinet keeps it quiet, but every time I reached over the top, I marveled at the heat emanating from the grille. The extremely large external power brick grows hot too, so be sure to position both with adequate ventilation in mind.
Final Thoughts
While 1600p is not expected to emerge as a new standard for broadcasts, packaged media or other video sources, none of those are really necessary, given the XHD3000's versatile, masterful upconversion. Whether or not you need this much display today, think of its 1600p ceiling as available headroom to accommodate evolving, improving video hardware and graphics cards. Even the HDCP support is an indication of its intent to stave off obsolescence in a fickle world, and $1,699 is a small price to pay for a taste of tomorrow's technology right now.

Where to Buy:
Manufacturer's Specifications for Gateway XHD3000 30-inch Extreme HD Display:

Video:
1600p Display
16:10 Aspect Ratio
Resolution: 2560 x 1600 (native and maximum)
Contrast Ratio: 1,000:1
Pixel Pitch: 0.251mm
Brightness: 400 cd/m2
Contrast Ratio 1000:1
Response Time: 6ms
Maximum Vertical Frequency: 60Hz
Color Temperature Control
Antiglare-treated screen
Audio:
DXP Powered Speaker System
Total Audio Wattage: 14 Watts RMS (7 W x 2)
Inputs/Outputs:
HDMI Inputs (1)
24-pin DVI-D (1) with Analog Stereo mini-jack input (1)
15-pin PC (VGA) with Analog Stereo mini-jack input (1)
Component Video with Analog Stereo inputs (1)
S-Video with Analog Stereo inputs (1)
Composite Video with Analog Stereo inputs (1)
Analog Stereo input
Digital Optical Audio output (1)
Digital Coaxial Audio output (1)
USB 2.0 (6)
IR Blaster port (1)
Proprietary Speaker Bar output (1)
Additional:
Weight and Dimensions:
Weight: 20.8 lbs.
Weight with Stand: 27.2 lbs.
Weight with Stand and Speaker Bar: 30.2 lbs.
Weight with Packaging: 44.5 lbs.
Dimensions: 27.5" x 18.25" x 3.5" (WxHxD)
Dimensions with Stand: 27.5" x 22.25" x 9.5" (WxHxD)
Dimensions with Packaging: 33" x 26.5" x 12.5" (WxHxD)
Company Information:

Gateway, Inc.
7565 Irvine Center Drive
Irvine, CA 92618
ph: 1-800-GATEWAY
Web site: http://www.gateway.com/