Vizio L42 42-inch LCD Flat Panel HDTV Review
By Chris Boylan
A Lot of LCD for a Little Bit of Loot
When large screen LCD TVs first came out, I admit, I didn't see the appeal. Prices were much higher than plasma even though screen sizes were generally smaller. Not to mention the picture deficiencies: uniformity problems, motion artifacts and black levels that can only be described as medium to dark grey. But as with everything, technology marches onward. Prices fall, picture quality improves, and feature sets get richer and richer. And here's where Vizio's
L42
42-inch LCD TV comes in.
I've seen Vizio at my local Costco but I never paid their TVs much attention assuming they were another one of those unknown brands that sacrifice performance to reach a low price point. But at the
Digital Life
press preview this year, I saw a couple of Vizio plasmas and one LCD model up close and personal, and in better lighting conditions, and I thought they looked pretty good, particularly given their low prices. The L42 is one generation beyond what I saw at that show, and it's got a lot going for it.
---
Pricing Update:
Wal*Mart is now selling Vizio and has the
Vizio VW42LHDTV10A 42" LCD HDTV
for $898 (purchase online, ship to your home or to your local store)
---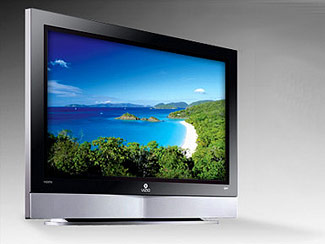 The best thing about it is the price. The list is currently only $1399 - this puts it on price parity with Vizio's 42-inch plasma HDTV, which also offers excellent value, albeit a lower resolution. The L42 LCD model features a 1366X768 pixel panel, where the 42-inch plasma panel resolution is 1024X768 pixels. And speaking of pixels, Vizio also offers a "no dead pixel" guarantee, which is rare in the LCD TV industry, particularly at entry-level price points. I examined the L42 closely and was not able to find a single dead pixel, so kudos to Vizio in that respect.
Features and Ergonomics
As far as features go, the Vizio has pretty much everything one could possibly want in an HDTV, including a built in NTSC and ATSC (High Def) tuner which works both with over-the-air and QAM digital cable signals. It sports two HDMI and two component video inputs, one S-video and 2 composite video inputs, plus a VGA-style analog computer input. Putting that VGA input to good use, the L42 makes for one hell of a computer monitor in its native resolution (1366X768 widescreen or 1024X768 with a 4:3 input). Text is crystal clear and sharp even from 12 feet away. But I'm afraid it's a little too large to sit comfortably on my computer desk. (We're going to need a bigger desk...).

We tested all of the inputs and each worked as expected. The HDMI inputs saw action from a Sony High Definition DVR as well as a Toshiba
HD-XA1 HD-DVD player
and the set had no trouble locking to the HDMI signal of either device. Occasionally, with the TV speakers on, a slightly audible crackle could be heard when powering up a source connected to the HDMI input, but this did not occur when we used an external receiver and speakers for the audio.

The Vizio also features a flexible PIP feature that allows you to adjust size and position of the PIP picture - even watch two identically sized images side by side (in case your spouse wants to catch "Lost" while you curl up with a nice chocolate cake and watch "The Biggest Loser").
For audio features, the TV includes built-in speakers (with a 10 Watt stereo amp), Virtual Surround to create a more spacious soundstage, and both digital and analog audio outputs. The analog outputs are variable in level (not fixed), so, even if you are using the TV with an external receiver or processor, you'll need to make sure to have the volume on the TV turned up around halfway. The speakers can be turned on or off in the menu. Oddly, the "surround" processing (when enabled in the menu) also effects the line level audio outputs. This led to some funky sound when we fed this virtual surround-processed signal to our surround processor for decoding in Dolby Pro Logic. If you are using the TV with an outboard home theater system, then make sure "surround" is set to OFF.
The digital audio output (Toslink fiber optic) is active only when you are using the set's internal ATSC TV tuner. It allows you to pass 5.1-channel Dolby Digital surround sound to your home theater receiver or processor when the programming includes it.
The remote is fairly basic, but functional, and easy to get used to. It is a "universal" model, in that it is also capable of controlling a DVD player, VCR and/or cable box. It does not include backlighting, and many buttons are similarly sized, so it's not exceptionally easy to use in the dark. But once your fingers know where the right buttons are, you'll be able to get around pretty easily.
The set-up menus are simple and straightforward. I was able to get in, get some basic picture controls tweaked, and get my local SD and HD channels added within a few minutes of opening the box, without referring to the manual. We also have a Syntax-Brillian LCD TV in for review, and I must say the Vizio's GUI, while less fancy than that of the Syntax, is far more intuitive.
The Vizio also offers a rudimentary built-in HDTV program guide - hit the "guide" button on the remote, when viewing an ATSC channel on the TV's built-in tuner and it will show you a list of the current and upcoming shows on the channel for the next several hours.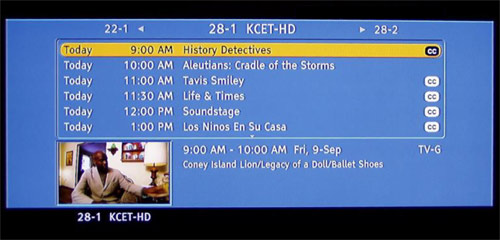 The only complaint I could raise in terms of the menus is that the TV does not offer independent red/green/blue "gains" and "cuts" (which are nice for calibration). It does offer red, green and blue level adjustment so I was able to get the color temperature pretty close to 6500°K, and get good color accuracy and decent contrast using the new SpyderTV Pro colorimeter and software.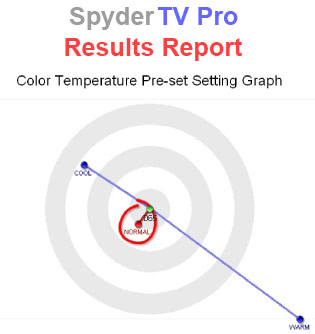 Viewing Impressions
When I took this set home for review, plugged it in and set it down in front of our Loewe 38-inch Aconda 9383 CRT HDTV, my wife was not pleased. She's become spoiled by arguably one of the best HDTV pictures in the business, and the Vizio just couldn't match its picture quality. Of course the Vizio is also four inches larger, includes a flat screen, weighs less than half as much as the Loewe, and sells for roughly 1/4 the price of the Loewe, but that didn't pacify her (her opinion softened over time, I might add, particularly after proper calibration).
As with all of the TVs we test, the Vizio definitely needs adjustment out of the box. The backlighting setting is high so it will "pop" on the showroom floor, but this only accentuates LCD's inherent flaws (motion trails, graininess and poor black levels). Cut that down to somewhere between 15 and 30 (depending on your room's ambient lighting conditions) and most of these digital nasties will disappear or become less apparent. Take the time (and spend a little money) to calibrate the set using a good calibration DVD like Avia Guide to Home Theater or a tool like
SpyderTV
, or
SpyderTV Pro
. It will turn an image that is marginally viewable to something that is actually quite acceptable.
Some content definitely looks better than other content on the Vizio. HD-DVD Movies on our Toshiba HD-XA1 looked excellent, with phenomenal detail and excellent color rendition. But live broadcast HDTV signals, particularly sports, seemed to look even better. Game 7 of the National League baseball championships ended badly for us Mets fans, but it was almost bearable to watch on the Vizio, with detail up the wazoo, and bright crisp colors.
Standard definition content on the Vizio is soft (as expected) but, with the TV properly calibrated, even SDTV was eminently watchable on the set. Not as sharp or detailed as on the Loewe CRT, but certainly as good as or better than other comparably priced LCD TV models.
DVD Movies coming in via a standard component video input at 480p resolution did display visible scan lines, even from 10-12 feet away. The scaler inside this set is decent, but not as good as the one in our Toshiba HD-DVD player. The set definitely benefits from an external video processor or high-quality up-converting DVD player. But hey, with the money you save on the set, you'll be able to afford those.
Final Thoughts
The more time I spent with the Vizio L42, the more I liked it. It was a solid performer, with a straightforward, intuitive ergonomic design, pleasing aesthetics and solid picture performance. Its most likely competition actually comes from Vizio itself with their comparably priced 42-inch plasma HDTV model (P42HDTV). And each has its advantages. If you're viewing in a light-controlled darkened environment, the plasma gets the nod in picture quality, including perceived contrast and color saturation. But if you want a strong all-around performer, with plenty of features and inputs, for use in a fairly bright environment, then the L42 is definitely worth checking out.
Where to But Vizio HDTVs online:Specifications from the Manufacturer:
• Panel: 42" diagonal, 16:9 Widescreen, Active Matrix TFT Liquid Crystal Display
• Resolution: 1366 x 768 pixels
• 30-bit color depth supports 16.7 million colors
• Viewing angle: 178°
• PIP (Picture in Picture) and POP (side-by-side)
• Rated Lamp Life: 50,000 Hours
• Stand: Included
• Signal Compatibility: 480i (SDTV), 480P (EDTV), 720P (HDTV), 1080i (HDTV)
• Response Time: 8ms
• Brightness: 500 cd/m2 typical
• Contrast: 800:1 typical
• Viewing Angle: 178° (horizontal/vertical)
• Tuners: NTSC Analog TV, ATSC HDTV off-air Digital TV and clear QAM
• digital cable
• Inputs: 1x RF (F Connector for internal ATSC/QAM/NTSC Tuner)
• 2x HDMI with HDCP plus Stereo Analog Audio
• 2x Component YPbPr plus Stereo Audio
• 2x Composite Video / 1x S-Video plus Stereo Audio
• 1x Analog RGB plus Stereo Audio
• Outputs: 1x SPDIF Digital Audio
• 1x Stereo Analog Audio
• Speakers: 2 x 10 W
• Dimensions (without stand): 28.81in (H) x 41.26in (W) x 4.29in (D)
• Dimensions (with stand): 29.84in (H) x 41.26in (W) x 11.42in (D)
• Net Weight: 73.33 lbs (33.2 kg) with stand
• MSRP: $1399.99
What's In the Box:
• L42 - 42" LCD HDTV
• Remote Control (VUR4)
• A/V Cable
• Power Cord
• Screen Cleaning Cloth
• Registration Card
• VIP Services Brochure
• Manual PDF
• Quick Start Guide
Manufacturer's Contact Information:
VIZIO, Inc.
320A Kalmus Drive
Costa Mesa, CA 92626
Phone: 714.668.0588
Fax: 714.668.9099
Toll Free: 888 VIZIO CE (888.849.4623)
Web:
www.viziotv.com