Digital Life 2006: Press Preview
By Chris Boylan
The
Digital Life Show
- a huge sprawl of electronics exhibitors showcasing all manner of electronic gear and gadgets, has been held annually since 2004 in the fall at Jacob Javits center in New York City. Earlier this month, members of the press were treated to some sneak previews of what we'd be seeing at this year's show. Here are some highlights that our home theater readership may find interesting.
Vizio
- a California-based company, with manufacturing operations in various parts of the globe, was on hand showing off one LCD and two plasma TVs which looked pretty nice for their price point. In fact the price point was the big news - Vizio dropped the price of their TVs so their 32-inch LCD HDTV (L32HDTV) is now $899, their 42-inch plasma HDTV (P42HDTV) is $1499 and their 50-inch HDTV-ready plasma monitor (P50HDM) is just $1999.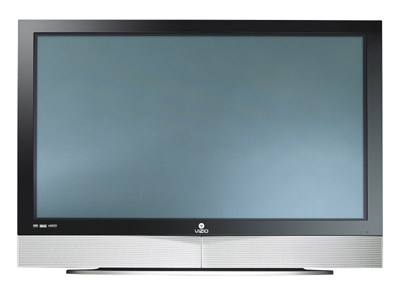 At my local Costco the 42-inch model was still labeled $1599, but the 50-inch HD-ready plasma monitor was there, big as life for just $1999. Run, don't walk to your nearest Costco or Sam's Club and take one of these babies home. It may be the HD flat panel steal of the year. Vizio will have a new 50-inch plasma model coming out in August. Details TBA.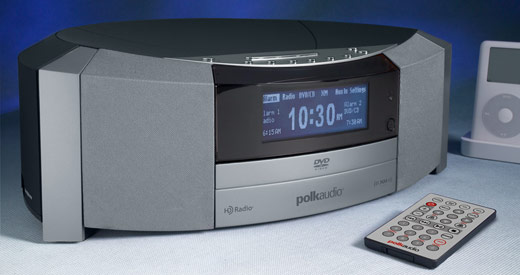 Polk Audio
showcased a functional sample of their soon-to-be-released i-Sonic table radio/DVD player ($599, expected to ship in August, 2006). I've seen the i-Sonic before, but I've never actually heard it before. Tuning into some local HD Radio channels, the i-Sonic was rocking the house.
In addition to HD Radio, the i-Sonic supports standard AM and FM radio as well as XM via the addition of an optional "plug-and-play" antenna (and the monthly XM subscription fee, of course). It also includes a DVD/CD player that supports MP3 playback from CD-R. If you're looking for the best damn table radio on the planet, that also happens to support DVD and CD playback, this may be the one. Look for it later this summer.
A company called
Shield Zone
had a very interesting product on display, but if you weren't looking closely, you might have missed it. They make something called the "invisibleSHIELD" - a nearly invisible protective skin, custom-fit to prevent scratches and other damage to portable devices such as cell phones, smart phones, iPods, digital cameras and other essential gadgets that may not always be treated with the respect that they deserve. Pricing starts at $9.95 for basic screen-shields, and goes up to $24.95 for full body shields for iPods or smart phones. They call it "the ultimate scratch protection film." I call it Saran Wrap on steroids.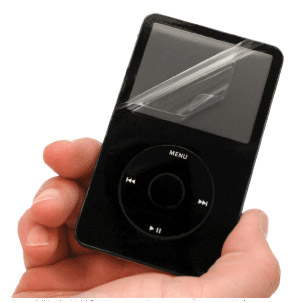 The demo was impressive - stretching out a 4 inch length of the transparent material, I attempted to poke a hole in it using a ballpoint pen. I was putting quite a bit of pressure into it, but the material would not puncture. When it's wrapped around an iPod or cell phone, it's virtually invisible, adding only a few microns of transparent shield around the item. Designed originally to protect helicopter blades from being damaged when encountering foreign objects during flight, this material is strong enough to protect your gear from the constant abuse of life on the road (or life in and out of your pocket). It's guaranteed for the life of your device so if it ever peels or fails in any way, you can get it replaced under warranty. A nifty little product for gadget lovers everywhere.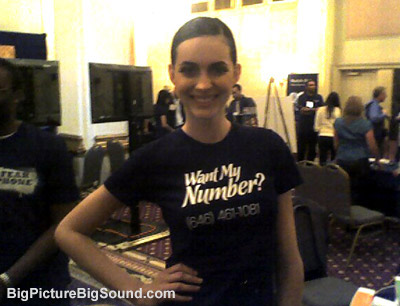 What do you do when a beautiful Russian stranger walks up to you and asks if she can give you her phone number? Ask, "What's the catch?" And the catch, in this case, was that this was just a ruse, trying to draw me into the NetZero voice booth (and it worked!). With
NetZero Voice
(yes, the same people who offer NetZero internet service), you can get your own incoming phone number and voice mail for free. Pick a number (or two!) and take it out with you when you go bar-hopping just in case those beer goggles get you in trouble. Or put it on your business card for that new online start-up business.
Incoming calls are routed directly to voice mail, which you can check for free. NetZero hopes you will upgrade to their premium VOIP service (plans start at $3.95/month for 100 minutes) which includes inbound and outbound calling. Rates are as low as 2 cents per minute in higher volume. Get your free private phone number at
PrivatePhone.com
.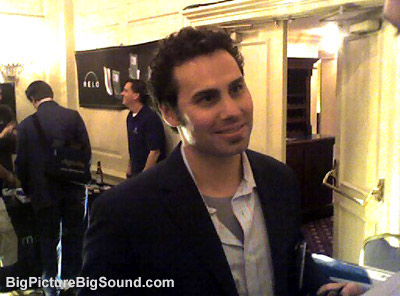 Logitech
was in the house, displaying their webcams, keboards, mice, and of course, their Harmony universal remotes including the outstanding
model 880
and its RF-capable twin, the
model 890
. Nathan Papadopulos, Logitech's Marketing Communications Manager, acknowledged that the first batch of 890s that shipped out had some software and firmware issues that could lead to difficulties with the remote's initial set-up. But the most recent units are shipping with enhanced control software and firmware that improves the set-up operation considerably. Current model 890 customers can download the latest software version from
Logitech's web site
. Firmware updates occur automatically once you're running the new client software.
Anthology Solutions
was on-hand showing off their one terabyte Yellow Machine NAS (network attached storage) device ($999, available now). How is this related to home theater? Well you need somewhere to store your movies, music (and photos, and other documents too for that matter). Why not do it all on a single one-terabyte (1024GB) monster disc array, housed in a deceptively small box?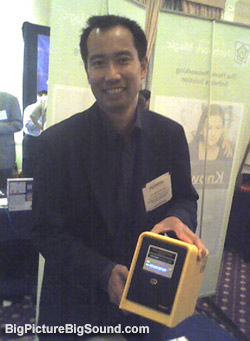 "Protect your data, save it, secure it and share it" is the Yellow Machine motto. Catchy, right? The Yellow Machine features a self-healing self-repairing disk drive, including RAID 5 support, so you can store data redundantly with only approximately 25% storage overhead. If the disc detects corrupt data, it restores the original from internal back-up and fixes the problem before it even becomes a problem. Reliability over a standard hard disk drive is said to be "1000 times higher." The high availability, high capacity box features built-in wired router connectivity. DLNA compliance will be coming soon with Anthology's upcoming release of media server software.
If your file storage needs are less intense, or you prefer to lease rather than own your data storage area, then consider
Streamload
MediaMax - an online media center and file storage center that allows you to store up to 25 GB (gigabytes) worth of data for free. For $9.95/month, you can bump that up to 250GB, and for $29.95/month, you can go all the way up to one terabyte (1024 GB). MediaMax version 1.5 was just released in the middle of June and offers a full suite of media sharing and remote file access applications.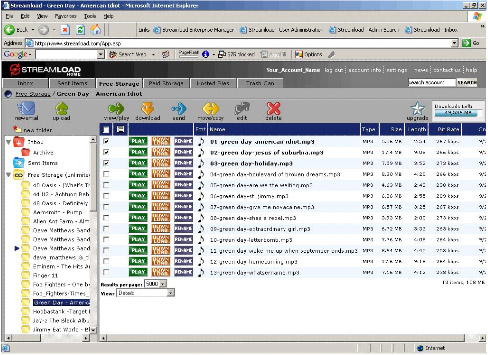 And in case you're looking for a way to fill up all that space,
Vongo
was at the event talking up their legal movie download service which is available as an "all-you-can-eat" option for $9.99/month, or available on a per-title basis for $3.99 per movie downloaded. Because Vongo is a division of Starz network, they have download rights to over 1,600 films, many of which are exclusive to Starz/Vongo for a specific period of time.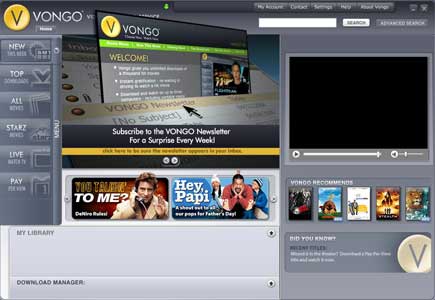 Vongo also discreetly mentioned to me that they would soon be making an announcement for portable device support for a particular manufacturer that shall remain nameless,
TOSHIBA
(don't worry,
it's public now
). As of this month, you can now download films from Vongo's extensive library to your Toshiba gigabeat portable media player (via Vongo's PC-based download client). You can then watch the movie on the built-in 320X240 pixel screen, or output it to any TV with a video input jack.
However, if you're planning to watch a movie on a larger screen, you're better off hooking your computer up to the screen, and downloading the movie in "near DVD" quality, rather than "portable quality." The file size is larger (and the download time longer) but it'll be worth the wait. Vongo does not yet offer titles in High Definition resolution, but with download speeds getting faster and faster, it's only a matter of time before they do.
And speaking of Toshiba, they were also present, showing off their new QOSMIO G35-AV650 Media Center laptop with built-in HD-DVD player, TV tuner, Dolby Home Theater surround processing and integrated Harman/Kardon speakers ($2999 in standard configuration with 1GB RAM and 2 X 100GB hard drives). The unit even includes a fingerprint scanner for an additional layer of security (for those "sensitive" home videos, perhaps?)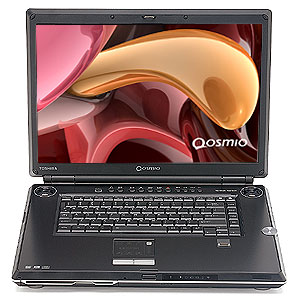 One nice thing about this laptop is that if you just want to watch TV, watch a movie on DVD, or HD-DVD, or listen to a CD, you can do this by pressing a media button on the laptop, which then activates the "QosmioPlayer." In this mode, the operating system doesn't boot up - the laptop turns into a portable media player with 17 inch widescreen display. CD/DVD transport buttons on the unit itself operate playback and the image is displayed on the Qosmio's 1920X1200 resolution screen. This is an extremely nice touch as it saves battery life and eliminates the delays associated with booting up the PC.
All in all, the press preview had some interesting new product introductions and should be a sign of fun home theater gear to come at the Digital Life show this fall.