Logitech Harmony Model 880 Advanced Universal Remote Review
By Chris Boylan
Remote Possibilities
With HDTV, DVD, DVD-A, SACD, CD, PVR, LCD, DLP, DTS, and other fun home theater acronyms, the more technology marches forward, the more complicated our home theater systems get. Yes, there are simple one-brand "home theater in a box" units that can be controlled by one remote. But the fact is that if your goal is to build a flexible high performance home theater, you're going to end up with multiple black or silver boxes each contributing its own specialized part to the glorious whole. So how do you, and other family members for that matter, operate all of these various components without an advanced degree in electronic engineering? That's where
Logitech's Harmony 880 remote
comes in.
I've been impressed with Logitech's Harmony family of universal remote controls since even before I first reviewed the
model 688
in 2004. I did have some problems with initial set-up of that unit, but once configured properly, I found the remote quite capable of operating my entire system. There were a few issues I raised with the 688 that I thought needed improvement. So has Logitech addressed these issues and made a good thing even better? Read on to find out.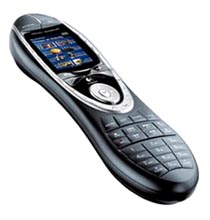 Gentlemen, Start Your Remotes
In the box you'll find the remote itself, a USB cable, a rechargeable lithium-ion battery, charging cradle, power plug, software CD and a simple illustrated installation guide. I installed the battery, plugged in the charging cradle, and let the unit charge overnight. By providing a rechargeable battery and charger as well as a battery strength indicator on the remote, Logitech has addressed one of my criticisms of the 688. On the older 688 remote, there is no way to tell that the batteries are weak, so performance can drop off to nothing, yet the remote still lights up and looks normal. The 880's battery indicator shows you at a glance how much juice you have left, and after a few days of use, a quick rest in the charging cradle restores it to full charge. Or you can just keep in the cradle at all times when not in use and never have to worry about it.
Point and Click Your Way to Remote Simplicity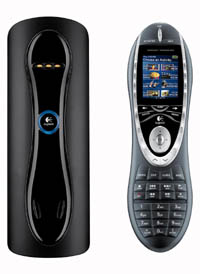 You begin configuring your Harmony remote by loading software on your computer (Windows PC or MacIntosh with Internet access and a USB port), and plugging in the supplied USB cable between the computer and remote. Once the remote is plugged into your computer, the Logitech software starts automatically and you are taken to the Logitech web site where you set up your account and then specify the brand and model of each of your components. Then the Logitech software automatically retrieves the specific codes for each of your devices from its vast remote code database, and prepares these codes for download into your remote. But before downloading the codes, it's a good idea to set up "activities."
An "activity" is exactly as it sounds -- it's some activity or behavior that you do with your system, like "watch a DVD" or "listen to radio." It could be as simple as turning on your receiver, switching it to tuner and tuning in your favorite radio station, or it could be complex, involving powering up multiple components in your system, setting them to specific inputs and configuring the remote to operate the receiver for volume control, the cable box for changing channels, and the TV for aspect ratio control. This is where the Harmony remotes really shine.
For an activity like "Watch a DVD," the set-up wizard asks you a series of questions like, "which input does your receiver need to be set to, in order to watch a DVD?" and "which input does your TV need to be switched to, in order to watch a DVD?" and "where do you adjust the volume while watching a DVD?" You point and click the answers to these questions, then, once you have completed setting up your activities, you click "Update My Remote" so that the appropriate control codes will be downloaded to your remote. Depending on how many devices you have, and how fast your Internet connection is, this first download might take one or two minutes, or it could take longer. Once the download is complete, your remote "reboots" (which takes just a few seconds) and you're ready to rock.
Hard or Soft - How Do You Like Your Buttons?
As with other Harmony remotes, a series of dedicated "hard buttons" operate common functions like channel up/down volume up/down, play, rewind, and even PVR Menus and Guide functions. But unlike other Harmony models, there are no dedicated activity buttons along the top of the remote. Instead the LCD screen includes pictogram and text labels for each activity, and the hard button next to each activity label initiates the series of commands associated with that activity. This is another improvement over the 688. I always found the 688's activity buttons along the top of the device to be hard to read, even in medium lighting. Plus the older 688 remote's top activity buttons' labels could not be customized since the text was printed right on the buttons. How many people actually "play a videotape" any more? But the 688 is stuck with that as an activity button label.
The 880's activity button labels, displayed on the screen, are fully customizable. You can type in whatever text you want as a label for the activity (up to 20 characters) and you can arrange the order of how they appear on the screen however you like. The twenty-character limit can be a bit deceiving though. The way it works is that if you have a one-word activity label, then this word will display up to 6 characters in a large font. If the word is longer than 6 characters, then it displays only the first 6 then uses ellipsis (...) to show that the word actually continues. But if you have a multi-word title, like "watch a DVD" then it displays all words but the last one in a smaller font, but the last word in the larger font. The last word in the activity label is still limited by that 6-character rule to fully display without truncating the text. However, Harmony also allows you to select a "large print" version of the screen that uses the full screen width for each activity label. The drawback is that you can only fit 4 activities per screen, but this option does make the activity labels even more easily readable.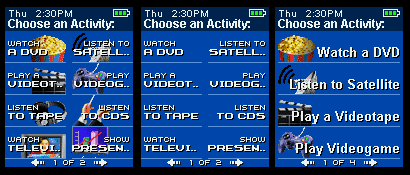 Up to eight activities appear on the screen at one time, but you can scroll through multiple screens of activities if you have a very complicated system with many source components. I ended up with eleven discrete activities, but I put the most common ones, like "Watch HDTV" and "Watch a DVD" on the first page.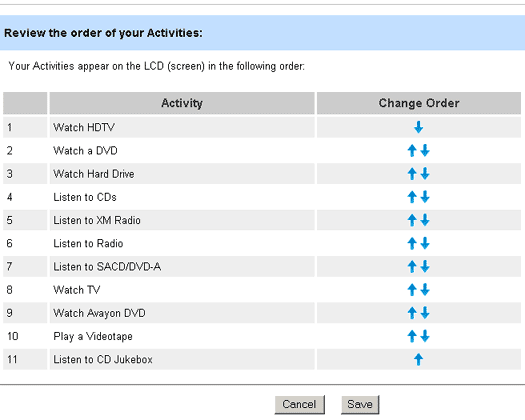 Once you're in an activity, you can also program these 8 spaces on the LCD screen to perform functions for any component required by that activity. In other words, if you're watching a DVD, you can program one button in the LCD screen to access the disc's subtitles and another button to operate the TV's aspect ratio control. If you need more detailed control of any component, then you can switch from activity mode to "device" mode where all of the devices functions are included in the LCD screens, including specialized functions like timer programming, direct input access buttons and surround sound mode controls.
Size Matters
Another of the drawbacks of the model 688 was that its low resolution LCD had limited space to display these function names. The 880's larger, higher resolution color screen minimizes this problem, by using easily readable mixed small/large font labels that support detailed multi-word descriptions for functions such as "Input AM/FM Tuner" and "Multi-Channel Input."
If you're upgrading from another Harmony remote to this one (as I was), your life will be even easier than if you're starting from scratch. Since all of your devices and activities are stored on the Harmony Web site, all you need to do is log into your Harmony account, hit the "connectivity" link (top left) and the Harmony software will identify the new remote, convert your devices and activities to the appropriate format and download the complete set of codes to your new remote. At least, that's the theory. My experience was slightly different, though not too complicated.
When All Else Fails, Blame the Software
Because I had an earlier version of the Harmony software installed on my laptop (from the 688 remote), and because this earlier version did not support the new model 880, my new remote was not automatically recognized by the Harmony software (even though I had also installed the new software). I actually had to go into Windows Control Panel and remove (uninstall) the earlier version of the Harmony software, reinstall the new version, reboot, and then I was good to go. The Logitech folks should take this into consideration in the software installation process -- ask users if they are upgrading from an earlier remote, or better yet, detect it, and automatically replace the older version with the newer where appropriate. Of course, this would not be an issue for anyone starting from scratch. And in any case, once I removed the old version, the Harmony software did recognize the new remote, and the "update my remote" process did seamlessly copy over all of my devices and activities... well, almost.
When I attempted to do the "Update My Remote" step, the download process failed, saying that I was attempting to set my DVD recorder to an invalid state. The Web site suggested I re-run the set-up wizard for this device. Ugh. So I did that -- actually it only took a couple of minutes -- reran "Update My Remote" and everything downloaded fine. So one component out of twelve did need to be re-programmed. Not too bad.

So... How did it do?
I brought the new remote into the living room and verified that my activities and device controls worked fine with no additional customization required. Plus the larger, higher resolution color LCD screen is so much easier to read and use than the 688's screen. The 688's screen only displays up to 6 characters for each function, with only 4 functions on the screen at a time. The 880's screen displays up to 8 functions labeled with up to 20 characters each. The only glitch I noticed in the transfer was that, for two activities, the LCD screen was missing one custom function that had been present on the 688. Specifically, on the 688 my "Watch HDTV" and "Watch DVD" activities had the TV's "Aspect" control exposed on the LCD screen. These did not carry over to the 880. I had to plug the remote back into the USB port, go to my Harmony home page and re-add the function to the activity. Other activities like "Watch PVR" had all the functions transfer over perfectly.
All in all, I was very pleased with the upgrade process. With twelve devices and eleven activities, it would have been tedious to run though the whole set-up process all over again. With the upgrade, I got 95% of the way there with virtually no effort. I also set up another 880 unit from scratch for a friend's system, and his set-up went without incident. For four devices and three activities, it took about 45 minutes from start to finish to get the software installed, the devices identified and the activities set up, then another 45 minutes or so to add custom functions to some of the activities.
Friendly, Very Friendly
In terms of daily use, the 880 is even more user-friendly than the 688. Although both have an integrated help function, for when things don't go as planned, the Help function on the 880 seems more... well...
help
ful than that of the 688. My wife noticed this too. Occasionally someone may forget to use the Harmony for everything and will manually turn a component on or off. The Harmony's "SmartState" feature remembers the power status of any device that you use it to control, but if you do not use the remote to power a device on or off, the remote will -- expectedly -- get confused. So one of the devices you need for a particular activity may be turned off instead of on. A quick tap on the "Help" button causes the remote to step through each device required by the activity asking you if it is on or off. If you say it is off, then the Harmony sends it the "on" code and asks if this solved the problem. It goes through each of the devices until it fixes the problem. Very neat.
There are other nice ergonomic touches on the 880 as well. As soon as you pick up or move the remote, a built-in motion sensor illuminates the screen and the keys so you can see what you're doing in a darkened room. The lighting lasts as long as you want it to (user adjustable), and this feature can be disabled completely, though I don't know why someone would want to do so. The hard-key button layout is very logical and includes commonly used DVR (Digital Video Recorder) buttons like "Guide," "Info" and "Menu" so it works well with a Tivo or TV Guide-based DVR unit or digital cable box.
In fact, the 880 works very well with every device I threw at it, including two DVD players, an S-VHS VCR, a portable 8mm VCR, one DVD recorder/DVR, one High Def DVR, a laserdisc player, a preamp/processor, CD player, tape deck, HDTV and both portable and home XM satellite radios. You'd be hard-pressed to find a device that doesn't play well with the Harmony 880.
OK, OK, Enough Already, It's Really Really Good, We Get It!
In summary, I really enjoyed my time with the Harmony 880. It addresses all of the shortcomings I noted in my review of the model 688 without losing any of the benefits of that remote. The only trouble I had in this review was trying to find something not to like. Its lack of RF (radio frequency) capability is probably its only significant drawback, but you can get that (for double the price) in its otherwise strikingly similar big brother the Harmony 890 Pro. But RF capability is only necessary if you want to control your devices from another room, or from the other side of an opaque cabinet. If your home theater devices are in one room, you have a lot of them, and it's getting harder and harder to explain to your wife and kids how to use them, then get yourself to a Harmony dealer to check out the 880.
Where to Buy:
Product Specifications and System Requirements:
Price: $249.99


Dimensions (in inches):8.1x2.3x1.3


Screen: LCD with 64K colors


Number of buttons: 55


Navigation control: 5-way joystick


Maximum number of devices: 15


Maximum number of activities: 255


Memory: 2 Megabytes non-volatile flash memory


Weight: 5.8 oz


Color: Charcoal with chrome accents
System Requirements:
IBM® or compatible PC
:
Microsoft® Windows® 98, 2000, Me or XP

USB port

CD-ROM drive

Internet access
Macintosh® PC
:
Macintosh® OS X or later

USB port

CD-ROM drive

Internet access
Package Contents:
Harmony® 880 remote control

Recharging station

AC adapter

USB cable

Lithium-ion battery

Installation CD

Installation guide

Limited 1 year repair/exchange warranty from date of purchase
Company Information:
Logitech Remote Controls
2355 Skymark Avenue, Suite 200
Mississauga, Ontario L4W 4Y6 Canada
+1 905.273.4571 Main
+1 905.273.9789 Fax
Website:
www.logitech.com/harmony