Logitech Harmony 688 Remote (H688) Review
By Chris Boylan
Can a Remote Control bring Harmony to your Household?
As you may have read in my show report from Home Entertainment Expo, I've got a little problem with remotes. A side effect of being a home theater gear-hound is that my collection of remote controls is growing faster than the national debt. In my main system, I have no less than ten remote-capable devices, plus another three in my secondary system, a camcorder and an air conditioner. That's fifteen remote controls (for now), and just about all of them see action for one thing or another during the course of the day. My 11 month old son sees all these remotes as a smorgasbord of teething aids and my wife sees them as just plain ridiculous so I've been driven to find a simplified solution.
Oh, I've tried universal remotes. I've used some of the Philips Pronto touch screen remotes but found them sluggish to respond to commands and time-consuming to program. I had pretty good luck with the original Marantz RC-2000, but unfortunately it was completely unable to learn the functions of my Outlaw preamp/processor so I've been forced to seek a replacement. Is this little unit from Logitech/Harmony just what the remote doctor ordered? Read on and find out.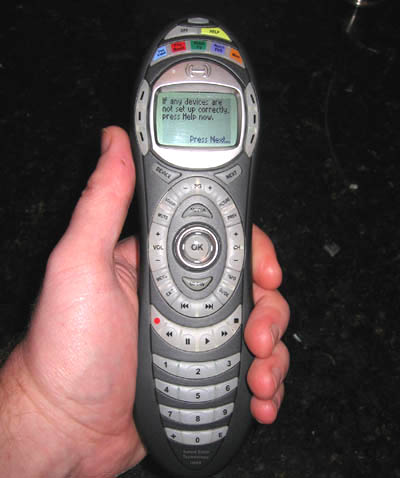 The Harmony H688 remote, like other Harmony remotes, is designed to be usable - and programmable - by just about anyone. Instead of just a simple replacement for your factory remote controls, the 688 is set up to perform common "activities" which take care of all the details involved in a complicated home theater system to accomplish specific tasks. An activity like "Watch a DVD" might require that the DVD player be turned on, the TV be powered up and switched to the appropriate input, and the home theater preamp or receiver be powered up and set to the appropriate input. And after all that is done, let's make sure that the Volume buttons still operate the preamp, while the transport buttons operate the DVD player.
A series of "hard buttons" (which actually have a nice comfortable cell-phone-like feel) operate common functions like channel up/down volume up/down, play, rewind, etc. More elaborate functions like timer programming are buried within a scrollable menu that uses the remote's small LCD screen.
Unlike traditional universal remotes, which either require you to point your remote at the ass-end of the new remote to painstakingly program in all the functions one button at a time, or to punch in arcane codes for your manufacturer and device, the Harmony takes care of all programming of your remote on their Web site. Plug your remote into your computer with the attached USB cable, go to the Harmony web site, select your components and you're in business. At least that's the theory… Reality for me was a little different.
Upon opening the box, I found the remote, a USB cable, 4 batteries, a software CD and a user manual. I decided I would try this without opening the manual, and just see how far I could get on my own. After all, I'm pretty handy with technology. How hard could it be? Answer? Not hard at all! To get started anyway...
The CD had an auto-run file, so just putting it into the computer loads the installation program. After a couple of clicks, the installation was complete, and a page on the Harmony Remote web site opened automatically: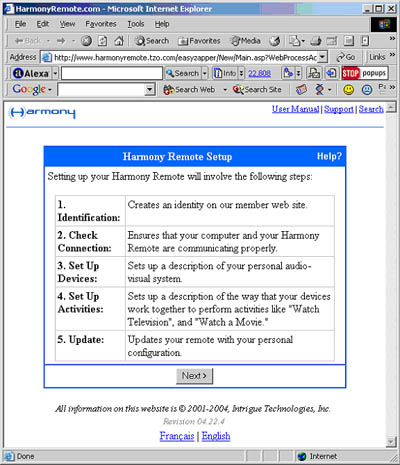 I clicked through a couple of screens, skipped the tutorial (already saw what I needed in the demo at the Home Entertainment show), and entered some info to create an account on the system. It asks for location so that it can "retrieve TV listings for my area" - hmmm… this is getting more interesting all the time.
My ID confirmed, the process then also verified that my remote was able to communicate with the Harmony Web site (oops, I plugged in the USB cable between the remote and my computer while you weren't looking). It gave me a Happy Face and confirmed that we were locked and loaded.
I then selected the brands of the various components within my system. I had to click "show more devices" for things like a DVD recorder, cassette deck, laserdisc player and DAT recorder to show up. But I was able to select all of my various device brands, including my Loewe TV and Outlaw preamp/processor (by the way, preamps are categorized as "receivers" here). It did not have a category for "air conditioner" but on a whim, I selected "lighting controller" and Maytag was in the list of manufacturers so let's see if that works (hint: it didn't).
Then... a chink in the armor... it asked me for my model numbers. In the show demo, the Harmony rep selected model numbers from a drop-down list so I thought this would be the process during the set-up. I may be a geek, but I don't remember all my model numbers off the top of my head. OK, time to get off my ass and search for model numbers…
Model numbers in hand, and ass safely back in my seat, I returned to the computer and typed some models in upper case, and some in lower, some with and some without dashes - it recognized all of my models except my CD recorder for which it had two similar model numbers and it asked me to select which one I wanted. Also, it did not recognize my "light controller" which was not a light controller at all, but an air conditioner.
It asked me if I had the original remote for this device (the air conditioner), and I said yes, then it took me into a "device tutor" and asked me to point my original remote at the Harmony. I tried to go back and just delete this from the list - no dice, so here I go into the device tutor to teach my Harmony how to operate a light controller that is not a light controller… the controls were for dimming and turning off the lights (as they should be), so I just cancelled out of the device tutor and resolved to delete this item later.
Giving up on the air conditioner, I decided to just set up the basic audio and video components. Harmony took me through a few "activities" (Watch DVD, Watch TV, Listen to Radio, etc.), it asked me some basic questions like "Which input needs to be selected on your Loewe TV to watch a DVD?" and "Which input needs to be selected on your Outlaw Receiver to watch a DVD?" - etc. These were all clearly worded and comprehensive. This part of the set-up process was excellent. Upon completion of set-up, the codes were then automatically downloaded to the remote, via the USB cable. This took just a few minutes over my broadband cable connection. I excitedly disconnected the remote from the computer and brought it over to my living room. And then what? Failure.
I guess my Loewe TV and Outlaw preamp/processor must be tricky, because "Listen to Radio" did get the preamp on and switched to the AM tuner, but then none of the Harmony buttons would switch the Outlaw to FM. (Note: later, at the suggestion of one of the helpful Customer Service reps, I was able to add an extra "AM/FM" toggle command to the activity and get the results I was looking for). And when I attempted to do any of the "Watch TV" or "Watch DVD" activities, none of my Loewe inputs were right. Some of the inputs were correct for the preamp but not all. Labels that said "InputDVD" and "InputVideo1" in the Harmony set-up screens for the Loewe did not correspond to those actual inputs. So I decided to try to get this right by setting up the components again.
Because the Harmony web site had multiple listings for both the TV and the surround sound preamp with similar model numbers, I decided to use the original remotes to let Harmony know exactly which devices I was using (the previously mentioned "device tutor"). I dutifully re-connected my remote to the USB port and this automatically brought me back to the Harmony web site. I selected "Setup this Stereo Receiver based on a similar device" - basically this allows you to point your original factory remote at the Harmony remote, press a few buttons then Harmony compares these to its device database and makes a recommendation as to which device you have. Sure enough, again it said "Outlaw Audio 950 Receiver" and "Loewe Television ACO 9383 PB" and I allowed it to update all my activities and update the remote with the new codes.
The update process itself worked without a hitch, however, when I then disconnected the remote from my USB port and tried the remote again in my system, the behavior was even worse. Now the remote did absolutely nothing to control my Outlaw preamp. No power, input, volume, nothing. Even scrolling through the menu of controls and trying everything had no impact on the Outlaw. Similarly the TV controls had very limited effect. The TV did cycle through its inputs and power on once, but then hitting the "Off" button on the Harmony did not turn off the TV, and to power the TV back off, I had to cycle through several screen on the LCD, "PowerOff" did nothing, "PowerOn" did nothing, "PowerToggle" did work once to power it on, but not to power it off.
At my brilliant wife's suggestion (thanks, honey!), I decided to check the batteries. At this point, I had actually owned the remote for a few months (though I had been using it very infrequently due to its limited usefulness after the first pass of set-up). And sure enough, the batteries were very weak. When I tried to change the batteries, the force required to get the battery door open was more than I expected and the battery door was sharper than I expected - it actually sliced open my thumb when I opened it. With fresh batteries, and a fresh Band-Aid, I was back in business. At least it would operate my preamp and television again, though now the DVD recorder was not responding to any commands. Again, here we go to the Harmony web site, to try setting up the device again…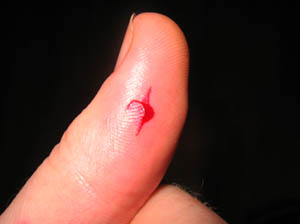 After choosing the device tutor again, pointing the Panasonic remote at the Harmony and allowing the site to pick my device, the DVD recorder controls were operational again. But some odd choices were made for the hard buttons. One of the most commonly used buttons on my Panasonic DVD-recorder remote is "Direct Navigator" which allows me to see a menu of what's recorded on the hard drive or on the DVD. I would have thought that the "Menu" button on the Harmony would provide the same function. This is not such a stretch - if you watch a standard store-bought DVD on this player, the "Direct Navigator" button does function as the Menu button on a traditional DVD player. However, on the Harmony, the Menu button brought up a "Play List" - something that really is
not
a very widely used function. To get the Direct Navigator, I had to scroll down several pages in the LCD menu and hit the badly labeled "OSD" button.
This appeared to be a common problem with the Harmony, at least for me. Even when you have selected the specific device and basic operation works, some functions you would expect to find are missing and some are just plain wrong. Case in point, my DVD player (Pioneer Elite DV47Ai) was recognized and basic operation worked. However the Next/Previous chapter hard buttons did NOT work. And the full command menu on the LCD screen included such useless commands as "Disc 1" "Disc 2" "Disc 3" - this is a single disc DVD player, not a changer. The same was true for the Panasonic DVD recorder. These commands had no business in the menus for these components and only served to clutter the LCD menu of commands. Similarly, on my Loewe TV, after selecting the correct model number (ACO 9383) a series of Direct Input buttons showed up on the LCD screens, but these did not access the direct inputs. I had to cycle through the inputs in order to get to the correct input for various activities and this did not always work properly.
On a whim, I decided to try some other Loewe TV models from Harmony's database to see if these would allow me to access the video inputs directly. I was able to select a generic Loewe TV that had direct input commands that seemed to correspond with mine. Once selected, and with a bit more customization, I was able to get direct inputs to work, and all of the "activities" then worked flawlessly.
TV listings were also imported into the remote, based on my zip code and my chosen provider (broadcast TV). But the LCD screen is just too small to do anything with them. In fact, this may be the Achilles heel of this remote - the screen is too small to be of any real value. When you need to operate a function that is not represented by one of the standard buttons, you need to scroll through the LCD screen to try to find a function that matches what you're trying to do. These are apparently the internal code names of the various remote functions. Because it only displays 4 functions at a time (and it is impossible to scroll back, only forward), it can be very frustrating to find commands that are not represented by hard buttons.
On the plus side, if you're willing to spend some time re-programming the remote, you can get in and re-program the hard buttons with new functions. I did this with the missing chapter and "Direct Navigator" buttons described above as well as the direct input access buttons for my Loewe. In fact, this gave me something I did not even have with my original remote - the factory remote on my Loewe HDTV did not have direct input buttons on it, but the generic Loewe TV remote on the Harmony web site did.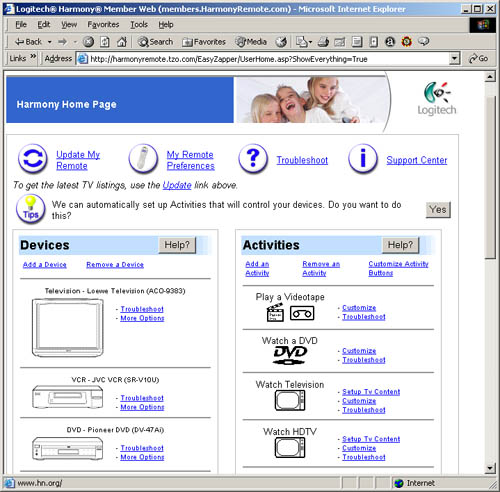 All told, I did spend several hours programming the remote online and testing various functions but in the end, I was able to get the Harmony to do pretty much exactly what I needed it to do. But I would guess that many people might give up before they make it past the basic set-up and just live with the omissions and awkward LCD menus.
Things I like about the Harmony H688:
"activities" once set up, work well. It took me all of 5 minutes to show my wife how to "Watch a DVD," "Watch HDTV" or "Listen to Radio"


customization of the hard buttons and the LCD screen controls is relatively easy to do once you find the appropriate sub-menu on the Harmony web site.


I now find myself running for the factory remotes much less often - one remote really can control my whole system


on-screen Help asks you questions and fixes problems without you having to get up and find the factory remotes


range is excellent - it operates my Pioneer DVD player and Panasonic DVD recorder from a much wider range than the factory remotes


Customer support was very responsive. I used only their e-mail support and received accurate courteous replies within 24 hours each time I needed help.


Things I don't like about the Harmony H688:
set-up was nowhere near as easy and straightforward as I expected it to be.


activity buttons at the top of the remote are impossible to see in low light and even not that easy in medium light (black text on colored backgrounds).

no low battery indicator (functions were greatly reduced but the remote still glowed and appeared to be working normally).

adding multiple additional activities (beyond the 4 hard-coded activity buttons) requires you to hit multiple buttons just to scroll to the activities on the LCD screen.


scrolling through the LCD screens for advanced functions is awkward.


thumb-eating battery door.


Suggestions to Logitech/Harmony for improvement:
increase size of the LCD screen to allow for more activities and better labels


add battery strength indicator or warning


clean up the database of codes or allow user feedback and updates for problems encountered during set-up


make hard coded activity buttons more visible (or just get rid of them and replace with LCD or touch screen buttons with custom text)


make the battery panel easier to open and less sharp!


Final Thoughts
All in all, after much cursing and gnashing of teeth, and even some spilled blood, I have been able to get this remote to perform extremely well in my system. Admittedly, Loewe TVs, Outlaw preamps and Pioneer Elite DVD players may not be as ubiquitous as Sony and Panasonic gear, so it's likely that most people - particularly people with less complicated systems - may be fully operational in their first pass. I think the idea of a web-programmable remote is absolutely brilliant but the execution is still not perfect.
In fact, a few days after getting the remote working properly, it randomly lost the ability to adjust the volume up on my preamp/processor; volume down still worked, but volume up did not. I double-checked with the factory Outlaw remote - it worked fine - so this was not a problem with the Outlaw, but with the Harmony remote. I found that if I pressed the volume up button really hard, then it did work, but this didn't seem right. I e-mailed support and they told me that they suspected the button membrane was not seated properly against the circuit board and I should try to move the pad around a bit by hand to reseat the button. This did the trick and I was back in business the next day.
As for solving the other problems encountered during setup, I'd have a couple of suggestions to the Harmony folks: if multiple versions of the exact same model numbers are stored in the system database (which was the case, in my experience), then Harmony should allow users to vote on them and maybe even include a user feedback column (e.g., "tried this one, couldn't get direct inputs buttons to work, use 'Loewe Television 1' instead"). This way people will avoid the frustration that I went through. Also, a larger LCD screen is needed - maybe even a customizable touch screen - and they simply must do something about the tiny, hard to read labels on those activity buttons.
I would recommend this remote or other Harmony models to anyone who has a complicated home theater system and wants to make it easier for their family (or even themselves) to use the system. The Harmony may appeal to those who are intimidated by hard-core computer-programmed remotes like the Philips Pronto or those who simply do not care for touch screen remotes. But I'd offer a strong caveat that getting this remote to behave as you want it to may require a bit of patience and more time on the computer than you may expect.
"A"
for Effort,
"B-"
for execution.
Specifications:


Colors: Metallic Silver, Gun-Metal Black

Software: Current system requirements: PC with USB port, Windows 98SE/Me/2000/XP or Mac OS X with Safari 1.0, Internet access, 10MB free hard drive space. Future support for Linux

Memory: 2 Megabytes Non-volatile flash memory.

Hardware: Backlit LCD 84 x 48 pixels, 56 top mounted hard buttons, Infrared sensor, USB communication, Speaker.

Infrared (IR): 3 wide dispersion high power LED's (Range > 40 feet, sending frequency > 60 kHz, sensing frequency > 60 kHz.)

Power: While connected: USB power from PC, when not connected: 4 AAA 1.5V batteries.

Dimensions: 8.1x 2.3 x 1.3 inches

Weight: 5.8 oz

Warranty: 366 day repair/exchange warranty for factory assembly defects only.

Box contains: 688, Harmony Software Installation CD, USB cable, 4 AAA batteries, Quick Start Guide.

Price: $249


Company Information:
Logitech Remote Controls
2355 Skymark Avenue, Suite 200
Mississauga, Ontario L4W 4Y6 Canada
+1 905.273.4571 Main
+1 905.273.9789 Fax
Website:
www.logitech.com/harmony