Pioneer AirWare XM2go Portable XM Satellite Radio Review
By Chris Boylan
I'll Take my Satellite Radio to Go, Please
Radio you pay for? Why on earth would you want that? That was my first impression, and it lasted for a while, until I actually experienced XM up close and personal when I reviewed Polk's
XRt12 XM tuner
. Then I started to see what over 6,000,000 XM subscribers already figured out -- Satellite Radio is cool! But as much as I liked the Polk unit, and the XM programming, this technology was really made to "go mobile." Yes, you can get a dedicated XM radio for your car. Some factory head-units are XM ready and there are many aftermarket choices, but then you'll pay one subscription fee for the car and another for a home or portable radio.
An attractive choice for cheapskates like me, who want their XM anywhere and everywhere without multiple subscription fees, are the XM2go units like this Pioneer AirWare XM2go portable radio. It can be used in the car, at home or on the go with a built-in XM tuner, 5 hours of record/playback and accessories for every type of use included in the box.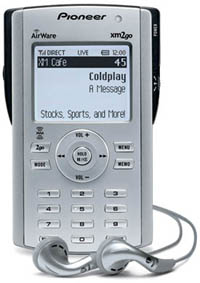 In fact, that was one of the things that impressed me most on a first impression -- just how much you get in the box. A full home kit including docking station, home antenna, cables, power adapter and remote, a full car kit with power adapter, cassette adapter, mobile antenna, built-in FM transmitter and multiple mounting widgets for just about every type of mounting imaginable. Plus since it's a fully portable tuner/XM player, it also comes with earbud headphones and a carrying clip which doubles as a desktop stand. This thing has everything! All this hardware could be a bit intimidating to the average individual (particularly iPod lovers, who are used to simplicity). But, with all these options, most people should have no trouble getting everything up and running.
Installation was pretty straightforward for home -- insert the included battery, assemble the two pieces of the docking station, plug the power adapter, antenna cable and line output cable into the docking station, insert the line output cable into an available input on your receiver or preamp, slide the radio into the dock and voila -- you're set. My unit locked on a strong satellite signal with the antenna about 12 feet away from a south-facing window.
You'll only receive channel 1 -- the XM Preview channel -- until you activate the radio by signing up for XM service. You can activate your radio on www.XMRadio.com or by calling their toll-free activation line. Once you have activated service, your biggest problem will be deciding what to listen to.

Seriously, with 150+ channels, it's sometimes tough to decide which one to leave on. My personal favorites are Fred (channel 44 - deep track alternative), XM Café (channel 45 -- mostly acoustic singer/songwriter style), and the 80s decade channel (Channel 8). As I like to describe it, Fred is like a mixed tape I made in college, except it never ends, and it almost never repeats. You can listen for hours and hours, sometimes even days, without hearing the same song twice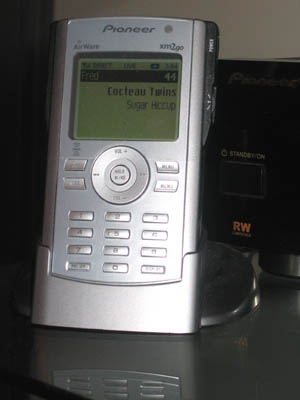 I'll occasionally surf the dial and tune into other stations for a while, like XMU (channel 43 -- mostly alternative, modeled after college radio), the Unsigned artist channel (52), or, when I feel like chilling out Audio Visions (channel 77, New Age), or XM Classics (channel 110, Classical). And when our 2-year-old son seems bored with his CD collection, we'll pop on Radio Disney (115) or XM Kids (116), either one of which keeps him entertained for a while without driving his parents completely bonkers.
If none of these stations sound appealing to you, don't worry about it. I'm not even scratching the surface here. Other stations feature rap, talk radio (both liberal and conservative), weather and traffic for dozens of US cities, decade-specific channels from the 40s up to the 90s, country, soundtracks, Spanish music, DJ House music, News, "radio theater" programming and even the XM version of NPR called "XM Public Radio." If you like to listen to it, chances are, it's on XM.
Hit the Road, Jack
Taking the AirWare radio on the road was a bit of a learning experience for me, but it had a happy ending. Finding a good location to mount the unit in my car was actually quite simple due to the flexibility of the included mounting hardware. The car kit includes both vertical and horizontal surface mounts that can be attached permanently via screws or slightly less permanently with strong double-sided tape (also included). I chose the vent-mount instead which attaches securely to my center vent without drastically blocking airflow. Because the XM2go unit is so light, it also does not seem to present any strain on the vent.
Playing back through the car radio can be done with the built-in FM transmitter -- select a broadcast frequency in the XM radio's menu, then tune your FM radio to that channel and you're in business. For better audio quality, though, use the cassette adapter (also included), or if you're lucky enough to have a car radio with a line input, then use that for the best possible quality. Placement of the antenna is a little trickier though.
I put the mobile XM antenna on my dashboard and while I was within NYC city limits, in range of the terrestrial repeater signals (cell-phone-like transmitters that re-broadcast the XM satellite signal in urban areas for better reception), the stations came in fine. But once I left the city, the reception dropped off considerably. Of course, when I finally got around to opening the user guide, I saw that the XM car antenna (which has a strong magnet on its bottom) is supposed to be mounted outside the car. Once I mounted the antenna on the roof, reception was excellent overall. The only exception was when I was deep in the heart of the Adirondack Mountains in upstate New York. In some spots, when mountains blocked the satellite signal and no terrestrial repeaters were to be found, the reception did fade in and out, but once I left the more mountainous regions, reception became more consistent.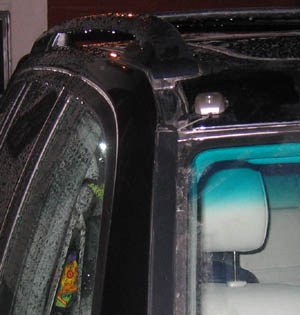 I gotta say, it's nice being able to listen to one good station for a 5 hour drive, let alone my choice of one of 150 stations. Particularly in less populated areas where the pickins for local radio stations are slim ("oh, we've got both kinds of music here, Country and Western"). And yes, XM does have Country stations too -- seven of them!
XM... Unplugged
Beyond even the mobility of the car kit, the Pioneer Airware XM2go unit is fully portable -- you can carry it around with you like a portable FM radio or MP3 player. You can even record up to 5 hours of your favorite channels for playback when you're out of range of the XM satellites or terrestrial repeater antennas. Its integrated antenna works best when the unit is in the upright position, and it was pretty good at receiving a direct satellite signal when I placed it right on a south-facing window sill in Manhattan (2 out of 3 bars). It also did a good job of picking up the terrestrial repeater signal while I was walking around the city with the unit on my belt beneath a layer or two of clothing. In portable mode, you can still use an external XM antenna if you like, to get even stronger reception, but you might look a little funny with an XM antenna on your head.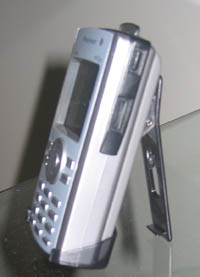 Just like with AM and FM radio, there are times that you will not be able to receive a signal from XM satellites or repeaters, like, for example, when you're deep in the bowels of the New York City subway system. And this is where the XM2go feature comes in handy. The night before my walking/subway test of the Pioneer, I hit the XM2go button once, then again to confirm. The unit then entered record mode for 5 hours and stored the material in its internal memory.
The next morning, I took it on the train for my daily commute. As soon as the live signal disappeared in the subway tunnel into Manhattan, I pressed the "mode" switch once to change over to the pre-recorded material called "My XM." Hitting the jog dial while in playback mode allowed me to scroll through all 5 hours worth of pre-recorded material, including artist and song title and go right to any song I wanted or just sit back and enjoy the originally broadcast mix. Exiting the subway at my office in midtown Manhattan, the signal was strong again, mostly on the strength of the terrestrial repeaters. Leaving the unit powered on continuously, I got a little over 5 hours worth of playback out of it before I had to plug it back in to recharge.
I liked how easy it was to switch between the live and pre-recorded signal. In fact I was able to do this and adjust the volume controls by feel alone, without taking the unit out of its belt clip. My only complaint with the belt clip was that it was not 100% secure while I was active -- the radio fell out of its clip while I was running up the subway stairs. Fortunately the holster protected the radio and neither looked any worse for the wear. The belt clip nicely doubles as a desktop stand for use in the office or while on vacation.
My other complaint about the XM2go unit is fairly minor -- the headphone jack does not support headphones with thick plugs, like my Etymotic ER4P's right-angled plug. To use these, I had to use an extender/adapter. The earbuds that came with the unit were passable but will not cut it for audiophiles or those who travel extensively on airplanes since they offer no real noise isolation. To be fair, I tried a variety of headphones on the XM radio, and only a few did not fit. So this may not be an issue for most prospective buyers.
XM... it's everywhere
OK, maybe not everywhere but XM is certainly available all over the United States and parts of Canada. I tested the unit in New York City, in a wooded area in the inner depths of the Adirondack mountains in upstate New York and in rural northern Georgia and was able to lock on strong satellite signals in all cases using the home antenna. You'd be hard-pressed to find an area without reception, but if you do there is always the XM2go feature to tide you over until you re-emerge into the world at large.
For the Insatiably Curious, the Ultra-Secret Service Menu
One nifty trick I picked up at the
Digital Life show
was the ultra-secret (OK, maybe not entirely secret) service menu. With the Pioneer XM2go unit powered off, hit 2-0-7 (two zero seven) on the keypad, then hit the ENTER button on the scroll wheel, then repeat (207 ENTER, 207 ENTER). The radio will then power up. Now hit the display button 4 times in order to access the service menu. This menu includes several interesting tidbits of information including the BER (bit error rate). This allows you to get the most precise aim for your antenna - adjust the antenna until the BER is as close as possible to 0 and you'll be sure to get the strongest, most stable signal from the XM satellite or terrestrial repeater.
Rocking the Web
As a bonus, those who subscribe to XM service are also entitled to listen in to a streaming feed on www.xmradio.com. You can select high or low-bandwidth streams depending on your bandwidth. The high bandwidth stream is more than acceptable for casual listening while on the computer and it was nice to be able to listen to XM at work without even having to plug in the Airware. You can check out a free 3-day trial of XM online at
http://listen.xmradio.com
.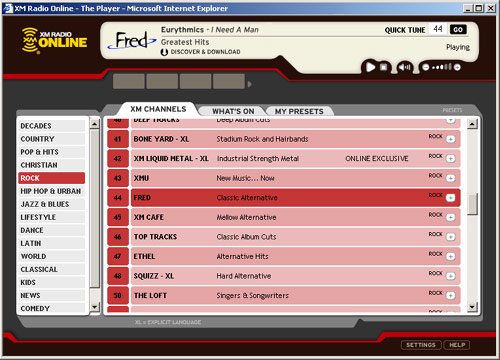 In case you couldn't tell, I really enjoyed my time with the Pioneer Airware XM tuner. It's small and light, yet it isn't fragile (as its little tumble in the subway proved) and doesn't feel cheap. It comes with pretty much every accessory you could ever possibly need for home, car and portable use. Its reception is just about every listening condition was excellent and the XM2go feature was very convenient for providing non-stop music, even when satellite signals were hard to come by. Highly recommended.
Note:
Pioneer recently became aware of a potential safety hazard with the battery included in the XM2go radios. To find out if your unit is affected and obtain a free replacement battery, go to
www.upgradebattery.com
Where to Buy:Features/Specifications (from the manufacturer):
&deg Connectivity to over 150 XM channels coast to coast
° Built-in Memory records and stores up to five hours of broadcasts
° Built-in Wireless FM Transmitter for playing through any car stereo, home stereo, or boom box
° LCD Monitor displays traffic reports, stock prices, sports scores, and so on (InfoExtras)
° 1-Year Warranty (90 Days Battery)
° Built-in XM Antenna
° Dimensions: 2-7/8"W x 4-1/2"H x 1-1/4"D
° Weight: 7.2 ounces (with battery)
° MSRP: $220.00
What's in the Box:
Home Kit
&deg Home Docking Station
° Home Antenna
° AC Adapter
° Wireless Remote Control
° Audio Cable (Mini-Plug to RCA)
Car Kit
&deg Car Docking Station
° Car Antenna
° Car Power Adapter
° Cassette Adapter
° Swivel, Flush and Vent Mounts
Portable Kit
&deg Rechargeable Lithium Ion Battery
° Ear Bud Headphones
° Belt Clip
° Protective Case
XM Radio Specifications (as of January, 2006):
&deg Over 6,000,000 subscribers
° 160 digital channels (total)
° 67 music channels, 100% commercial-free
° Over 30 Channels of News, Sports, Talk & Entertainment
° Over 20 Channels of XM Instant Traffic & Weather
° Subscription fee: $12.95/month for first device (multi-year discounts available), $6.99/month for each additional device in the same household
Manufacturer's Contact Information:
Pioneer Electronics (USA) Inc.,
2265 E. 220th Street,
Long Beach,CA 90810
phone: 800-421-1404
Email:
web form
Web:
www.pioneerelectronics.com
XM Radio
1500 Eckington Pl NE,
Washington, DC 20002
Phone: 202-380-4000
Email:
web form
Web:
www.xmradio.com