Polk XRt12 Reference Home XM Tuner Review
By Chris Boylan
Radio is Dead, Long Live Radio!
When I first heard of XM Satellite Radio back in 1999, I thought, "oh great another monthly fee to nickel and dime the American consumer to death." I'm the kind of guy that has an antenna on my roof so I can watch TV (and HDTV, for that matter) for free. I bought a Panasonic Hard Drive/DVD recorder without Tivo so I could avoid that monthly fee. I wouldn't have a cell phone if my company wasn't paying for it, and I buy cars for cash, because I hate, hate, HATE monthly payments.
$10 a month for radio, I thought (it's now $12.95/month, by the way) - who the hell is going to pay that? Well, it turns out… a whole lot of people. Have I changed my tune on satellite radio? Stay tuned and find out.

Satellite Radio Comes Home
XM Radio (and its competition, Sirius) initially concentrated their licensing efforts on the mobile market - car radios, transportable boom boxes and (most recently) compact fully mobile standalone radios which can even record satellite radio content and play it back when live reception is problematic. A good plan, as it turns out, because most radio listeners listen in their car or in other mobile locations, like the beach or the health club. But we sweet spot-loving audiophiles (read: couch potatoes) demand a component of a higher caliber, with a look and sound quality that matches our neat and tidy high-end lifestyles. Enter Polk.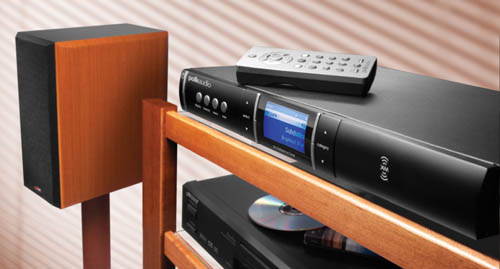 Polk, long known as a mid to high-end manufacturer of loudspeakers, was the first to market with satellite radio in the form of a true home audio component. It look, smells, acts and sounds like a home audio component and does a few things that its smaller transportable brethren cannot, such as display full song and artist info on your TV screen and connect digitally to your home receiver or preamp. In fact, this first part - displaying song and title info on a large LCD screen and on the TV screen - is one of the really addictive features of satellite radio.
Although some new forms of broadcast radio (e.g., HD Radio) can display artist/title information, most current AM/FM tuners do not support this, and many radio stations do not yet broadcast in a system that supports this meta data. With satellite radio, on the other hand, this is part of the specifications - all XM and Sirius tuners include displays that feature artist and title information and all channels broadcast it. I can't tell you how many times I've heard a great song on the Polk, and looked over to check out the artist and song info so I could put it on my list of albums to buy (or download).
As for the Polk's own display capabilities, my first unit had a small glitch in the LCD display but a replacement worked properly. I found the LCD screen hard to read from 10 feet away, even with brightness and contrast adjusted for maximum visibility. I was glad to have the TV display option, because this allowed me to see the artist and song info clearly from anywhere within line of sight of the TV. But it did require me to have the television on. I'd have preferred an LCD screen with higher visibility, but I'll take the TV display.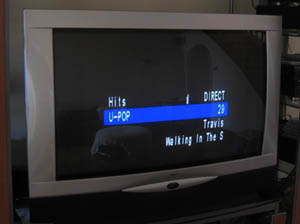 The Set-Up
Hook-up was simple. Polk includes everything you need to get started, including gold-plated A/V cables, a fiberoptic digital cable, XM station guide, remote control with batteries and the little (3.5 inch square) XM antenna on a 20-foot cable. An optional 50 foot antenna extension is also available. A set-up option shows an on-screen signal strength meter to help you aim the antenna. In Astoria, NY (1/2 mile from Manhattan), I was receiving both the "direct" satellite feed as well as a signal from the terrestrial repeaters in the area. With these terrestrial repeaters (which are basically like cell-phone towers), XM is extending their reach, providing static-free satellite radio in areas where direct satellite reception is spotty, like the stainless steel canyons of Manhattan, for example. These repeaters were not necessary for me, though as I was able to get a strong signal from the satellites alone.
I placed the antenna about 10 feet away from a south-facing window and got two to three bars of reception (out of four), which is enough for a perfectly clean lock on the signal. But it was interrupted by operation of my microwave oven (which says more about the oven than about the radio), or by someone walking directly in front of the antenna. With the antenna closer to the window, the signal was even stronger and not subject to any interruptions (whether or not the window was open). I tested the radio upstate as well, in a wooded area of the Adirondack mountains and got three solid bars with the antenna next to a window but behind some bamboo blinds. Basically, if you're within XM's satellite footprint (which includes all 48 states in the continental U.S.), then you should have no trouble receiving a signal on the Polk. The satellite actually covers a good portion of Canada and Mexico as well, but XM is not currently licensed to sell services in those countries.

The Sound
Sound quality of the Polk XM tuner seemed to be better than the portable XM units I have heard but I admit I did not have another unit on hand for head-to-head comparisons. I did do some comparisons of the XM tuner's own analog section to the Polk's digital output feeding my Outlaw preamp's built-in Cirrus DAC. I preferred the Polk's analog output slightly on this, but it was a very close competition. I did do some informal XM to CD comparisons by throwing on a CD shortly after hearing a familiar song on XM. The XM version maintained similar signal-to-noise ratio to the original, though it lost some transparency and soundstage depth.
At its best, XM Radio on the Polk sounds like very good MP3 (I'd compare the better stations to 192 KHz MP3 recordings). XM Radio's compression codec is proprietary so it's impossible to tell exactly how much compression is being applied to each channel, but XM can and does selectively allocate higher bandwidth (lower compression) to the music channels that need it most. In my listening, I heard the least artifacts on the classical and new age channels, as well as many of the rock, pop and jazz stations. Talk radio, news, sports and the handy local weather/traffic channels use much more compression, but, because of the content, the compression on these channels, while audible, is rarely objectionable.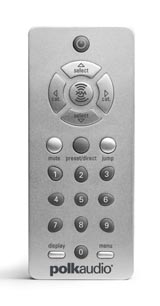 Perhaps a more appropriate sonic comparison for XM would be to FM radio, since that's its direct competition, and here XM really shone. XM Radio as played through the Polk exhibited a much lower noise floor than FM, better separation, better dynamic range plus a huge selection of quality music (as opposed to the rather lackluster selection of music in the metropolitan New York area on commercial radio). It's hard to beat my Onkyo Integra T-9090II tuner's FM performance, and admittedly, local classical and rock stations did have slightly better tonal blend overall on the Onkyo tuner than comparable stations on the Polk. But keep in mind that the Onkyo unit is a $900 FM tuner (no longer manufactured) and it is limited in that it can only receive the dreck that is broadcast over commercial airwaves. Comparing FM to XM, I was reminded just how bad commercial radio has become with nearly as much time spent on commercials as on songs, and with songs in "heavy rotation" being repeated several times a day. In this respect, XM Radio was a breath of fresh air.
A few words about XM
The Polk provided my first extended hands-on experience with XM Radio, and I must admit that I was impressed. I have become addicted to "Fred" (channel 44), which offers "deep alternative" tracks mostly from the 80s and early 90s. "Fred" sounded exactly like a mixed tape I would have made in college circa 1987; only it never ends. And listen as long and as hard as I could, I only heard a few songs repeated on Fred over the course of several weeks of heavy listening. I heard bands I have never heard on the radio before (except maybe on a low-powered college station), like the Hoodoo Gurus, and the Cramps, plus old favorites like The English Beat, INXS, U2, Joe Jackson, They Might Be Giants, The Cult, The Cure and so much more. And this was just one of over 120 channels.
Whether you dig rock-n-roll (14 stations), or you're a little bit country (7 channels), Jazz (5 channels), Hip hop/Urban (7 channels), Latin music (4 channels) or maybe classical is your bag (3 channels), you'll definitely find an XM channel or three that satisfies your musical cravings. They even have stations dedicated to specific decades (1940s through the 1990s), where songs are occasionally punctuated with vintage commercials and short news bullets from the featured decade. XM Radio gives the term "blast from the past" new meaning. Oh, and let's not forget the movie soundtrack channel ("Cinemagic") and the show tunes channel ("On Broadway"). On second thought, we can forget the show tunes channel.
XM - the Real Shuffle Play
Apple recently released a version of their iPod called the "shuffle" which allows you to listen to your MP3 collection in random order… kinda like your very own radio station. A neat concept, to be sure, but the only problem with this is that it will only play songs already in your collection, i.e. songs you have ripped yourself or downloaded. XM Radio is so much better than this because it includes songs that you don't already know about. Of course, iPod and XM Radio are more complementary than competitive. XM Radio helps you identify new favorites so you can add these to your collection and the ubiquitous iPod lets you play these back on your own time. Plus, for the computer savvy, XM provides a live streaming feed of their stations on the internet for subscribers which makes it even easier to identify new artists and songs to buy online or in stores.
Final Thoughts
I really enjoyed my time with the Polk XM tuner. It introduced me to XM Radio and for that I am grateful. "Fred" has helped me to reconnect to my favorite music from the 80s and 90s and other XM stations have introduced me to new pleasures as well, in many different genres. It looks like this diehard fee-hater is about to fork over $12.95/month to keep it coming. But don't worry… I'm still not getting cable.
Manufacturer's Specifications:
Technical specifications (Polk XM Tuner):
Signal to Noise Ratio greater than 80dB

Total Harmonic Distortion + Noise less than 0.05%

Channel separation greater than 50dB

Size: 17" w x 2.3" H x 10.5" D

Weight: 5 lbs

Color: Black
Additional Specifications (Polk XM Tuner):
Optical and coaxial digital outputs

Audiophile grade parts including Burr-Brown™ Digital-to-Analog Converter

Premium high gain audio preamp

Included Accessories:

High gain XM home antenna with 20 foot cable (optional 50 ft. extension cable available)

Remote control with batteries

3-conductor RCA-connector analog stereo audio/composite video cable

Optical digital cable

XM channel reference card

Instructions for how to activate your XM subscription (subscription required)

Owner's manual



4-line blue XM display shows channel name, channel number, artist name, song title and signal strength

Front panel controls include Menu selection, Category Scan, Memory, Channel Scan, Display & more.

20 Channel Presets

Category Scan lets you scan through the major categories of XM channels (Rock, Talk, Sports, etc.)

Preview function allows you to see what is playing on other channels while still listening to the current channel

Display function lets you enlarge the text on the front panel display

Menu functions include:

Display Brightness and Contrast adjustment

Memory Recall recalls the channel, artist name and song titles you saved with the Memory button (up to 10 instances)

Channel Skip/Add

Analog Line Out Level

Auto Shutdown allows you to set the tuner to automatically shut itself off after 60, 120 or 180 minutes of no use. The default setting is no auto shut off.

Antenna Aiming with built in signal strength meter.


RS-232 connector allows connection to whole-house audio distribution systems (Crestron, NetStreams, etc.)

Price: $329.99
XM Radio Specifications (as of May, 2005):
68 Commercial-Free Music Channels

33 Channels of News, Sports, Talk & Entertainment

21 Channels of XM Instant Traffic & Weather

Subscription fee: $12.95/month for first device (multi-year discounts available), $6.99/month for each additional device in the same household

Manufacturer's Contact Information:
Polk Audio
5601 Metro Drive
Baltimore, MD 21215
Main Phone: 410-358-3600
Toll Free: 800-377-7655
Email -
web form
Web:
www.polkaudio.com
XM Radio
1500 Eckington Pl NE,
Washington, DC 20002
Main Phone: 202-380-4000
Email -
web form
Web:
www.xmradio.com