Digital Life 2005 - Javits Center, New York City (Part I)
By Chris Boylan
Our Digitally Interconnected World
In this, its second year, the Digital Life show, sponsored by Ziff Davis, brought manufacturers, service providers and consumers together to illustrate what's possible through the miracles of digital technology. The show this year had a decided bent toward the gaming, networking and portable audio industries, but there were plenty of manufacturers showing wares of interest to the home theater enthusiast as well.

From watch-anywhere DVRs to home theater PCs, in-ear headphones, plasma and LCD TVs and a myriad of convergence devices and services that allow you to enjoy television and video content across a plethora of portable and non-portable devices, Digital Life featured plenty of offerings to capture the imagination of the techno-savvy consumer.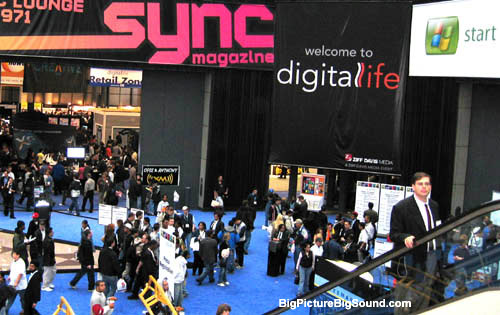 The Video Recorder is Dead, Long Live the Video Recorder!
Tivo kicked things off this year with a Eulogy and ceremony for the "death of the VCR." Attendees were invited to pay their last respects by dropping off any old video tape in exchange for a brand new 40 Hour Tivo unit ($49.99 value), with a 6 month service commitment.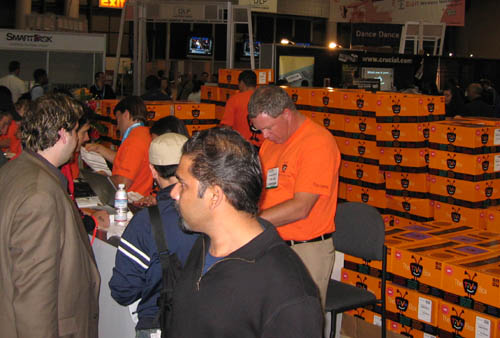 Upon entering the hall proper, the first thing I noticed of interest to home theater fans was Belkin's Pure/AV Razorvision video cable and enhancer ($249 for 8 foot version, $299 for 16 foot version) which incorporates a DVI or HDMI cable with electronic enhancement circuitry to make HDTV look even better than it normally would. The enhancer is designed to go between any High Definition source component and any HD-capable display, improving contrast, reducing artificial edge enhancement and increasing perceived image depth.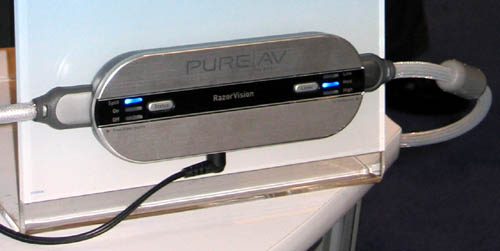 Belkin displayed the effect of the Razorvision device using the split screen function on a Syntax Olevia 42 inch LCD TV. Viewing the standard and enhanced HDTV signals side by side, there was a noticeable improvement in brightness and reduction in video noise in the Belkin-processed signal (right side of picture).
The Syntax Olevia LT42HVI HDTV-enabled LCD display ($3299) features 1366x768 native panel resolution, 1200:1 contrast ratio and a brightness of 800 nits. It supports high definition sources via two hdmi inputs and two component video inputs.
Real Life not Good Enough? Try Virtual Life
eMagin was at the show showing off their z800 3D virtual reality visor which I saw at the press preview in July. The visor is now available for sale directly on eMagin's Web site for $899. Gary Jones, CEO was on hand along with other product experts to demonstrate and explain the technology. The Z800 is comprised of two high resolution OLED (Organic Light-Emitting Diode) screens, integrated earbud headphones and internal gyroscopes that sense head motion in all directions and translate this motion back to a video game for an immersive virtual reality gaming experience. Move your head up. down, left or right to look around within the game. It's kind of trippy, and very addictive. To take advantage of this 3D imaging, your PC must have a suitable NVIDIA graphics card, and the game must support 3D vector graphics (most PC games these days do).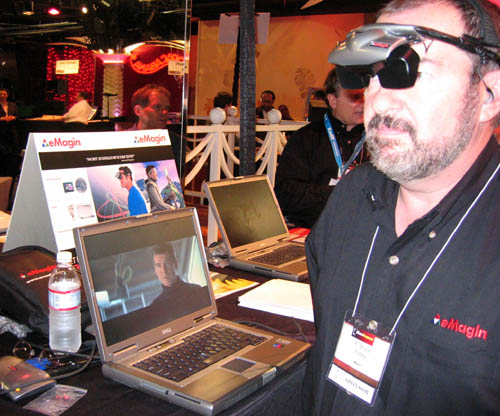 Although the z800 is intended primarily for use with 3D video games, apparently the eMagin technology is also very popular with the military and military contractors. These folks use the visor - modified for installation inside a helmet - to provide realistic combat simulation to soldiers. Hey, it's easier and cheaper to learn how to use new weapons in a simulation, and it's far better to step on a mine in virtual reality than in real life.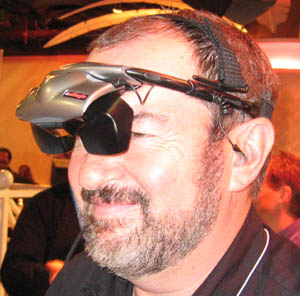 What's Good for the Real Warrior is Good for the Road Warrior
The standard Z800 visor requires a PC (laptops will do fine) with a USB port. The USB connection provides the video and game control interface as well as the power. It can be used to view not just games but any PC content, including DVD movies. Used as such, the z800 provides the equivalent of viewing a 105 inch screen from 12 feet away, but in only 2 dimensions of course. When used with a laptop, the visor actually extends the battery life of your PC as the internal OLED screens require far less juice than a full size laptop display. But 3D gaming is where this thing shines. My take on the visor with 3D games was much the same as my earlier impression in July - I haven't seen anything like the z800 that provides anywhere near as realistic or immersive a gaming experience.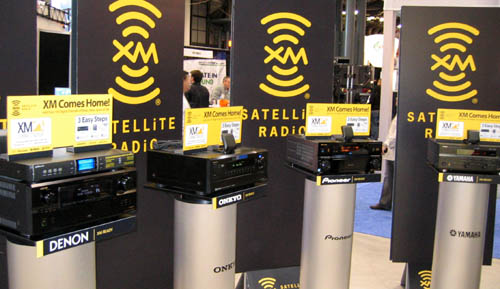 On the "Big Sound" side of things, XM was on-hand showing off some of the new "XM Ready" home receivers from Denon, Onkyo, Pioneer and Yamaha. These receivers support XM satellite radio right out of the box via XM's "Connect And Play" feature. Basically XM's "Connect and Play" technology boils down to a 0.3 inch square computer chip inside the receiver, which costs the manufacturer approximately $1 to include. Owners of these home receivers who wish to use XM simply purchase an XM connect and Play antenna ($49), sign up for service ($12.99/month) and they're off and running with over 150 channels of commercial free radio stations with no need for docking stations or additional hardware. Very neat, if you like having XM at home.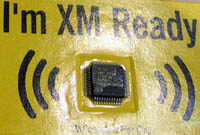 For those who want to enjoy XM both at home and on the road with a single device, XM was also showing off the newest, smallest plug and play devices, the Audiovox Xpress ($99.99) and Delphi Roady XT ($79.99). The car kit is included with each, home kits cost $49. The Xpress includes a 5-line text display for song and album information, stock and sports tickers, plus a unique multi-purpose knob/dial that allows you to easily browse XM channels with one hand. The smaller Delphi model includes a 2-line display with customizable colors to match your mood or factory head unit. It's currently the world's smallest plug-and-play satellite radio weighing in at 2.8 ounces and measuring a svelte 3.7 inches wide, 2.2 inches high and .61 inches deep.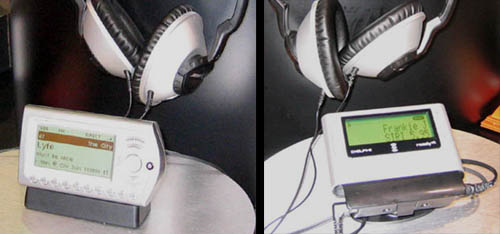 One nifty trick I picked up in the XM booth is the ultra-secret (OK, maybe not so secret) service menu accessible from any XM device. By hitting 207 ENTER (in some cases, like the Pioneer Airware xm2go unit, you have to hit this sequence twice), you enter the XM service menu. This menu includes several useful tidbits of information including the BER (bit error rate). This allows you to get the most precise aim for your antenna - adjust the antenna until the BER is as close as possible to 0 and you'll be sure to get the strongest most stable signal from the XM satellite.
Satellite Radio? Meet Satellite TV. Satellite TV? Meet Satellite Radio
The biggest news of late is XM's partnership with DIRECTV to replace DIRECTV's "Music Choice" stations with XM channels for all subscribers. 72 XM channels will be available to DIRECTV subscribers starting November 15th at no additional charge and with no new hardware requirements. Higher-end DirecTV packages include more of the XM channels. This move will effectively quadruple the listener base of XM from its current 5,000,000 subscribers to include up to 14.6 Million DirecTV subscribers. XM hopes this taste of satellite radio will motivate DirecTV subscribers to spring for a full XM subscription and receive all of the channels.
Down the hall from XM, Toshiba was showing off their pre-production HD-DVD player with movie clips and trailers including a cool High Def trailer for the upcoming
King Kong
remake by Peter Jackson. The player, currently known as the HD-XA1, is scheduled to go on sale in Japan later this year for the Japanese Yen equivalent of $1000. 35 HD-DVD titles have been announced for availability at that time, mostly Anime tiles and travelogues, with a few Hollywood titles thrown in.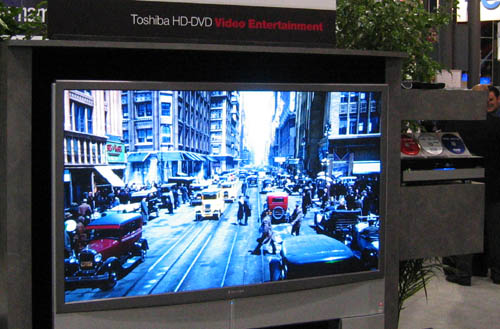 A similar player is scheduled to go on sale for $999 in early 2006 in North America. Of course, all this assumes that the Blu-ray Disc and HD-DVD camps don't reach a last minute compromise on formats which would prevent this
potentially ugly format war
from ever occurring. But as time marches on, a compromise is looking less and less likely.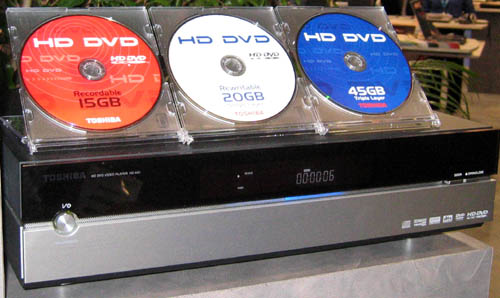 NEC Display Systems was also on-hand showing off some new LCD computer monitors as well as a brand new, as yet unreleased widescreen LCD TV in the new GX
2
line.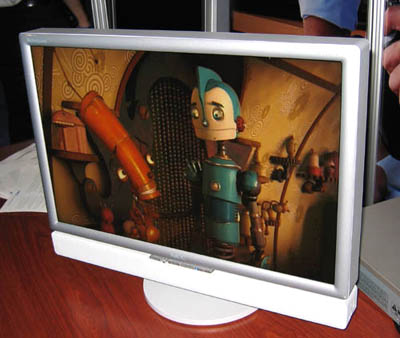 The 20 inch widescreen model 20WMGX2 features a 1600:1 contrast ratio and quick 6 ms (millisecond) response time. The unit features DVI and component video inputs, as well as VGA, composite video and S-video. It also includes a cable jack for its on-board NTSC tuner. All of the cables can be neatly tucked away behind removable panels so the TV looks neat and tidy from all sides. The 20WMGX2 is scheduled for January, 2006 availability and will be "competitively priced."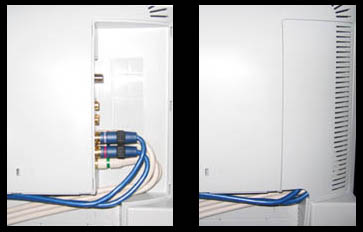 The new gaming monitors in the GX
2
line, the 17" 70GX2 (street price $369.99 after rebate) and 19" 90GX2 (street price $499.99 after rebate) are for hard-core gamers with a contrast ratio of 700:1 and a lightning fast response time of 4 milliseconds. That should be able to keep up with even the most demanding game. All monitors in the GX
2
line include NEC's OptiClear DVM screen technology for razor sharp images in text, photo, and motion video applications.
To round out the line, NEC showed its more affordable CX series of monitors - the 17 inch 1740CX ($299 street price) and 19 inch 1940CX ($399 street price) monitors, which are suitable for the less demanding tasks of viewing documents, e-mail, spreadsheets and PowerPoint presentations, plus the occasional digital photo or movie. Even these entry-level models feature a respectable 8 ms response time and 500:1 contrast ratio.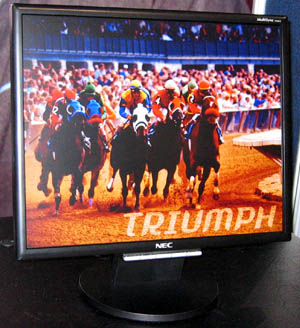 Continue to Part II where you'll see HP's new Digital Entertainment Center PCs, Buffalo's new High Definition LinkTheater, plus the latest from Microsoft, DivX, Logitech's Harmony, Shure, Denon, eJamming and much more.