Digital Life 2005 in New York City (Part II)
By Chris Boylan
Blurring the Line Between Home Theater and Home Computer
As I mentioned in
Part I of this report
, this year's
Digital Life
show was a gamer's paradise with hundreds of amateur and professional gamers checking out the latest games and participating in contests to win thousands of dollars in prizes.
Case in point, the
GGL
(Global Gaming League) sponsored competition on the game "Unreal Tournament 2004" where first and second place winners earned $4,000 and $2,500 respectively (which was a good thing considering these particular players paid their own way to New York from Europe).
But amid this gaming frenzy, there were also plenty of examples of the continued convergence between the home computer and the home theater.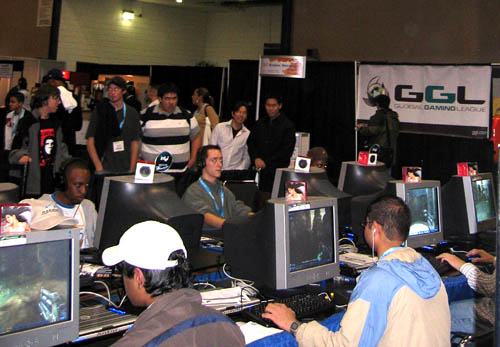 HP
had on display two shining examples of this convergence in their Digital Entertainment Center PC line, the z556 and z558 (starting at $1499, available later this year). The problem with most PCs, even many Media Center PCs, is that they only look appropriate in a technogeek's workspace but not so great in the living room or home theater. This is definitely not the case with the HP Digital Entertainment Center PCs. Their black brushed-aluminum finish, informative but not flashy LCD displays, and slim horizontal chassis make these PCs fit right in with your current flat panel HDTV, home theater receiver and fancy Italian A/V furniture.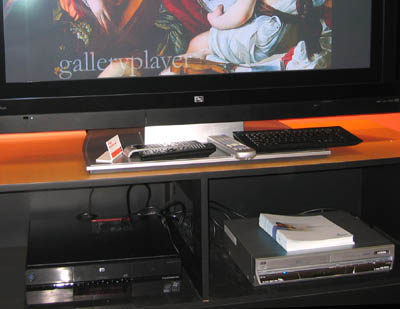 The flagship z558 Digital Entertainment Center features Microsoft Media Center Edition 2005 (with Rollup 2), with an integrated PVR (Personal Video Recorder) and EPG (Electronic Program Guide).The PVR and guide allow you access Tivo-like features like program search, scheduled recordings, and pausing live TV, without any additional monthly fees. In terms of home theater connectivity, the unit includes DVI, component, composite, S-Video and VGA video outputs as well as analog and digital audio outputs, It includes 2 standard def (NTSC) tuners plus a High Def (ATSC) tuner, for direct reception of free SDTV and HDTV signals over the air.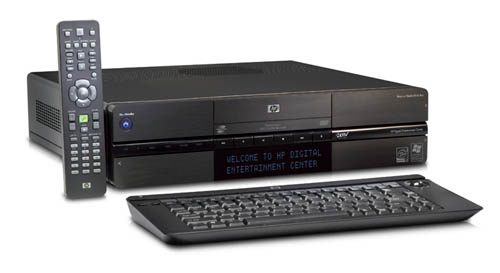 HP's integrated "Super Multi-Drive" DVD Writer is "format-agnostic" supporting playback and recording to/from practically any current blank disc format, including DVD+/-RW, DVD-RAM, CD-R and CD-RW. It also features HP's LightScribe™ direct disc labeling technology, which uses the DVD-Writer's laser to etch custom labels on special HP blank discs. If you're in the market for a home theater PC and you're not interested in building one yourself, then these new HPs are definitely worth a look.
Logitech
was on-hand showing their integrated home theater remote, the Harmony model 880 ($249.99). We have one of these in the
Big Picture Big Sound
labs right now for a full review (coming soon). The Harmony remotes bring ease of programming to a new level via a simple Web-based programming interface. Harmony's web database includes the codes for over 10,000 different home theater devices plus the ability to learn new devices in case you've got some really cutting edge gear that hasn't shown up in the code database yet. Just plug your remote into your PC using the included USB cable, connect to the Logitech/Harmony web site, specify the brands and models of your components and Harmony does the rest.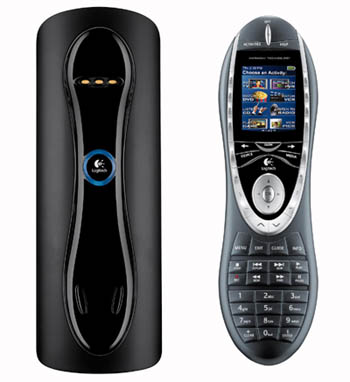 What I like about the Harmony remotes is that other family members, even less technically inclined "Flashing 12s,"
1
can easily operate the system by pressing intuitive "activity" buttons like "Watch HDTV" or "Listen to Music." These activities may involve powering up and setting inputs on 3 or 4 different devices but to the end user, it's just a single press of a button. We liked the earlier model
688 remote
a lot and so far things are looking good with the model 880 so tune in soon for our full report.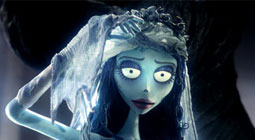 Down the hall from Logitech,
DivX
was giving away free copies of their video encoding software, which they describe as "mp3 for videos." The DivX codec allows you to compress video files on your computer with minimal loss in quality. Using the DivX codec, it's possible to store a 2-hour movie or other video content in near-DVD quality in just 700 MB of space - roughly 1/7 the storage required for the same content in DVD format. Or you can store a full-length film in High Definition resolution (720p) on a standard red laser DVD.
Reducing the file size of video content is a key factor in being able to deliver high quality Video On Demand (VOD) over the internet. And that's just what DivX is doing (legally, of course) with their "Open Video System" (OVS) which is implemented on sites such as
MonumentVideo.com
. Monument Video provides mostly obscure cult films starting at 99 cents. But DivX says they're in discussions with major studios to potentially deliver more compelling and popular titles in the future.
DivX was also showing off their new DivX Media format, which allows video editing professionals and amateurs alike to create a full menu and chapter-based front-end for DivX video content. A DivX Media menu is similar to what you'd see on a store-bought DVD, but without the need for a physical disc to deliver it. It can be delivered via the Internet, or even stored on a flash memory card. The new DivX Media format video can be played back on a software-based player on a PC or on any "DivX Ultra" certified home player. Since the "Ultra" program is so new, DivX Ultra-certified players are currently few and far between. However, for playing standard DivX-encoded video files, the standard DivX certification program has given its seal of approval to millions of DVD players in current circulation, including players from Philips, Toshiba, JVC, Samsung and Sony. These DivX-certified players can play back DivX-encoded videos stored on a CD or DVD directly to your TV, so you won't have to watch DivX videos on your computer screen, or re-master the DivX content back into a redbook standard DVD.
And speaking of DivX-certified devices, fellow exhibitor
Buffalo Technology
was at the show demonstrating their DivX-certified LinkTheater ($349). Product Manager Brian Verenkoff was on-hand to give me the skinny on this nifty little component. The LinkTheater combines a DivX-certified DVD player with a streaming network media hub that can play back audio and video content as well as display digital photos from any networked PC. The LinkTheater supports a hard-wired network connection or a wireless connection via its on-board 802.11g receiver.

The LinkTheater features a USB jack on the front so it can access media on external USB hard drives or flash card readers directly, in addition to playing back media from networked storage, CDs and DVDs. In order to stream content from other networked devices, you must first install the Buffalo software on a networked computer with Windows 98, 2000, XP or MCE installed. Versions of the software are also available for Linux and Mac OS. This software provides the control center for the LinkTheater system, though remote media can be accessed directly from the LinkTheater's remote and on-screen GUI once the software is running on the network. The unit has been available since March, 2005 with Buffalo shipping an average of 550 units per month since its launch. The player is High Definition capable, supporting native video and stills up to 1080i (1920X1080 interlaced) in resolution.
Brian told me that one factor that has led to the success and early adoption of the LinkTheater is the core of active and very vocal "super users" who frequent the
AVS Forum
. These power users have been instrumental in identifying early product limitations and obscure glitches in the firmware which have since been corrected and delivered to owners via downloadable firmware updates. Built-in obsolescence is not something to worry about with the LinkTheater with its internet-enabled upgradability. I was impressed enough with the LinkTheater at the show to request a review sample. So look for our full review of the LinkTheater in the near future.
Also blurring the line between computers and home entertainment was
Microsoft
, whose upcoming XBOX 360 videogame platform will also function as a Media Center Extender. The Media Center Extender works with any networked Media Center Edition PC, enabling you to display networked content (like movies, music and photos) directly from your XBOX. This means you only need to plug in the XBOX 360 to your display, and you can enjoy multi-media files stored on your PC in another room.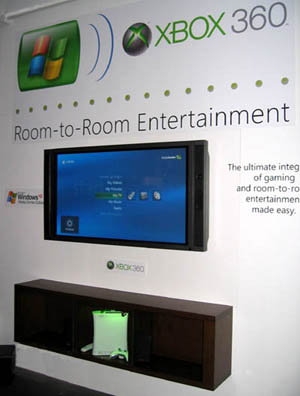 To this end, Microsoft and Intel recently announced their support of Toshiba's next generation optical disc format HD-DVD instead of the competing Blu-ray Disc (BD) format offered by Sony and others. The key issue in their decision was that HD-DVD includes a mandatory Digital Rights Management and Copy Management scheme that will ensure that consumers can buy a title once, then view this content from multiple devices within their home network. Sony's BD specifications could allow studios to lock down the content so it is viewable only on one device and not distributable through a home network. You can check out
recent announcements in the BD/HD-DVD dispute here
.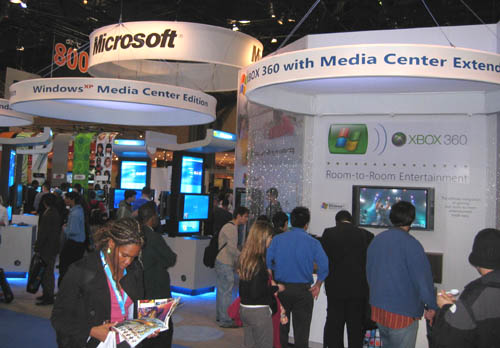 And if distributing home theater content within your home just isn't cool enough, how would you like to take your TV (and movies) with you wherever you go?
Sling Media
's Slingbox does just that, turning virtually any Internet-connected PC into a place to watch your TV and movies, whether you're in another room, or another country. The Slingbox ($249) plugs in between your cable box, DVD player, VCR, and/or digital set top box and your home computer, allowing your PC to effectively broadcast the audio and video signals of your devices over the internet for you to receive at a remote computer. Now you'll never have to miss an episode of
Lost
or game seven of the World Series just because you're on the road.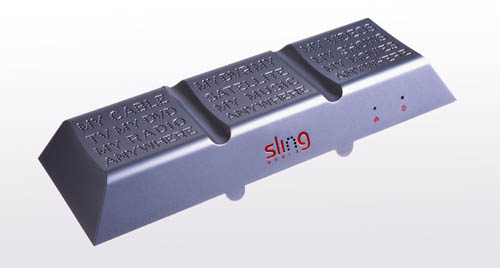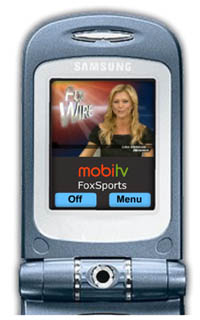 MobiTV
takes the concept of mobile television even further. For $9.95/month, you can watch up to 27 channels of live (or in some cases streamed) TV on your cell phone or PDA. The current channel line-up includes MSNBC, ABC News, Fox Sports, Discovery Channel, and NBC Mobile - a "Mobile-optimized" version of NBC, plus 22 more channels. Over 30 devices are currently supported on Sprint, Verizon and Cingular in the U.S., plus other carriers outside the U.S. On a device that supports high speed internet (like my Treo 650), the quality of MobiTV is actually quite watchable. Yes, it's heavily compressed and can be a little jittery from time to time, but on a screen the size of those on portable devices, these glitches are not objectionable. Those who want to watch TV anywhere any time will probably find the trade off of quality vs. location a fair one.
And in the "more good news" department for cell phone owners who happen to enjoy portable music or multi-media, and are frustrated by missing calls or having to fumble with headphones to take a call,
Shure
has come to the rescue. Shure's new "integrated" line of in-ear headphones combine a hands-free microphone with Shure's high quality sound insulating in-ear headphones. What sets them apart from the competition is that they include two plugs - one for your phone and one for your iPod, MP3 or portable video player - as well as an integrated microphone, switch and volume control so you can easily switch between listening to a song and taking a call without having to remove your headphones.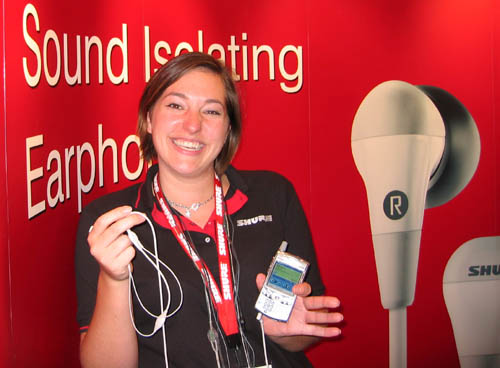 The new i-series earphones use identical drivers to the e-series models we covered in the July
press preview
. The i-series earphones will debut in November and are expected to carry a $20 premium over their e-series brethren, so the i4c will sell for $319 (MSRP) and the entry level i2c will retail for $119 (MSRP). The i-series earphones will also come in single-plug (micro) versions for the Treo 650 PDA/phone, which already has an integrated MP3 player. I listened to these at the show and was impressed with their noise isolation properties as well as the sound quality. Expect a full review in the near future.

One of the few pure "home theater" vendors displaying their wares at the show was
Denon
, who used this venue to showcase their new compact S-301 home theater in a box ($1599). This attractive life-style piece provides high quality virtual surround sound from just two speakers and a subwoofer. It supports DVD, DVD-Audio, SACD, CD, and MP3, and offers an HDMI digital output and Faroudja processing for high quality video. The DVD section of the unit is basically identical to the popular DVD-2900 universal disc player.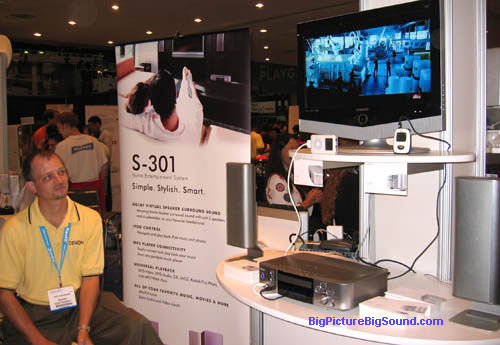 But the S301's killer feature is its integrated iPod controller and interface that allows you to fully integrate your iPod (or USB-based MP3 player) with your home stereo. you can even control your iPod song selection right from the Denon system remote control. This iPod control technology will also find its way into Denon's AVR line of home theater receivers in the upcoming AVR-4306 model ($2,000, available in November, 2005).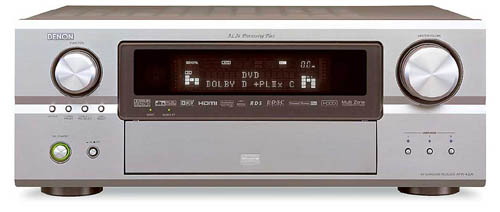 And since a party is just not a party without good live music,
eJamming
was on-hand showing their remote musical collaboration software called, well, eJamming. eJamming software allows musicians all over the world to collaborate in real-time over the internet. It anticipates the delays involved in distributing signals over the net, and includes an adjustable delay so that all musicians hear the music at the same time. In their demo, three live musicians were eJamming with two musicians in remote locations and it all blended together very well. The eJamming software is now available for both PC and Macintosh platforms and the service will set you back just $19.95/month.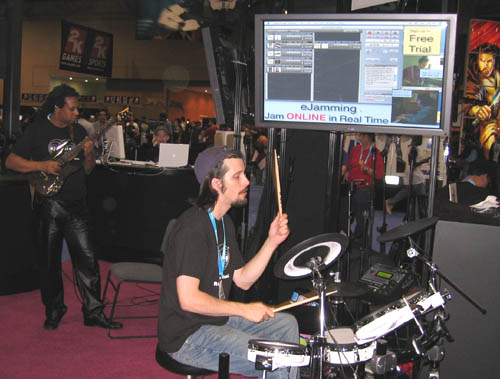 Well that's all she wrote folks. See you next year for
Digital Life 2006
.
Just tuning in? Why not start at the beginning of this show report, and
check out the latest on Tivo, Belkin's RazorVision, eMagin's z800 3D Visor, XM Satellite Radio, Toshiba's HD-DVD player and NEC's new LCD displays
?
Footnote:
1.
A "Flashing 12" is an endearing term for our technically-challenged friends and family members who, without our help, would still have VCRs that flash 12:00 night and day.